A compilation of 2017's digital marketing research to help inform your 2018 strategy
Because the state of digital marketing is always evolving, it is important to keep up-to-date with the latest research in your industry, or marketing technique, to stay ahead of your competition. Yet, it can often be difficult to find the digital marketing research you need to help inform your digital strategy.
As we near the end of 2017, we have collected all the best research the team at Smart Insights have found helpful and informative throughout the year. Hopefully, this will help you too!
SEO statistics 2017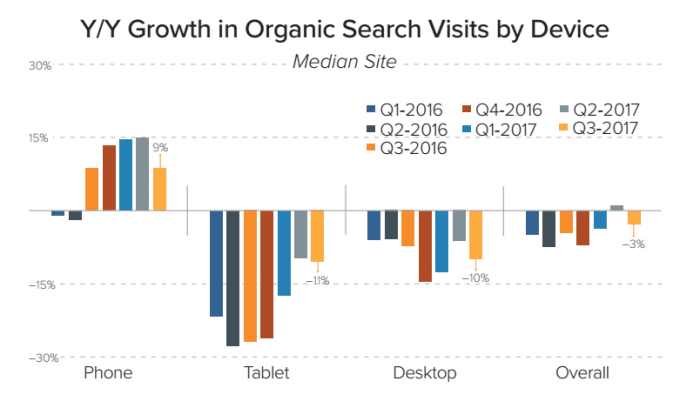 PPC and CTR statistics 2017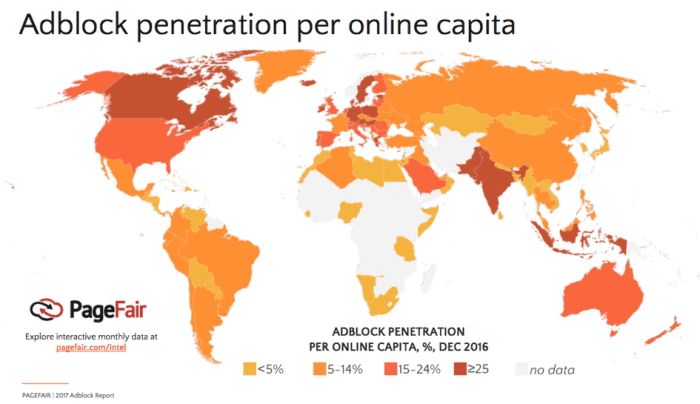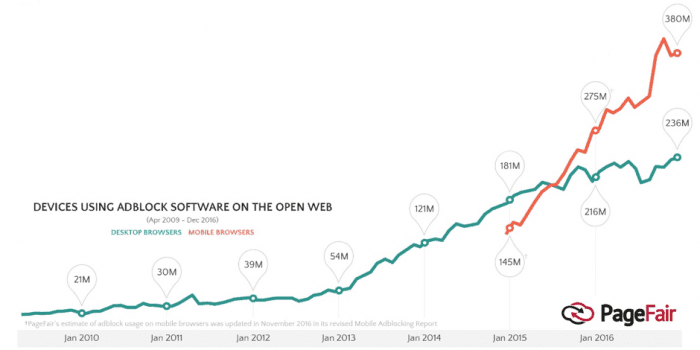 Mobile adblock usage is surging internationally and has overtaken desktop usage (PageFair 2017)
The global number of desktop and mobile devices that block ads grew by 142 million YoY to reach 615 million devices Dec 2015-Dec 2016 (PageFair 2017)
60% of consumers don't know a Google advert when they see one (Smart Insights 2017)
The average click-through rate in Facebook ads across all industries is .90% (WordStream 2017)
The average click-through rate of a paid ad is 2%, yet ads in the first position earn an average click-through rate of almost 8% (Clever Clicks 2017)
Both desktop and mobile ads deliver branding effectiveness but mobile ads perform better – particularly at the bottom of the funnel  (comScore, The Global Mobile report 2017)
75% of people who find local, helpful information in search results are more likely to visit the physical stores. (Google 2017)
Businesses make an average of $2 in revenue for every $1 they spend on AdWords. (Google Economic Impact Report)
Google display campaigns reach 80% of global internet users (Google Benchmarks and Insights)
Local Inventory Ads (LIA) accounted for 19 percent of all Google Shopping clicks on phones. CTRs on LIAs are 19 percent higher than PLAs on phone and desktop Merkle, Digital Marketing Report Q3 2017)
Digital strategy, transformation, and technologies statistics 2017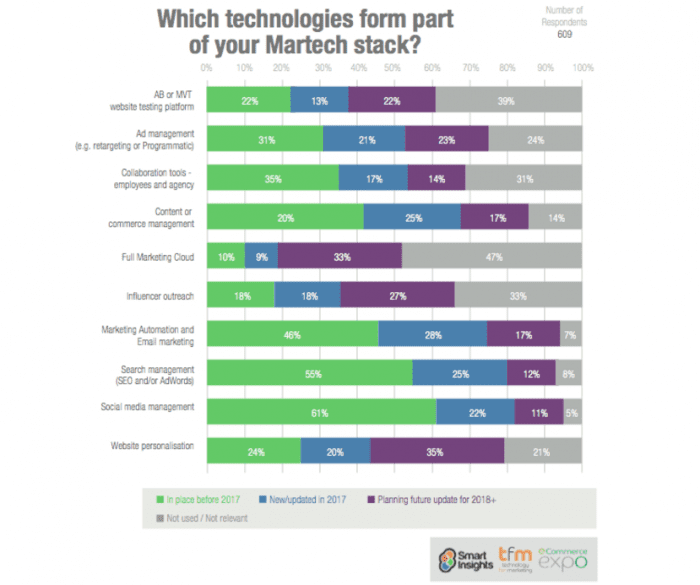 Considering the most popular options in martech stacks, it's no surprise that social media management (61%), search management (65%) and email marketing automation (46%) platforms were in place before 2017 with over a quarter with a new or updated solution in 2017 (Smart Insights, Managing Digital Marketing research report, 2017)
49% of organizations do not have a clearly defined digital marketing strategy (Smart Insights, Managing Digital Marketing research report, 2017)
37% of organizations have no plans to run a digital transformation programme (Smart Insights, Managing Digital Marketing research report, 2017)
39% of marketers don't think their organization's marketing strategy is effective (HubSpot, State of Inbound 2017)
Only 6% of companies think their digital marketing and traditional marketing integration process was completely optimised (Smart Insights, Managing Digital Marketing research report, 2017)
More than 8 in 10 (83%) of Account Based Marketers plan to expand their marketing stack for account-based marketing purposes in the next year (#flipmyfunnel Account-Based Marketing survey)
Considering the marketing activities with the highest ROI, marketers consider organic search or SEO (32% rated highly for ROI), content marketing (30%) and email marketing (30%) the most effective (Smart Insights, Managing Digital Marketing research report, 2017)
The modern living room features a multitude of connected devices, including significant innovation and adoption of OTT and IoT landscape (comScore, State of Digital, 2017)
Sending/receiving emails (79%) and finding information about good and services (75%) are the most popular internet activities (UK National Statistics)
40% of marketers say proving the ROI of their marketing activities is their top marketing challenge. (HubSpot, State of Inbound 2017)
Ecommerce statistics 2017

Content Marketing statistics 2017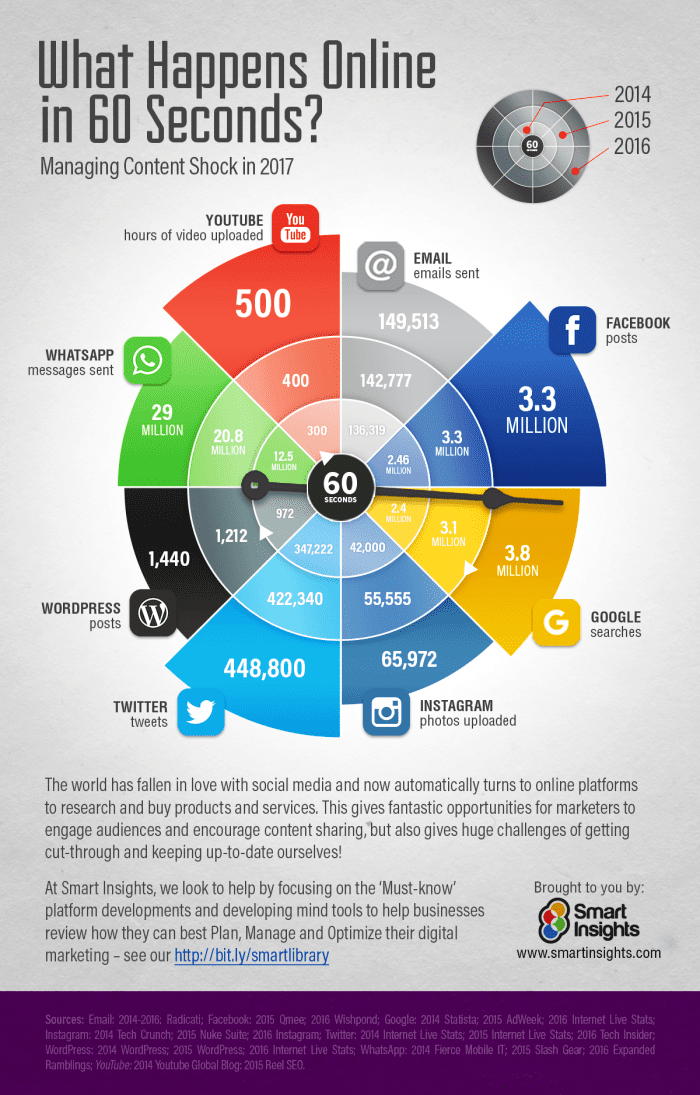 53% of marketers say blog content creation is their top inbound marketing priority. (HubSpot, State of Inbound 2017)
Content marketing has become an almost universal tactic, with almost 90% of companies using it in 2016, and even more utilizing it in 2017 (Content Marketing Institute B2B Content Marketing)
The majority of content marketing has limited impact with 75% of blog posts getting fewer than 10 social shares and zero links from other domains (Buzzsumo and Moz)
70% of marketers lack a consistent or integrated content strategy (Altimeter)
87% of B2B buyers give more credence to industry influencer content. Buyers also indicated they give more credence to peer reviews, third-party publications, and user-generated feedback. More than two thirds (68 percent) of buyers said they frequently give credence to peer reviews and user-generated feedback. Sixty percent give credence to content authored by a third-party publication or analyst. (DemandGen Report – 2017 Content Preferences Survey)
Top five B2B content marketing tactics: Social media content (92%); eNewsletters (83%); articles on your website (81%); blogs (80%); in-person events (77%). (IMN Inc.)
Third-party/analyst reports (77%) is the most valuable B2B content viewed during decision-making process (B2B content preferences report, 2016)
54% of B2B marketers rate their content marketing strategy as 'moderately effective' (Smart Insights)
Marketers believe research reports (46%) generate leads with the highest customer conversion rate (Ascend2 – Lead Generation to increase conversions report)
60% of marketers create at least one piece of content each day. (eMarketer)
Social media statistics 2017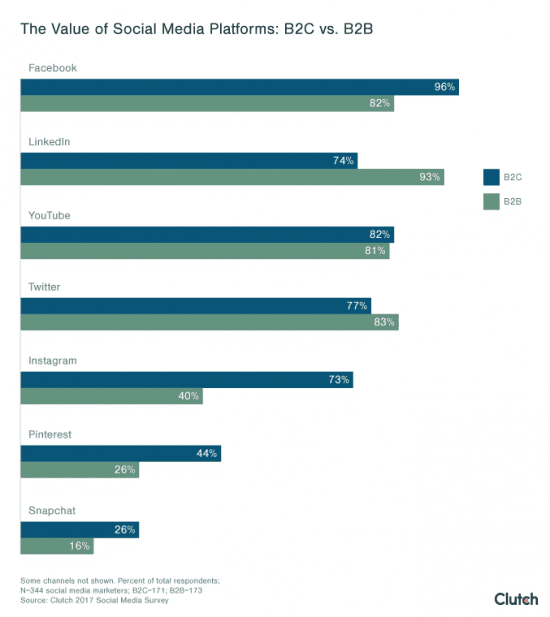 Mobile Marketing statistics 2017

Email Marketing statistic 2017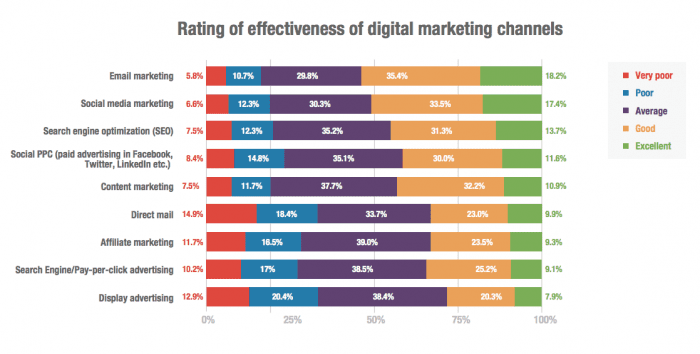 For more email statistics and benchmarks, we have a full compilation on open and clickthrough rates for email campaigns in the UK.
Influencer Marketing statistics 2017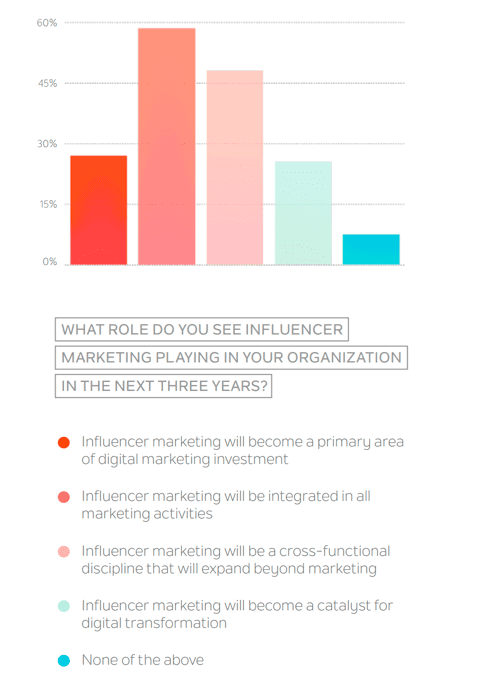 Other (UX, Video, ABM etc.)
Video will make up 80% of consumer online traffic by 2020 (

Animoto

, 2017)

96% of consumers ages 18-34 watch a social video a few times a week and 75% of millennials watch video at least daily (Animoto, 2017)
18 videos are published per month by businesses (Hubspot, 2017)
62% of marketers plan to increase their investment in Facebook video in the next year (Animoto, 2017)
Facebook generates 8 billion video views on average per day (Social Media Today)
Users who have a bad mobile user experience are 60% less likely to revisit and purchase from that brand in future (Smart Insights 2017)
Diary studies are used by just 2 in 10 (22%) researchers and just under half (47%) use search log analysis (NNG, user experience careers)
Global cart abandonment rates have increased 1.3% (up on the previous quarter) to 76.9% (SalesCycle, The remarketing report)
VR devices are currently too expensive according to 66% of respondents and the majority (86%) would like to try VR before buying (Ipsos MORI via Marketing Week)
17% of users delete apps because they are not useful and 17% delete them because they take up too much storage space (MarketingSherpa, Customer Satisfaction Research Survey)
Youtube remains the top content distributional channel to add into a marketing strategy (49-52%), within the next 12 months (HubSpot, State of Inbound 2017)
Over half (52%) of consumers want a fast response to their issues, something that can be hard to achieve with an automated service (Smart Insights)
27% of users skip video ads because they don't like video ads that play before the video they want to see (Smart Insights)
21% of respondents characterize Sales and marketings relationship as either misaligned or 'don't know' (HubSpot, State of Inbound 2017)
Marketing priorities include converting leads to customers  (70%) and attracting visitors to their site (55%) whilst considerably less (29%) said sales enablement was a top priority (HubSpot, State of Inbound 2017)