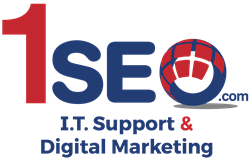 BRISTOL, Pa. (PRWEB)
April 16, 2019
1SEO I.T. Support & Digital Marketing is immensely proud to announce that Friday, April 19 of 2019, the company will be marking the 10th anniversary of its founding.
1SEO has grown leaps and bounds in its decade-long history and has no intention of stopping any time soon. Having begun with just a handful of employees working around-the-clock, the business has grown into an award-winning agency with recognition from the US Search Awards, Inc. 5000, and the AVA Digital Awards, and has emerged as a thought-leader in the digital marketing world.
Their team of more than 100 passionate staff members is incredibly humbled and honored to have reached this milestone in the company's history, and is deeply grateful to their clients in Philadelphia and Bucks County, as well as Salt Lake City and around the country, who have helped make 1SEO the amazing success and force that it is.
"We couldn't have gotten this far without the support of our clients," said Lance Bachmann, CEO. "They have always been, and will continue to be, our number one priority. We hope to see our current clients and many more continue to grow alongside us."
To show their gratitude, the company will be celebrating this milestone on Saturday, April 27, from 7:00 PM – 2:00 AM with the entire 1SEO family at Em's Place Tavern in Philadelphia. All clients are invited to attend this event.
As the company reflects upon their past with pride and gratitude, 1SEO is also looking ahead to what the future will bring. The agency is continuing to grow as never before, reaching new frontiers with a swelling client base, as well as a growing agency team that is continuously honing its skills to stay at the forefront of industry trends.
1SEO I.T. Support & Digital Marketing collectively thanks their clients and community for an incredible ten years, and eagerly looks forward to what lies ahead. To learn more about how they can help grow businesses and keep them protected, visit https://1seo.com.
About 1SEO I.T. Support & Digital Marketing

1SEO I.T. Support & Digital Marketing is a Philadelphia, PA-based digital marketing firm and managed I.T. service provider offering end-to-end solutions for their clientele, which is comprised of hundreds of businesses in countless industries that operate in several sectors, from the niche to the mainstream. With a full range of services, including social media optimization, content marketing, search engine optimization (SEO), web development, pay per click (PPC), proactive I.T. support, and managed I.T. services, 1SEO I.T. Support & Digital Marketing helps their clients win online and maximizes the efficiency and security of their I.T. infrastructure.
For more information, please visit https://1seo.com/. Or check them out on Facebook at https://www.facebook.com/1seoitdigital/ and on Twitter @1SEOITDigital
Share article on social media or email: