Marketing your non-profit is essential to the success of your cause and luckily, the internet offers numerous possibilities – you just need to make the most of these opportunities
Non-profits and charities often have small budgets and few people to help with their marketing strategies. But without a good marketing strategy in place, how do you raise awareness of your cause? How do you attract more supporters and donors to help support your cause? Marketing your non-profit is essential to the success of your cause and luckily, the internet offers numerous possibilities – you just need to make the most of these opportunities.
In this blog post, I'm going to share 3 effective strategies for non-profits and charities.
Advertise online…for free?
Google Ads can be extremely successful; they appear right at the top of search results so they're the first result people see when doing a Google search.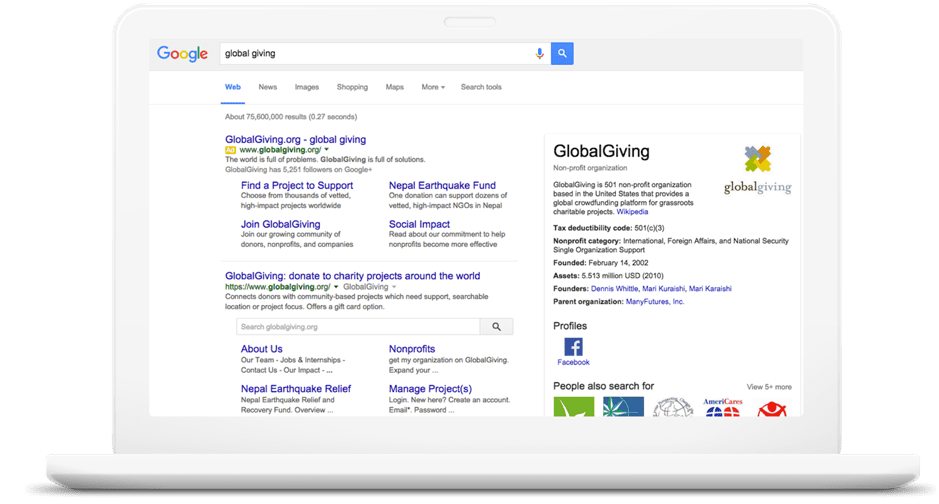 The issue with that, of course, is that it costs money. And although it might not be a lot, many non-profits and charities simply can't afford this kind of investment.
That said…you might be able to advertise for free with the Google Ad Grants program. They give you the budget to advertise and all you need to do is set up your campaign and measure your results to track your keywords and your conversions and find out with Google Analytics which ads and keywords are driving the best results so you can then improve your advertising strategy accordingly.
Go to the link mentioned earlier to apply for the ad grant; first, though, you'll have to check whether you are eligible for a grant – it's not too complicated and you can check what exactly it entails here.
If you are eligible and you're given the grant, make sure to do everything possible to follow Google's instructions so that you can remain eligible.
Invest in visual content
There is nothing more powerful than visual content – particularly images and videos. They can say so much in just a few seconds and most importantly, they can have a big emotional impact on the viewer. So whether it's your website, your blog, your social media, or any other digital channel, try to use as much visual content as possible to help attract a wider audience and most importantly, get them to take action (share your updates with your friends, make a donation, buy something from you to help promote the cause, and so on).
Here are a few useful ideas of what types of visual content you can create:
Tell a story with a video
Videos are incredibly powerful – especially when they tell a story that people can empathize with. As a charity or non-profit, you can use video to show how you're making an impact on the world; for example, Charity: Water often publishes videos of success stories, including a little backstory to paint a full picture.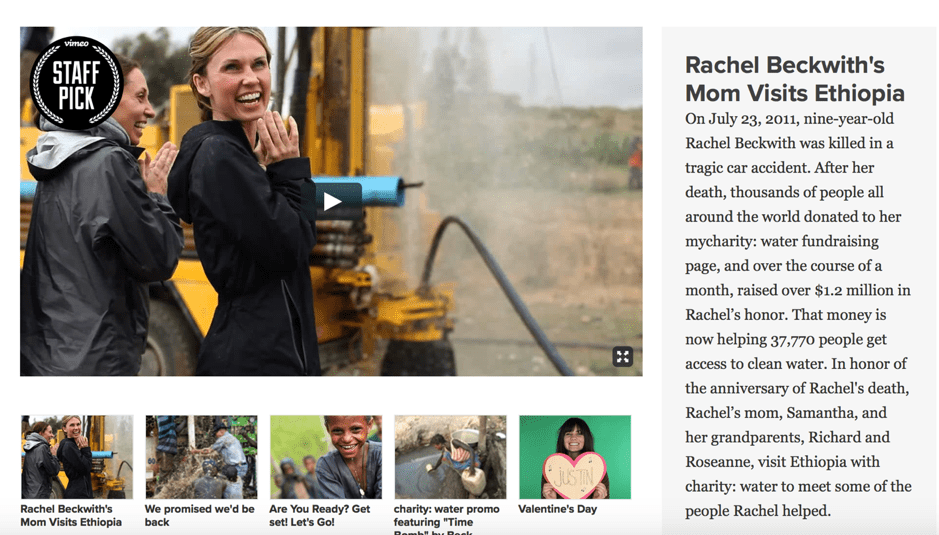 Motivational images
These super easy to create (just use something like Canva, Crello, or Pablo) and they're highly shareable because social media users love them. One way to use these types of images is to grab quotes not only from known personalities but even from the people you've worked with or helped – and to make them even more impactful, include a short story or link to a blog post/video/etc. where you tell a story, like TWLOHA do in this post: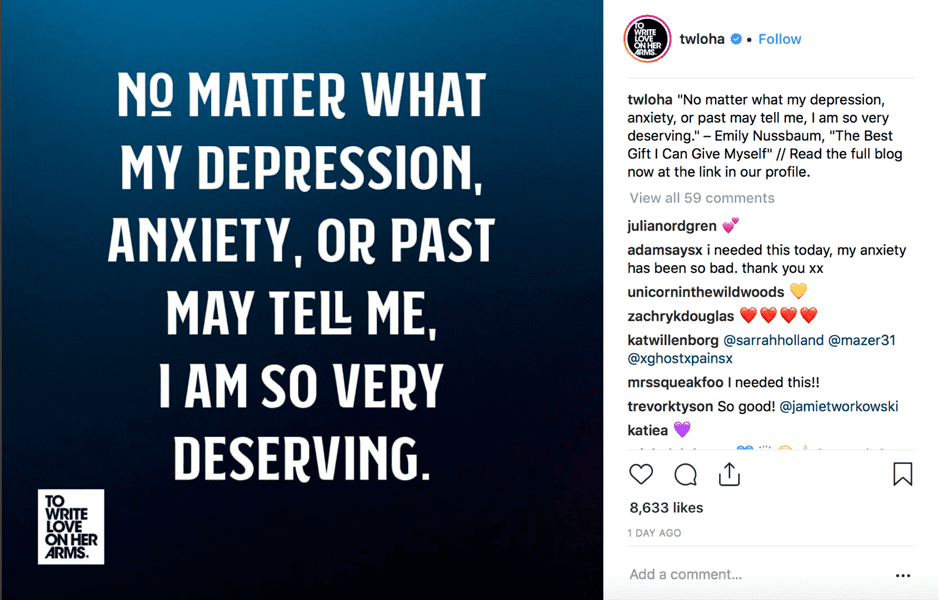 Behind the scenes photos and videos
Candid and behind the scenes visuals can help generate good engagement on social media and they help show the human side of your organization; even though your organization might be there to help people or make a real change in the world, you're still, in effect, a brand. Here's how UNICEF share selfies from their campaigns.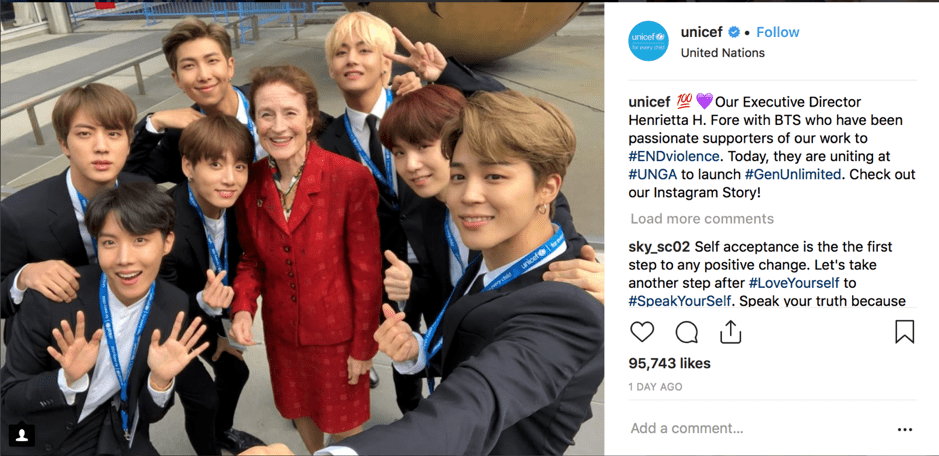 The power of storytelling
Previously, we've touched a bit on storytelling when we talked about videos and motivational quotes, and we've seen some examples of storytelling from charities and non-profits marketing strategies.
Storytelling is incredibly important on social media (and with all content in general, in fact), especially for non-profits, because it doesn't just help inform them, but it pulls at people's emotions. And when you can impact people's emotions, you make them want to take action: to share your posts and help spread the word or your organization, to donate their time and/or money, and to help support you in your cause.
Stories can be told in a variety of mediums and channels; for example:
A blog post detailing the success stories of your work
A video of someone you helped or impacted sharing their own story
Powerful images with text updates telling the complete story (like the earlier example from TED Talks)
As to how to tell powerful stories, here's what you can learn from this post from TED Talks: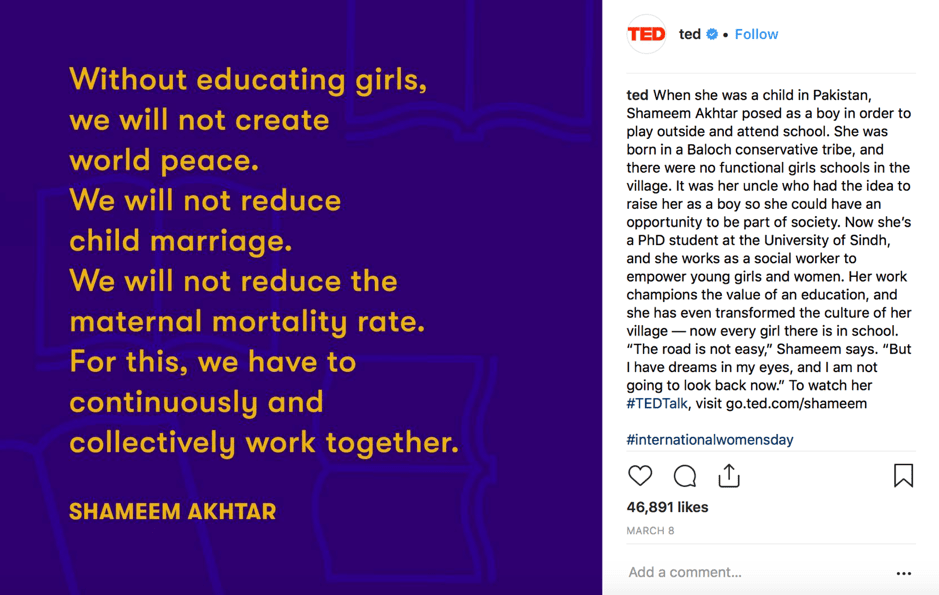 Here's what you can learn from it (as well as the previous example from Charity: Water):
You need a hero/heroine: like Shameem Akthar who had to change who she was in order to thrive in an extremely conservative environment
The villain: any good story has a villain. It can be a person, a country, an organization, and anything in between. In this case, the villain is most likely the society that she was born in – a society that didn't allow her to get the education she wanted and needed.
A conflict: you need to conflict in order to build suspense. And people love success stories, they want to see the good one win – and the bad one lose. For example, the conflict in this particular story is that she was a girl and as a girl, she couldn't go to school – and then comes the solution to the conflict: her uncle raising her as a boy so she could have more opportunities in life
A happy end – although that is debatable; sometimes there is no happy end – yet – but that just means the story isn't over yet. You can still tell those stories and ask people for help so you can actually reach a happy ending for your story. But if you do have a happy ending, like the story above (with Shameem Akthar not only managing to play the system but also ultimately getting a PhD and helping change other girls' life as a social worker) that too can have a big impact on people. Happy endings like these make us feel good while at the same time, they also inspire us to be better, to do better, and to try to make our own mark on the world, just like people like Shameem Akthar have done.
Conclusion
Non-profits and charities might have small budgets and few people to help them market their organization, but by using strategies like the above you can make a real impact on your success without spending all of your budget.
Leverage digital platforms and content marketing to reach more people and raise awareness of your non-profit; there are so many different platforms that you can try, such as blogging, social media (especially Instagram and Facebook), email marketing, and even online advertising (don't forget to check if you're eligible for a Google Ads grant!) – most of them are free to use.
All you need is a great content strategy to help; follow the tips and ideas outlined in this article and try to incorporate more storytelling and more visual content (videos and live videos, images – both candid and created by you – and so on) on any digital channel you're using.
Join To Our Newsletter
You are welcome