91% of people between the ages of 18 and 34 trust online reviews as much as personal recommendations
When employed correctly, user-generated content (UGC) provides a win-win situation for businesses and consumers alike. The more content real customers create, the less content marketers are responsible for planning. Additionally, UGC is highly trusted by consumers because it comes from people who aren't associated with the business.
Roughly 91% of people between the ages of 18 and 34 trust online reviews as much as personal recommendations. Considering that we're currently in the midst of a "consumer trust crisis," according to the 2018 Edelman Trust Barometer, gaining customers' faith with UGC is more important than ever.
Here are the top three ways to make user-generated content a powerful, effective tool in your marketing arsenal. When paired with your current forms of content production, these methods can drastically improve your ROI. 
1. Boost the quality of your feedback
Most businesses already gather feedback from consumers in some manner. Usually, they rely on review sites or negative and positive feedback on their own websites. However, many of these reviews usually don't dig deep enough to obtain a comprehensive picture of what consumers want and expect. You need to employ different tools to increase relevancy and the amount of customer feedback.
Create forms that engage reviewers in an in-depth manner
Review sites are certainly necessary pieces of the user-content puzzle, but businesses need to obtain more substantial reviews that prompt 360-degree feedback, not just a star rating with a quick sentence. For instance, take a look at one of these reviews on Trustpilot. Users are prompted to answer multiple questions that help present the business in an authentic manner.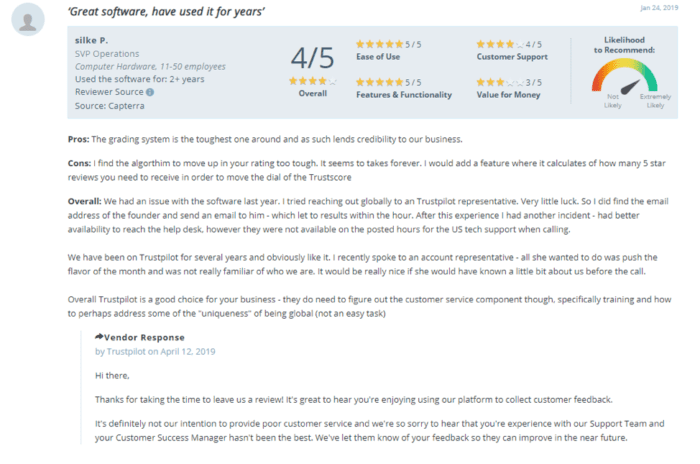 Another tool that can help is a customer survey. Surveys allow you to gain extensive insight that you might not be able to gather on a public review site. Whether it's sending out a poll on Twitter or emailing an in-depth questionnaire to past customers, surveys give you a unique look into the opinions of the masses.
Converting customers with feedback
Gathering this information via surveys and customer reviews is only the first step in using user-generated content as a weapon. The second part comes in what you do with the feedback. There are many options, from showcasing testimonials on your homepage to creating videos with real people expressing feedback. Get creative here! Optimize positive reviews to gain more customers and use your negative feedback to make adjustments as necessary.
Customers these days aren't easily fooled. They're good at spotting fake facts in reviews and they know that a star rating alone doesn't always indicate a trustworthy business. You'll need more than a sentence to sell your business to them, so make it a point to gather as many detailed reviews as you possibly can.
2. Focus your social on your followers
Once a business begins to obtain user-generated content, the next step is to build a strong presence on social media platforms with that information. People turn to Facebook, Twitter, Instagram, and other platforms for information on a daily basis. Highlighting user-generated content on your most ideal social network is a must for brands of all sizes.
Brands that use UGC for social
To see how to excellently utilize UGC on social media, take a look at Airbnb, the home-sharing travel company. The brand consistently Retweets positive feedback from customers on Twitter, as well as shares photos from users on Instagram. Not only does this establish authenticity as a trustworthy company, but it also gives their customers an incentive to tag the brand on social media in hopes of being featured.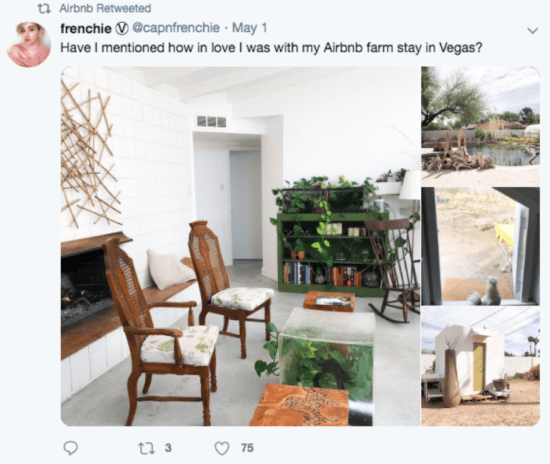 Another brand that relies heavily on user-generated content is Teva, the outdoor shoe company. Their Instagram is littered with photographs from real people wearing their shoes on various outdoor adventures.
The abundance of real-life examples of people using Teva's products boosts their appeal to viewers and gives their social media presence an authentic feel. Additionally, consumers are more likely to build a relationship with Teva's Instagram account if they have a chance of being featured.
When deciding where to share UGC, consider which social media networks are most effective to your business' campaign. For some, Instagram reaches the correct audience. For others, Twitter or LinkedIn might be more viable channels. Regardless of which network(s) you use; the important thing is to foster as many positive consumer experiences as you can.
3. Try spinning negative UGC into a positive message
Although we predominantly see brands using user-generated content to highlight positive customer feedback, negative reviews can be just as powerful when addressed properly. The manner in which a company responds to negative UGC speaks volumes to potential customers about its trustworthiness and professionalism.
Using bad feedback to improve your reputation
According to the BrightLocal study mentioned earlier, 89% of consumers read local business' responses to reviews. This is especially true when the feedback is negative.
How does the company handle criticism?
Do they respond in an admirable manner?
Do they make changes to improve in the future?
Google has also confirmed that responding to reviews can improve your local search presence.
A study from Reviewtrackers in 2018 indicates that although half of consumers expect businesses to respond within a week, 63% never receive responses. These businesses are missing out on a huge opportunity to maximize their UGC's impact and improve their online reputation.
Sharing negative reviews
Most companies solely share positive feedback from consumers, but that might not be the best strategy. Generally speaking, consumers tend to trust reviews more when they see a mix of good and bad feedback. As a consumer, would you have complete faith in a company that didn't' seem to have a single bad review? Probably not – we've become too skeptical in the age of consumer distrust.
Businesses are understandably hesitant to highlight negative UGC, but there's a safe way to do it without driving potential customers away. Take the food chain Wendy's, for example. People all over the internet have been heralding the brand's snappy comebacks to negative user feedback. One could argue that their manipulation of bad press has actually increased people's positive opinions.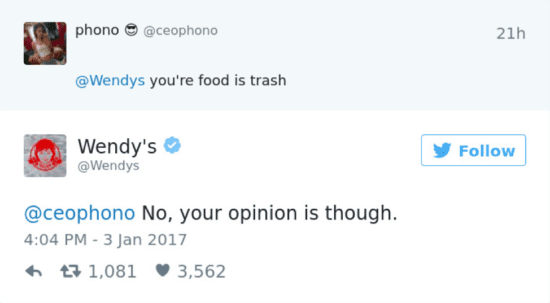 Not every brand will employ such a risky, sarcastic method on social media, but every business should develop a technique for publically responding to negative UGC. Here are a few tips to keep your responses positive, no matter how good or bad the review is.
Express appreciation for the review.
Provide the next course of action. For example, "Visit our website for more deals!"
Use keywords, including your business' name.
Respond promptly so the reviewer knows you care.
Keep your response short, sweet, and to-the-point.
Understand that you're not just replying to the reviewer; everyone will see it.
Apologize to negative comments, regardless as to whether or not you're at fault.
Move particularly bad conversations out of the public eye; direct them to call/email.
Negative reviews are powerful, but the manner in which businesses respond to bad feedback is what truly matters in the eyes of the public.
The Bottom Line 
Content is king in digital marketing plans, and that doesn't just mean brand-produced content. To succeed in a world driven by consumers, brands must optimize their content strategies to include and respond to all kinds of customer feedback. These three techniques will put any company on the right path to using UGC as a weapon, rather than letting it dictate the brand's reputation.
Join To Our Newsletter
You are welcome