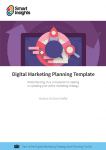 4 best strategies to grow your SaaS business
Find out the most effective steps that will help you grow your company and generate leads
With software development setting records every year, it is easy to see why SaaS presents a lucrative opportunity for entrepreneurs. But like in every other business, you need to have a sound plan if you want to grow.
Luckily, new technologies allow for the creation of new software and enable companies in this niche to grow more rapidly.
So, what are the marketing strategies that can help your SaaS business get the most out of its lead generation efforts? Take a look at our tips below.
Content marketing
Everybody knows that content is the king. If that is so, why wouldn't you use his majesty to attract more visitors to your website?
The thing with content marketing is that it tends to grow in value as time goes by. When you create high-quality content, you are making a long-term investment which will continue to generate leads even several years from the date it was created.
Nobody will buy from you if they don't trust you, which is why you need to give before you can take. With content marketing, you give your visitors tips and knowledge and add value to your website.
This is the reason why SaaS companies across the globe use content marketing in their lead generation efforts. Just visit the website of any leading business in this niche and you will see what we mean.
Some examples would be Dropbox, Intercom, HubSpot and KissMetrics. However, arguably the best example of a SaaS website with great leadership content is Moz.
Moz tool helps a great number of people every day, but they still produce a lot of content on a regular basis. From their blog posts to their guides and Whiteboard Friday videos, they are definitely the website that you should look up to when it comes to flawless content marketing approach.
SEO
However, you should know that it is not enough to only create content. You also need to distribute it and make it easily discoverable on the web.
There are a lot of ways to do this, but they all boil down to two main categories: on-page SEO and off-page SEO.
On-page SEO
Gone are the days when creating high-quality content meant only that you should have informative posts that people would find useful. No, my friend, it is much more difficult today.
Good on-page search engine optimization includes sound a keyword strategy, use of titles and descriptions, internal linking, user interface and page load time. All these factors are very important and can make or break your on-page SEO.
Off-page SEO
We say 'off-page SEO' and you say 'link building'.
However, the real truth is that link building should be only a fraction of your off-page SEO artillery. Yes, links are extremely important, but you need to know that chasing all the links you can get is not a good idea. One high-quality link that you get from the most trusted website in your niche is more powerful than a hundred links from low-level domain authority websites.
But there is more to off-page SEO. Anyone heard of social media? Once your content is shared and linked by influencers, you will be able to witness the power of social media channels in marketing.
However, if you don't have a deep knowledge of this marketing channel, it would be wise to leave your social media to an expert. In this case, the best thing to do is to hire a social media manager.
Google AdWords
If you have just started your SaaS business, running an AdWords campaign might be just what you need to acquire new customers.
However, the cost per click for software-related keywords is rather expensive, sometimes skyrocketing at $100. Moreover, competition in this niche is fierce, which means that you have to stand out from the rest if you decide to spend money on ads.

Here are a few things you can do to get the most out of the money that you spend on Google ads:
Use video ads on Google Display to reach a similar audience for a fraction of the money you would spend on regular Google ads
Use Gmail ads if you want to target your competitors' customers
Expand your reach by using lookalike audiences
Don't use CPC to determine the return on ad spend. Instead, try with CLV
Be careful when targeting and do your remarketing right
If you want to win over new customers, target your competitors' keywords
Make sure you streamline your Google AdWords account
If you want to read more about maximizing your gains through this marketing channel, see our post on how to improve your AdWords campaign in 12 steps.
Free trials
Similar to content marketing, free product trials are a great way to gain customers' trust by giving before you take.
What is better than giving your audience an opportunity to test your product before deciding to buy it? This approach lets them have a first-hand experience and can do wonders, particularly among a tech-savvy audience.
Again, all the leading SaaS businesses (Dropbox, Moz, etc.) know this very well and they actively offer free trials of their products and services.
However, if you choose to do this, you should note a few things. First, it is essential that people have a positive experience while they are using the trial version. This means that you should provide them with support (calls, webinars, automated emails, etc.).
Also, having people test your product for free can be of great help if you are just starting your SaaS business as you can gather useful feedback and improve your product to gain even more potential customers.
The secret to getting people to buy your product after trialling it is to offer them full customer support and show product value without going too far and overwhelming them with too much information.
Bottom line
It is important to reach your audience with SEO and Google AdWords, but it is even more important to know what to do once you reach them.
Making a great first impression will land you many prospects. You just need to know what people need. And what they need is help, even though they don't want to admit it.
This is exactly where content marketing and free trials enter the stage. Useful tips and a free product (even for a limited time) ‒ who would say no to this?
Remember, reach your audience wisely and when you do, give before you take ‒ this is the path you want to take.