Looking at what big B2C brands get right can help inform your strategy and show you what the next marketing trends are likely to be.
According to a recent survey, only 32% of B2C marketers thought that they were proficient in what they do. B2C marketing requires thoughtful strategizing and planning. It can also benefit from looking at what has worked for others and what hasn't.
In this article, we'll take a look at some B2C giants and the lessons we can learn from them to improve B2C marketing strategies.
1. Amazon.com – the power of memberships
There are undoubtedly dozens of lessons that can be learned from Amazon, the giant of e-commerce. However, right now we'll focus on one very important thing – the power of memberships.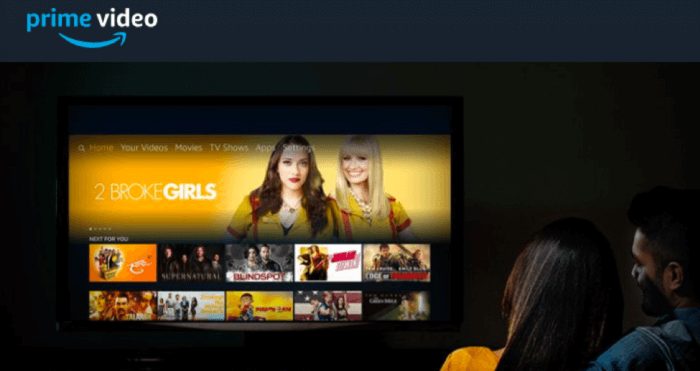 Amazon Prime is available for an annual or small monthly cost, which is great for consumers. However, it brings in a lot more profit than that for the company itself.
On average, Amazon Prime members tend to spend around $600 more per year on the site compared to non-members. With over 80 million members in the United States alone, that number adds up quickly and means a lot of profit.
What makes Amazon Prime so attractive is that it offers comprehensive benefits. Here are just some of the benefits included in a Prime membership:
Free two-day shipping on over a hundred million items.
Free overnight shipping on select items.
Instant streaming of thousands of TV shows and movies.
Instant access to thousands of books on Kindle.
Instant access to thousands of songs on Prime Music.
Additional discounts and perks.
This is just one example that shows that memberships and loyalty programs are a great way to establish relationships with consumers. Fortunately, setting up a loyalty program is now easier than ever.
If you use Shopify, you can use an app such as Smile: Rewards and Loyalty to create your rewards program. If you want to create different tiers of member benefits, you can use an app such as Bold Memberships.
You might also be able to set one up through your payment processor. Stripe integrates with Lightrail, a promotions, loyalty, and gift cards platform, while Square has its own rewards platform: Square Loyalty.
Another takeaway from Amazon is the importance of quick and free shipping.
In fact, nine out of ten consumers say that free shipping is the top incentive that would cause them to make more purchases online. Some 69% mentioned same-day shipping as an incentive as well.
Brands wishing to offer more incentives to purchase should consider adding a free shipping option. If you can't afford to do so for every shipment, you can set a minimum purchase order amount to qualify for free shipping.
Amazon was also among the firsts to use technologies like AI and machine learning in its operations, meaning it has benefited from the benefits offered from personalization. It knew it well that innovation could only be brought about by adopting cutting edge modern technology and this made Amazon a leader in the e-commerce sector.
Today, businesses can't say 'no' to technology. They essentially need to embrace it if they have to stay in business. There are simple ways you can make use of AI. For example, you can set up a Facebook Messenger or a website chatbot with preset menu options to help your customers find solutions to problems quickly. You can also start personalizing your website, such as through the product recommendations you present.
2. Agoda.com – scarcity, urgency, social proof, and more
Agoda.com is one of the largest booking sites for hotels, guesthouses, and tours. One of its strongest points is how it uses scarcity and urgency to increase sales.

In the above example, notice how they create social proof:
"Most Booked"
"Popular!"
"Booked 16 times since yesterday"
The last line also creates urgency – if so many people booked it over the past 24 hours, it may very well become unavailable soon. Agoda also uses social proof by displaying a review score for each listing, telling you how many reviews this score is based on, helping to develop trust.
Agoda does more than this to create a sense of urgency though, which could help to increase conversions. The site shows how many rooms are left for a listing and how long ago it was last booked, showing that a property is in high demand and could easily sell out. This creates a sense of urgency that can act as a trigger for a customer.
Using countdown timers is one way you can also create urgency. Adding countdowns to your website popup, landing page, or even emails with plugins such as Finale Lite and The Countdown Pro (both available on WordPress) can help encourage purchases.
However, it is important to remember to be honest with these countdowns, as claiming there are only a few of an item left when there are a lot more in your warehouse is likely to have a negative effect on customer trust in your brand.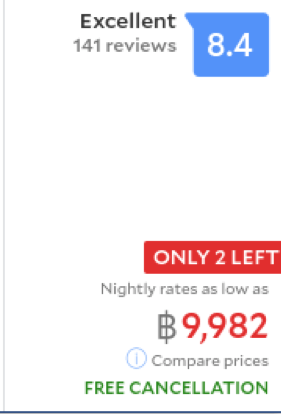 Another marketing technique we can learn from Agoda is how to use discounts and perks to increase conversions. In the following example, we can see how Agoda displays an "original price" that is crossed out, followed by a sales price.
The site even stresses that it is a last-minute price drop, which creates urgency to take advantage of it right away. In addition, it shows you that an additional special coupon has been applied to the price on top of the price drop.
Finally, in one listing it includes a banner "67% OFF TODAY," implying that tomorrow the price may go up again. It also shows that one listing is 7% less than similar hotels, showing the value on offer.
To avoid confusion with promotions, listings that allow promo codes are marked on the site. This helps to avoid disappointment and confusion, as well as cart abandonment as it is less likely that a customer will add a room to their basket if they know they cannot use a promo code for it.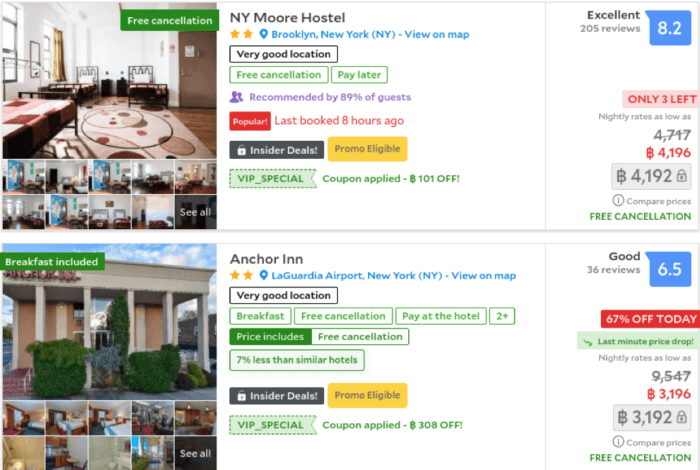 Highlighting special perks and benefits is another thing that Agoda is great at. In the above example, there are many perks, such as:
Free breakfast
Free cancellation
Good location
No need to pay upfront
All of this shows that running offers, as well as highlighting important selling points can really benefit your brand. It is a good idea to consider regular promotions, however, remember that always having sales can have a negative effect so you need to consider when you want to launch one rather than seemingly having offers running all the time.
If promotions don't suit your brand, you might want to consider how you can tie them in with a rewards program to make them seem more exclusive. Agoda provides Agoda Cash for select bookings, which provides a small rebate that can be used for future bookings. Not only is this a great offer, it encourages future purchases and brand loyalty.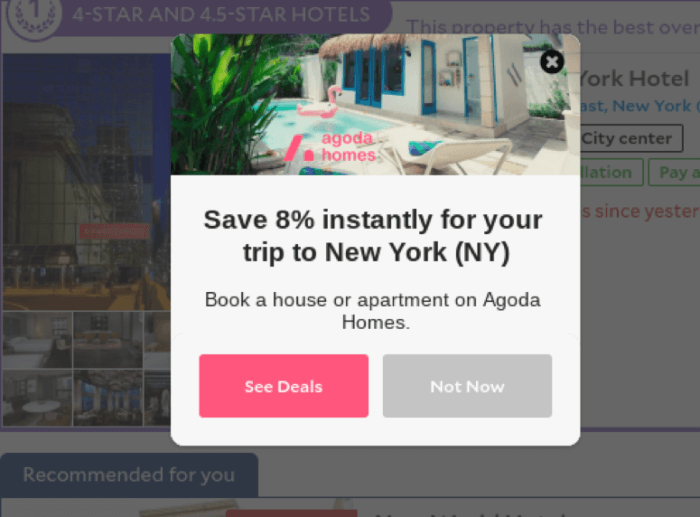 Finally, Agoda also has an app, which is important as mobile usage rises. Having an app comes with a number of benefits, such as:
Increased visibility to clients throughout the day – keep in mind that the average person spends over two hours every day on their phones.
The ability to send mobile app notifications about discounts, flash sales, or simply reminders to log in.
A more personalized experience for consumers.
Increased engagement.
Quicker customer support.
Not every business will need an app. However, if you have an idea for a useful app or you simply want to turn your website into an app, creating one isn't difficult or expensive.
You can hire a developer if your needs are complex. Otherwise, you can use an app builder such as Buildfire to create your app yourself.
3. Bodybuilding.com – the power of a community
Bodybuilding.com has a number of products that they sell and promote, including courses and workout plans, as well as membership options that give you access to various courses and plans.
However, what sets Bodybuilding.com apart from other sellers in the fitness and health niche is the way it has created a community where like-minded individuals come together to help each other out and discuss fitness-related topics.
This is under their Bodyspace program, where users can find programs and routines, and post updates about their progress.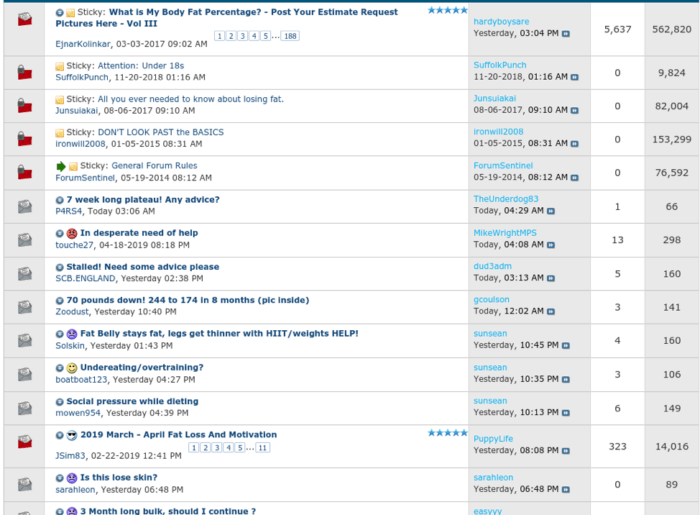 However, what Bodybuilding.com is most known for is its forum. Users can create and respond to threads and ask questions to get help from the community. They can update their profile with their current stats and let others see their progress.
Having a forum or community has many benefits, including:
Greatly increases your SEO power and organic traffic.
Brings repeat customers and subscribers.
Helps keep people motivated to continue on their journey; some of these people may end up purchasing your paid products or plans.
Creates a brand.
Fortunately, starting a forum isn't difficult. Here are a few plugins that will turn your WordPress site into an interactive forum:
bbPress – This plugin is free forever, and all its extensions are free.
BuddyPress – This plugin is more for creating an online community where users can not only create accounts but can send private messages to each other.
WPForo – This plugin is free, but its extensions must be purchased separately.
If you want to turn your entire site into a plugin, consider looking into WordPress forum themes, such as ForumPress by HeroThemes.
Bodybuilding.com also knows the power of content marketing. It has an extensive article library, which constantly gets updated with new blog posts that cover fitness-related issues and contain expert advice.
Regular content brings people back to your site and can help develop brand loyalty, which is why it's a good idea to keep your blog updated and publish new content regularly. Consider adding a few resources, such as guidebooks or whitepapers, and creating a Youtube channel with how-to tips and guides.
The site also has a nonprofit. More and more consumers are now holding brands accountable for their beliefs and actions and are making purchases based on these brand beliefs.
Charitable giving can help develop your brand and bring you free publicity, as well as helping to align the beliefs of your brand with those of your target audience. Most importantly, it can increase customer loyalty and respect for your brand. This study shows that 85% of consumers have a better outlook on businesses that give to charities they care about.
4. Netflix – original content and user suggestions
Netflix is one of the top video streaming services in the world with over 125 million paid subscribers.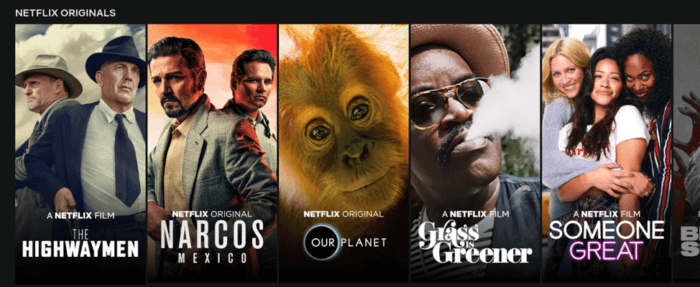 One of the biggest marketing lessons to learn from Netflix is the power of original content.
Besides providing users with TV shows and movies from around the world, Netflix also places a large emphasis on creating original shows and movies that are exclusive to the service. Many of these shows and movies turn out to become extremely popular and go viral – Narcos being a good example.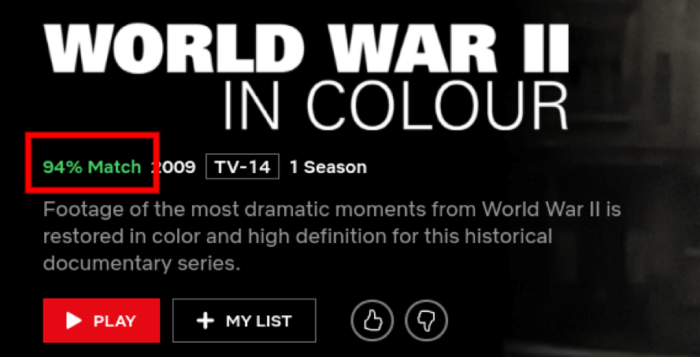 It's important to stand out from the crowd. Don't just regurgitate other people's content on your site and don't just sell products that look generic and similar to the ones sold by your top competitors.
Netflix also knows the importance of providing users with suggested content based on their data in order to enhance the user experience.
The service will look at your previous browsing and viewing history and suggest movies and shows based on that data, with each suggestion getting a score from one to 100 based on how likely you are to be interested in it. Users can help Netflix better their suggestions by clicking a thumbs-up or thumbs-down button.
On WordPress, you can use a plugin such as AddThis or ShareAHolic to display suggested content to users. On Shopify, you can use this tutorial to display product recommendations on a product page.
With more consumers looking for personalized experiences, being able to make suggestions like Netflix does is likely only going to benefit your brand.
Wrapping it up
There is a lot more to learn from B2C giants. However, by just focusing on things such as memberships, free and quick shipping, discounts, urgency, scarcity, community, original content and improved user suggestions, you will already be way ahead of your competitors.