Customer listening is now essential
Ever talked with someone who doesn't seem to listen to you or let you get a word in edgewise? Pretty annoying, right?
The same is true in digital marketing. In order for you to market and, ultimately sell better, you need to listen as much as you talk. Only then can you capture the critical customer feedback you need to inform the tactical tweaks and strategic transformations you need to make to take your business to the next level. The best way to do this is by listening – at first manually if that's all you can afford to do – but eventually in a deep, analytics-based way. This is the realm of customer listening (CL) platforms.
What's a Customer Listening Platform?
A customer listening (or CL) platform is a SAAS-based app that allows you to listen to all the streams of customer data you have available so you can make better decisions on how to fully serve and satisfy your customers in the future. It enables you to look both backward (as it analyzes existing data) and forward (helping your organization to anticipate issues before they arise and even suggesting ways to proactively create more delightful experiences.
With that foundation, let's get into the key features to look for in your customer listening app.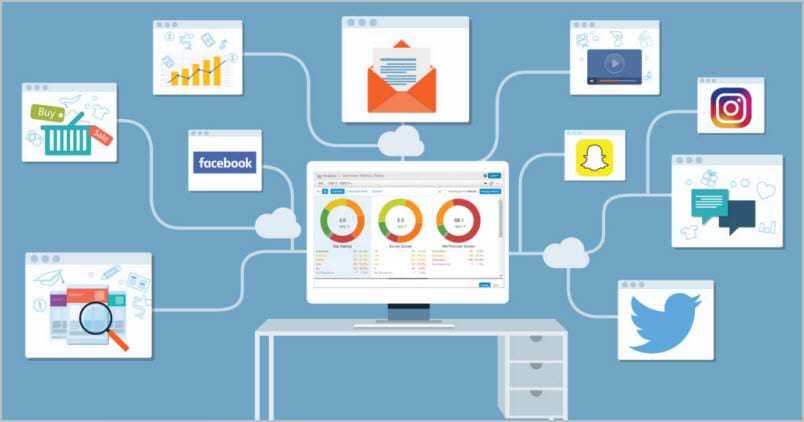 Feature 1: Integrates with your customer-facing apps
Strong connections are essential in business. That's doubly true for your CL platform. The analytics you get from it will only be as good as the breadth and depth of its listening scope. So make sure the platform you choose seamlessly integrates with all of your customer-facing apps. These include, at a minimum, your customer relationship management (CRM) system, your online chat app (if applicable), your customer surveying app and your social media channels.
Integrate with CRM
Your customers are obviously your organization's reason for being, and your CRM is the 'hub' of your customer communications and tracking. So it's essential that your CRM integrates well with your CL platform, via an application programming interface (API) or some other robust tie-in.
When implemented, your listening platform should import everything you know about each prospect and customer, starting with the first contact: all customer profile information, notes, touchpoints and transactions. In other words, it should capture the full 'contact trail' of each prospect and customer so you can later feed this data into your CL analysis engine.
Integrate with online chat
Online chat is increasingly a key interaction mode for your customers, especially for your early-stage prospects. So your CL platform must have 'hooks' into your chat app that:
Capture prospect questions, sentiment, intents.
Capture customer transactions and follow-up actions.
Link these behaviors to each prospect or customer (typically via an email address).
Your CL app's analytics engine can then use this data to create a continuously-improving 'picture' of each of your prospects, a profile that allows you to better tailor your messaging and offers to their needs and desires.
Integrate with survey data
The original 'voice of customer' channel, many companies still use online surveys to gauge customer satisfaction. If you do, make sure your CL platform imports all of your key survey data, whether it's from SurveyMonkey or another popular tool.
Also, if you're serving up polls at various points in your website experience with a tool like HotJar, ClickTale or Qualaroo, make sure your CL app can pull in that data, too.
Integrate with social channels
Social media is clearly the killer app for hearing from and promptly responding to prospect and customer opinions surrounding your brand. For these reasons, make sure your CL app links with all of your social channels, not just one or two of them. You'll likely find that your social comment streams give you the most 'raw' – and therefore most valuable – customer data from which to gauge customer sentiment. This brings me to the next key feature: text mining.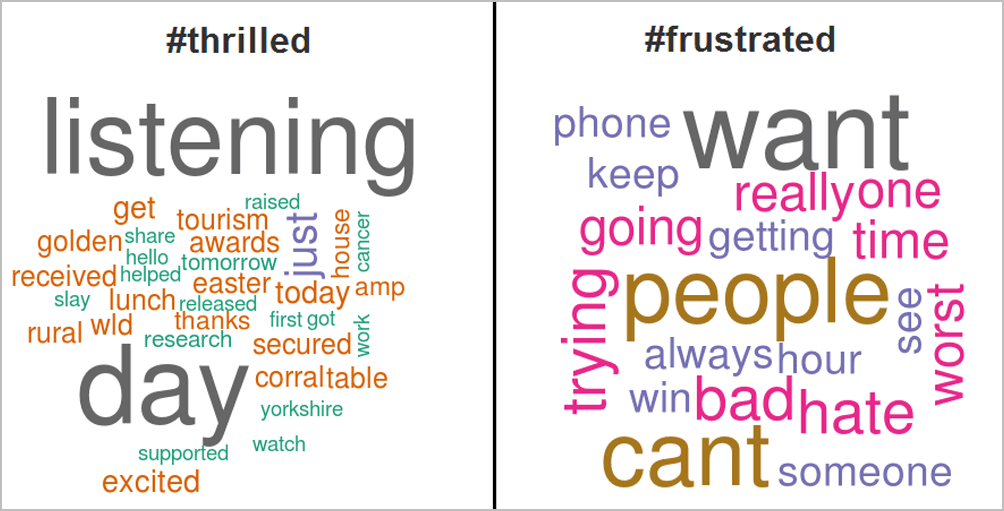 Feature 2: Supports text mining and analysis
The core of a good CL platform is how well it synthesizes what all of your customers are saying into 'themes' (and variations thereof) and identifies which comments may adversely affect your relationship with a given customer. This is done by the 'text mining' and analytics part of the CL app's algorithm.
Aside: 'text mining' defined
Text mining and analysis applies a variety of linguistic, statistical and machine learning techniques to large customer data to determine topics, keywords, categories and tags that allow you to make decisions based on this data. This includes whether a given customer is likely to leave (churn) or say bad things about your brand or product.
Specific features to look for in text mining tools include:
Boolean ('and/or') queries
Document filtering
Language detection
Sentiment analysis
Summarization
Taxonomy classification
Topic clustering
It's not that the tool you choose must have all of these features; it's just that most capable text mining apps – and, more broadly, customer listening apps – include most of them.
Sentiment analysis, in particular, seeks to understand a person's attitude or emotional reaction toward a specific interaction or brand. Tools and algorithms used in sentiment analysis include social media monitoring, product review analysis, keyword/text processing tools, computational linguistics, natural language processing.
I realize this 'tech talk' may sound daunting. But when you're just starting out, your analysis doesn't need to be this complicated. It can be as simple as assigning an analyst-type on your team to regularly monitor and assess what's happening on your social media accounts. In short, start with the level of sentiment analysis that best fits your company's size, budget and listening goals.
If you're eager to learn more, digital marketing trainer MarketMotive does a deep dive into sentiment analysis.

Feature 3: Includes good predictive modeling
Always keep in mind the most important goal of your customer listening efforts: to discover negative attitudes about your brand or product early enough to proactively address them. Without this ability, your Support and Sales teams will continue to operate in reactive mode. So your customer analytics platform needs to have just that, a forward-thinking 'predictive' analytics part that can predict the future, or at least the events that matter from a customer experience perspective.
As you might guess, some CL apps provide more accurate predictions than others. Powered by smart data scientists, their data models and algorithms can more quickly and accurately deduce the actions that lead with negative sentiment.
Don't have a data scientist on your team? Bring in a consultant who can assess the CL platforms you're considering. They should be able to tell you which of the apps have the 'brains' for your given budget, goals and business model.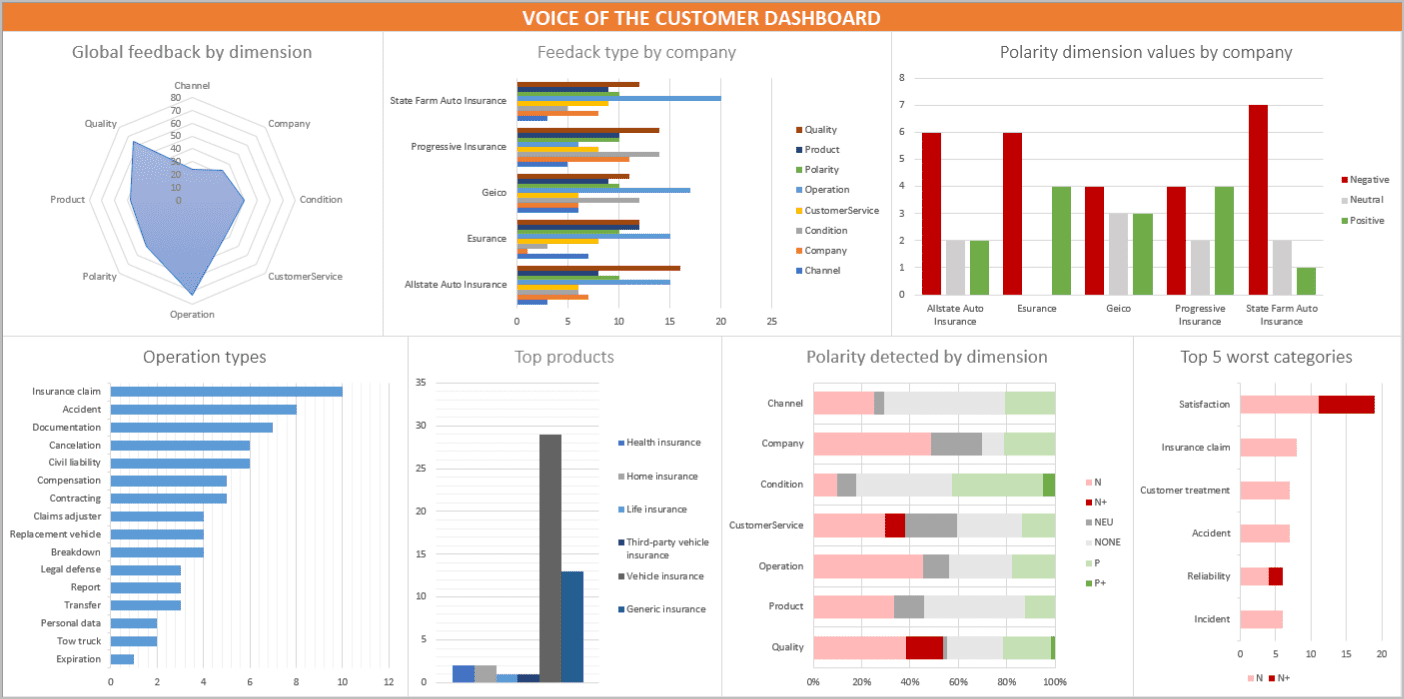 Feature 4: Supports an analytic dashboard
The most amazing data feeds and algorithm won't do you much good unless you can see your key customer metrics and sentiment in an actionable form. So look for CL apps that offer a digital 'dashboard' – a consolidated view of your top customer experience metrics, both quantitative and qualitative.
Also look for data views that:
Can be customized to your liking. Every business is different; while net promoter score (NPS) may be the key metric for one organization, social sentiment may be for another.
Support drill-downs into underlying data. Such drill-downs and cross-tabulations allow your marketing analyst to readily see the 'raw' data behind the numbers.
Something else that should be pushed to the dashboard: critical alerts. These are customer issues and sentiment that, if left unaddressed, could quickly tarnish your brand image.
Now that you know the top features to look for, I'll share some of the top customer listening (and 'voice of customer' and 'customer experience') platforms that I discovered during my research.
Some top customer listening apps
In 2018, G2Crowd did a comprehensive review of over 60 text mining apps. Among the mid-tier vendors they liked were:
VozIQ's solution, for example, uses predictive text analytics to piece together structured customer data (e.g. from call centers) and unstructured data (e.g. from social channels) to expose service gaps and the associated risk of revenue loss. The VozIQ app predicts at-risk customer across various lifecycle stages and routes them to retention specialists.
G2Crowd's recommended enterprise-level CL platforms included:
Keep in mind: if you're moving past the 'customer listening 1.0' phase, your CL platform represents a significant time and money investment. So don't hesitate to bring in an unbiased expert in this area to help you assess and choose the best CL app for your needs.
It's an exciting time for customer listening
I'm personally excited to see how customer listening – and the resulting critical and timely customer experience-improving insights – has become systematized through the latest set of smart, well-integrated CL platforms. They allow customer support, sales and experience improvement teams to quickly gather and analyze customer input from a wide range of channels, and, by doing so, help break down your team-specific listening 'silos.'
Chances are, if you plug in a reputable customer listening platform, you'll soon be collecting more data than you can even act on. But the best apps offer dashboards that help you prioritize the 'hot button' issues that you need to resolve right away. If included in the app you choose, predictive modeling may even allow you to peer into the future, so you can prevent bad customer experiences from happening in the first place.
Join To Our Newsletter
You are welcome