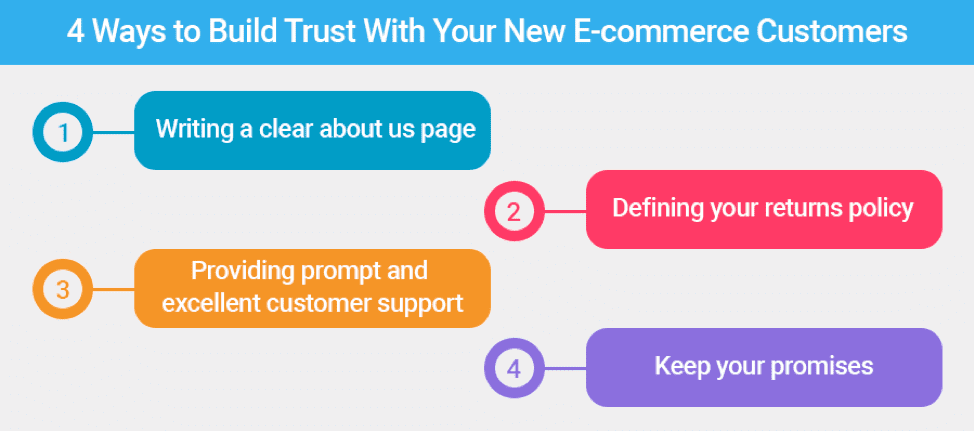 4 ways to build trust with your new e-commerce customers
Keeping new customers satisfied is compulsory if you are to have any chance of turning them into regular customers
As an e-commerce business owner, you probably understand the important role that "trust" plays in converting first-time visitors into paying customers.
This set of visitors would never complete the checkout process if they find anything that makes them feel uncomfortable or doubt the credibility of your service.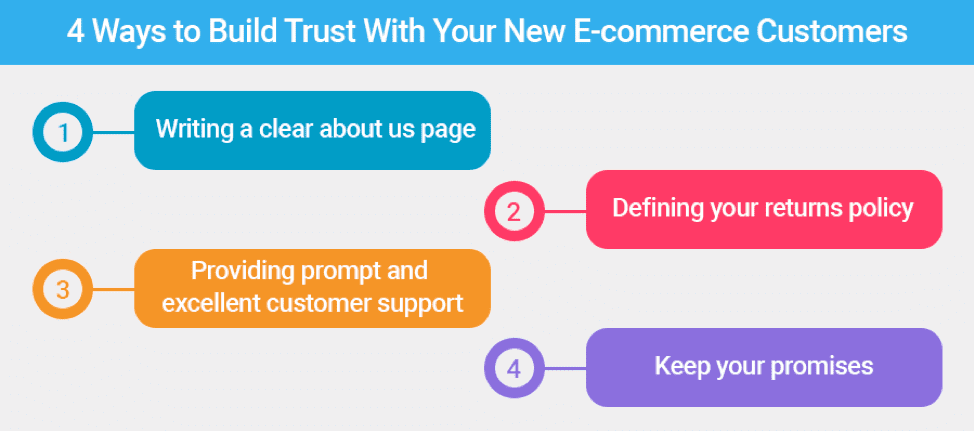 So, keeping them satisfied is compulsory if you are to have any chance of turning them into regular customers.
Here are some other benefits you will gain by satisfying new customers:
New referral opportunities — First-time customers are usually more enthusiastic about sharing your e-commerce website with their friends especially when they love the experience.
New reviews — While your old customers may be tired of leaving reviews, satisfied new customers will wholeheartedly do this. In the end, their reviews will convince other first time visitors to patronize you, so you win all round!
The big question though is: How do you optimize your e-commerce website to build trust with new customers?
Well, here are key steps that have proven successful for most e-commerce operators.
1. Writing a clear about us page
One of the pages that first-time visitors to your e-commerce store will check before even browsing through your product gallery is your About Us section.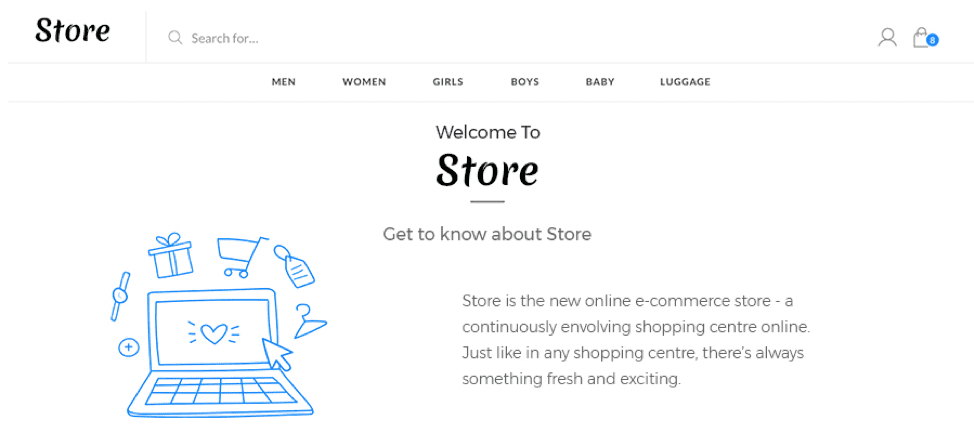 Most times, it is also the content of this page of your website that determines whether they will proceed with placing an order or not.
So, use your About Us page to build trust by including the following details:
Your brand's credentials, certificates or awards.
Core values, goals and mission statement.
Location of your physical office or home address if the latter is not available.
Contact email or phone number.
How long you've been in business.
Image and social media contact for top officials (applicable to e-commerce sites selling highly expensive products).
Your About Us page should also:
Be consistent with the branding on your website.
Include everything your new customers should know about your business.
Be well spaced and easy to skim through.
Use first person (I) or first person plural (we) to represent your business, because using your business name, in this case, appears non-personal and insincere to first-time visitors.
Conclusively, your About Us page must be free of jargon and easy to read. Keeping it as simple and concise as possible will help you win the trust of new customers in the long run.
As you reach new milestones and sales target, remember to update your About Us page.
2. Defining your returns policy
Let's face it, 79% of online customers want to know what options are available for returning goods and getting payback for wrong or late deliveries, plus any other deficiency by your store.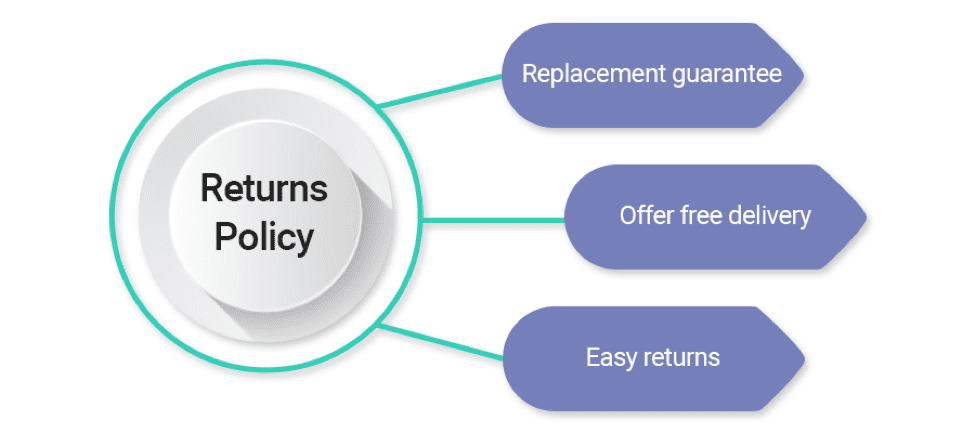 So, how can you use this to your advantage and build more trust with new customers?
First, ensure that you have stock of the products they are placing an order for and also that you can deliver it to their location within the stipulated delivery date.
Once you've taken care of these things, you can create a Refunds Policy page on your website to define the conditions that your store offers refunds or replacements.
Many have also found it helpful to include any of these texts on their check out page" 
"We offer a full money back or replacement guarantee if what is enclosed in your delivery is different from what you ordered on our website."
"We refund money or offer free delivery for transactions that do not get to your location within the stipulated delivery date."
"If you're not 100% satisfied with our products or services, you can request a refund when you return the goods within five days of initial delivery."
Aside from these, your refund policy page should include a link to a form where customers can make such a request and get it sorted out as soon as possible.
Conclusively, note that the purpose of adding a refund policy is to win the trust of your customers.
Besides, there will be little or no need for you ever to start a refund procedure if you meet their demands or at least follow the next step we will discuss.
3. Providing prompt and excellent customer support
You will win the trust of new customers by offering assistance with any difficulties or inquiries they may have while using your site for the first time.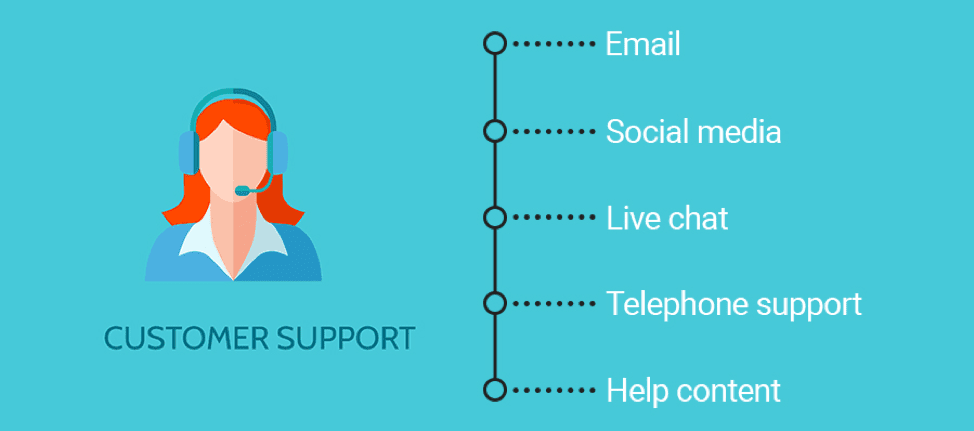 So, do not hesitate to add a Contact Us page to your website. Include all the easiest channels that customer can use to contact your customer service reps and get assistance almost immediately.
If you're using e-commerce business has an app, then it is not a bad idea to add a video guide for first-time users or use prompts to guide them until they make their first purchase.
Another excellent way to provide prompt and excellent customer support is by integrating live chat support when you develop your e-commerce store. A survey by ICMI suggests that 42% of customers already prefer live chat over emails and other customer support channels.
Why?
Live chat keeps the visitor engaged until a customer service rep comes to handle their issue. Additionally, solutions provided to customer's inquiry at this time can easily be added to the live chat app to serve another future visitor who has similar problems.
Lastly, whether you're handling customer support duties or employing someone else to do it, bear in mind that the objective is to satisfy them and turn them into returning customers.
4. Keep your promises
E-commerce operators agree that it is always better to over-deliver than to not meet up with a customer's demand. Anything less than a customer's expectation is potentially dangerous to any efforts you make to keep them.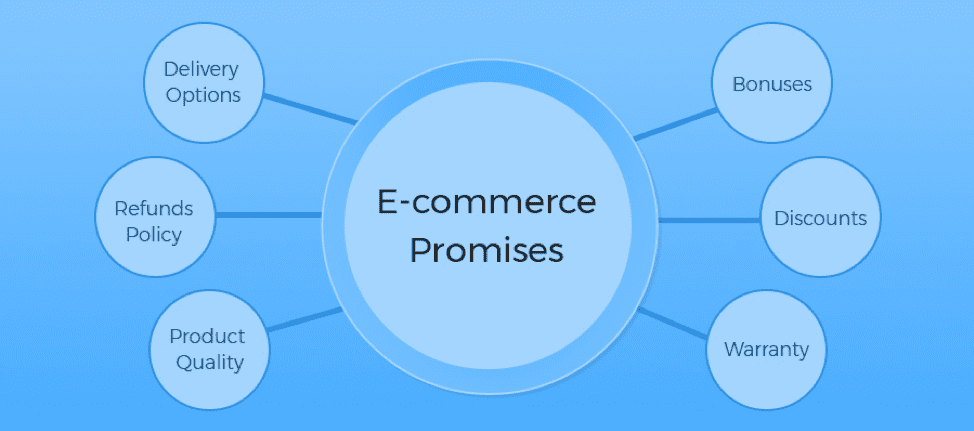 Therefore, whatever promises you've made on your website about delivery options, product quality, refunds policy, warranty, bonuses and discounts must be fulfilled to new customers.
These fulfilled promises will make them trust your brand instantly and even lure them into recommending your products to their friends anytime, anywhere and any day.
Final words
Who doesn't love new customers?
Well, everyone does, but what's even better is getting new customers and converting them into regular ones.
If you take care to implement the suggestions we've covered in this article, then you should face little difficulty in getting first-time visitors to trust your e-commerce website enough to complete a purchase.
You will also reduce the rate of abandoned checkouts on your store to a significant extent, and rake in more money!