Data isn't the sole property of a data analyst; content marketers should be using it to build a strong, results-focused content strategy targeted to buyer personas
When we say the word "data", you might think it's a bunch of information used only by technical marketers.
CROs, SEOs, and email analysts are no stranger to an Excel sheet, but what about content marketers – the people who work with the power of words, instead of math?
Content marketers – including strategists, editors and your team of writers – should be using data to drive your marketing strategy forwards this year.
Why? Because content is how we connect with our audience and convince them to complete our marketing goals. Conversions are going to be a struggle if we're not creating content that's backed (with data) to prove what you're creating works for them.
In this post, we're diving deep into data analysis for content marketers, allowing you to build a future-proof strategy that isn't a total time (or fun) suck.
1. Understand your buyer personas
We all know the importance of using buyer personas in any marketing campaign.
You'll need to create a customer profile for every target customer you have, which includes:
Their demographics – including age, gender and location
Their job title
Their personality traits – do they have a sense of humour or prefer to keep it professional?
What information they're looking for
Their pain points
Here's a fantastic example of a buyer persona created by Virgin Atlantic: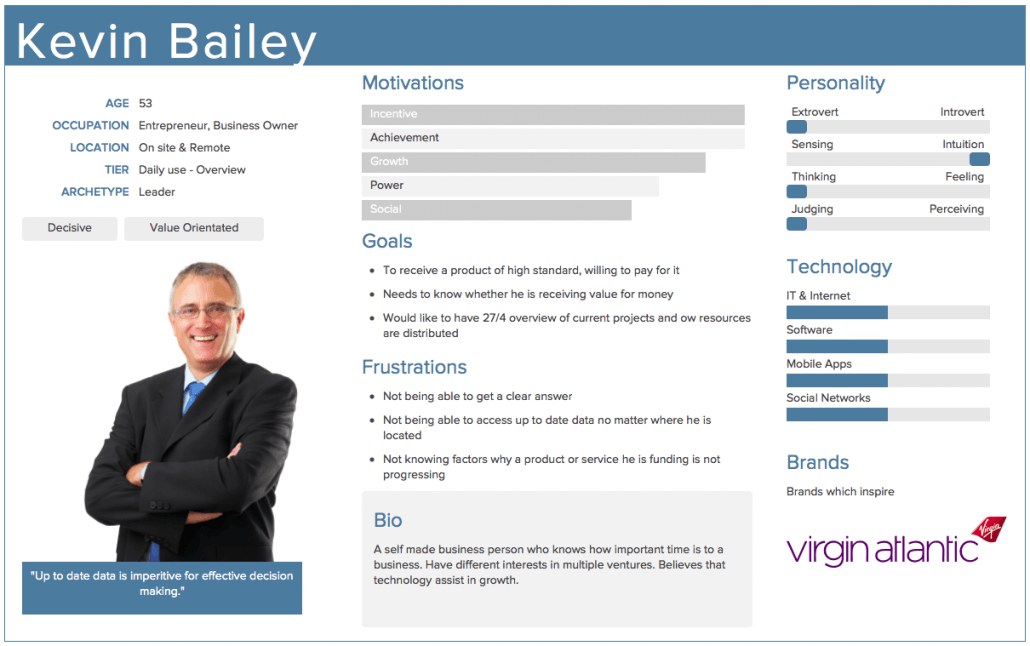 They've even gone as far as including an image of what their buyer persona might look like, based on the other information included in the document.
Data-driven buyer personas
So, you've drafted-up a list of profiles, which include names, ages, and interests. What happens next?
Well, nothing at this point. If you've followed the step above to a T, your buyer personas might not be accurate, which makes them pointless for referencing in your content.
We need data behind buyer personas to prove they're true-to-life.
Failure to do so could lead to a huge waste of time, money and resources.
You'll create a piece of content for a persona you've guessed. But if that persona isn't accurate, it's not going to drive any results… Never mind a high ROI from your content marketing strategy.
Google Analytics
To begin building a data-driven buyer persona, head over to your Google Analytics account and analyse where the majority of your visitors are coming from.
Click the Audience tab, followed by Overview.
Toward the end of this page, you'll be shown an overview of people visiting your site. You can click-through to each sub-section using the navigation menu, and begin to learn more about who's visiting your business' site.
Customer data
It's also wise to refer to your customer data when building data-driven buyer personas. These people have already converted, so it'll give you an accurate picture of the qualities you're looking for in new people visiting your site.
Export all customer and purchase details from your sales CRM, and find whether there are any common denominators.
Are 90% of your customers female, and three quarters live in the UK? Don't forget to include this information in your finalized persona.
Sales team feedback
What better way to learn more about your customers than speaking to people who talk to them directly?
Arrange a meeting with your sales team to build buyer personas. Ask them how they'll predict the likelihood of a lead converting, and for feedback on the rough drafts, you've already begun to work on.
It's been found that buyers are 48% more likely to consider solution providers that personalize their marketing to address their specific business issues.
If you can identify their issues, include the information in your buyer persona and create personalized content for each, you'll soon see a surge in results-driven from your data-backed content marketing campaigns.
2. Survey your entire audience
Surveys are a fantastic way to ensure your content marketing strategy is data-driven and created for a specific audience. That's because you can get direct feedback from previous customers, allowing you to tweak and improve the purchasing journey for new, similar leads.
In addition, surveys allow brands to go directly to the source and tailor the information they get from their campaign by optimizing their use of questions.
That's bound to generate fantastic data – and some serious inspiration for your content strategy, too!
Luckily for you, surveys can be created with limited resources. Simply opt for a survey tool like Survey Monkey, Google Forms or Typeform, and ask questions like:
1. What is the biggest struggle in your role?
The answers to this question will depend on the respondent's job title, but you should find that specific departments struggle with a similar thing. We'll refer to these as "Pain Points" – things your audience need help with, in the form of content.
Blog posts, whitepapers, and videos prove your business' knowledge in your niche and establish a reputation.
You can optimize your content strategy by creating content that answers these Pain Points. In time, this will build trust in your audience – the most influential factor in buying decisions.
2. What type of content do you enjoy?
As part of your survey, ask customers to select which content formats they engage with the most. Include a checkbox for:
Blog posts
Infographics
Interactive content
Podcasts
Video
This data by ScribbleLive gives a great overview of what content formats sit well with each age range: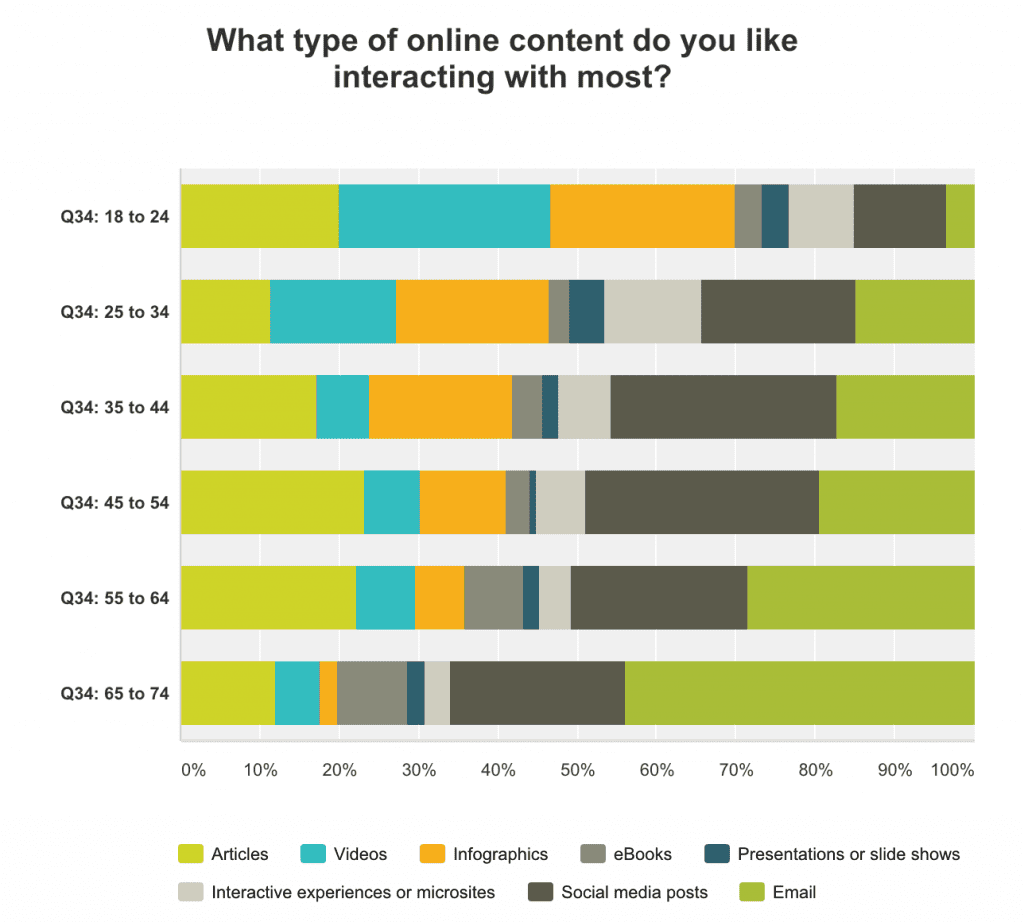 But if your survey data reveals your customers aren't a fan of podcasting, don't make this a focal part of your content marketing strategy. They've directly told you they're not going to engage with it, so don't waste your time!
3. What other blogs do you read in this industry, and why do you like them?
Ever wish your competitors didn't exist so you could take full control of your industry? That's never going to happen, but take advantage of it.
Competitor analysis can always teach you something – especially if the feedback is coming from a third-party source (like a general member of the public).
In your survey, ask customers to list other blogs they read in your industry, and why.
Does your competitor focus on long, actionable content? Or do they share short, snappy videos on their YouTube channel?
Collecting this information allows you to understand which competitors are smashing their content strategy, and get inside the mind of future customers you're trying to win over.
Talk about catering to their needs and wants!
How much survey data do you need?
The more data you can collect from your customer surveys, the better. We'll need tonnes of data to add flesh to our buyer personas, so make sure your survey link is included:
But, driving traffic to your survey page can still result in low response rates (as little as 10-15%):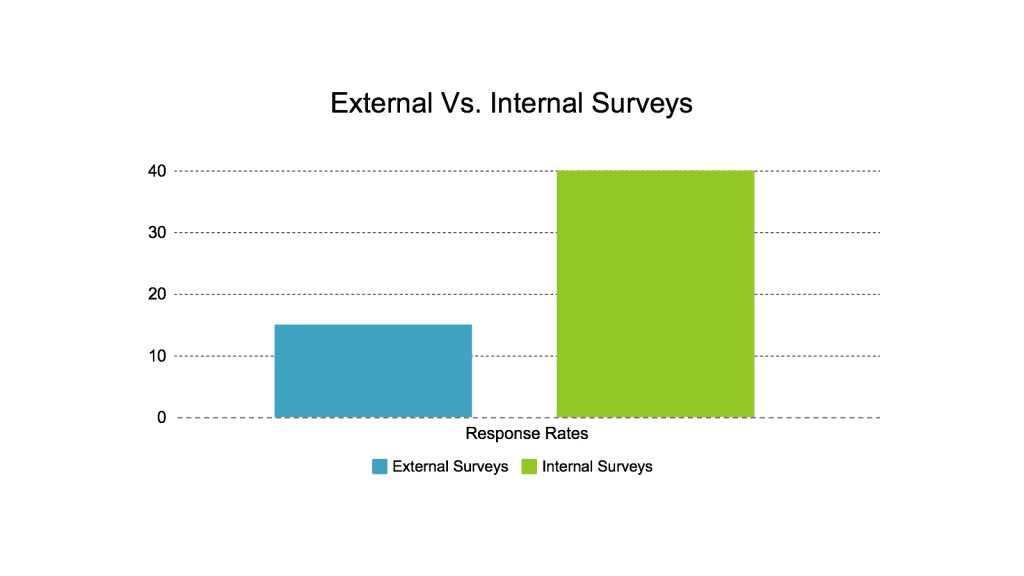 You can maximize the volume of data by offering an incentive for people to take part.
People value their time. They're unlikely to do your business a favour and respond to the survey without knowing they'll get something in return.
This research discovered that pre-paid incentives (such as cash bonuses) resulted in a 3x increase in response rates:

3. Personally interview your top customers
We all know that personalization is a surefire way to improve the success rates of your campaign.
Studies prove that customers prefer buying from retailers that know their name and purchase history, but it's not just as simple as popping a First Name tag into your software when sending a promotional email.
You can take personalization a step further by reaching out to top customers and engaging in a one-on-one conversation with them.
Think of it as a more targeted survey; you're hand-picking your finest customers and asking them the same questions. The only difference is you're taking time out of your day to respond to them. It becomes a two-way conversation, rather than one.
This personalized approach gives marketers a higher chance of collecting high-quality, detailed data from their surveys.
A simple "I like reading blog posts" answer might spur you to ask, "What do you think makes a fantastic blog post?". By having the ability to pivot your conversation and explore topics on your customers' minds, you'll be armed with tonnes of ideas when building a data-driven content strategy for your eCommerce site.
To get started, handpick 5-10 of the best customer you've ever had. These could be purchasers of high-ticket items, repeat customers or raving fans who follow your brand on social media.
Reach out with a personalized message from your personal email account (rather than a "[email protected]" address), explaining you're a real person behind the screen and not from a generic mailing list. Ask for 15 minutes of their time, and note that you'd be thrilled if they took part since they're a loyal customer.
If they respond with a yes, fantastic! Schedule a call with them and stick to your time slot. (Nobody likes being tied to the phone for 3 hours, when the call was only intended to last 20 minutes.)
If customers respond with a no – or don't reply at all – don't worry. You can always head back to your customer data and work your way down your list, organized from most to least desired.
4. Find what your ideal customers are searching for
You've collected information about your present customers. While this is a fantastic way to analyze conversion paths and optimize those routes to purchase, you can take data-driven content a step further by investigating the terms your ideal customers are searching for.
This step is ideal for businesses who're looking to target a new group of customers. That's because you can delve deeper into the world of a buyer persona without talking to them directly…. Like getting your spy goggles on.
You can produce data that proves which topics your ideal customers are searching for by:
Browsing forums used by customers
Forums are engaged communities created by people with a vested interest in one topic. They range from analytics to zebras, meaning there's bound to be an online community you can hop in to learn more about the content your ideal audience wants.
You could start with sites like Reddit to begin your investigation, but attempt to unveil strong-knit, niche-only communities by searching [INDUSTRY + "forum"]. These groups tend to have stronger engagement rates and a more dedicated following.
If your buyer persona has a job title related to marketing, these forums might be a good place to start: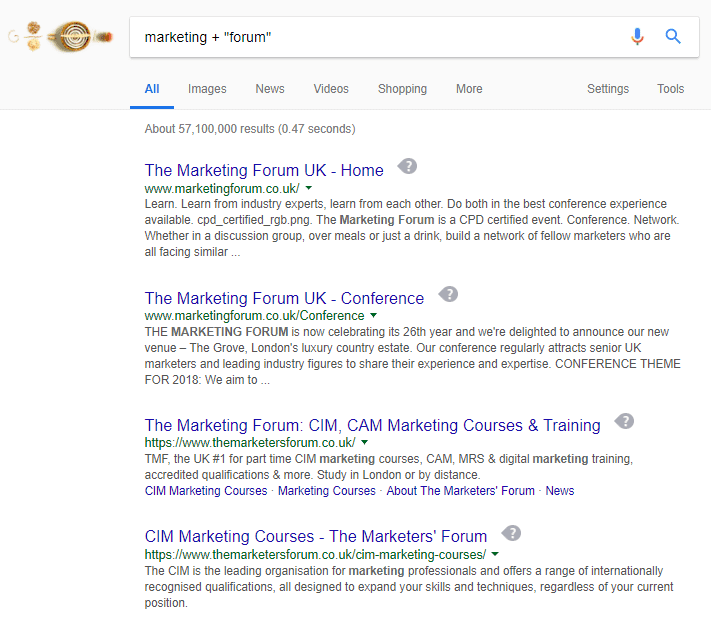 Checking Q&A sites
There are also sites which exist for the sole reason of answering questions. The most notable is Quora, which receives over 200 million unique visitors every month (meaning there's bound to be someone who fits your ideal persona using it!).
Create a Quora account and follow topics where your ideal audience is likely to hang out to see what they're searching for.
Take time to sieve through the questions asked on both platforms.
Are there specific topics that people are struggling with that you know the answer to? Add the topic to your content calendar, and share it with the forum participants when published. Since you know it's an in-demand topic, it's bound to generate more results – from pageviews to conversions.
Think of it as the content equivalent to supply and demand.
Bonus: Google suggests
If you've exhausted all routes of spying on your ideal customer, there's still one avenue left to try: The widely-acclaimed inventor of the internet, Google.
The search engine offers an autosuggest feature. Marketers can use this to see who's searching for what, giving them valuable insights into their buyer persona's online behaviour.
For example, a company who offer affiliate management services might enter "how do affiliate marketers" and allow Google to do the work:

We can see a common Google search is "how do affiliate marketers make money". This could be a fantastic topic for the affiliate management company to include in their content marketing strategy – especially if their buyer persona has a pain point of monetizing their personal blog.
Once you've collected and analyzed this data, I've no doubt your word-loving brain will be itching to put it to good use!
Begin to build a content marketing strategy based on these points, and remember that successful marketing campaigns are built on a solid foundation of audience understanding.
Get this right, and you'll be onto a winner.
Join To Our Newsletter
You are welcome