Few industries are more tailor-made for Instagram or the snap-happy, tech-savvy consumers who make up its user base than the travel industry.
Think about it: before we venture abroad or to a far-flung region of our own fair isle, we visualize the enjoyment such a place will offer. From white sand beaches to aquamarine waters, snow-blanketed ski slopes to the bright lights of a modern metropolis, we see in our mind's eye what is to come. An image that jives with our own perception, or plants a fresh seed, inspires thoughts about the experiences we will have and the memories we will make.
According to a recent survey by Expedia, two-thirds of 18 to 34-year-old's admit that the 'Instagrammability' of a location – that is to say, its suitability to be photographed and plastered on social media – is the single most important factor when booking a holiday.
That might be hard to believe, but for the one billion monthly active users on the platform, Instagram is,  quite simply, a huge part of their lives. It's used as a mood board, a photo diary, a daily companion, and if you operate in the tourist industry, you'd be well advised to take note.
In this blog post, I'm going to share five Instagram marketing tips for the travel industry.
1. Leverage social influencers
Influencers are great for earning likes and connecting with people who treat the words of their favourite Instagrammers as gospel. Influencers, by their very nature, have huge fanbases and can thus help you get the word out and create a viral effect.
This holds true whether you're promoting exclusive content, touting a special deal or recommending an experiential travel experience (mountaineering, skydiving, culture tours etc.).Commissioning a high-profile influencer to post on your behalf or to share posts you have created, is a wonderful way of gaining exposure with your target audience.
Skyscanner is an example of one company who, now and then, hand over the reins of their account to a high-profile influencer. Here's a look at the start of a recent Instagram campaign they held with micro-influencer Robert Schrader; he took over the Skyscanner account for a few days to show their followers some lesser-known but very beautiful locations in Thailand:
They also ask followers to tag their holiday posts with specific hashtags, to be in with a chance of being featured on their feed. Incidentally, this is a great way of letting your audience do your job for you: because you can repost beautiful images rather than dream up your own. These traveler-supplied images may also resonate better with the audience, as they are perceived as being more authentic.
Of course, it's not a bad idea to use a social influencer who has some connection to travel; having said that, any influencer who can help you realize your vision and promote a high number of meaningful interactions is worth considering.
2. Share varied content consistently
Needless to say, travel companies should be concerned with posting highly visual content on Instagram: impeccable high-res imagery that gets your audience to pack their suitcases. Beautiful, inspiring imagery from talented professional photographers is what's necessary, as authentic yet simple shots can also do the trick.
However, it's important to remember that the content should also be diverse. Even pretty images of mountains and seascapes can become boring after a while, so remember to juxtapose inspirational quotes or other content that reflects your values and brand identity.
This is a platform where individuality is, of course, key, so think long and hard about whether the pictures you're posting fit with your brand image. Emphasize what makes you different, deploy relevant hashtags (and encourage your followers to use them, too) and continuously promote the 'feel-good factor'. Accounts showcasing game-changing content include Royal Caribbean International, Lonely Planet and Airbnb.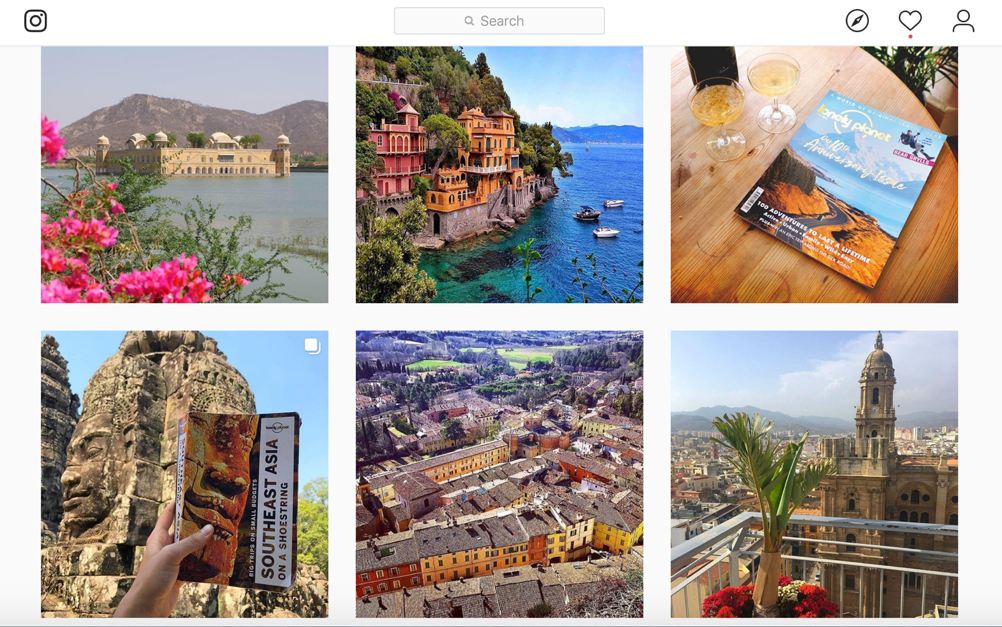 3. Leverage Instagram Stories
You can promote incredibly polished marketing content via regular Instagram posts, but for something a little more authentic, Insta Stories is where it's at. Stories has rapidly become one of Instagram's best-loved features and it offers an opportunity to achieve brand awareness while giving followers a unique look at what it is you're offering. Stories can be up to 15 seconds long, although live videos can last up to an hour.
Incidentally, you can tie this tip in with the first tip, namely by getting credible influencers to stream real-time holiday adventures, taking trips and seeing sights you hope will resonate with the viewer.
Of course, to get a top influencer on board you'll have to comp them on the trip; or pay a hefty fee for letting them host an Instagram Stories takeover on your feed. Naturally, you'll want to determine a minimum number of Stories you want them to post within the allocated timeframe, in order to create buzz and maximize engagement.
For an example of Instagram Stories done right, check out Ryanair's feed. At various times they'll dedicate Stories to city breaks, street food, major events and specific desirable destinations.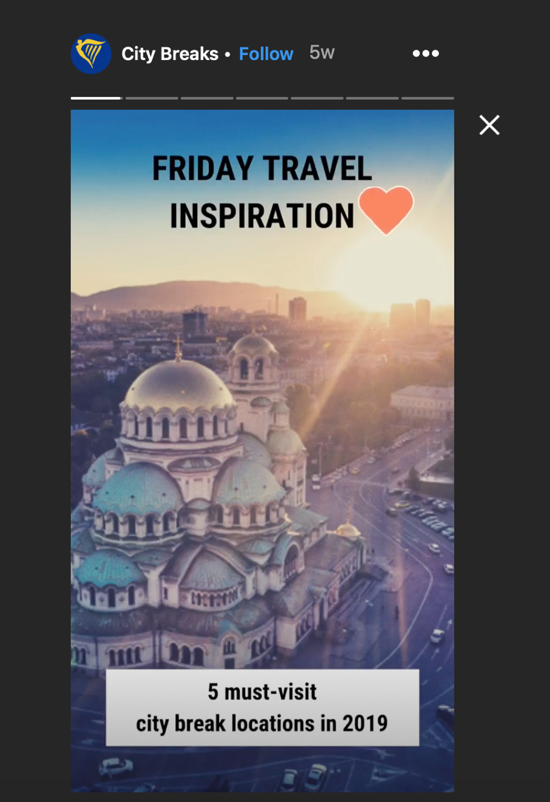 4. Utilize IGTV
Launched in 2018, IGTV is a long-form vertical video platform that helps you better communicate your message to your Insta followers, and grow your audience in the process.
Unlike the brevity of Stories, IGTV videos can last up to an hour, giving you ample opportunity to showcase your offering: the chance to have an awesome holiday, for instance. IGTV can be accessed from the regular Instagram app, although there's also a dedicated IGTV app too, and developers have worked tirelessly to ensure the platform provides a more polished end product than the likes of Facebook Live.
The key to maximizing the platform, of course, is to curate engaging and appropriate content suitable for the longer format: extended travel guides, travel tips videos, videos focused solely on local foods, and so on. Get it right, though, and the rewards could be huge. This type of content is hugely popular on TV, YouTube and other established platforms so there is huge potential for travel brands on Instagram.
5. Create a social media calendar
At certain times of the year, you'll want to focus on certain types of content. As a travel company, this might mean you focus on winter breaks during winter, city breaks in spring and autumn, and beach destinations during summer. By creating a social media calendar and taking note of bank holidays, festivals, sporting events and the like, you can ensure your content is timely and relevant, and thus more likely to engage.
Plus, it's not just about planning for holidays; planning your content in advance will allow you to create better, more engaging content for the simple reason that you'll have more time to both plan and to create your content.
Conclusion
Travel companies who succeed on social media, and particularly on Instagram, understand that it's about more than displaying picture-postcard images. It's about inspiring travelers and those who, chained to their desks, are idly scrolling through Instagram as a means of escapism. It's about selling a vivid dream.
Make social media an integral part of your digital strategy, focus on creating immersive, inspirational content and you can help travelers discover new, exciting destinations and become a trusted voice in the space.
Join To Our Newsletter
You are welcome