Nonprofit web design isn't something your organization should overlook.
Creating a digital nonprofit marketing strategy can be exciting. It gives you the chance to build an online presence, spread the word about your mission, and boost supporter engagement.
There's a lot that goes into website design, though. Getting started can feel like a daunting task for many nonprofits. You may immediately run into questions about which content to feature, how to structure it, and how to drive traffic to your most valuable pages. This all comes down to your CMS.
In short, a CMS facilitates the creation and modification of the content on a website. Not every organization has the technical expertise necessary to create a captivating website from scratch, and that's okay. Your CMS should provide you with all the tools you need to design the exact website you want without any frustration.
What's more, a CMS designed specifically for nonprofits will help you convey your mission, drive donations, and continue fulfilling your mission quickly and easily. Investing in the right content management system is the essential first step to creating an effective nonprofit website. Once you've picked the right tools, you can center your focus on setting up the website itself.
When building or relaunching your nonprofit website, keep the user experience at the forefront of your web design strategy. To accomplish this, focus on the following key web design elements:
Feature engaging imagery
Focus on smooth navigation
Increase usability with mobile optimization
Minimize page load time
Enhance visibility with search engine optimization
The best nonprofit websites embody all of these features and are effective in attracting and retaining supporters online. Once you've done that, we can take a closer look at each of these vital web design elements.
1. Feature engaging imagery 
Captivate users from the moment they land on your homepage with powerful imagery. Compelling visuals are a vital part of any effective nonprofit website. They're a simple, effective way to show supporters the impact they're making rather than just telling them. Strategically placed visuals help to further your mission by evoking emotion in readers, so make sure to feature them across your website.
When choosing images and graphics for your site, keep in mind these best practices to maximize their effectiveness:
Use your own photos. Don't stick to generic stock photos. Rather, feature high-resolution images of your staff, volunteers, donors, and constituents. By showcasing real people, you'll help your site stand out from others.
Don't overload the page. While imagery is effective, too much of it can distract the reader and slow down the page. Keep it minimal and use it only where it's most effective.
Strategically place your images. Each image should serve a purpose. Use them as a way to support your content and break up the text.
Convey your brand. No matter your mission, your images should effectively communicate your brand to your visitors.
Choosing the right images can help boost your conversion rate, drive more traffic, and ultimately boost donor retention. After all, information that's conveyed in a visual format is more immediately understandable and can be powerfully motivating when used correctly.
2. Focus on smooth navigation 
A major part of user experience design is the structure of your nonprofit's website. Users shouldn't have to dig through your site to find the information they need. Rather, intuitive navigation should help them find exactly what they're looking for as quickly as possible.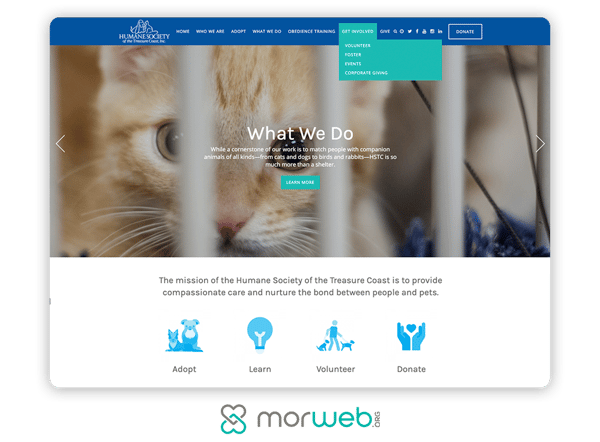 Intuitive navigation starts with a navigation bar that's visible across your website. One popular option is to include a top or left-side navigation bar. For the best results, keep it minimal. To accomplish this, feature high-value pages that you'd like to drive traffic to (e.g. your 'About Us' page, your donation form, etc.). Then, use a hierarchical structure to indicate which pages take precedence.
When designing your navigation bar, implement these suggestions for an intuitive interface:
Keep navigation titles between 1 to 3 words.
Avoid jargon and language that don't clearly portray the content of the landing page.
Stick to only one level of drop-down menus when needed.
Once you've incorporated a straightforward navigation bar, simplify your interface even more by incorporating calls-to-action (CTAs) and buttons across your website. Make sure to include it on relevant content, starting with a donation button on your homepage.
Remember, users visit your site for different reasons. Make sure it's easy for new visitors to find out more about your organization, donors to find your donation form, and supporters to find volunteer opportunities and upcoming events.
If your navigation is unclear in any way, your visitors will have a challenging time accessing content that's of interest to them, which also hinders their ability to engage with your organization. Ensure your CMS offers themes with built-in navigation buttons so that you'll have a much simpler time funneling users to high-value pages.
3. Increase usability with mobile optimization
These days, mobile users make up the majority of website traffic. In fact, almost 60% of all internet access is completed through mobile phones.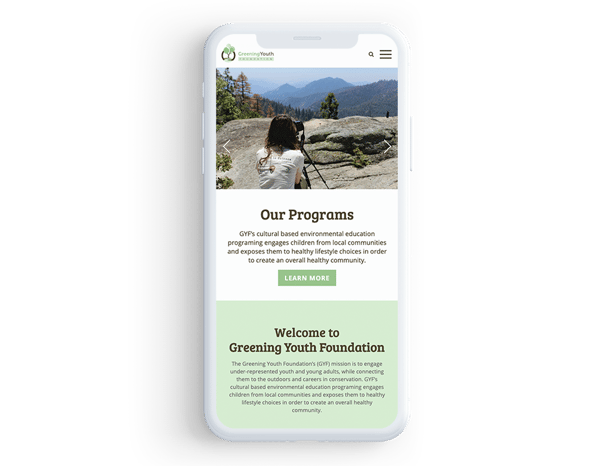 Because of this, nonprofit websites must be fully functional on all devices. Otherwise, when visitors view your site on their smartphones, they'll be forced to zoom in and out to read your content or they may not even be able to access the content at all. This can easily frustrate them, and they'll most likely leave without thinking twice.
When picking a CMS, look for these top mobile-related features:
Mobile responsiveness. Every page on your site should adjust to fit any size screen, whether it's a desktop, tablet, or smartphone.
Mobile forms. Each form (e.g. donation forms, volunteer sign-ups, and event registrations) should scale for mobile so that visitors don't have to zoom in and out or rotate their device to fill it out.
Mobile pop-ups. Your pop-ups (like lead capture forms) should adjust for mobile users, too. This way, users won't get frustrated searching for a way to close the pop-up.
If your website isn't optimized for mobile users, you risk a much higher bounce rate. For positive user experience, work with a CMS that offers automatic mobile optimization. When you take a mobile-first perspective, you'll strip your site of any unnecessary desktop-only elements.
4. Minimize page load time
To enhance the user experience, you'll need to keep your site as speedy as possible. Do this by cutting out any extraneous elements. The more elements you have, the longer your page will take to load, which means you'll be risking a higher bounce rate.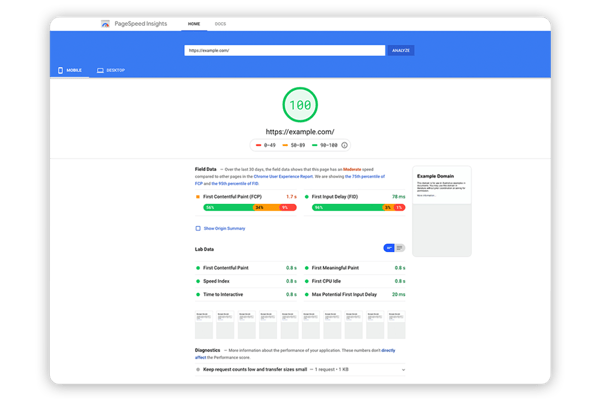 Users aren't likely to spend more than a few seconds, let alone minutes, waiting on your site to load. With the entire web available at their fingertips, they'll likely turn to another site to access the information they need if yours doesn't deliver immediate results.
There are several steps you can take to improve website speed. To quicken your load time and keep users on your site, follow these best practices:
Resize and compress images
Minimize pop-ups
Choose HTML and CSS over flash player
Limit the number of custom fonts used 
In short, keep it minimal and aim for simplicity. Not only will this help with load time, but it also improves navigation, limits distractions, and helps high-value content stand out.
Experienced web design agencies know how to minimize load times and the right CMS templates will help optimize web pages for you. In the meantime, test your nonprofit website's load speed with Google's PageSpeed Insights. Then, adjust accordingly to quicken your site.
5. Enhance visibility with SEO
To increase awareness around your organization, your website needs to be visible and searchable online. You've likely heard the term search engine optimization (SEO), but do you know how to incorporate it in your web design strategy?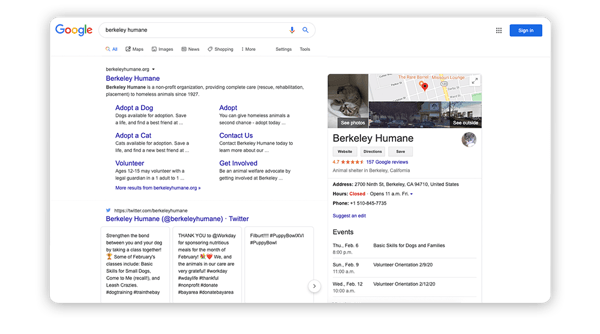 Basically, SEO involves optimizing your site's content to help it prominently rank on popular search engines like Google. Learning how SEO works isn't too difficult. Putting it into practice is a completely different story. To help, your CMS should offer SEO tools that help you optimize your content and rank higher on search engines. Be on the lookout for these tools:
Meta title editors. A meta title is the title a search engine shows when displaying your page in search results. Your CMS should make it easy to edit the meta title and drive traffic to your website.
Custom meta descriptions. A meta description tells a reader what your page is about before they click on it. This gives them a better idea of what the content includes, so make sure your CMS offers meta description editing capabilities.
Customizable URLs. URLs that are too long can look spammy and turn readers away. When customizing your URL, shorten it and include the keyword you're targeting with that page. This can help you rank higher and boost traffic to that page.
Conclusion 
Now that you know a few actionable tips to help you dominate the SERPs, optimize your content, increase your visibility online, and spread the word about your mission.
Building your nonprofit's website doesn't have to be frustrating or overwhelming. Throughout the web design process, keep the user experience front of mind. To help accomplish this, make sure to invest in a CMS that simplifies the process and eliminates any confusion in building your site. By keeping these best design tips in mind, you're sure to create a website that best represents your organization.
If you need extra guidance, using a design guide can help you create the most effective nonprofit website possible. Soon enough, you'll be a nonprofit web design pro! 
Make sure your web design is as easy as can be by using the right web design software to make the process a breeze. 
Join To Our Newsletter
You are welcome