File compression can be handy if you're running low on disk space or want to share files on social media networks or messaging websites. If you're not familiar with how file compression works, you can read our detailed guide on file compression and you can perform it on different platforms.
There are plenty of file compression software available if you want to compress files. However, each software supports different file archive formats and offers different features. Choosing the best out of the lot could be a time-consuming task. So, we've made this process simpler for you.
Here is a list of six such software that you can use to compress files in Windows and Mac.
6 Best File Compression Software For 2019
1. WinZip – Best Zip Program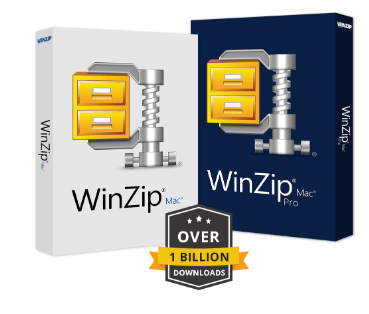 WinZip needs no introduction as it is one of the most popular file compression software used by several people. You can compress, protect, share and decompress your files efficiently. The software deploys banking-grade encryption and also provides a feature to connect multiple cloud storage accounts such as Google Drive, OneDrive and Dropbox. One of the highlight features of WinZip is ZipSend that allows you to zip large files and send them as an attachment in a mail. However, one of the cons of WinZip is that it is compatible only with the Windows platform.
Given its features and ease of usage, WinZip is one of the best file compression software that you can use.
Supported Formats: zip, tar, gzip, cab, rar, 7z, IMG, ISO, XZ, VHD, VMDK, lha/lzh
Price: 45-days free trial, $35.34 for Standard WinZip
2. 7-zip – Best Open Source File Compression Software

7-zip is a popular open-source file compression software that has a high compression ratio. If your priority is compressing files and keeping the file size to a minimum, 7-zip should be your ideal choice. 7-zip is a free to use software owing to its open-source nature. With strong AES-256 encryption and useful features like an integrated file manager, integration with Windows Shell, self-extracting capabilities for 7z format and a plugin for FAR manager, 7-zip is widely used in businesses and commercial sector. One of the advantages of 7-zip over other compression software is that it is free to use.
Supported formats: Packing/ unpacking – 7z, XZ, BZIP2, GZIP, TAR, ZIP and WIM. Unpacking only – AR, ARJ, CAB, CHM, CPIO, CramFS, DMG, EXT, FAT, GPT, HFS, IHEX, ISO, LZH, LZMA, MBR, MSI, NSIS, NTFS, QCOW2, RAR, RPM, SquashFS, UDF, UEFI, VDI, VHD, VMDK, WIM, XAR and Z.
Price: Free
3. WinRAR – Best Rar File Extractor

WinRAR is another utility tool used by several people. It is recommended for compressing multimedia files as it automatically selects the best compression method. While other compression tools can only extract RAR files, WinRAR creates RAR files. You can compress batch files using WinRAR with its 'solid archive box' feature. In addition to its 256-bit AES encryption, WinRAR also offers the feature to split archives into separate volumes, damaged archive repair, and long file name support.
On the downside, WinRAR's interface is a hassle especially for those who are new to the whole file compression saga. On top of that, if you prefer to use the free trial of the software, you will be constantly bugged with pop-ups to purchase the paid version.
Supported Formats: RAR, CAB, ZIP, UUE, Z, ACE, ARJ, 7-ZIP, and TAR.
Price: 40-days free trial, $29 for a single user
4. PeaZip – Best Zip File Opener

If you deal with ZIP files on a regular basis, PeaZip is the compression tool you should try. This free file compression software handles compression and archiving files with the utmost ease. Supporting over 150 different formats, PeaZip also packs some additional features like an encrypted password manager, two-factor authentication, searching duplicate files, splitting archives into multiple files and schedule archiving.
PeaZip has many advanced features that you might need if you want to compress different types of files while having limited resources.
Supported formats: 7z,  Google Android's apk, bz, bz2, bzip2, tbz2, tbz, gz, gzip, tgz, tpz, tar, zip, zipx, z01, smzip, arj, cab, chm, chi, chq, chw, hxs, hxi, hxr, hxq, hxw, lit, cpio, deb, lzh, lha, rar, r01, 00, rpm, z, taz, tz, iso, Java (jar, ear, war), pet, pup, pak, pk3, pk4, slp, [Content], xpi, wim, u3p, lzma86, lzma, udf, xar, Apple's dmg, hfs, part1, split, swm, tpz, kmz, xz, txz, vhd, mslz, apm, mbr, fat, ntfs, exe, dll, sys, msi, msp, Open Office / Libre Office (ods, ots, odm, oth, oxt, odb, odf, odg, otg, odp, otp, odt, ott), gnm, Microsoft Office (doc, dot, xls, xlt, ppt, pps, pot, docx, dotx, xlsx, xltx), Flash (swf, flv), quad, balz, bcm, zpaq, paq8f, paq8jd, paq8l, paq8o, lpaq1, lpaq5, lpaq8.
Price: PeaZip is a free-to-use software
5. Zipware – Worth trying zip program for Windows

Zipware is another excellent file compression program for Windows platform. It supports almost all major archive formats and can easily handle small as well as large archive files. With Zipware, you can create password-protected archive files, perform archiving functions right from the Windows Explorer and can convert popular archive formats to 7z and Zip. The software also gives you the option to split archives into different volumes as per your requirement.
Additionally, Zipware also comes with a password manager to store and manage your passwords.
Supported formats: ZIP,ZIPX,7Z,RAR,RAR5,ISO,VHD,MSI,GZIP,BZIP2,TAR,CPIO,DEB,DMG,LZH,LZMA,LZMA2,PPMd, NSIS,RPM,UDF,WIM,XAR,XPI,CBR,CBZ,XZ,Z
Price: Free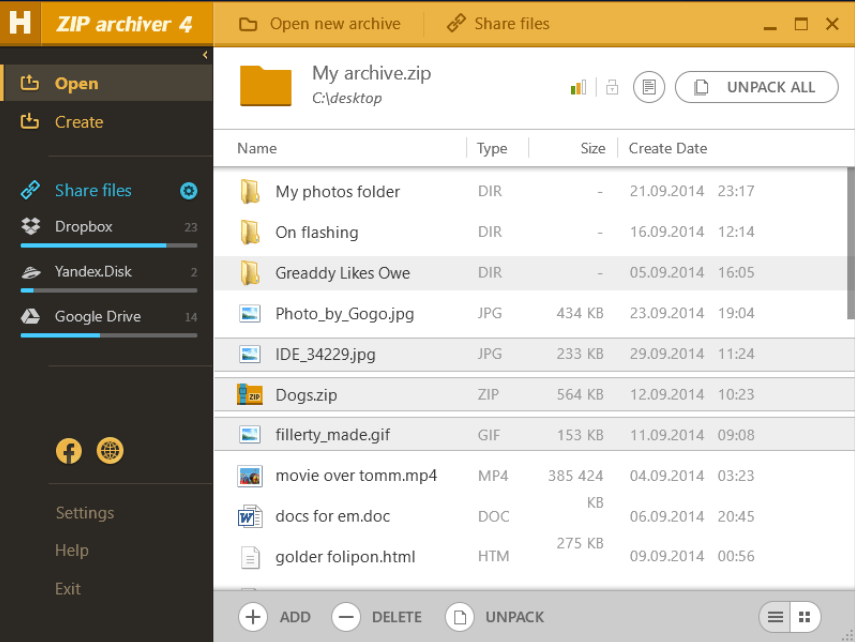 If you want a file compression software that is easy to use and also performs advanced compression operations then Hamster Zip Archiver should be your ideal choice. This free software supports all popularly known formats and its drag-and-drop interface makes it easy even for a noob to compress a file. Moreover, the integration with cloud services like Google Drive, Dropbox, and Yandex Disk makes it quite popular amongst those who share compressed files. However, Hamster Zip Archiver is only available for the Windows platform.
Supported formats: zip, 7z, arj, bz2, tbz, gzip, deb, dmg, img, gz, tgz, hfs, lzh, rmp, pkg, z, taz, cab, iso, rar, tar, wim, swm and jar.
Price: Free
Choosing the best file compression software
When choosing the best software for file compression, you must take into consideration certain points like the supported file formats, the operating system you want it to work upon and the compression rate. Apart from these compression tools, there are several online tools also available that can help you zipping and unzipping files and folders. However, there is always a risk involved in uploading your file to a server especially if that file contains sensitive data.
Join To Our Newsletter
You are welcome