Finding a void in the market and carving your niche according to the target audience can help you scale your online store and make you stand out among the other online merchants.
Statistics confirm that there are nearly 24 million e-commerce sites across the globe. So, if you are an e-commerce startup owner, it's normal to feel intimidated by the overwhelming number of competitors in your niche. But remember that a crowded field is also an indication of the existing demand, making e-commerce a lucrative segment to be in.
The good news is that you don't need to beat the e-commerce giants like Amazon, eBay, or Wal-Mart to taste entrepreneurial success. Finding a void in the market and carving your niche according to the target audience can help you scale your online store and make you stand out among the other online merchants.
Here's what you should do to gain a winning edge over your competition.
1. Let your content do the talking
Great content builds interest and adds value to the target audience, thereby encouraging conversions. An interesting infographic by Demand Metric reveals that 80% of people appreciate learning about a business through the content on the site.
High-quality, engaging, and relevant content can persuade your site visitors to take action in your favour. Here's how you can wow your audience with an effective content strategy.
Have an awesome 'About Us' page
The 'About Us' page is the most important page of a website that can differentiate your brand from your rivals. Yet, this page is commonly overlooked by most businesses. This page is an opportunity to narrate your brand story to build credibility and customer trust.
Make sure your 'About Us' page tells a story of how your business evolved, shares your vision and mission, and explains who and what you serve. Include video content to render a human touch to this page, making the content easy to digest.
Also, try to 'put a face' to your venture by showcasing yourself, any member of your team, or your store. People want to connect with brands at a deeper level and this type of personal content will help them relate to your posts.

Notice how the e-commerce site, Cambridge Satchel Company has used its 'About Us' page to narrate an engaging brand story and inject personality while promoting its brand values. The firm uses high-quality photography and short copy to explain their humble beginnings. The tone is personal and subtly persuades visitors to either scan the timeline or know more about their offerings.
Offer instructional content
Offering instructional or how-to content is a great way to engage your audience and fulfill their thirst for knowledge. E-commerce marketers use a variety of digital marketing strategies to boost traffic. But very few firms focus on offering instructional content. Offering how-to content will not only improve the traffic to your site but also lead your visitors down the marketing funnel, taking customer engagement to the next level.
Begin by doing some effective content research in your niche. Use content creation tools like BuzzSumo, Ubersuggest, and Google Alerts to develop content that sets you apart from your competition. Awesome instructional content should not only educate the audience but also present facts in an entertaining manner. Today's digital audience loves engaging with videos and visuals. Keep that in mind when creating how-to content for your brand.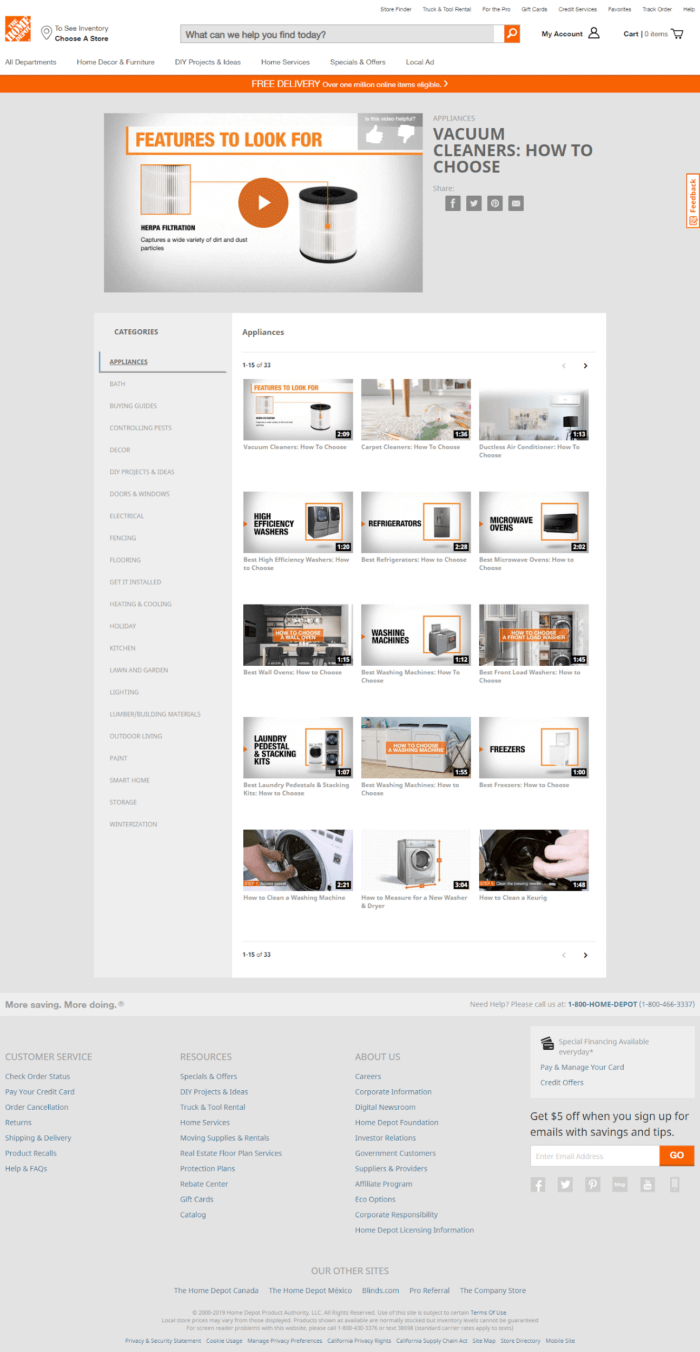 Notice how Home Depot, an online home improvement store, offers instructional video content to educate its audience.
Encourage UGC
User-generated content can help you generate high-quality, authentic, and unique content for your brand, enabling you to outshine the competition Some 79% of customers share that UGC has a significant impact on their purchase decisions.
UGC is more valuable than any of the brand stories you share on social media. Begin by hosting UGC contests, engaging in social listening, and generating share-worthy content. Further, people often use social media to share their passion, interests, and achievements with others. Use social media tools like Facebook Audience Insights to get cues on user activity with respect to their demographics, page likes, location, and purchase activity.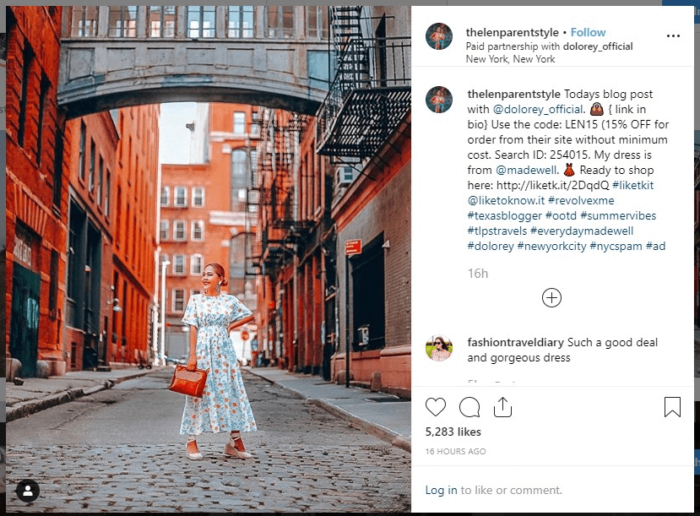 Check out how Madewell, the online store for women's apparel, heightens the impact of UGC by rewarding users to create content about their products. The stories are showcased on the #everdaymadewell gallery.
2. Focus on the entire customer experience
Customer experience is not merely about the sales journey. Each step in the sales cycle and beyond offer an opportunity to make customers feel special, enabling you to differentiate yourself from the competition.
For instance, a captivating loyalty program can go a long way in enhancing the customer experience. Offering exclusive discounts for loyal customers or those who have shopped for a minimum amount can make customers feel special, thereby differentiating you from stores that do not offer such privileges.
Sell solutions, not products
Amazon's CEO, Jeff Bezos obsesses over making the customer experience the number one priority for the organization. The e-commerce giant's entire business model is about how best they can serve customers. To make your brand stand apart, you need to listen to your audience's problems, offer solutions, fix issues, and enable them to connect to your brand.
Focus on micro-moments
According to a Google study, micro-moments are intent-rich moments within the sales journey when the customer 'wants to know,' 'wants to go,' 'wants to do,' or 'wants to buy.'
So, if a user searches for an American fast food joint, they expect Google to show a list of restaurants located near them. This user is having an 'I-want-to-go' micro-moment. In other words, micro-moments are loaded with the intent, context, and immediacy and the customer is ripe to take action.
To differentiate your brand, you should anticipate these micro-moments in your domain and commit to being useful during this time. For instance, researching where and when your audience searches online can offer useful insights about their search behavior and micro-moments.
So, if your products are seasonal, you should monitor when your prospects search for the offering. When the search spikes, you should launch an appropriate campaign like PPC to leverage the micro-moment.
3. Build customer trust
Earning the trust of your customers is one of the most effective ways to differentiate yourself from the competition and scale your venture. But winning customer trust can be tough, especially when you are a new entrant in the market. Consider these tips to build a trustworthy online brand.
Collaborate with other brands and influencers
Partnering with other brands (small or big) and influencers in your niche can add a degree of credibility to your startup and improve your online reputation. Reach out to influencers, micro-influencers, bloggers, and reporters in your domain to bring an authentic voice to your brand and foster trust.
Check out how ColorPop Cosmetics has collaborated with Shayla Mitchell, a beauty influencer with more than 2.7 million Instagram followers.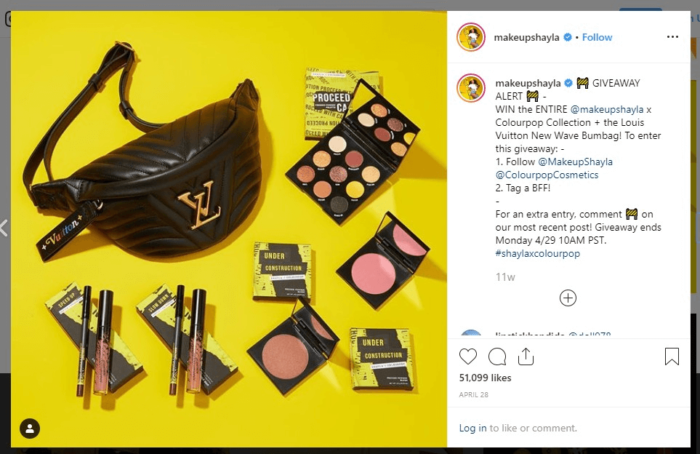 Use tools like Buzzsumo, Ninja Outreach, Social Animal, and VoilaNorbert to find influencers in your industry segment.
Flaunt customer reviews
Reviews, ratings, and recommendations boost a brand's online credibility. The Local Consumer Review Survey by BrightLocal revealed that 78% of customers (and 91% of 18 to 34-year-olds) trust online reviews as much as personal recommendations.
Thus, it is critical to flaunt the average ratings and customer reviews on your 'About Us' and every product page. Further, offer a small incentive like a discount or credit points to encourage customers to leave an online review for your brand.

Notice how Beardbrand isn't modest about its customer reviews at all. They flaunt customer reviews on all product pages, thereby breeding trust among their target audience.
Offer exceptional customer service
If you fail to live up to the promises made in your online ads, people will not trust you. Build a dedicated service team and set high standards for the speed and quality of customer service. Offering exceptional customer service will not only boost customer loyalty and retention but also build your reputation as a customer-centric organization.
4. Offer multiple (but popular!) payment options
You do want your customers to complete the purchase transaction, right? Well then, offer a wide variety of popular payment gateways, ensuring a seamless and convenient checkout experience. Though managing multiple gateways and accounts may seem like a hassle, it's worth including easy and secure options, such as PayPal, Amazon Pay, Google Pay, Apple Pay, Stripe, and the popular credit or debit cards.
Further, allow customers to save their payment information, ensuring a smooth shopping experience in the future.
5. Have a generous return and refund policy
According to an infographic by Invesp, 67% of shoppers check a site's returns policy page before making a purchase. So, if you aren't offering reassuring returns and refund policies, customers will not buy from you. Further, the same infographic reveals that 92% of customers will buy again if the product return process is easy.
So, offering generous returns and refund policies will not only attract more sales but also strengthen the customer-company bond, enabling you to stand out in the competitive e-commerce space.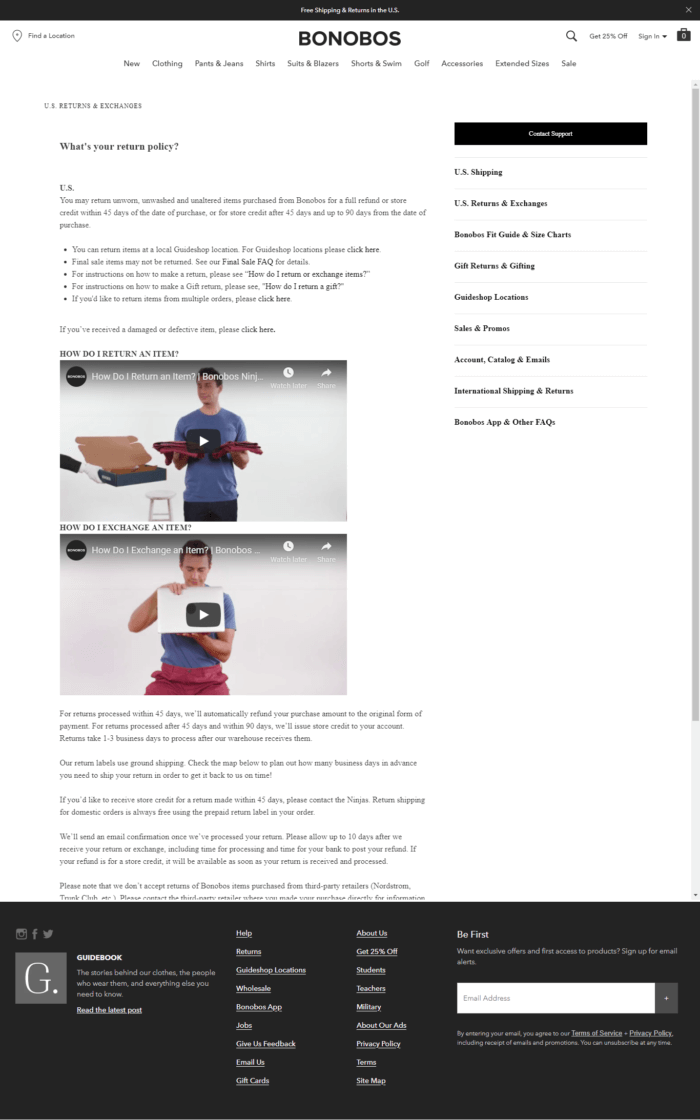 Check out Bonobos' easy returns and exchange policy. The online apparel store not only offers free returns and exchanges but also goes on to share videos on how to make the process smooth.
6. Offer flexible shipping options
The extra cost of shipping the goods is enough to dissuade your customers from completing their checkout process. According to the Baymard Institute, the extra cost of shipping and taxes is the number one reason why shoppers abandon the carts.
Give your customers a reason to choose you over your competitors by offering flexible shipping options. Embrace free or expedited shipping to gain an edge over your competition. Here, we can learn a lot from retail giants like Wal-Mart and Amazon.
Offer free shipping on standard delivery, but charge a premium for expedited or time-specific deliveries
Offer free shipping on high-value orders. Apply shipping charges for low-value products or orders. This will encourage customers to purchase more to avail of the free-shipping benefit.
Use low-cost regional carriers or postal service to reduce the cost of shipping.
Parting Words
The competition in the e-commerce space is fierce and unforgiving. With millions of businesses plaguing the e-commerce segment, it can be tough for startups to differentiate their brand from the competition.
There is no easy way to scale your startup in this competitive environment. However, implementing the foolproof strategies shared in this post can make your brand stand out amidst a sea of e-commerce stores and rake in more dollars.