These marketing trends cover six big trends for legal marketing in 2019 that should be part of your lead generation tactics for your law firm.
1.) "Lawyer Near Me" Searches on Google
Marketing with Google Organic (free listings), as well as Google Search Ads for law firms is one of the most difficult, but also most lucrative marketing channels available for firms right now.
The legal industry is one of the most competitive paid Google search (PPC) markets out there. With the click prices for legal terms rising on an annual basis, firms must stay ahead of the knowledge curve in order to continue to capture positive ROI from search ads.
This is where quality website content and site structure SEO (search engine optimization) steps in. By having relevant content that matches the keywords you are bidding on, Google sometimes will "reward" you with higher QS (quality scores) which can then lower the max bid you are having to use to acquire paid traffic.
Over the last 4-5 years, there has been a significant increase of "near me" searches on Google. It's more important than ever to make sure your practice has location information prominent on your firm's website and your pages are optimized for local searches.
The following chart is from a Google Trends report, which measures the total search volume in the United States for "Lawyer Near Me" searches being done on Google. Over the last four years, the volume of "near me" searches has exploded.
2.) Remarketing on Facebook for Previous Visitors
With the Worldwide Facebook population of over 2.32 billion, this channel provides a massive audience for law firms to reach potential customers.
Facebook remarketing works similarly to that with Google Ads, only instead of your ads being posted on the display network, they are seen on Facebook, instead. Facebook also gives you a few different options with regards to custom audiences: customer list, website traffic, or app activity.  
First, you'll need to place a Facebook pixel on your website pages. Once this is completed, you may then set up audiences with filters specific to the page or pages website users have viewed. For example, if they visited a blog post on "When to hire a Personal Injury Attorney", you may choose your personal injury specific ads instead of the generic legal ads, for this audience's filter.
The legal process usually begins during a trying time in one's life. Potential clients are looking for someone they can trust and someone to bring back stability and normalcy to his or her life. They've already visited your site once and are much more likely to choose a familiar face than a complete stranger. Sometimes, that friendly face (brand recognition) popping up one more time is enough reassurance for someone to make the decision to hire.
Facebook Remarketing ads usually have a higher conversion rate than regular ads on Facebook.  
If your firm is new or you just don't have many organic followers, Facebook also gives you the option to run ads with page promotion as the main goal.
3.) Google My Business Reviews
Google My Business is a free service offered specifically for local businesses to be able to manage their online presence in the Google search results.
If you haven't yet set up your Google My Business account, you'll need to claim your law firm's Google My Business Profile. Even if you haven't claimed your profile, your clients may still be able to find your firm and leave reviews. Therefore, it is essential to your firm's reputation that you set this up so that you can respond to or address and reviews that are left about you.
What you say about your self could be a lot different than what clients and colleagues say about you. With 84% of peopling trusting online reviews as much as friends, your "online reputation" could make or break your firm's practice in today's world.
Reviews are one of the first things people turn to when they are buying a local product or service. Think about the way you look at reviews when your shopping on Amazon. You're not going to buy a product if it's rating is only one star, right?
It's the same thing when people are in the research phase of looking for a law firm on Google.
Clients typically will not leave a review unless asked or. We recommend posting a sign stating that your firm appreciates reviews, or better yet, email current and former clients asking them to leave you a Google review.
How To Create A Link to Send to People to Request Google Reviews.
    1.    Search for your law firm here.
    2.    Copy the Place ID under your business listing
    3.    Copy the other link template in step 5 from PlaceID lookup
    4.    Replace the <place_id> with your business ID, then send to whoever you want to write you a review
One tactic for this is to wait until a positive moment arises near the end of the client's case. Use this opportunity, where the client is typically in "gratitude mode", to ask for a review. This will give you the best opportunity to receive a positive, heartfelt, and personal review!
4.) Get More Cases Through Content Marketing
The goal of every attorney is to be considered the best in his or her field. In marketing, this is known as an industry expert. Prospects have questions and will turn to the internet for answers before they go into a physical building. The goal is to be the one to answer their question online, so that they feel more comfortable choosing you, in person.
When someone searches Google for a legal topic, if a relevant answer is available, and is posted on a local firm's site, Google will give this article preference because search results are filtered based on the searcher's location.
So, the scenario mentioned above is more than possible. The more content you have published on your website that's relevant to a potential client, the more likely your site will be seen or discovered.
Make no mistake, the written website content used to market your firm should not be overflowing with marketing fluff, the intent is new discovery of your brand. The old saying "show, don't tell" holds true for content marketing. Good content will show how informed your law firm is without you having to specifically tell your prospects so.
You want to provide valuable answers to questions your potential clients are actually asking. You will need to do some research to find out these questions. We like to use Ahrefs for this. When choosing a question to hone in on, keep these tips in mind:
    •    Try to pick the questions that are more specific than general. For every blog post, you must identify your target audience and at what stage in the buyer's journey the prospect will be in.
    •    Although it is important to post regularly, the importance of quality does not diminish. Quantity will continue to build over time, but bad quality will diminish your audience, quickly. You want to be seen as an expert. This needs to be reflected in each piece of work.
    •    Match Content with How People are searching. The following is a screenshot from AnswerthePublic.com, which you can use to type in a keyword and see what else people are searching for related to that topic.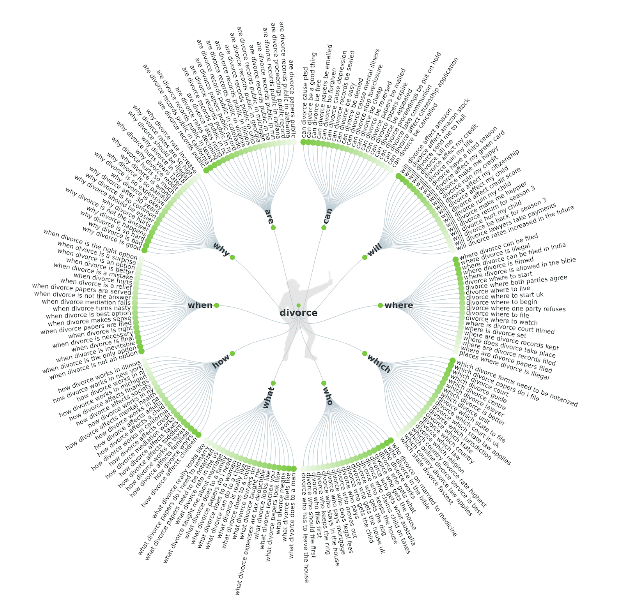 5.) Video Marketing
Did you know that YouTube is the #2 search engine in the world?
People have preferences in how they feel they learn best. Most will gravitate towards their preferred medium. Conversions are easily one of the most difficult hurdles for attorneys. Marketing a person's expertise can be difficult on paper, however video marketing, if executed correctly, can be an excellent way for a lawyer's personality to shine. 
Because Youtube is owned by Google, if your video is optimized correctly, Google will often time give videos priority directly on the SERP (Search Engine Results Page). 
6.) Get More Legal Referrals
The more people you have a good working relationship with, the more organic referrals you will receive. Always continue to grow your network. Yes, this means you need to play nice more often than not: Be personal. Be friendly. Be professional. 
No one can be the best at everything. This is why most attorneys have specialty practice areas. If you are a niche market lawyer, market yourself as such. If your phones ring all day, but you can't provide the range of services people are requesting, what value does that bring to your firm? Work with another local lawyer who has different specialties. Form informal alliances. Referrals from other lawyers are some of the best referrals to be had. With this, you must be willing to give, as well. Don't think of it as client stealing; if you wouldn't have been able to truly help the client anyway, you aren't really losing out on anything to begin with.
A referred prospect is the cheapest to obtain and has a higher conversion rate than anyone else. So, go back to the basics. If you provide excellent customer service, your old clients will be more than willing to tell their friends about you when the situation arises for them to do so.
About the Author: Seth Winterer is the CEO of Digital Logic, a law firm internet marketing company based in Shreveport, LA.