Instagram Stories Ads are a powerful marketing tool, providing access to over 500 million users daily. One third of the most viewed Stories come from businesses and 60% of users discover new products through the platform.
With numbers like that, it might be tempting to throw up a random Stories Ad and wait for the clicks to come flying in. But, converting ad views into sales can be a challenge for brands, especially given all the ad content already on the app.
Never fear. We've compiled a guide on how to create engaging Instagram Stories Ads so your brand stands out from the crowd.
What are Instagram Stories ads?
Instagram Stories Ads live within Instagram Stories, and appear like a commercial break between your friends' and family's video content. The only difference is that a brand has paid to place them there.
Stories ads are full-screen and vertical, just like Instagram Stories, and sit on top of your Instagram News Feed. Like Instagram Stories, they can be still images or 15 second videos.
Instagram has seven objectives for Instagram Stories Ads, which you can select when you build your ad:
Reach: Show your ad to as many people as possible
Video Views: Encourage as many people to view your video as possible
Traffic: Send the most amount of traffic to your website or page
Conversions: Drive conversion metrics like email signups or sales
Mobile App Installs: Get users to download and install your app
Lead generation: Open up a lead gen form that automatically fills out the users' information
When you create an Instagram Stories Ad, you'll need to select from one of the seven marketing objectives to shape the tone and style of the ad.
Why use Instagram Stories ads?
Instagram Stories Ads look like regular Instagram Stories, blending in organically as users tap from video to video. This makes Instagram users generally more open to advertising compared to other platforms, especially if the ad is engaging and well-crafted.
Another benefit to Stories ads is the high number of users who could potentially engage with your brand. How does an advertising reach of 849.3 million daily users sound? Probably like a solid return on investment (because it is).
PS: That's 14% of adults aged 13 and over. And Instagram's ad reach is growing fast, with a 5.9% increase quarter-on-quarter as of late 2019.
And sure, you could post regular organic Instagram Stories from your brand's business account any time (and you should have a strategy for that channel, too). But, Stories ads are particularly effective at helping you reach new people who don't already follow you.
How to create Instagram Stories ads
Now that you know why it's worth investing some time and energy into Instagram Stories Ads. Let's find out how to create one from scratch.
1. Review the ad requirements
Start by reviewing the Instagram Stories Ads requirements for size and layout. Following the guidelines will ensure your ad loads properly on the app.
The requirements for an Instagram Stories image ad are:
Image ratio of 9×16
Image resolution up to 1080 x 1920 pixels and no lower than 600 x 1067 pixels
Maximum file size of 30MB
Instagram Stories video ads requirements:
4:5 vertical aspect ratio
Length of up to 15 seconds
File size of 4GB max
File type of .mp4 or .mov
Supported codecs of H.264, VP8
2. Link your Instagram account to your Facebook account
To begin any sort of advertising on Instagram, start by converting your existing Instagram account to a professional account, if you haven't already. Then, connect your professional Instagram account to a Facebook page managed by your brand or business.
These two steps will unlock your access to Ads Manager, where you will build Instagram Stories ads.
To switch to a professional account:
Open your profile and tap the hamburger menu in the upper right corner.
Open Settings and then Account.
Select Switch to Professional Account and choose Business.
Note: You can only connect one Facebook page to your professional Instagram account.
A professional Instagram account is a must if you want to build an audience for your business on social media. It gives you access to business-specific tools like Instagram Stories Ads and Instagram Insights.
3. Create Instagram Stories Ads in Ads Manager
Ads Manager is an easy-to-use tool that is accessible through Facebook.
To create an Instagram Stories ad:
Open Ads Manager on your Facebook page. Note: you will need to accept Facebook's anti-discrimination policy to proceed to the page.
Select Create. You can choose from the Guided Campaign option or the Quick Creation option. We're going to use the Guided Campaign option to show you how to create an ad from scratch.
Pick the Facebook advertising objective that aligns with your marketing goal and select Continue.
Set your ad's budget and schedule.
Select the Conversion for the ad. This is where you determine where the ad takes users: a website, or one of Facebook's features like Messenger or WhatsApp.
Choose the Audience for the ad. You can create a new audience or use a saved audience setting from other advertising you have done on Facebook or Instagram.
In the Placements section, select Edit Placements and choose Instagram.
Optional: You can also select Automatic Placements, which will run your Stories ad across several Facebook Placements, including Instagram. This option will give you the most value, featuring your ad on Instagram and Facebook based on Facebook's marketing algorithm.
Choose Single Image, Single Video, or Carousel for the ad format.
Complete your ad by including details about your ad's identity, format, and any related links.
Preview your ad before submitting it to Instagram for review.
Once your ad has been approved, confirm it appears in Instagram Stories. Your ad must comply with Facebook's advertising policies to be approved and run on Instagram.
6 tips for creating highly effective Instagram stories ads
You've made it through the how-to-set-up-your-ad section. Now for the fun part: designing a stand out ad for users!
With so many Stories ads on the app, and the limited attention spans of viewers, it's not enough to just craft a basic ad and hope for the best.
Here are six tips for creating Instagram Stories ads that are (relatively) tap-proof.
Get attention with video Instagram Stories ads
When it comes to advertising on social media, first impressions are everything. And on social media, video holds our attention five times more than an image.
Using a video ad gives you more time to get your pitch across, fifteen seconds to be exact, versus the five seconds of an image. Those fifteen seconds are your chance to present your product, with visuals that make users laugh, or at least go, "what am I watching?"
The Instagram Stories video ad campaign by Waterdrop, a bottled water brand, is a strong example of using video to good effect. The campaign shows a bottle of water carried by an actor through a cityscape, reflecting the surroundings in the clear, delicious looking water. It's simple, engaging, and easy to follow.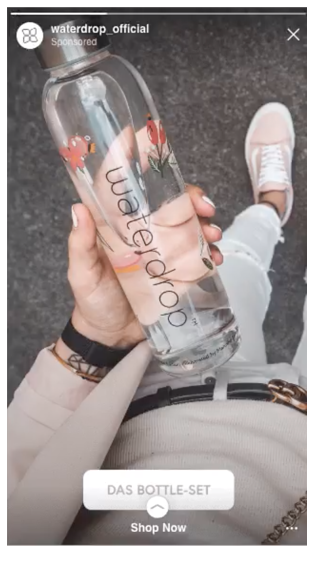 Use the carousel option for increased engagement
With carousel ads for Stories, you can include up to three "cards" in your ad. Each card can be an image, 15-second video, or mixed media. They are best for showing multiple products or sequenced narratives.
Many big brands, such as Gap, are using carousel ads on Instagram Stories to keep users engaged and make the most of their ad time.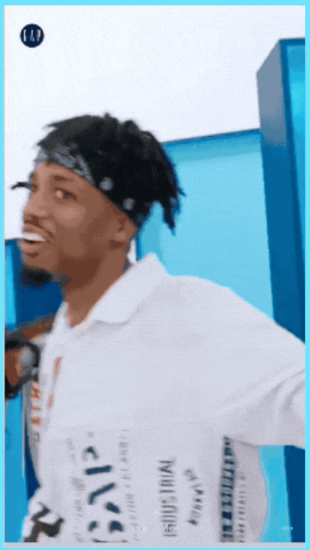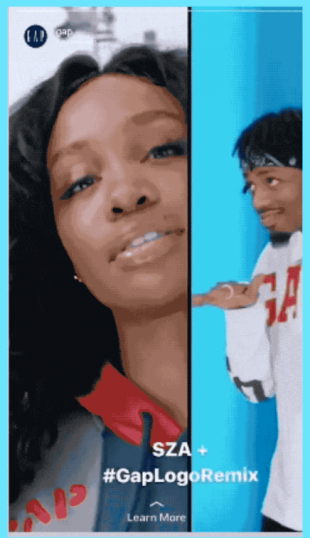 Create a consistent look
Developing your brand's 'voice' is its own art form. But once you've found yours, channel it into your Stories ads. This will make it easier for users to identify and remember your product as they scroll through their Stories.
MeUndies, an inclusive underwear brand, is a great example of creating a consistent, accessible look tailored for their audience. With Instagram Stories ads that promote inclusion, diversity, and fun products, they are able to connect with users effectively and stay true to their brand.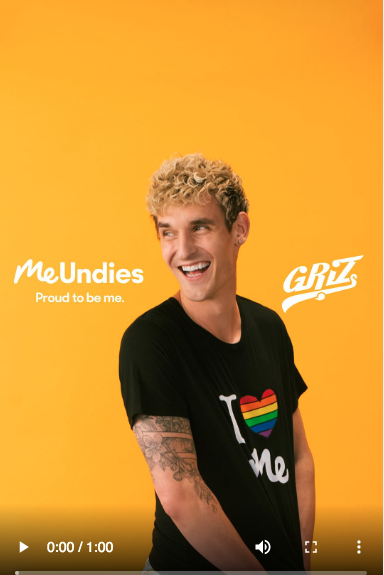 Maximize the vertical space
Instagram Stories ads have a vertical layout. Use this to your advantage by creating an ad that covers the entire ad space. Crop and adjust images or videos so they fit nicely into the vertical layout.
The mattress brand Simba is a great example of a simple aesthetic that tells users a lot about the product in fifteen seconds or less. The graphics are clean and inviting, filling up the entire frame with an eye catching video of why their mattress is a great product.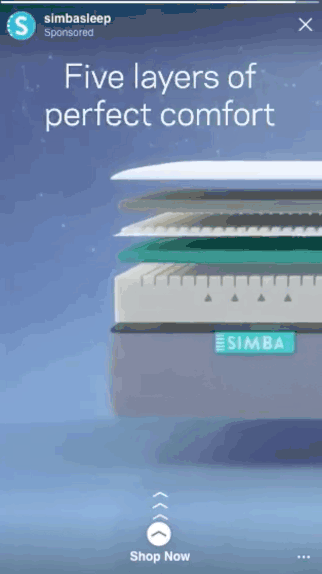 Keep the ad copy short and sweet
Channel your inner Marie Kondo and remember: clutter is the enemy.
Regardless of whether you go for an image or video ad, always make the visuals the star and the messaging supplementary. Keep text minimal, with just enough information to intrigue users to "Swipe up" or get your message across.
The messaging should be easy to glance at and understand. In most cases, your brand's short tag line, no more than ten words, is all the messaging your ad needs.
Fashion brand Morhipo launched a photo Instagram Stories ad campaign with their logo and branding featured in the ad in a clear, but not overly flashy, style. They saw a significant bump in user engagement, partly because their message was simple, balancing out the aesthetics in the rest of the ad.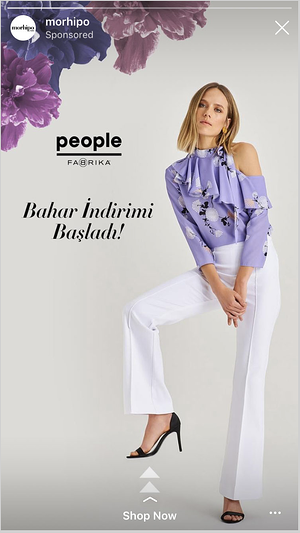 Make your logo visible
Your ad should always include your brand's logo. Position it (along with a tagline, if there is one) in the first several seconds of the video ad or on the image ad so it's easy to spot. Also, try placing it in the center of the ad, diverting users away from the "sponsored" tag on the top right of the ad.
But, don't make your logo gigantic. Users tend to click away when they realize they're looking at an ad.
Part of why ads like Waterdrop are so effective is that, due to the clever branding, users don't realize they're watching an ad until they're already hooked.
Another good example is a Stories ad by the fitness brand GymShark. It features their branding on the clothing of the model, rather than on the ad itself. This is a clever way to showcase your brand without drawing too much attention to it.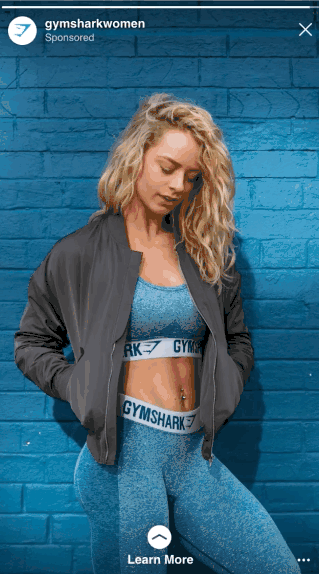 Don't make it look too polished
Instagram users are savvy and will clock an ad that screams "AD" pretty quickly.
Stories ads that appear authentic and organic, as opposed to overly polished or produced, tend to have more staying power. Adding a level of personality, with a welcoming message and style, will also help your ad stand out.
Successful Stories ads avoid looking too much like an ad and more like a regular Stories post, with a logo and branding casually thrown in.
This is especially important if your existing branding is already more casual. Deviating away from this vibe just because you're paying for an ad could be confusing and cause users to tap away quickly.
The food delivery service Daily Harvest created Stories Ads that showcased their products in a simple, approachable way. The ads have food shots that look appetizing but not overly polished or retouched.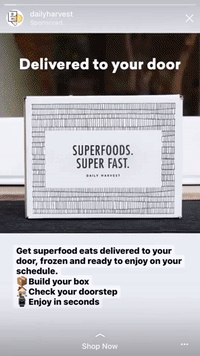 Always include a call to action
A call to action (CTA) can be set for a Stories ad before you publish it on the platform. Instagram provides several CTA options, such as "swipe for more," "learn more" or "shop now."
The Instagram-provided CTAs are branded buttons that aren't too distracting or flashy. They are a great way to compel users to take action when they land on your ad.
CTAs are key engagement tools that can boost the number of clicks, and sales, generated by your ad.
Frozen pizza brand CPK uses CTAs in their ads to encourage users to learn more about the delicious pizza featured in their Stories ad.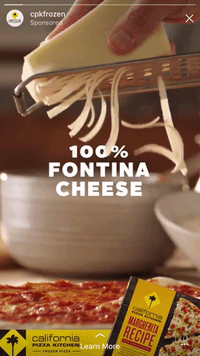 Note: One effective CTA is to encourage users to visit your website or another external page where you do most of your business, such as a Facebook page or an online shop. A direct link to an external site makes it easy for users to find out more about your brand or buy a product featured in your Stories Ad.
Spice up your ads with music and audio
A silent ad on Instagram is a missed opportunity, as users tend to scroll through the app with the sound on. Grab users' attention by including a snippet of music or audio to the ad. Maybe your brand already has a brand theme song or audio tag line that you can include.
You may also use audio from an existing branding campaign and integrate it into the Stories ad.
MeUndies uses upbeat, engaging music in its Stories ads, which pairs well with the overall aesthetic of its branding.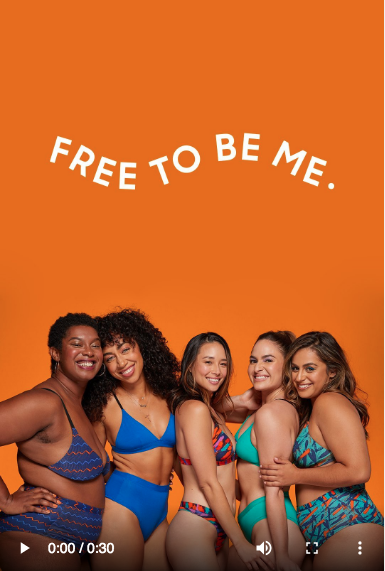 Track your performance
Once your Instagram Stories ad goes live, don't just let it sit on the platform in social media limbo. Tap into tools like Instagram Stories Analytics to track how well your ad performs, looking closely at any increases in sales, unique hits, and overall traffic numbers.
Looking for more on Instagram Stories? Check out our posts on using Instagram Stories like a pro and reasons your Instagram Stories might not be converting.
Get the most out of your Instagram advertising budget with AdEspresso by Hootsuite. Easily create, manage, and optimize all your Instagram ad campaigns in one place. Try it free today.
Get Started
Join To Our Newsletter
You are welcome