From productivity and revenue to a deeper understanding of customer behavior, businesses are living and dying by their CRM data
The need for that data is growing, too. CRM as an industry is expected to boom to over $40 billion by the end of 2017. Meanwhile, the ROI of a well-implemented CRM system is nothing to scoff at, with oft-cited stats ranging anywhere from $5.60 for every dollar spent to $8.71 and beyond.
But as is the case when dealing with heaps of data, organizations oftentimes to fall into one of two traps:
Those looking at their organizations' data are drowning in it, completely overwhelmed and in over their heads in terms of what their CRM numbers actually mean.
Companies are making data-driven decisions thanks to CRM; however, they're not focused on the most prudent elements of their business.
These problems plague marketers in particular. Econsultancy notes that only 33% of marketers feel that they can use their CRM data to make decisions. The more CRM solutions continue to evolve, the more challenging it becomes for marketers to wrap their heads around their numbers.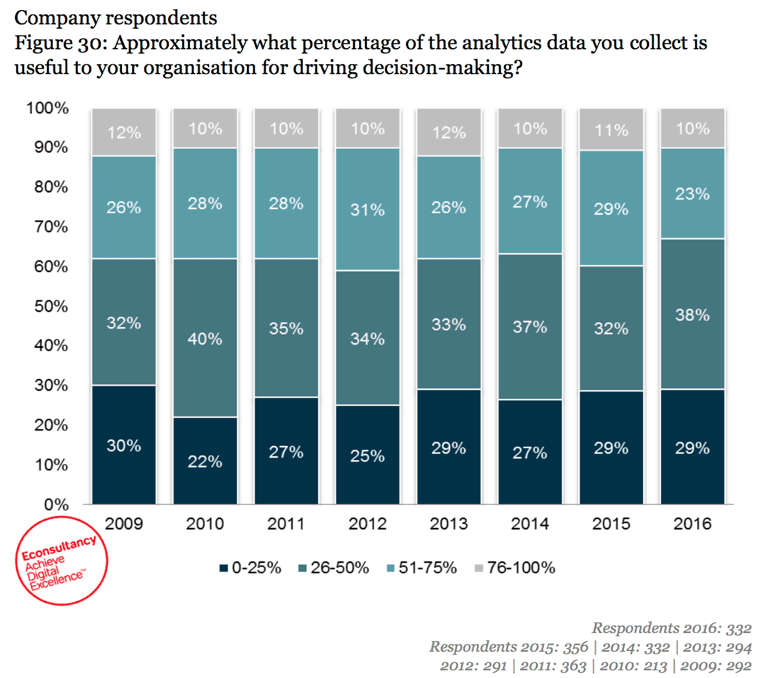 As businesses become more and more reliant on their CRM data, that data comes with a massive potential price tag. Misusing your CRM data could result in lost revenue and efficiencies that ultimately hold back your business' growth.
How marketers misuse their CRM data
Marketers can't afford to squander their CRM. Squeezing the most out of your CRM data without getting lost in the weeds means knowing what to prioritize and what mistakes to avoid. In fact, there is a number of common pitfalls that go hand in hand with the most common challenges of mastering a CRM solution.
Below are the six mistakes that marketers absolutely must avoid if they want to make the most of their CRM data.
1. Using Outdated, Incomplete or "Dirty" Data
For starters, your CRM is only as good as the data it gathers.
Whether transferring to a new CRM or looking at your current one, there's plenty that can go can wrong in the form of duplicate customers, incomplete fields or invalid entries. If you're spending the bulk of your time chasing down bogus accounts or bots, you're obviously not going to turn such entries into dollars and cents.
Experian notes that the average company wastes 12% of its departmental budget on "dirty data." Every duplicate or invalid entry in your CRM represents a lost lead, mistimed offer or repeat message. The result? Lost, or at the very least, confused customers.
If you suspect that you have a dirty data problem, scrubbing your database is a solid starting point for fine-tuning your marketing efforts via your CRM.
2. Unnecessary or Utilized Fields
The beauty of modern CRM systems is just how much we can learn about our customers. Yet in our pursuit of learning as much as possible, marketers subject themselves to information overload.
Marketers should rethink which fields within their CRM matter the most. What demographics and behaviors are going to result in closing those leads? Those should be your priorities.
Besides, too many fields could cause your leads to turn away out of frustration.
Don't think of eliminating fields as sacrificing the ability to segment, but rather an opportunity to focus on. To piggyback on the previous point, having legitimate, quality leads is preferable to having more data than you know what to do with.
3. Failure to Automate
Your CRM solution should streamline the marketing process rather than slow it down. Just as automation continues to overtake just about every aspect of marketing, there are some components of your CRM system that should be on autopilot.
For example, the following four marketing elements of your CRM are prime candidates for automation:
Lead management: capturing and scoring leads to determine who your most qualified and sales-ready buyers are
Lead engagement logs: tracking when your various sales prospects view your content pages or interact with your posts on social media, by integrating analytics tools
Lead nurturing: no organization should expect to chase each and every lead on their own, regardless of how qualified they might be
Customer retention: keeping your current customers happy shouldn't consume the bulk of your time
Organization and planning: by assessing the ROI of your current marketing efforts within your CRM, you have a better picture of what to focus on in the future.
Modern CRM solutions pride themselves on their ability to save time. In fact, Hubspot's Free CRM emphasizes automation for the sake of getting more deals, prioritizing the ability to nurture customer relationships. By providing a clear overview of your pipeline and sales activity automatically, marketers can spend more time focusing on their strengths instead of digging through spreadsheets.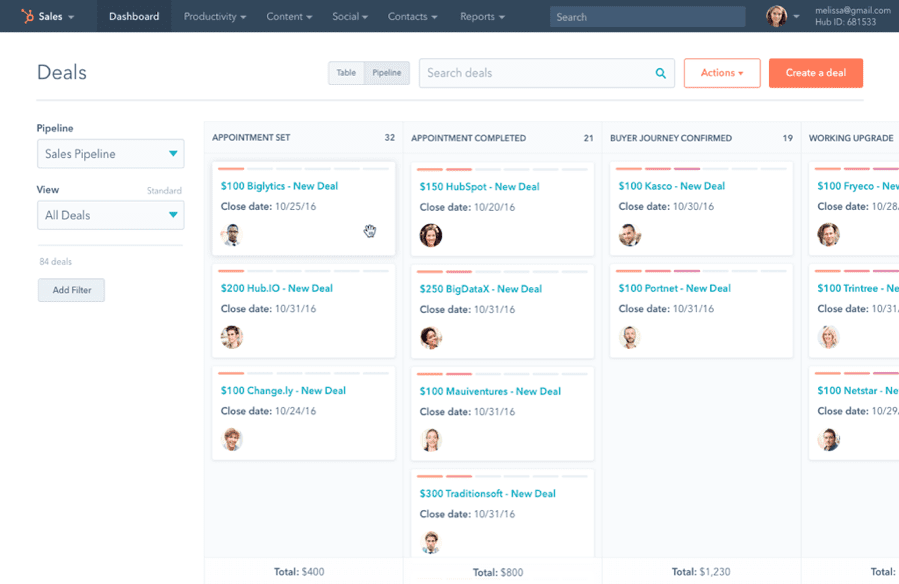 4. Lack of Social Integration
No marketer should make the mistake of treating their CRM like an island, especially in the era of social media.
Interacting with your customers via social is an absolute must-do. Customer service is a cornerstone of CRM, all the while more and more people are taking to the likes of Twitter and Facebook to interact with businesses.
These same customers also expect a response within one hour through social media, signaling the need for marketers to go marry their CRM solutions with the various social channels.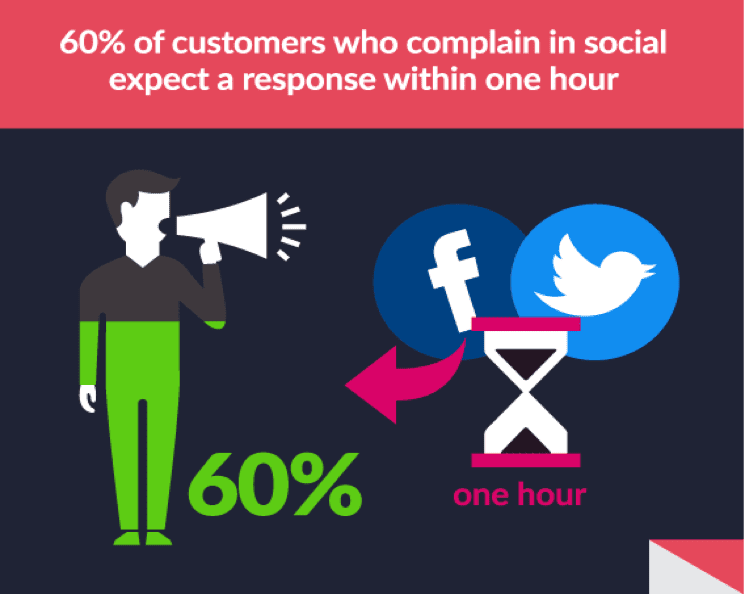 Salesforce notes that customers leveraging social CRM saw an increase in customer loyalty (55%) and increased sales revenue (54%). Simply monitoring the sentiments of your customers isn't enough in an era where social integration is becoming the norm.
5. Failing to Define Your KPIs
Marketers should have total confidence in how their CRM directly relates to their business objectives. Although KPIs might vary somewhat from organization to organization, your focus is likely going to be on revenue and leads first.
For example, the top five KPIs as noted by IMPACT are as follows:
Sales revenue
Cost per lead
Customer value
Inbound marketing ROI
Traffic-to-lead ratio
These KPIs clue marketers in on what's working and what's not. These data points are central to CRM and growth alike.
Again, smart use of your CRM means the potential for a higher ROI. Until you have to KPIs in order, you're potentially holding back your bottom line.
6. Not Acting on Your Data
This final point might seem rather obvious but represents an ongoing dilemma. The numbers are there but no action is taken.
There are many reasons why marketers might fail with their data. Perhaps you're relying on a CRM system that isn't particularly user-friendly. Maybe you have doubts about your data in the first place.
When assessing the most important CRM features, organizations stress ease of use (55%) and the ability to see a clear snapshot of their data (18%).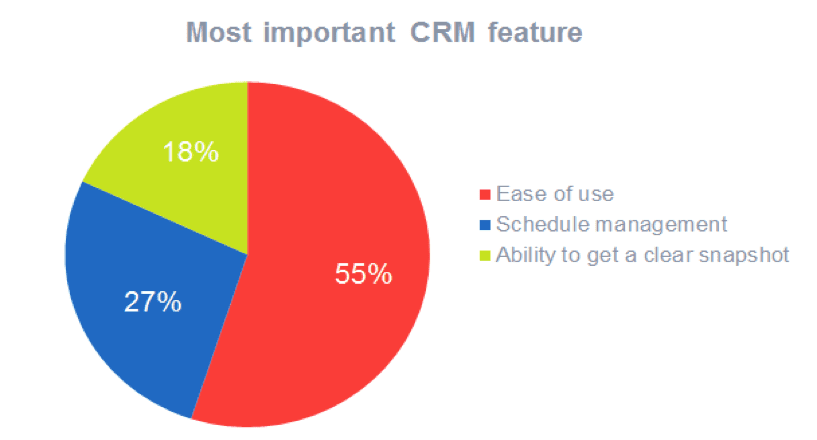 Based on these numbers, marketers need a data solution that's simpler at a glance. Once that base level of understanding is there, marketers are more poised to take action. For some, that might mean a complete overhaul of their CRM solution.
Conclusion
These six pitfalls scratch the surface of why so many marketers struggle with data in the first place. In pursuit of more effective marketing, organizations need to prioritize the proper pieces of their CRM data. Whether through adopting a new solution or reassessing their current CRM, marketers can only fine-tune their strategies if and when they can make sense of the numbers in front of them.
Join To Our Newsletter
You are welcome