If recent trends like "conversational marketing" and "social selling" have anything to teach us, it's that social media has matured a great deal as a pure prospecting platform since its early days
Not to imply that anyone has truly reinvented the wheel here. For the most part, brands on social media have always used it as a means for finding and educating prospects, raising brand awareness and building communities of fans.
On the other hand, B2B marketers' objectives in general, and on social media specifically, have been evolving.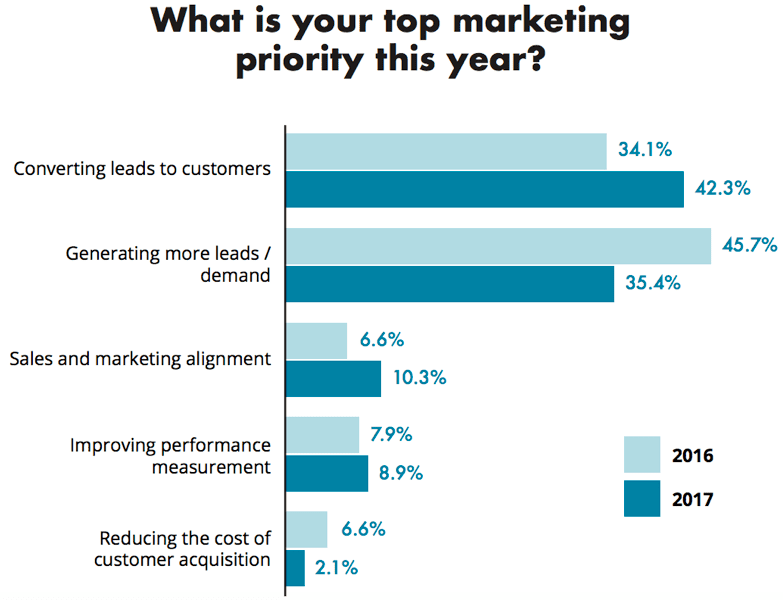 Bizible's most recent State of Pipeline Marketing Report demonstrates that instead of prioritizing demand and lead generation, today's marketers are emphasizing lead nurture processes.
Why the change, though?
The social landscape is evolving, and marketers have wizened up. Buyers are likewise increasingly comfortable with the concept of buying via social, with three-quarters of social users now following brands whose products they're interested in.
No longer a shiny new toy for marketers, trends have proven that there's more to social than creating surface-level buzz. With conversions representing a top priority for today's brands, marketers are employing tactics and strategies that go beyond prospecting and have bigger-picture implications for their bottom lines.
Below are six ways that today's brands are leveraging social media to encourage those sought-after conversions. From harnessing the power of social data to interacting directly with leads, any combination of these tactics goes hand in hand with 2018's top social media trends.
1. Social Selling
For those selling physical and digital products alike, there's a massive window of opportunity here. With buyers taking social media more seriously nowadays as a venue for conversations with vendors, it's become increasingly important for sales reps to maintain active profiles, build trust, offer helpful advice to curious parties and foster relationships with individuals.
Meanwhile, proper direct sales "social commerce" channels continue to grow rapidly as people continue to use more of their tech gadgets for more of their buying.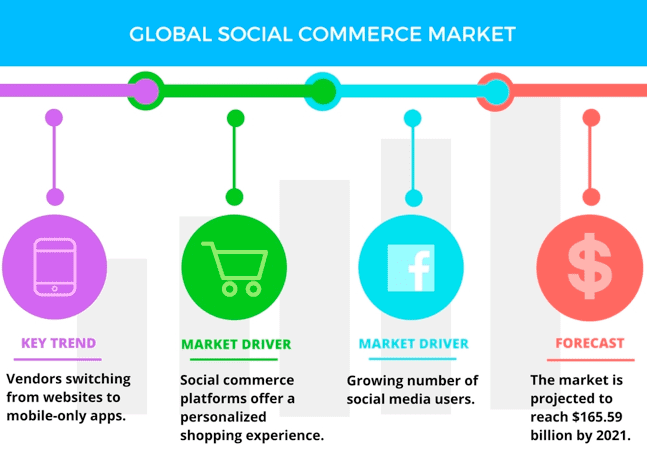 There is no one-size-fits-all approach to social selling, though. For example, classic marketing techniques such as offers and giveaways are still fair game via social. Meanwhile, social commerce platforms that turn brand profiles into storefronts, are booming.
The takeaway here is that brands shouldn't shy away from touting products – provided that it's with the right touch. This is especially true in age of increased pressure to produce a positive social ROI and convert customers.
2. Enriching CRM Data
Of course, social sales doesn't solely come through hitting your prospects over the head with offers.
Brand marketers can now harness the power of social media to supercharge their CRMs, creating a more comprehensive view of their customers. Additionally, marketers can better qualify prospects based on specific actions they take via social.
For example, social media management platforms such as Zoho Social can enrich CRM entries based on how they've interacted with your brand across touchpoints. This might mean a mention, retweet or comment on a piece of content, or it could be clicking on an ad. Brands can then customize which of these actions qualifies prospects as leads and store that data in their CRMs accordingly.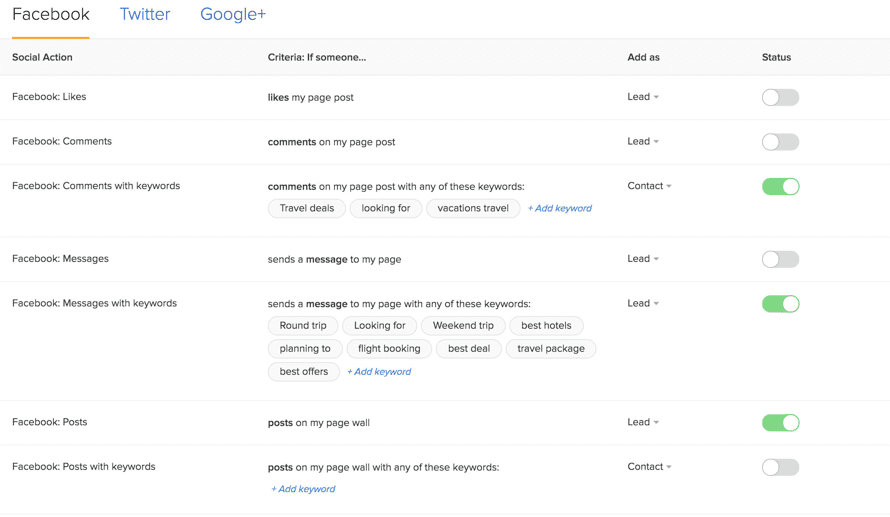 This streamlines the process of social selling by giving you insights into what individual leads are most interested in – and exactly where "the conversation" has left off, regardless of where it's taking place. With many brands struggling to point to a specific ROI via social, the ability to tie your CRM data to your social data is a game-changer.
3. Building Social Proof
Social proof is a time-tested tactic for increasing conversion rates, which is why logos, trust seals, reviews, and testimonials are staples of modern landing pages.
Acquiring such proof is easier than ever via social media, where customers and brand advocates are often more than willing to shout out the companies they support. To collect and promote these assets, you can use a social listening and sentiment analysis tool like Sentione, which crawls the social web for mentions and conversations surrounding your brand name and niche-relevant keywords.
You can also use a UGC collection tool like EmbedSocial, which allows you to prompt customers to leave reviews and ratings, using their verified social profiles, which you can publish on your website.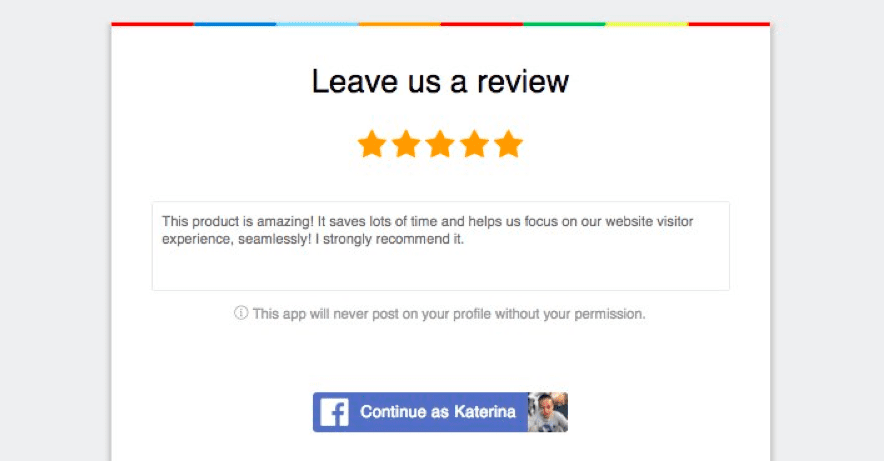 4. Ad Retargeting
Given the implications of Facebook's algorithm changes, brands are experimenting more and more with "pay to play" tactics including Facebook retargeting through custom audiences. With organic content receiving limited reach, you need all the help you can get when it comes to fine-tuning Facebook ads and audiences.
Essentially, brands can collect data on leads from their email campaigns or CRM to eventually remarket to them via Facebook ads. Through unique messages that speak directly to prospects familiar with your brand and content, marketers can continue to stay top-of-mind and nurture those otherwise lost leads. Once you've invested in acquiring an audience member, you don't need to capture an email address to keep the conversation going.
Beyond Facebook's native ad platform, other social channels likewise offer similar custom audience ad targeting, but none of these has the sophistication and reach that Facebook does. LinkedIn ads, for example, are still prohibitively expensive for most marketing budgets, but its free "website demographics" tool, released last summer, can tell you a great deal about your audience, allowing you to layer Facebook retargeting with parameters on audience interests, for more effective campaigns.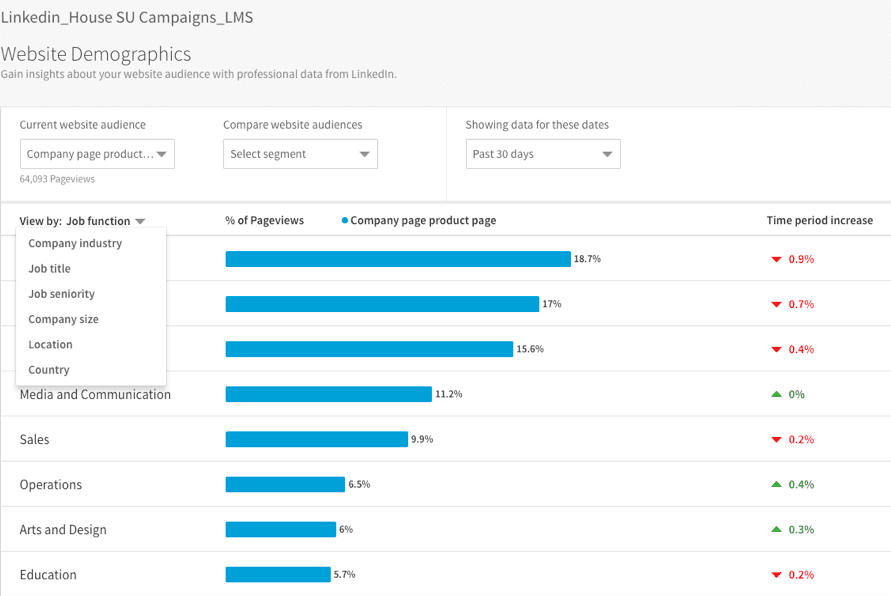 This sort of data is invaluable for improving future ads to figure out which demographics and messages are likely to drive the most lead nurture impact for your brand.
5. Competitive Analysis
Although the importance of likes and shares your competitors are scoring might overblown, there is still quite a bit you can learn by tracking what they're up to.
Whether it's formulating ideas for your own content marketing strategy or figuring out what your audience needs in order to be nurtured effectively, paying attention to social metrics associated with content relevant to your industry is a must-do.
Just as you'd look at your own social analytics, you should examine similar metrics among your competitors. Tools like Buzzsumo provide a simple avenue to figure out what your industry and competition are talking about and can likewise inspire your own content.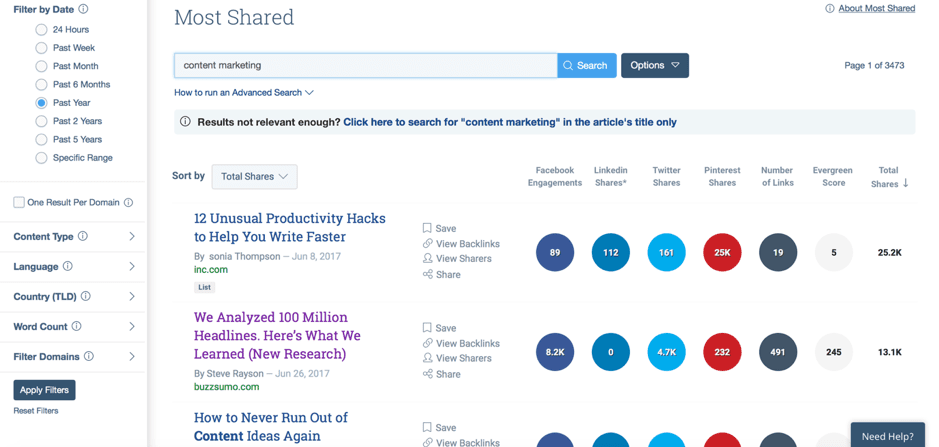 Whether it's webinar topics, blog posts or lead magnets, looking at competing content by the social media engagement numbers can offer eye-opening insight.
6. Next-Level Nurturing
Brands have historically nurtured leads by distributing articles that educate, combining content marketing and social media through scheduled posts.
However, social affords a unique opportunity to engage with leads and prospects in real time as well. While there's certainly power and reach in social commerce, the ability to connect with leads in a conversational setting represents the state of next-level nurturing.
Take Sprout Social's weekly #SproutChat as an example. Using their branded hashtag, Sprout manages to conduct regular Q&A sessions to both tap into the pain points of their audience and get in the trenches with their prospects.
Q2: Why is it important to internally track conversations you have with customers on social? #SproutChat pic.twitter.com/zVkPDZYRp0

— Sprout Social (@SproutSocial) March 28, 2018
This point can further be driven home by the popularity of video and webinars to nurture leads. As noted by Instapage, 35% of webinar attendees are engaging via social media during their sessions. Combined with the fact that 90% of social content shared is video-based, social marketers should focus on compelling content (live video, for example) if they want to continue to nurture leads effectively.
Conclusion
Whether selling directly through social or learning more about the people most likely to engage with your posts, deriving value from social media beyond simply capturing leads and driving traffic is easier to come by today thanks to the wealth of tools and strategies available.
With marketers putting conversions on a pedestal over prospecting, we're emphasizing tactics and tools that put us in position to yield meaningful social interactions. This not only puts brands a path toward a positive ROI for time spent on social, but also a more well-oiled marketing strategy overall.
Thanks to Joe Liebkind for sharing their advice and opinion in this post. Joe is a nomad finance, marketing and startup writer with a focus on SaaS and blockchain. He has worked with startups in sales and marketing roles in Berlin and New York.
Join To Our Newsletter
You are welcome