69% of e-commerce brands see voice ordering as an opportunity
Chart of the Week: 43% of brands strongly agree that voice ordering offers e-commerce brands a big opportunity
The majority of e-commerce brands view voice ordering as an opportunity rather than a threat, suggesting that e-commerce companies should start to look at incorporating it into their future sales strategy. According to Feedvisor's new survey, 43% of brands strongly agree that voice ordering is an opportunity, with a further 26% saying they somewhat agree.

In comparison, when asked if voice ordering is a threat for e-commerce brands, just 27% said they strongly agree that it is while 18% said they somewhat agree. A total of 55% said that they either somewhat or strongly disagree that this form of ordering is a threat. This shows that there is still some confusion as to whether voice assistants are going to be helpful or not when it comes to e-commerce sales.

The future of voice ordering for e-commerce
While most brands are ready to look at the opportunity offered by voice ordering, the confusion over whether it is a threat or not could be due to how new the technology is.
Voice assistants are now fast becoming a part of everyday life, with many people now using Alexa or Google Home on a daily basis. This has led to a rise in voice ordering, giving brands access to a powerful e-commerce touchpoint.
The convenience of voice assistants is hard to deny, which has led to more and more customers placing orders simply by speaking a command. As well as being an easy shopping method for customers, it also provides e-commerce with some valuable insights.
Brands can use voice commerce to gain a better understanding of how their brands are interacting with their products, as well as sites like Amazon. This can enable them to create content with voice search and commands in mind.
Natural language processes are what power voice searches, so brands can use this data to tailor content and the copy used in advertisements to make the most of high-volume voice searches. If competitors are not optimizing their content, product listings or sites for voice search, this could offer a huge advantage – especially when it comes to Amazon.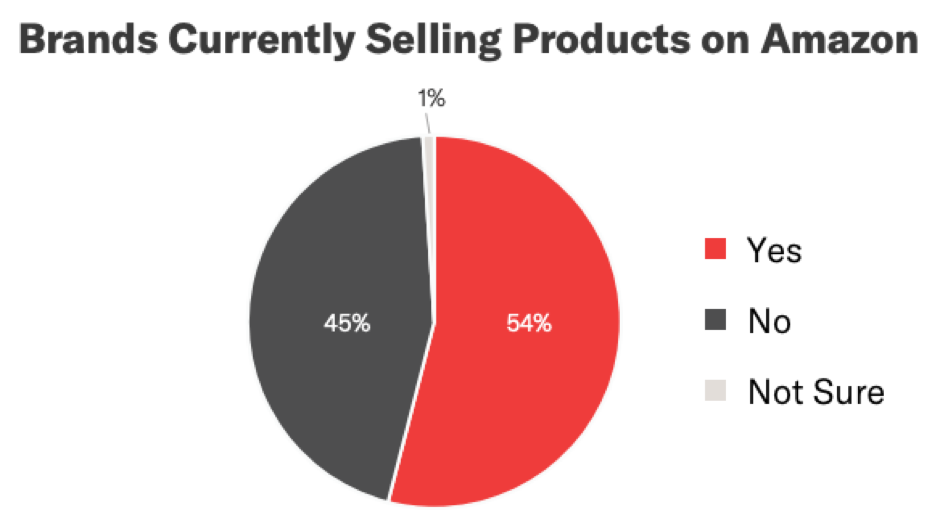 The relationship with Amazon
As well as looking at e-commerce and voice ordering, Feedvisor's survey assessed brands' relationship with Amazon. It found that 54% of the brands who respondent to the survey (which included more than 500 business leaders from national brands) are currently selling via Amazon.
In terms of the future, 72% of brands said they will be selling on Amazon within the next five years, showing the importance of the e-commerce platform. Not only is it being seen as important to brands' e-commerce business strategy, but the high number of people looking to sell on Amazon prove that is being viewed as a huge opportunity for growth.

For those who are currently selling on Amazon, 44% said that up to half of their total e-commerce sales come from the platform. Almost a third (32%) said that up to 75% of their total e-commerce sales are made through Amazon. Only 12% said that just between one and 25% of their e-commerce sales come from Amazon, showing there is a huge opportunity to utilize the benefits the platform offers.
Raising brand awareness with Amazon
Of those brands currently on Amazon, 67% say that over a quarter of their traffic on the platform is net new business. In fact, 28% said that half of their Amazon traffic is net new, suggesting that the platform is an ideal way of raising awareness for a brand.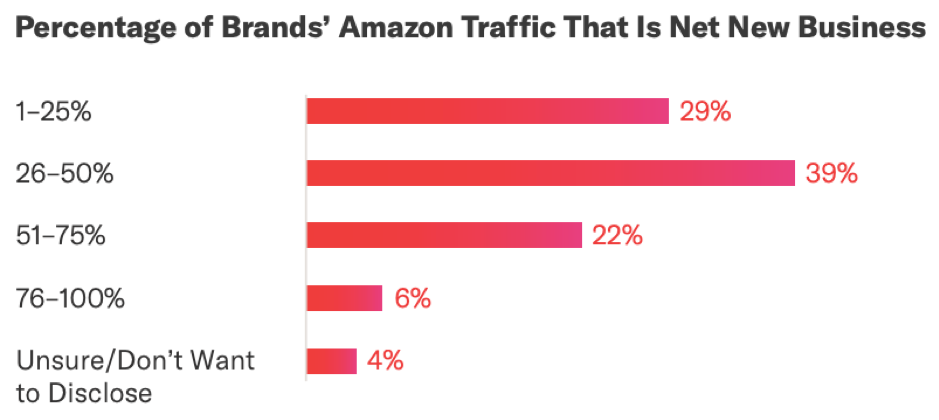 On top of this, these findings show how beneficial Amazon is at connecting shoppers with the brands and items that are most relevant to them based on their behaviour. However, being shown to more customers on Amazon isn't enough to really drive sales, as purchases on the platform are heavily influenced by brand perception, with things like product reviews really mattering.
This is why e-commerce brands on the platform need to control how they are viewed by customers and seek to maintain their reputation. Not only will this help in terms of gaining positive reviews, but it will also ensure they are driving visibility and staying competitive.
Brands can also use Amazon's data to assess which customer segments haven't yet been engaged or previously focused on. This will help to increase the amount of traffic that is net new business and provide more opportunities when selling on Amazon, as well as for their other e-commerce channels.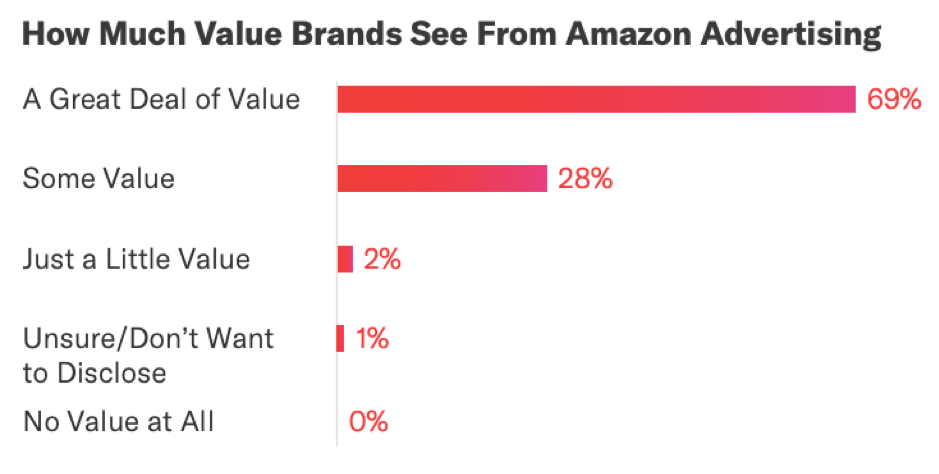 Advertising on Amazon
Amazon offers a number of benefits to e-commerce brands when it comes to advertising, with its access to purchase data making it different compared to advertising on Facebook and Google. The data that Amazon has access to means it is a great platform for those brands looking to raise awareness throughout a customer's buying cycle, as well as helping motivate purchases.
This is probably why a huge 97% of brands selling on the platform see value in advertising on Amazon. Of these, 69% said they see. A great deal of value in ads on Amazon while 28% see some value.
Comparatively, those brands who are not currently selling on Amazon were not as optimistic about the platform's advertising. Two in five brands said that the advertising options on the platform would be of some value, while 19% said they weren't sure how much value there would be.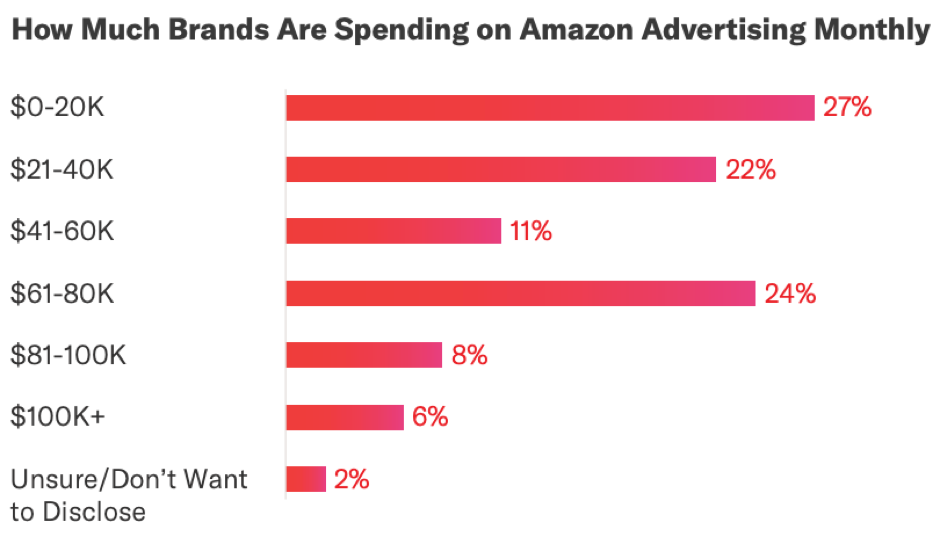 Amazon offers a number of different advertising options, allowing brands to target different customers at different points in their journey. As well as helping your products be seen by a greater number of potential customers, this also means you are better able to assess which ad types work best for your brand or for individual products.
This is perhaps why 49% of brands selling on Amazon are spending over $40,000 a month on adverts across the platform, with 38% spending more than $60,000 a month.
Final thoughts
Brands looking into selling on Amazon, as well as those already doing so need to look into the best ways to create opportunities on the platform. As this survey shows, optimizing listings and brand information on the platform for voice search could offer a competitive advantage, especially as the popularity of Alexa increases.
On top of this, making the most of Amazon's data to create a targeted and researched ad campaign on the platform could help increase sales and overall brand awareness. Creating opportunities from the many features that Amazon offers to sellers could enable your brand to grow both on and off the platform.