Retail is changing fast. radically. indelibly.
This is particularly true for the toy industry, still reeling from the onslaught of digital commerce and the nationwide closure of Toys 'R' Us stores.
According to Field Agent's new holiday preview, it appears Walmart, Amazon, and Target are faring best in a post-TRU, pre-TRU Kids world, but this doesn't mean they—and other toy retailers—aren't grappling with some harsh realities of selling toys in a digital, omnichannel world.
Some toy-sellers clearly believe the way forward is by looking backwards: to a time when toy stores offered a true, immersive experience, not just a toy. Talking about his vision for the new TRU Kids venture, which is to be born out of the ashes of Toys 'R' Us, CEO Richard Barry said the retailer will emphasize experiences, technology, and customer service.
Which sounds a lot like another toy store we know; an iconic toy store that has been emphasizing service and interaction for years.
FAO Schwarz of New York City.
What can holiday retailers, particularly toy-sellers, learn from this venerable toy store as they gear up for the 2019 holiday season?
Field Agent dispatched 10 mystery shoppers to FAO Schwarz to tour the store and tell us what, more than anything, retailers can learn from the way FAO Schwarz merchandises toys. Their feedback, as you'll see, is compelling.
Watch the video below, then scroll down for "7 Lessons Holiday Retailers Can Learn from an Iconic Toy Store."
7 Lessons Holiday Retailers Can Learn from an Iconic Toy Store
Field Agent asked participating mystery shoppers to detail lessons they felt retailers, particularly toy-sellers, could learn from the FAO Schwarz way.
We present seven below: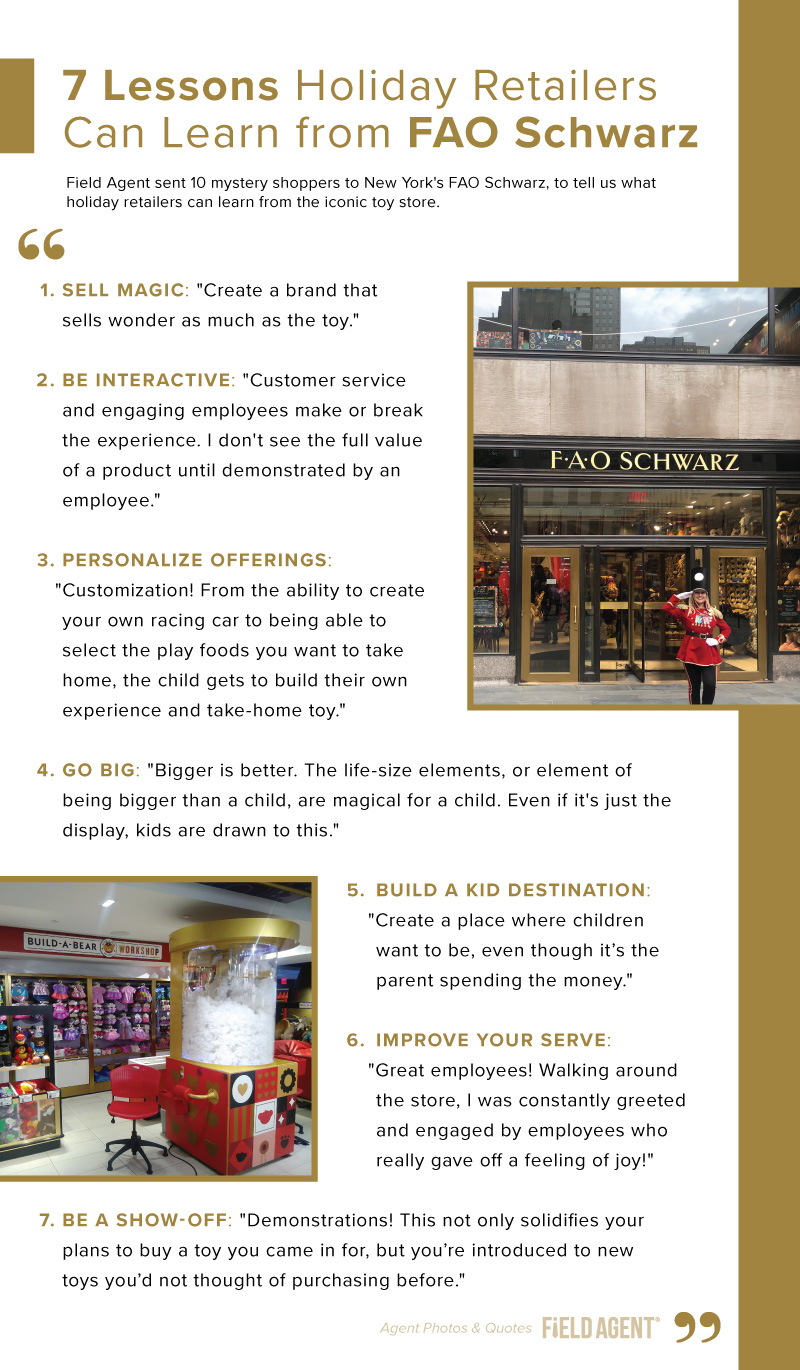 Ready or not, the holidays are right around the corner. For an in-depth look at every area of holiday shopping, from drinks to toys to what gift your spouse REALLY wants, check out the new holiday preview from Field Agent (see below).
Free Download: 2019 Holiday Preview
Based on surveys with over 4,000 holiday shoppers, Field Agent's 2019 holiday preview, "An Omnichannel Christmas," explores a wide range of questions, including:
Which retailers will be most popular this year for toys, electronics, clothing, and holiday groceries?
What role will brick-and-mortar, online, and omnichannel shopping play in gift purchases?
What gifts will be most popular this holiday season, among boys, girls, men, and women?
What foods and drinks will celebrants purchase to enhance their holiday?
Covering almost 50 pages, it's our biggest and best holiday report yet.
Download it today. For free!!
Join To Our Newsletter
You are welcome