Ever wondered how to consistently write effective blog post titles? It's one of the most important skills to have in the online world. Let's look at a graphic summary and then jump into some big details below:

An introduction to blog post titles and headlines
An entertaining and eye-catching headline can help a blog post (that might otherwise have gone unnoticed) get thousands of social shares, hundreds of comments, and a boost in Google rankings.
Write a boring title, however, and even the best blog post will get skipped.
Now, I'm not saying that I always write effective titles for my blog posts – I still have so much to learn and there are countless websites that do them a whole lot better than me. But, I've been asked about my methodology a few times now and thought it might be something a few of you might like to read.
So here we go!
A question about titles from Frank
In a post about mailing lists I got a question in the comments section from Frank which got me thinking about this topic some more: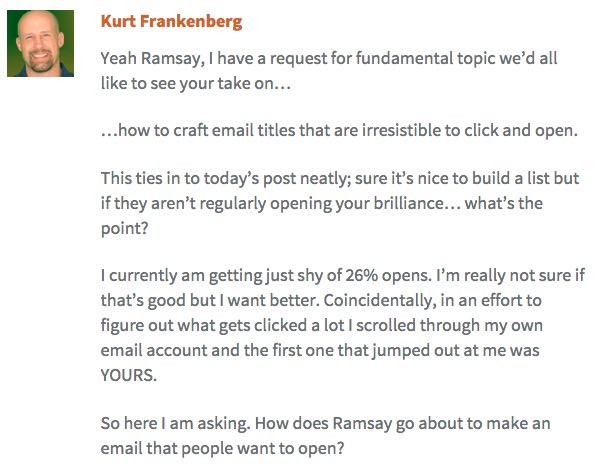 Now, Frank's question is primarily about email subject lines and crafting them so that people open up your emails. But seeing as there is a lot of similarity and crossover between email subject lines and blog post titles and so I am going to talk about it all in one post.
What makes for an effective post title?
Let's start this post by talking about what makes a title effective.
To my mind there are a few things we can talk about here – each one slightly more challenging than the last:
It should catch their eye
The very first thing a title needs to do is catch someone's eye whether they see it in an email, Facebook feed, Tweet or whatever. Cutting through noise is hard.
It should get a click
The next thing you need to do is get them to click through to read it. This is much more difficult than it sounds – some formats only have 0.5 to 1% click through rates.
It should cause an engagement or action
Some people will share or like an article simple based on whether they think their friends will like the article's title. More likely, however, is that your title encourages someone to read your excellent content.
It should assist your longterm Google rankings
A good title not only gets people interested in the article but also helps you to rank well on Google. More about this later.
You might write a title that you really love and think is clever as hell but unless it is leading to these types of responses you will be wasting your time.
How to write effective post titles
Okay so writing a good title is not easy.
We all know that.
It takes a lot of practice and it also requires a lot of testing to see what works and what sort of tiny variations you can make to elicit a big change in performance.
But there are some things you can do every time, sort of like a routine, to ensure that you get the best possible chance of success.
Today's post is not going to be a formula that you can follow – mostly because I don't follow one myself. Rather, what I want to do is just give you a few different things that you can think about and do each time you sit down to write.
Hopefully that helps you get results.
1. Always consider your target audience first
Before you write a title for a blog post you need to think about your target audience.
Who are they? What do they do? How old are they? These are all important questions that can have a big impact on how your titles form.
Perhaps most importantly, however, is the question: what problems do they have?
If your title can tap into that anxiety (and perhaps solve it!) you'll find yourself getting a much better engagement rate.
Always know who you are writing for and what issues they are having. Successful websites that are aimed at professional corporates "feel" completely different to music sites for teenagers. That's important.
2. Think about where they are reading the title
This point relates heavily to Frank's question about email subject lines because when your title is designed to be read in an inbox you need to factor in things like mobile screen sizes.
Here's a screen shot of two emails that I sent to myself using some pretty lazy examples of my own headings. You can see how on my iPhone the subject gets quite cropped and the text underneath plays a really big role. If you have a large percentage of people reading your emails on their mobile you'll need to pay careful attention to how much fits.
3. Know exactly what short and long-tail keywords you're targeting
Keywords are a vital part of blogging success.
You need to know exactly what keywords your blog as a whole is targeting, and you need to know what keywords each individual post is targeting and how that helps to create a big blog-wide picture. To do this well you need to know a little bit about short and long-tail key phrases and how they all work together.
Here's an example if you aren't sure:
Short-tail: grow a blog
Long-tail: how to grow a blog in 2017
As you can imagine, short-tail keywords are extremely competitive and difficult to rank for. What most people now do is try to rank for a series of longer-tail alternatives where you add an extra bit of information on the end to target a smaller group of people.
I've written a bit about keyword research for blogging before so I won't go over it again in too much detail. At a minimum, you want to spend 20 minutes to an hour researching and making sure you can compete and are targeting the right things.
4. Pick a post title strategy and work your keywords into it
So now we are up to the bit where you actually start to draft some titles.
This is where it gets lengthy!
It's at the point where we have to communicate our ideas to our readers, show them what we want to achieve, generate some curiosity, and also add in the key phrase for the benefits of Google SEO.
Each thing that you leave out makes for a less effective title.
So how do you do that?
Well, the best bet is to use some kind of title strategy that gives you a little method or guideline to follow.
Here are some examples:
These are just some very basic examples. I'll try to give you a few more tactics towards the end of the post in case you want to go deeper on how to work these motivations into your title and headline writing.
5. Keep your title in view and constantly tighten it
When I was in university someone told me to read the essay question every few minutes to stop myself going off track.
It was very good advice.
I like to keep my title in view and read it again and again as I type each paragraph. This helps me stay on track, but it also forces me to review the headline and tighten it up as the post evolves – which it always does.
On average I would say that my titles get re-written at least 20 to 40 times before I publish.
Sometimes the title will change because you realize that there is a better topic/angle for your overall blogging strategy, other times you just figure out better and better ways to say what you want.
The main iterations of this post's title went:
How to Write A Blog Post Title
Why My Blog Post Titles Take Hours to Write
My Method of Writing Effective Blog Post Titles
How I Write Effective Blog Post Titles
Why Writing Blog Post Titles Can Take Hours
Why My Effective Titles Take Hours
How I Write Effective Post Titles (and Why it Can Take Hours)
How I Write Effective Titles (and Why it Takes Hours)
Etc.
(Dear Google, I am not keyword-stuffing here. 😉 )
Each one of these variations also probably had two or three versions that I toyed with. Sometimes I will sit there and do this until I feel solid about it, other times I will revise the title as I write the article itself in order to get the whole entity flowing together.
6. Publish your post and tweak for different versions
Okay so this is where the "art" of title-writing starts to turn more into the "science" of title-writing.
Once you've finished writing the perfect blog post you hit publish and then start to take care of all the other versions of your post title that need to be addressed.
For example, the way your title appears on Google, Facebook, your blog itself, and your mail out can all be completely different if you so choose.
I touched on the mail out above with the iPhone sizing so let's talk more about the appearance in the search engine rankings here.
With a plugin like All in One SEO Pack or Yoast's WordPress SEO you can actually change the title of your posts so that they appear different in Google.
For example, here's a result from Blog Tyrant:

As you can see, the blog post title is too long and gets cut off. The tricky thing about this, however, is that the title length that Google shows will be longer depending on the key phrase that was searched. In the old days it was around 70 characters and so we could easily cater for that. Not anymore.
So it's important to think carefully about the main key words you want to rank for an ensure you have a good appearance for that main target.

You can track all of this in Webmaster Tools and a bit with Clicky.
Here you can see a post where I'm getting a 46% click through rate from Google for the displays where I rank in the first position. This could be better but depends on lots of things like the type of search people are doing (how-to's vs general info), the number of ads around it, etc.
One thing that's good to note here is that you don't want to change your title too much on Google (or anywhere else…) such that people get mislead when they arrive on your post and see the actual title. That will cause a big increase in your bounce rate.
If you want to test the effectiveness of your subject lines for mail outs it's a good idea to segment your list and split test different versions and see whether you can get any meaningful results that you can learn from and replicate next time.
Some more tips for writing effective post titles
Now that I've kind of gone over my own process for writing effective titles, I thought it would be a good idea to give you a few miscellaneous tips and resources that I have found useful over the years.
In other words, here are some things that I couldn't figure out how to fit into the main content:
Jon Morrow's free eBook on writing headlines is probably the best resource on the internet for headline development. I regularly refer to it to "borrow" ideas. You'll need to submit your email to get it.
Write a lot. There's a story here that Brian Clark made Jon Morrow write 35,000 headlines in one year in order to help him become the best at it.
Copyblogger has an absolute boatload of headline material that you can get all in one place. Man I really hate these guys.
Find people to learn from. I regularly look at ViperChill and ViralNova to see whether they have any super-successful post titles that I can adapt to my own blogging formula.
Study your real results. Learn to look at your data and see what is getting the actual results that count. That could mean subscribers, sales or some other metric important to your blog. Once you know, copy those posts.
In the end, writing effective titles is just like any other skill that you want to develop – it takes study, practice and a lot of testing to get it right.
What is your most effective title?
I'm really kind of curious to see what kind of post titles the Tyrant Troops have come up with. If you know what your most effective title has been please write it out below in the comments. We might all learn a thing or two from your success!
Join To Our Newsletter
You are welcome