Google file for a patent to retrieve images of users on their smartphones, launch Gallery ads in Beta, podcasts now playable in SERPs and the ASA issue another warning to Love Island influencer
What do you need to know to keep up with the ever-changing landscape of online marketing?
In this roundup of the latest news across SEO and social media, we'll be taking a look at the headlines this week that has everyone talking.
---
Google file for a patent to use a smartphone camera to look at the expression of the user
Yes, you read that correctly – it's a step towards using biometric parameters as a ranking signal…
In the most shocking news that I've read recently, SEO specialist Bill Slawski revealed that after keeping an eye on patent applications from Google, one has now been filed that wants cameras on smartphones to be able to monitor and retrieve images based on users emotions and facial expressions.
The patent application reads:
"Graphical Image Retrieval Based On Emotional State of a User of a Computing Device
Inventors: Matthias Grundmann, Karthik Raveendran, and Daniel Castro Chin
US Patent Application: 20190228031
Published: July 25, 2019
Filed: January 28, 2019″
Biometric signals as a ranking factor… sounds like something out of a sci-fi movie! Gesture tracking & facial recognition, even tone of voice will probably play into personalisation of voice search results too.

— Ben Poulton (@BennyPoulton) July 30, 2019
---
Google launch Gallery Ads in beta
Gallery ads are now available in beta in select languages, including: English, German, French, Spanish, Dutch, Japanese, Portuguese, Italian, Russian, Swedish and Polish.
But what is Gallery ads?
Google introduced Gallery Ads earlier this year at their Google Marketing Live conference and comprises of swipeable image ads that are present at the top of SERPs. Up to 8 images are allowed, each image can have a unique caption (even better), and there is a CTA at the end of the gallery.
If your brand uses visual imagery to attract visitors then this is a great addition to your paid search campaigns. You'll be able to harness the power and CTR of search traffic in the search results area, instead of the lower clickthrough and percentage conversion on display ads on GDN.
You do not need to create a new campaign for gallery ads.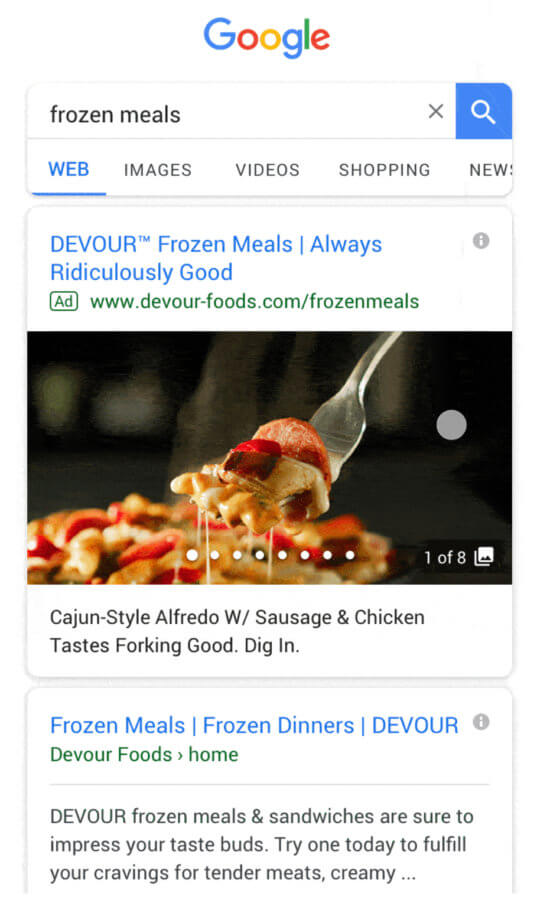 Source: Search Engine Journal
---
Podcasts are now playable on SERPs
Do you listen to podcasts?
They're a great learning tool for personal and professional development and have recently seen a rise in popularity due to their easily accessible format on-the-go and aids a different style of learning for those who prefer auditory learning.
Now, playable podcast episodes will be available on search as well as the normal search results.
According to Search Engine Journal, Google "will surface podcasts based on its understanding of what's being discussed in an episode." This is done via automatically transcribing the podcast, which is how Google will understand the content of each podcast.
Interestingly, as part of this update, Google will also allow publishers of podcasts to specify where they want users to listen to their episodes, whether it's an app or website.
However, it seems that this feature is only available for using English in the US.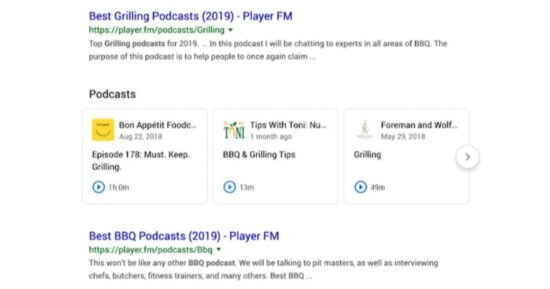 ---
ASA are taking social media influencer's sponsored posts and ads seriously with another crackdown on Love Island's Olivia Buckland
It's pretty much common knowledge that if you're using social media influencers to promote your products on their channels, there needs to be some indication that it's an ad, normally by adding the hashtag #ad onto social posts.
This came after the catastrophe that was Fyre Festival. By not declaring your post is in partnership with a brand, or you're either receiving the product as a gift, receiving money for posting the article, or accepting commissions it's deceptive marketing. Not only that, some brands still insist on writing the exact copy that must be used on an influencer's post, which is direct marketing communications and therefore must be declared as an ad.
The ASA is really cracking down on how digital advertisements are displayed, especially after a record-breaking year last year where digital ads outpaced TV ad complaints.
In a post from UK Love Island contestant, Olivia Buckland, from February 2019, she obviously staged a photoshoot holding a brand of fake tan with the caption:
"[…] it gives me such a natural glow with no streaks and is the perfect accessory for date night with bae [heart eye emoji] Get yours now @superdrug #TeamCB #CocoaBrownTan #ValentinesDay #BrandAmbassador"."
This will be the second time Buckland has been in violation of breaching ad regulations online. Buckland had disagreed with the ruling stating that she used the hashtag #brandambassador to cover her post and affiliation with the brand. However, many influencers can be brand ambassadors but get not monetary benefits from supporting a brand. This was ruled as not suitable enough evidence that she was receiving money for the post or that it was an obviously identifiable marketing communication. In other words, there was nothing obvious in the caption of the post to tell social users that they were viewing an ad instead of a native piece of content and that the brand had had a level of control over the content of the post.
She has since added #ad into her post.
---
New slideshow options in Facebook Stories
Facebook Stories hasn't really taken off like they hoped it would. The latest in the ephemeral content craze following from SnapChat hasn't landed as popular as it's original creator or it's sister brand Instagram.
As a way to increase engagement users will be able to add a still image slideshow to their Story. What is the benefit of this you ask?
This is already a feature as you can add images slide by slide, but this apparently is a way to make it easier and prompt people to use it more…
Facebook has added a Slideshow option for Stories on iOS pic.twitter.com/uQurxpicj3

— Matt Navarra (@MattNavarra) August 7, 2019
Although Mark Zuckerberg believes Stories will overtake posts in Feed as the most common way to share content on Facebook, but I'm not convinced.