Last week, the Korean entertainment industry was rocked with another scandal. This time it involved the former leader of popular boy group, iKON's B.I and YG Entertainment. Implicated in the situation were WINNER's Lee Seung-Hoon and Han Seo-Hee. Han was believed to be a former trainee at YG Entertainment, though the agency made a statement earlier this week denouncing that Han was ever a trainee under them. 
The crux of the controversy lay with South Korean media outlet, Dispatch, which is well-known locally for celebrity exposés and gossip, along with investigative journalism. Dispatch wrote a report that ultimately accused B.I for allegedly attempting to purchase drugs. 
Since then, more reports have surfaced and several major repercussions have occurred, including the resignation of Yang Hyun-Suk, founder of YG Entertainment. 
The following is the complete timeline of the aforementioned controversy for easy reference. 
12 June: Dispatch released an exclusive report that accused B.I of attempting to purchase drugs, specifically marijuana and LSD. The report included a text conversation that allegedly transpired between B.I and person "A", who was presented to be the proxy between B.I and the dealer. This conversation was reported to have occurred on April 2016. 
In the alleged text conversation, B.I seemed curious about the effects of LSD asking "A", "But when you take [LSD] does it do that? Seeing things like graphics and seeing illusions and everything?". He then proceeded to negotiate a bulk purchase of 10  tabs or one million won's worth. 
B.I reportedly also texted, "I'm asking you since I've taken some with you," referring to "A". This implied that the idol had reputedly taken drugs before. 
In the article, Dispatch also accused YG Entertainment of getting involved when "A" was caught by the police in August 2016. Dispatch claimed that YG Entertainment provided "A" with attorneys and asked "A" to change their testimony to the police so as to not involve B.I.
12 June: Hours after the Dispatch article was published, B.I took to Instagram to announce his departure from the K-pop group, iKON as well as his agency, YG Entertainment. In his statement, he said, "It is true that I wanted to rely on something that I shouldn't have had any interest in due to going through a hard and painful time. However, I was too scared and fearful to do it."
His statement suggests that B.I inquired about drugs but did not go through with the purchase.
12 June: After B.I made his statement on his Instagram account, YG Entertainment went on to confirm his departure from the company. In their statement, YG Entertainment said, "We bow our heads and apologize for disappointing everyone with our artist Kim Han-Bin's problem. Kim Han-Bin is feeling heavy responsibility due to the impact of this matter. Taking the matter seriously, he has decided to leave the team and terminate his exclusive contract."
Kim Han-Bin is B.I's real name. 
12 June: That same day, the Gyeonggi Southern Provincial Police Agency's narcotics investigation team addressed the allegations made by Dispatch that the police knew of B.I's alleged involvement with "A" when they arrested "A" in August 2016 for smoking marijuana.
The police told reporters, "We will initiate contact with "A," who shared KakaoTalk messages with B.I regarding drug purchases, and if there are any changes in the testimony given by 'A,' we will look into reopening the investigation."
Meanwhile, YG Entertainment denied Dispatch's accusations of Yang Hyun-Suk being involved in hiring a lawyer for "A" and pressuring "A" to alter their testimony. 
13 June: Local news outlet, Newsis reported that "A" had anonymously reported YG Entertainment to the Anti-Corruption and Civil Rights Commission on grounds of allegedly having ties with the police. This complaint was submitted to the Anti-Corruption and Civil Rights Commission on 4 April 2019 via lawyer, Bang Jung-Hyun. 
Bang is also the lawyer who reported the allegations related to the Burning Sun scandal. 
The complaint also stated that Yang Hyun-Suk had threatened "A" to change their testimony. In an interview with KBS, Bang stated that Yang had taken "A's" phone so that the conversation could not be recorded and proceeded to say, "I hate our artists going to the police station for that kind of problem. I'll give you sufficient compensation and appoint a lawyer for you, so go to the police station and change all of your testimony."
13 June: Local news channel, MBC's Newsdesk recorded a phone interview with "A". During the interview, MBC referred to "A" as "former YG trainee Han". "A" stated in the interview that Yang Hyun-Suk allegedly had intervened on 23 August 2016, causing to "A" changing their testimony to the police. 
YG Entertainment admitted that they had met with "A". However, it was only to request for "A" to correct their testimony as B.I tested negative for drugs. 
13 June: News outlet Edaily revealed "A's" identity to be Han Seo-Hee. Han was previously involved in Big Bang's T.O.P's marijuana case in October 2016. She was arrested and sentenced to four years of probation as well as 120 hours of drug rehab. If she were to commit a repeat offence during this time, she could face up to three years of jail time. 
When she was interrogated by the police in August 2016, she reportedly admitted that she had delivered LSD to B.I on 3 May 2016. However, during her third round of interrogations, Han changed her testimony, saying that she had not delivered any drugs to B.I at all. 
14 June: Han Seo-Hee made a public statement regarding her involvement in B.I's case via her personal Instagram, confirming reports that "A" was indeed Han. In the statement, she pleaded for the public "to consider this incident separately from my character."
Later on, Han made clarifications in her comments section, saying that she was not the dealer but more a middle-man. "f there's going to be a reinvestigation of the [drug] delivery, then I will faithfully cooperate with authorities. The focus should be Yang Hyun-Suk personally interfering in this case, making threats, and making deals with police, but I'm worried that just because my name has been revealed as the informant ['A' in previous articles], the focus is now all on me," she said. 
14 June: Dispatch released another article with alleged text conversations between Han and WINNER's Lee Seung-Hoon. 
According to Dispatch, Lee contacted Han on 1 June 2016, requesting to speak to her on the phone. Han told Dispatch what transpired during the phone call and it is reportedly as follows: "He said that B.I got caught [during internal drug tests]. [B.I] told them that he did drugs with me. [Lee Seung-Hoon] asked me to meet up with him urgently. And then I went to a location near the YG building."
However, instead of Lee, another person referred to as "K" met Han, telling her to keep the issue regarding B.I a secret. 
On 22 August 2016, "K" reportedly found out that Han had told the police about B.I after she was interrogated for her drug charges. The next day, "K" picked Han up from her home and drove her to the YG Entertainment building. 
According to Han, she was escorted to Yang Hyun-Suk's office where she had to surrender her phone. Han claimed that the conversation with Yang lasted one and a half hours, whereby the CEO had allegedly threatened her if she did not change her previous statement to the police. 
Dispatch received statements from both Yang Hyun-Suk and Han Seo-Hee regarding the conversation between them and it is as follows:
In his account, Yang Hyun-Suk stated, "It's true that I took her cell phone. In case she tried to record. And even then, I was very careful with my words. I told her that we run the drug tests twice a month, and that Han Bin has never once tested positive. I told her that if Han Bin ends up going to the police and if he doesn't test positive, then she could be charged for lying, deceit, and defamation of character. That's when she got scared and she chose to take back her previous statements herself. If he went to the police then? He would have tested negative right away." 
Han Seo-Hee's recounted in her statement, "Yang Hyun-Suk took my cell phone and turned it off. He asked me what happened at the police. I told him that I confessed to B.I smoking marijuana with me, and buying LSD through me. Yang Hyun -uk replied, 'I hate even the idea of my boys being investigated by the police.' He also told me that they got rid of all of the drug traces from [B.I's] body, so there would be no way for him to test positive… I remember him also saying, 'Seo-Hee! You need to become a nicer child. You can't become a bad child, right… Your dream is to become a singer? Then you need to stay in the entertainment industry. But it would be a piece of cake for me to ruin you… He told me to take back my previous comments to the police. He said that he can access all of the police reports, and also that he would hire a lawyer for me with the fees paid. I was scared, and I didn't have a choice."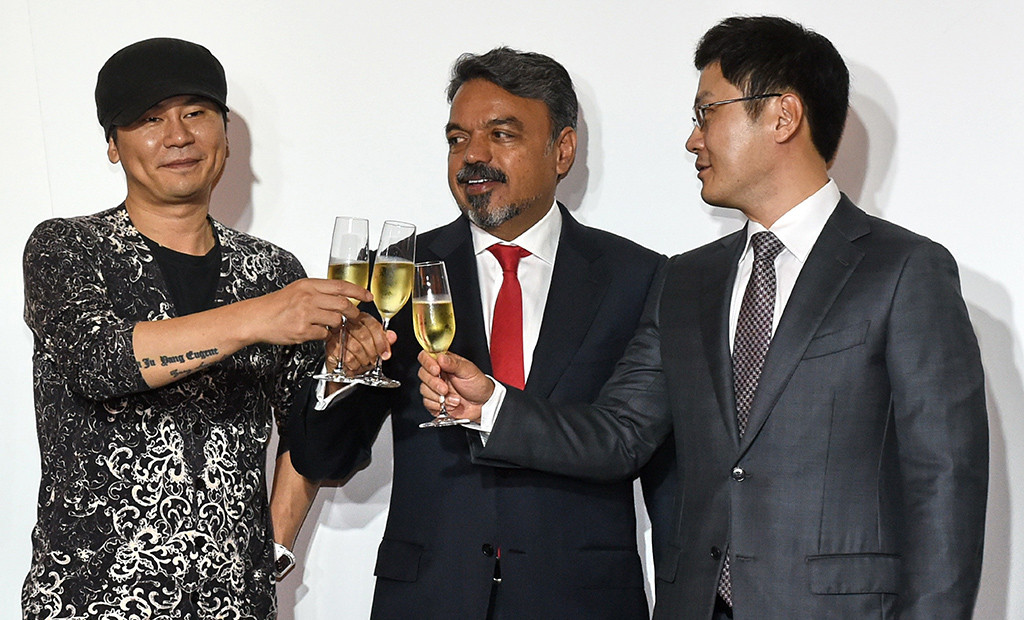 ROSLAN RAHMAN/AFP/Getty Images
14 June: Yang Hyun-Suk and his brother, Yang Min-Suk officially resign from all positions within YG Entertainment. 
14 June: Director Na Won-Oh of the Gyeonggi Southern Provincial Police Station announced, "We've formed an exclusive team to investigate suspicions raised from B.I.'s (Kim Han-bin) attempt to purchase and allegedly use drugs. It will include 16 members from the drug investigation unit and the legal support team.
We will carry out the investigation while being open to all possibilities regarding suspicions of B.I's drug purchase and usage, [YG's] destruction of evidence, and dereliction of duty by the police officer who was in charge [of the case in 2016]."
16 June: KBS's 9 O'Clock News reported new findings on the 2016 drug case involving B.I and Han Seo-Hee. According to KBS, the police did file a separate investigative report on the drug allegations against B.I and had forwarded the case to the prosecutor's office, where the prosecution that took no further action.
17 June: Commissioner General Min Gap-Ryong of the Korean National Police Agency held a press conference to address the drug controversies that are surrounding YG Entertainment. The Commissioner General stated, 
"We will thoroughly investigate the suspicions that were raised by forming an exclusive team that will be headed by the director of the detective division at Gyeonggi Southern Provincial Police Agency. We learned a lesson while investigating Burning Sun. By fully utilizing the knowledge we gained through previous drug cases and other similar cases, we will conduct an exhaustive investigation to resolve all of the suspicions raised by the public." 
The story is still developing. 
var fbstarttime = new Date(); !function(f,b,e,v,n,t,s) { if (f.fbq) return; n = f.fbq = function() { n.callMethod? n.callMethod.apply(n,arguments):n.queue.push(arguments) }; if (!f._fbq) f._fbq = n; n.push = n; n.loaded =! 0; n.version = '2.0'; n.queue = []; t = b.createElement(e); t.async =! 0; t.src = v; s = b.getElementsByTagName(e)[0]; s.parentNode.insertBefore(t, s); }(window, document, 'script', 'https://connect.facebook.net/en_US/fbevents.js');
fbq('init', '1611373942516879'); fbq('track', 'PageView');
var fbendtime = new Date();




Source link