Digital marketers need experience-based metrics
If you've been a digital marketer for more than a quarter, you know your key performance metrics by heart – things like Cost Per Acquisition (CPA), Marketing Qualified Leads (MQLs), Return on Ad Spend (ROAS) and, of course, Conversion Rate (CR). These are what I call the 'hard' marketing metrics – the ones associated with money.
But there are other 'soft' metrics you should be tracking as well – ones related to the customer experience you're providing. Why? Because they represent the feelings that ultimately cause your visitors to click that call to action or complete a purchase.
It has become increasingly clear over the past few years that fast-changing consumer expectations and rapid technological advances have raised the bar. 'Good enough' no longer is. To survive – and, ideally, thrive – you need to know how to delight your customers.
As these compelling statistics from a recent Qualtrics.com blog post show: 
Companies that excel at customer experience grow revenues 4-8% above the market, on average (Bain & Co).

86% of buyers will pay more for a better brand experience, but only 1% feel that vendors consistently meet expectations (Oracle).

53% of millennial shoppers feel that store associates do not have the tools they need to deliver great customer service (Salesforce).

86% of B2B CMOs report that they consider customer experiences to be very important, yet 57% of them reported only marginal CX performance (Accenture).
Now that you know why customer experience is important, let me take a step back and define what customer experience is, along with its associated metrics.
Customer experience, defined
So, what exactly is customer experience? Harley Manning, VP at Forrester Research, defines customer experience, or 'CX' for short, simply as "How customers perceive their interactions with your company."
The operative word here: perceive. It doesn't matter what you meant for your customers to experience and feel; it's what they personally feel and remember that matters. The implication: your experience and the associated communications – whether in-person or online  – need to be wrapped in a good dose of empathy.
So, how the heck do you measure perceptions? Well, it turns out that leading CX consultancies and companies have done a good job of doing this over the past five years or so.
Start with the Net Promoter Score (NPS)
The first actionable CX metric, the Net Promoter Score, or NPS, was developed by Fred Reichheld of Bain & Company and Satmetrix in his Harvard Business Review article, 'One Number You Need to Grow.'
Essentially, NPS is a measure of customer loyalty and is based on a single question: How likely is it that you'll recommend this product to a friend or colleague?  The response options range from zero (Not at all likely) to 10 (Extremely likely). Responses are then put into the following buckets.
Promoters:  Responses from 9-10

Passives: Responses from 7-8

Detractors: Responses from 0 to 6
Subtracting the proportion of detractors from the proportion of promoters and converting it to a percent gets you the Net Promoter Score.
For example, 100 promoters and 30 passive and 80 detractors gets you an NPS of 9.5% (20 divided by 210). This means there are 9.5% more promoters than detractors. An NPS of -10% means you have 10% more detractors than promoters (not a good thing). There are more NPS benchmarks by business-to-consumer to be explored.

Going beyond the NPS metric
NPS is a good start, but not enough, according to a survey of 23 CX leaders published by GuidedSelling.org. When asked, 'What are your favorite metrics to measure the success of CX initiatives?' their most frequent answers were:
A hassle/effort metric.

This Customer Effort Score (CES) does a good job of capturing this.

An employee happiness/engagement metric.

This can be employee NPS, turnover rate, or a related metric.

A measure of customer loyalty.

Customer Retention Rate (CRR) captures this well and its close cousin Customer Churn.

Customer sentiment via social media.

Either manually or via automated tools, companies need to monitor opinions posted to their social accounts.

A financial performance metric

. Net growth of customers (churn rate) and their

value

– lifetime or otherwise – are common metrics in this area.
Several of the leaders emphasized the importance of asking a follow-up question to discover the why behind the numbers. According to Adam Toporek of CTS Service Solutions, "This is where the magic happens."
In case you're not familiar with the Customer Effort Score (CES), marketing automation leader HubSpot defines it well.
If you want to dive deeper into customer loyalty metrics, MeasuringU's Jeff Sauro provides a good summary of it with his 'repurchase matrix'.
Discovering the
why
behind the data
Let's say you're tracking a few key CX metrics. That's great. Now it's time to probe into the reasons why these metrics are lower than you want them to be.
You can do this by:
Observing your customers in action

– researching, shopping and deciding whether to buy your product or service.

Interviewing your customers

– or people who regularly speak with your customers – to expose their dissatisfactions and concerns.

Installing a Voice of Customer (VOC) platform

– a full-featured tool designed to capture, analyze and summarize your customer feedback.
I've learned over the years that customer insights are best gleaned by observing people, not by questioning them. But if you only have time for a few interviews, by all means, do them. Just know that you'll be getting some over-rationalized (and sometimes bogus) answers. Why? Because we know from recent neuroscience that the 'old', instinctual parts of our brains drive our behavior much more than the 'new', rational parts.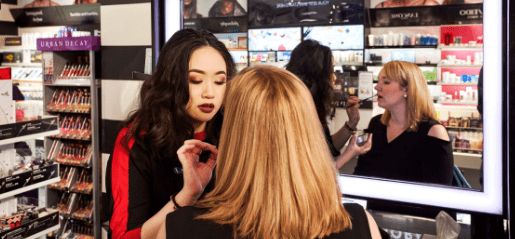 Stealthily observe your customers
Sit with your customers, either by 'shadowing' them (interacting with them like an apprentice) or secretly observing them. Called 'in situ' research by anthropologists, these observations can take several days, or even weeks, to complete. But your time investment will pay off big time since you'll directly witness what your customers say and how they feel as they experience your brand.
As an example, let's say you sell high-end cosmetics both in retail stores and online. Visit a couple of your stores in different regions at different times of the week and simply watch people shop. What questions are people asking? What do the women want to feel by transforming their faces? How do they want other people to feel after they're seen?
Interview your customers
If you can't find the time or budget to sit and watch, do some active listening. Interview some customer support agents, people who talk to dozens of customers every day. If they've worked for your company longer than a few months, they'll have a good idea what your prospects are saying and feeling (spoiler alert: it'll probably be more of the 'detractor' type).
If you offer online chat, mine the data in those discussion threads. Search for 'text analytics tools' that, with the aid of machine learning, can quickly distill out the key findings from your data. Even if you use these tools, I recommend reviewing at least two hundred of the interactions yourself, as there's no substitute for seeing the comments first-hand.
Install a voice of customer (VOC) platform
If you're able to get C-suite or Board level buy-in for your CX efforts, consider plugging in an enterprise-level VOC listening, analysis and reporting platform. Capable, yet cost-effective, tools include those offered by InMoment, Medallia, Confirmit and MaritzCX.
Need help making the case for these investments? Most of these vendors provide ROI-related white papers and case studies.
Prioritize, execute and win (over your customers)
After you've collected a 'critical mass' of customer feedback – all tied to your key CX metrics – you'll need to prioritize your list of issues to fix. You can do this by:
Expected financial value

(lifts in revenues or customer value, or reduction in customer acquisition costs)

Updates that most drive your CX metrics

(and the

whys

behind them)

Budget investment required

– in training, tools and development

Fixes that are within your control

(versus subject to outside factors)
A word of warning: don't fall into the trap of just focusing on 'quick wins' for your CX efforts. While you can complete short-term projects more easily, they won't produce the high ROIs you need to get your colleagues excited about making CX improvements. Even worse, your team will get content with modest improvements and not pursue the initiatives that produce 'quantum leap' improvements in your CX metrics.
Not everyone in your organization may believe in gathering 'touchy-feely' customer feedback, but everyone will care when you quantify the financial benefits – or ROI – resulting from your CX initiatives.
There's good news here: Data-driven approaches to CX prove to be profitable. Research done by Avanade and Sitecore found that for every dollar invested in improving the customer experience, businesses generate an average of three dollars in return.
So, as you track the progress of your CX efforts, calculate the associated revenue lifts or cost savings whenever possible. By doing so maybe you won't just satisfy, but will actually delight, the members of your executive team.
Join To Our Newsletter
You are welcome