Brick-and-mortar retailers are often on the lookout for creative ways to drive traffic into their stores.
And as you've probably noticed, Amazon is a ready and willing partner for many retailers in this position. 
Over the past few years, Amazon has been steadily rolling out Hub Lockers where customers can have their Amazon packages delivered as an alternative to home delivery (take that, porch pirates!). Even more recently, Amazon introduced Hub Counters, which lets customers pick up orders directly over the counter at participating stores. 
But perhaps most interesting about this whole Amazon Hub development: the highly diverse array of businesses, including 7-Eleven, Rite Aid, Century 21, Mattress Firm, and GNC, who have partnered with the online juggernaut on the initiative.  
Field Agent wanted to catch a glimpse of these lockers and counters inside retailers far and wide. We also got to wondering what shoppers themselves think about Amazon Hubs.
So this weekend we sent our trusty agents to nearby Amazon lockers or counters to collect photos and share their feedback. In all, we audited 90 Amazon Hubs across 11 metro areas and 26 different companies. 
Explore the photo gallery below, then scroll down for what shoppers had to say. 

The photos show that Amazon has made an admirable effort to give the otherwise cold lockers some personality, with bright colors and whimsical graphics. Many lockers also have cute names like "Kitty" or "Squid."
Among agents in the audit who at least occasionally make Amazon purchases (n = 85), most were open to the idea of receiving their Amazon orders through a locker or counter. Altogether, 51% said they were "completely" or "very likely" to use the hub they audited to retrieve future packages, while 73% said they'd be at least "moderately likely" to do so.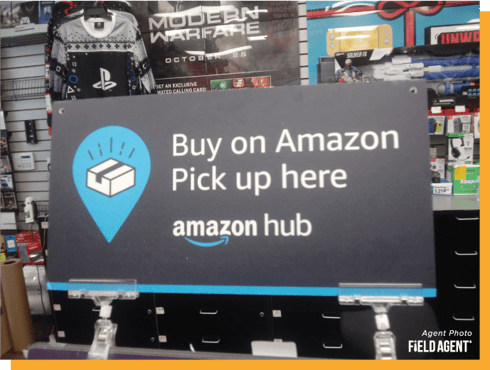 Safety, convenience, and privacy were three frequently-cited reasons why shoppers might want to take advantage of these lockers or counters. In their own words:
"It's a secure way to have a package delivered for you. It's also convenient if you're out of town."

"Amazon lockers would benefit shoppers by offering convenience. Packages left in Amazon lockers would reduce theft."
Agents also recognized the benefits of hubs to the store as well, noting that getting people in the door to use Amazon lockers or counters will undoubtedly lead to impulse purchases at the store.
As one agent said, "The store benefits because people may decide to purchase an item they see in 7-Eleven while they are taking care of their Amazon business."
Clearly, Amazon has found a subtle but highly strategic way to expand its store footprint across the nation…and shoppers recognize the value.
Of course, Amazon Hubs are just one way e-commerce is impacting brick-and-mortar retail. For a deep dive into the world of grocery pickup, grocery delivery, and more, check out Field Agent's popular report, Groceries 2.0, Vol. III!
Read more below.
Free Report: Groceries 2.0, Vol. III
Based on surveys and studies with approximately 4,500 everyday shoppers, Groceries 2.0, Vol. III is a fun and informative look at "the rise of online grocery-shopping." Spanning almost 30 pages, the free report explores questions like:
How many U.S. households purchase groceries online for store pickup, package delivery, and "fresh" delivery?
Which retailers are leading the way in the digital-grocery era?
What are shoppers' top concerns about buying groceries online?
The free report also includes several "digital-grocery spotlights," with up-close looks at pickup operations among regional grocers, grocery-shopping with smart speakers, and more.
Download Groceries 2.0, Vol. III today…and get up to speed on all things digital-grocery.
Join To Our Newsletter
You are welcome