What do new chatbots look like? What role will they play in online commerce?
When do you think the first chatbot was invented? Most people would guess that it hit the market sometime around the turn-of-the-century. They would be wrong. Chatbots have actually been around for over 50 years, which is far older than the World Wide Web.
Of course, the chatbots of today barely resemble their older counterparts. Newer chatbots are making a huge splash online. A new generation of these tools are going to have a profound effect on the future of UX in ecommerce and other online applications.
In his post Chatbots — One of the hottest UX trend in 2017, Guobin Ng, a user experience researcher for UXarmy, states that chatbots are being used for many industries and purposes. They have been around for a while, but have really started to become popular in 2017, largely due to new advances in big data and AI programming tools.
"Among other conversational Interfaces in consideration by businesses, the reason for rising popularity of chatbots is that chatbots are easy-to-use and they seem quite promising in improving customers' experience. The improvement in Customer Experience is especially effective when Customer assistance is required because Customers can receive assistance on-demand and instantly via the chatbots. Another reason is that the types of chatbots are spread across a plethora of industries and purposes. There are chatbots for weather forecast, transportation, ecommerce, etc."
What do new chatbots look like? What role will they play in online commerce? Here are some things to consider.
AI Will Focus on Personality
Robots have always had a reputation for being mundane automatons. Even the beloved R2-D2 of Star Wars was an incredibly boring creation at face value.
While this has been the stereotype since Isaac Asimov captured our imaginations in 1950, it just doesn't cut it with e-commerce. Studies have shown that customers want to engage with chatbots that have a likable personality.
AI developers are incorporating human emotions into their designs. Being more personable is essential for improving conversion rates. Personality that is also smart enough to deliver personal responses is where chatbots will become incredibly effective. As Campaign Monitor points out, chatbots can be used to suggest content or to sign up for your newsletter when website visitors are within a chat session. For example, if a visitor asks how they can receive discounts on products a chatbot can suggest that they sign up for your newsletter where new subscribers receive a 10% discount.
In the 2018 State of Chatbots Report, 34% of respondents said they would use chatbots to speak to a human customer service representative while 22% would use them to help make purchasing decisions.
Transparency
Trust is a major concern for customers all over the globe these days. E-commerce sites must work hard to earn their customers' trust before they can hope to engage with them.
This expectation extends to chatbots. Many brands are looking for new ways to demonstrate greater transparency with these online robots. Here are the two biggest factors:
Making sure customers understand the functionality and limitations of chatbots. They must tell customers how to engage with the bot and when it is off-line or give the option to connect directly with a customer service representative.
Clarifying how information will be used. Customers obviously expect brands to use their data in some way. They must make sure they understand that it won't be abused. A message like, "Thanks for chatting with our Bot. Your information is secure and will never be given to third parties or sold."
Chatbots obviously don't have a lot of space to communicate a message. Most brands are experimenting with different ways to communicate their privacy and user data policy. The easiest way is to include a small link to their policy at the bottom of the chatbot.
Knowing When to Introduce a Human Support Team
Even the most sophisticated AI programs still have serious limitations. They may take the load off of human users for simpler applications, but there are going to be times when human employees need to step in.
You don't want your customers to spend 15 minutes trying to have a dialogue with a chat bot that won't go anywhere. This is the surest way to lose customers. You need to make sure your support team knows when to step in. Here are some safeguards to build into the design:
Make sure your customer support team can oversee the discussions. They don't need to look at every chat, but should routinely monitor them to see if there are any recurring issues chatbots aren't resolving. Flagging bot conversations that last over a certain time frame is a great way to identify customers who are having a frustrating experience.
Introduce an option to let customers ask for a customer service representative to take over. This should provide an approximate wait time, so people don't choose it right off the bat. If they see that they need to wait eight minutes to get assistance from one of your employees, they will probably see if the chatbot can help them first.
Program the bot to look for certain words that suggest the human user is frustrated and see how often they recur. This could include seeing if they type the word "no" in multiple messages.
Transparency is the key during customer interactions with a bot so the customer can be the one to decide if a human or the bot can solve their problem. 67% of consumers are using chatbots for customer service questions, but over half still prefer assistance from a human being. Interest in bots among enterprises along with consumer adoption are on the same trajectory upward, but to be truly effective using this new technology brands still need a collaborative effort between support staff and tech.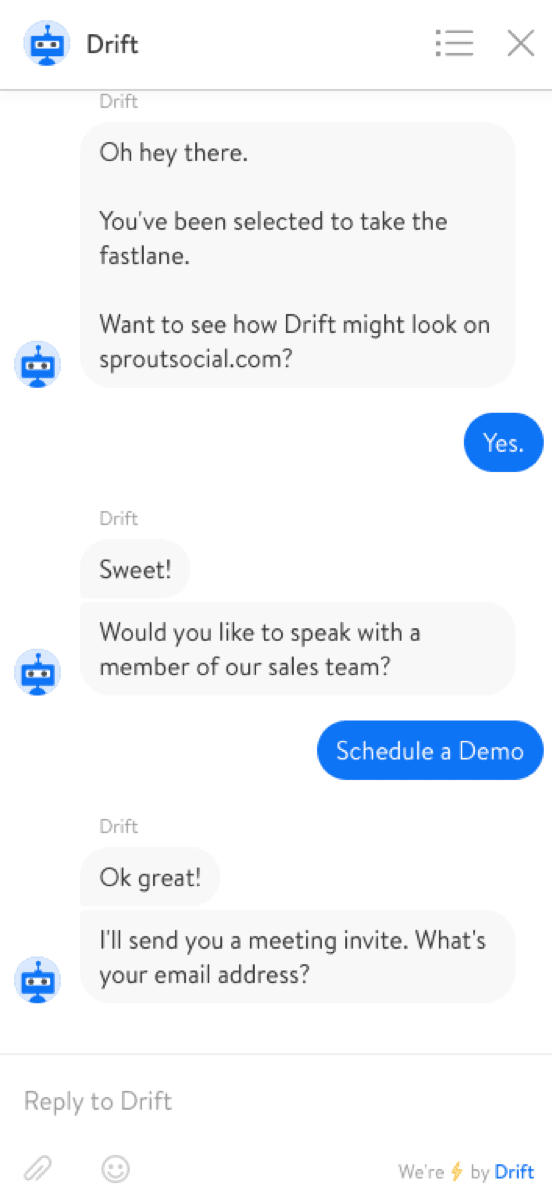 It is important to remember that while chatbots are excellent customer service tools, they aren't a substitute for your human customer service team.