Chart of the Day: 39% of marketers don't think their organization's marketing strategy is effective – Part 4 of 10.
Having already looked at top priorities in organizations, marketing and sales priorities and challenges, it is now time to address whether above all else marketers feel marketing is effective.
Seems ridiculous to think that marketers think marketing is not effective. Almost a whopping 4 in 10 (39%) of respondents believe that their organization's marketing strategy is not effective. This might be due to them not using and utilizing the correct marketing model that suits their business objectives and goals. You also need to integrate a variety of platforms to gain a wider audience reach, using just one model might not be effective.
Do you feel that your organization's marketing strategy is effective?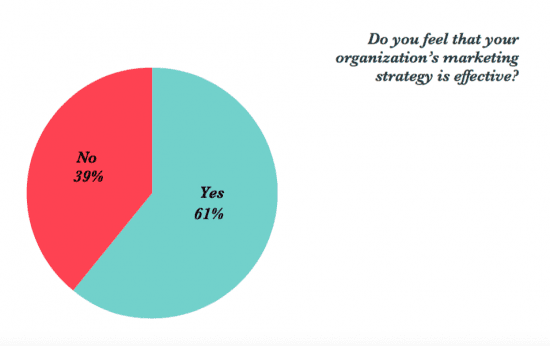 One respondent commented:
The most disruptive force to affect my job in the next 3-5 years is the lack of research my company does when it comes to marketing strategies
Based on your organization's approach to marketing, do you feel that your marketing strategy is effective?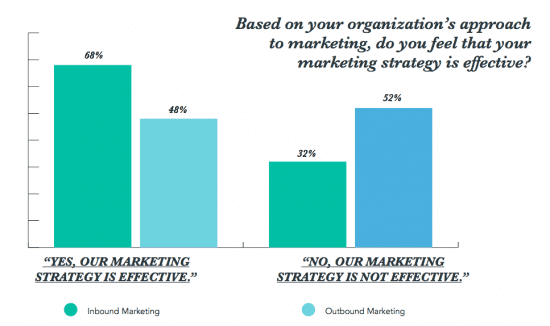 Asking whether they thought their marketing strategy is effective based on approaches, those that focus on inbound marketing were more likely to say it was effective (68%) than those who focus their attention on outbound marketing (32%).
Most companies may not know where to start. But, at Smart Insights we believe that marketing models are an important part of your marketing strategy and powerful 'mind tools'. Using a model helps build a strategic approach and improve your digital marketing efforts – if it's the right one.
Make sure you're using the right model for your business or you too will think your marketing is ineffective.
Audit models include:
Forrester's 5Is
Lauterborn's 4Cs
10 C's of marketing
Planning models include:
6Cs of customer motivation
Hofacker's 5 stages of information processing
RACE planning
Technology acceptance model
Strategy models
4Cs for marketing communications
McKinsey's consumer decision journey
The Honeycomb model
If you find yourself, or your organization, believing your marketing strategy is ineffective, why not take a look at our Digital Marketing Models guide, which outlines the key marketing models to help you plan and structure your digital marketing
Join To Our Newsletter
You are welcome