Chart of the Day: How does use of Artificial Intelligence vary in different sectors
As with any new disruptive technology that is moving it's way up the hype cycle, Artificial Intelligence won't be uniformly adopted. It will be a better fit in certain sectors and for businesses of a particular type. As futurist William Gibson put it:
"The future has arrived — it's just not evenly distributed yet."
This new research from the McKinsey Global Institute is useful since it looks specifically about how AI and Machine Learning will generate value in the future. One finding, which mirrors our advice for marketers is that businesses should focus on using machine learning applications to support the marketing and sales process and acquire skills where needed in this area.
One example of the value that machine learning can generate in the report is about how Netflix has used a machine learning algorithm to personalize recommendations to its 100 million subscribers worldwide. Netflix found that most users will give up if it takes longer than 90 seconds to find a movie or TV show they want to watch. Through improving search results using machine learning, Netflix estimates that it is avoiding cancelled subscriptions that would reduce its revenue by $1 billion annually.
The report also looks at AI adoption in different market sectors across all applications. Financial services, high tech and telecomms are leading at the moment.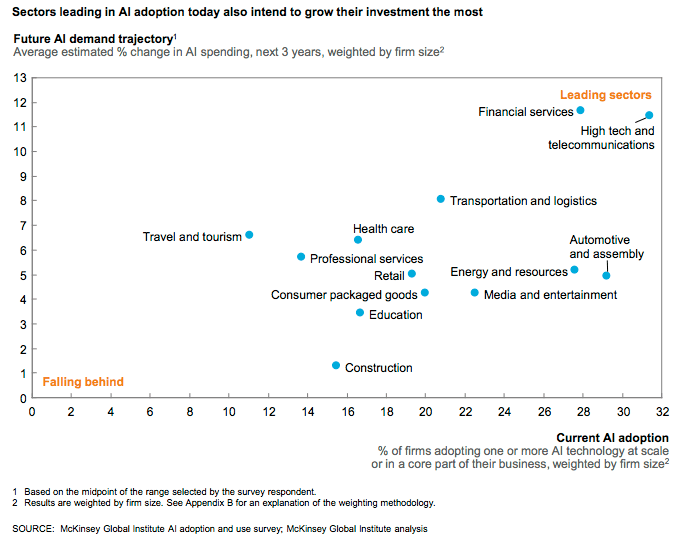 The report concludes with this advice, suggesting that machine learning should be a key part of digital transformation programmes, to help give it the prominence needed to evaluate the most relevant applications and implement them.
Significant gains are there for the taking. For many companies, this means accelerating the digital-transformation journey. AI is not going to allow companies to leapfrog getting the digital basics right. They will have to get the right digital assets and skills in place to be able to effectively deploy AI.