Chart of the Day: How do micro-influencers and mega-influencers compare in Instagram engagement rates
When you think of Influencer Marketing, names like Kim Kardashian and Kylie Jenner are the first to pop up. Renowned celebrities or mega-influencers, with millions of followers, are often set as the benchmark of Influencer Marketing. However, you can be spending big budgets on a large reach and still get very little ROI.
A recent report on Instagram Influencer Rates, carried out by Influence.co, shows us that influencers with smaller followings tend to have higher engagement rates than those of mega-influencers. Brands are now increasingly looking for micro-influencers, with a steady following and niche focus, to share their brand messages.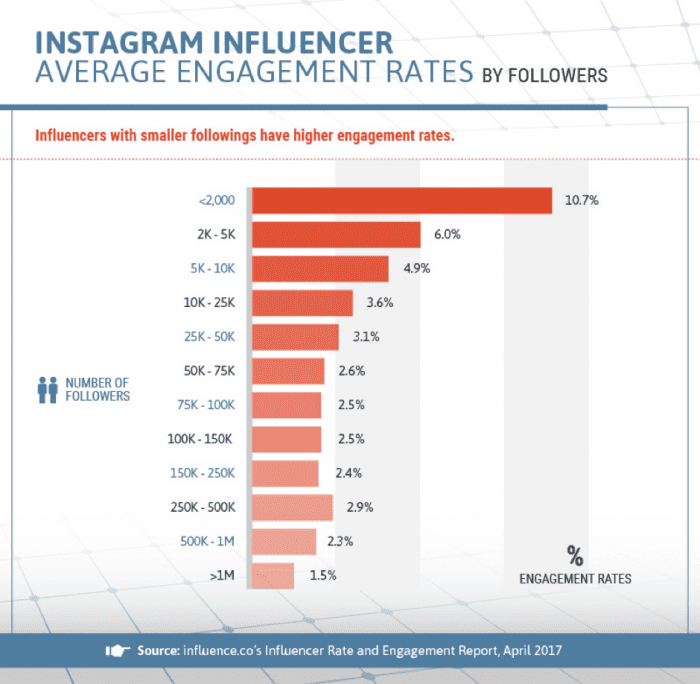 Micro-influencers have a close-knit fan base, making their content more personalized, authentic and engaging for their followers. Looking at the top and bottom bars, the report also highlights that influencers with fewer than 2,000 followers have an engagement rate that is 151% higher than those with millions of followers.
Engagement can act as a better indicator of the impact created by Influencer Marketing, so, your brand doesn't need to rely on a mega-influencer to get the desired results.
Source: Influence.co – Instagram Influencer Rate report
Sample: 2,885 influencers with profiles on Influencer.co
Recommended resource: Smarter Instagram Marketing Guide