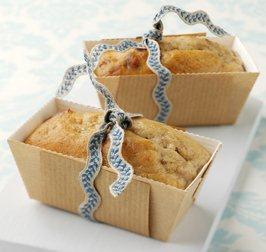 FG using GC / CC
Banana Bread
A Lighter Loaves recipe from our Lighter Baking recipe book
100




g




Self-raising flour

100




ml




semi skimmed milk

25




g




Half Spoon sugar

25




g




pecans




chopped

2




ripe small bananas

½




tsp




mixed spice
Preheat oven to 180°C, fan oven 160°C, 350°F, gas mark 4.

Place flour, sugar, spice and nuts in a mixing bowl.

Mash the banana on a plate with a fork until mushy.

Make a well in the centre of the flour mixture.

Mix the banana and the milk together and pour into the flour mixture. Mix well.

Pour the mixture into a loaf tin or the individual loaf tins

Bake for 20-25minutes (35- 40 minutes for a larger loaf) or until firm to touch and golden brown and when a skewer is inserted in comes out clean.
TIP: Swap out the nuts for a handful of dried fruit or 1tbsp of dark chocolate chips.
The Lighter Baking Recipe Book is available in our Feelgood Pack
Tools & Utensils

Looking for individual loaf tins? Get these 8 non-stick mini loaf tins from Amazon and you can have individual banana bread loafs with a cuppa or for your lunch box.