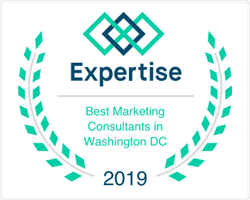 We are a team of dedicated professionals that provide strategic advice and serve as Creative Directors on projects that appeal to their respective and unique interests. We are supported by a group of talented and successful creative professionals that have become experts in their fields.

WASHINGTON (PRWEB)
July 25, 2019
NOVA Advertising offers full service marketing consultancy services out of Fairfax, VA. The firm is known for top-notch website design and search optimization with monthly reporting and conversion tracking. Graphic design and branding services are also available for everything from logos to postcards. The team works across all media, and the company offers free SEO and website audits to prospective clients.
NOVA Advertising was named one of the best Marketing Consultants in Washington DC in 2019 by Expertise.com.
Expertise.com's team uses a proprietary research and selection process to identify the top service professionals in 100s of categories across the nation.
They start by identifying a broad pool of active professionals within a given business category and geographical area. Using their custom tools and resources, they analyze publicly available data.
Next, they verify contact and license information to assure selection candidates are actively doing business and are in good standing in their communities.
Then, they use their in-house software to grade each business across the following selection criteria:


Reputation: A history of satisfied customers giving excellent recommendations

Credibility: Established in their industry with licensing, accreditations, and awards

Experience: Masters of their craft, based on years of practical experience and education

Engagement: Approachable and responsive to clients and available for new business

Professionalism: Dedicated to providing consistently quality work and impeccable customer service
Finally, they hand-pick the best. Their team conducts a manual review to verify that each company on their list is truly one of the best.
In 2019 NOVA Advertising was proudly ranked in the top 9 out of 139 marketing firms that were reviewed and analyzed.
NOVA Advertising has been proudly serving local businesses in DC area as well as national clients across the U.S. since 2009 and have vast experience in various marketing areas such as website design and development, search engine marketing, online advertising, online reputation management and marketing strategy.
We will continue to hold ourselves to the highest standards and strive to bring success to our clients in the coming years.
Take advantage of our free marketing consulting session if you are looking for a reputable firm to assist you with your advertising and marketing efforts that produce measurable results.
Share article on social media or email: