Chart of the Week: 34% of customers are frustrated at not being able to find answers to simple questions. Could updated customer service channels help?
As it becomes easier to find information and make purchases, customers are becoming increasingly impatient. Brands need to ensure they are reducing this frustration by offering the highest possible level of service.
However, now that there are so many channels that customers can interact with you, this is more difficult than ever. Brands need to ensure they are making the purchase journey simple and engaging, providing all the relevant information in an easy-to-find way and communicating with customers across all the channels their audience uses.
Failing on any one of these fronts can mean you lose customers, develop a poor reputation and see your profit margins shrink. This is why it's vital to understand exactly where your customers' frustrations lie and put strategies in place to address them.
Customer frustrations are growing
According to the 2019 State of Conversational Marketing report from Drift and Survey Monkey, there are now a lot of frustrations to deal with, as between 2018 and 2019, customers grew increasingly annoyed at not being able to get the answers they needed and not having access to 24/7 service.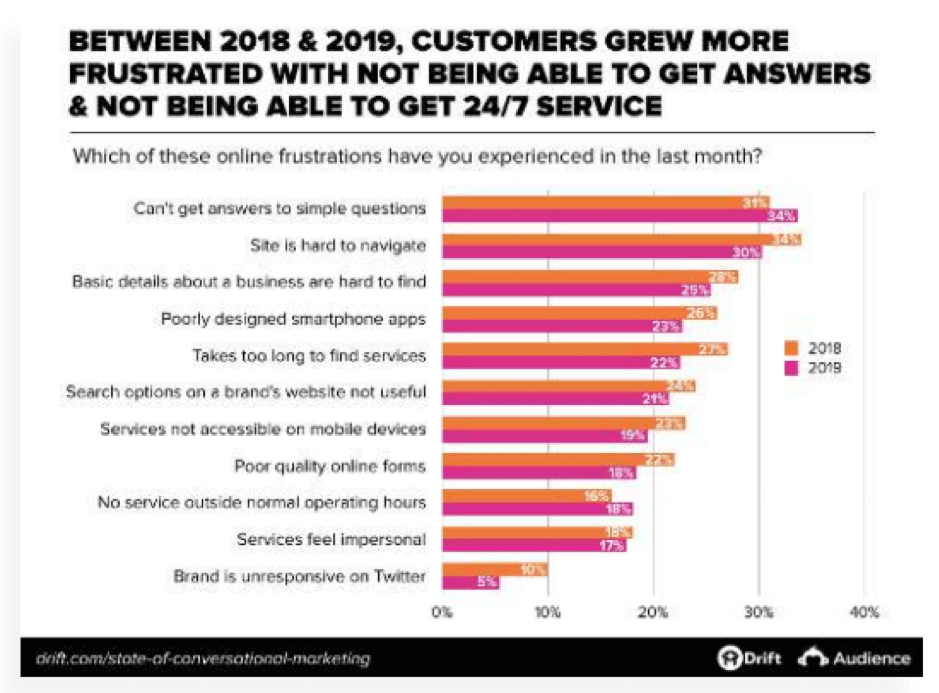 The biggest issue customers had was not being able to find answers to simple questions, which was experienced by 34% of consumers (up from 31% in 2018). This likely leads to an increased level of frustration when there is no service outside of normal operating hours, as consumers will have to contact a company in order to get the answer they require.
Brands should seek to address these two issues in particular, as they are both being experienced more in 2019 than in 2018. Tools like FAQ pages answer the most common questions customers have and chatbots for out-of-hours instant communication can improve customer experience and reduce friction. They could also be helpful conversation tools, leading more leads to the checkout.
While other frustrations have become less frequent, 30% of survey respondents still say that they have experienced hard-to-navigate sites. Although this is down from 34% in 2018, it shows that a lot still needs to be done to make sites easier to use, especially in terms of providing information.
Other frustrations regularly experienced by customers include business basic details being hard to find (25%), poorly designed smartphone apps (23%), search options on a brand's website not being useful (21%), services not being accessible on mobile devices (19%) and services that feel impersonal (17%).
Email is still top for customer communications
 One likely cause for frustration when customers are contacting companies is likely due to the fact that email communications can take 24 to 48 hours to get a response, with 65% of survey respondents saying they have communicated with organizations via email in the last 12 months, it goes to show that email customer service is still an important resource.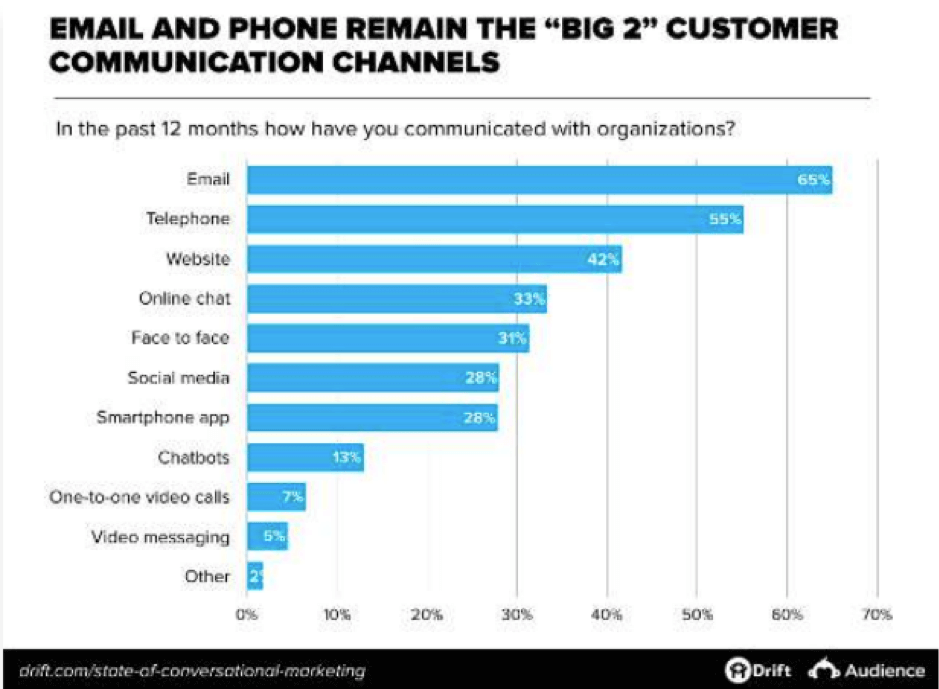 This suggests that brands can still benefit from reducing the wait time for responses to email queries or complaints in order to reduce customer frustration. The same can be said for phone communications, as 55% of consumers have contacted companies via telephone in the last year.
While these two more traditional contact methods are still popular, customers are increasingly turning to other avenues in order to contact organizations. For example, the third most popular option was a website (42%), which is likely why the inability to find the required information via a business website causes so many problems.
However, online chat is also being used, with a third (33%) of respondents saying they have used it in the last 12 months to contact a company. In fact, those under the age of 55 have, on average, used online chat more in the last 12 months, with those aged between 25 and 34 seeing the biggest increase in usage.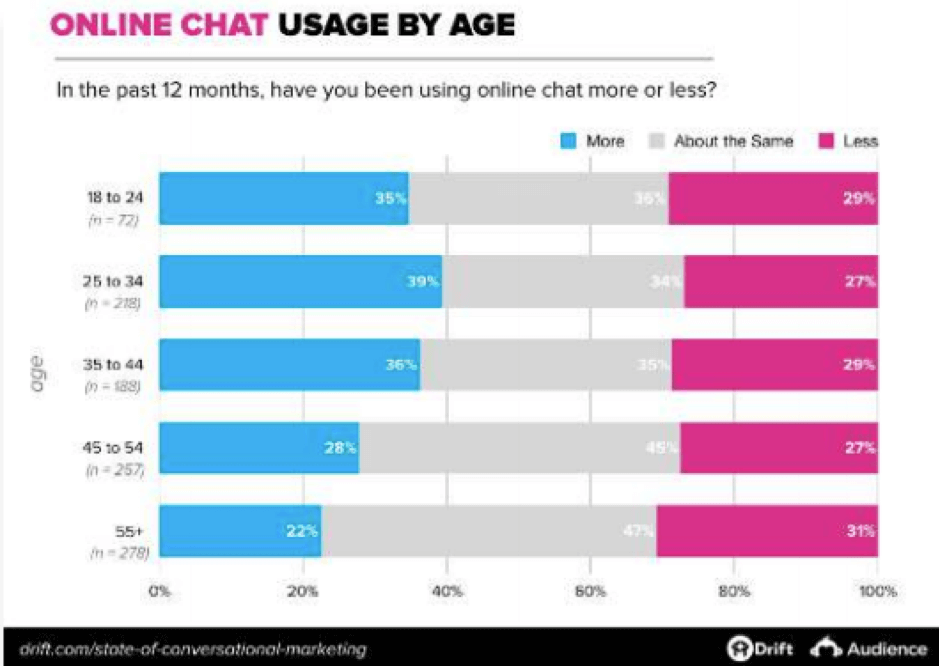 Social media is also being used by 28% of consumers, showing that companies need to incorporate customer service into their social media strategies, as social media channels are no longer just about raising brand awareness.
Online chat is the most convenient contact method
Online chat can be seen as an easier option to email and a quicker, more convenient channel compared to the telephone. Customers can chat on the go or while completing other tasks, with chatbots enabling chats to take place out of office hours. 
This is likely why half (50%) of respondents said that convenience is a benefit they strongly associate with online chat. It also scored highly when it came to ease of communication and a good customer experience, beaten only by telephone when it came to the expectation of receiving these benefits.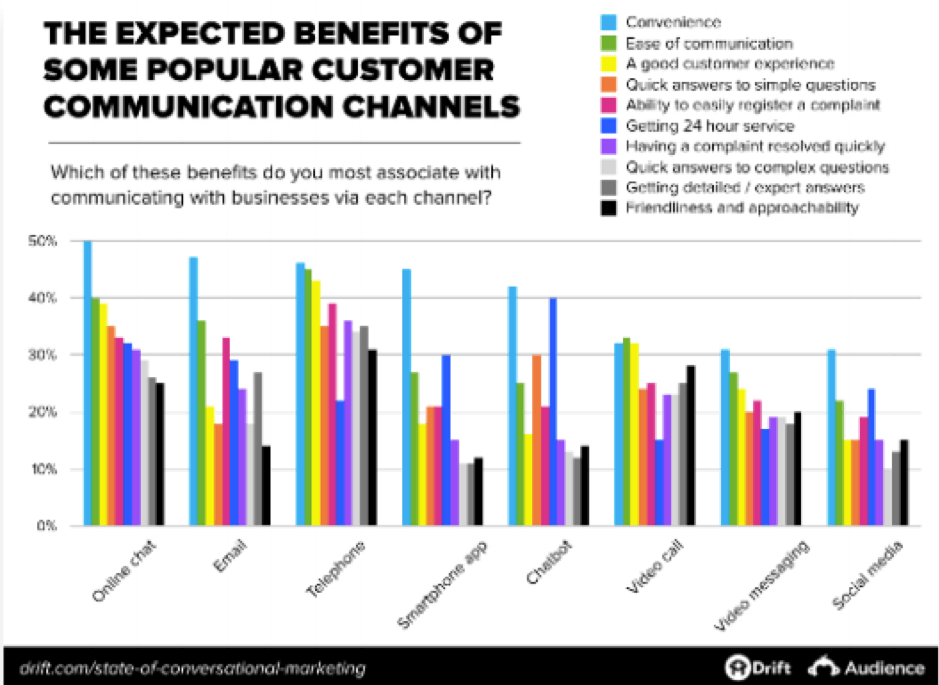 Over 30% of respondents also said that there is an expectation of receiving 24-hour service via chatbots, which is the only benefit that it largely outscored telephone on. This is likely due to the fact that many people are unaware that they may be speaking to chatbots when using online chat out of business hours.
It is also worth noting that while well over 40% of respondents said that email was a convenient method of communication, just over 20% said it offered a good customer service and under 20% said that it allowed them to get quick answers to simple questions. This reiterates the fact that companies need to look at how they are dealing with customer emails.
Chatbots and customer service
Despite the fact that chatbots can deliver around the clock service, they are seen as being less convenient than online chat with a human (42% versus 50%). Coupled with the fact that only 25% of respondents associate ease of communication with chatbots (compared to 40% when it comes to online chat), this suggests that there is still some work to do on the implementation of chatbots as a form of customer service.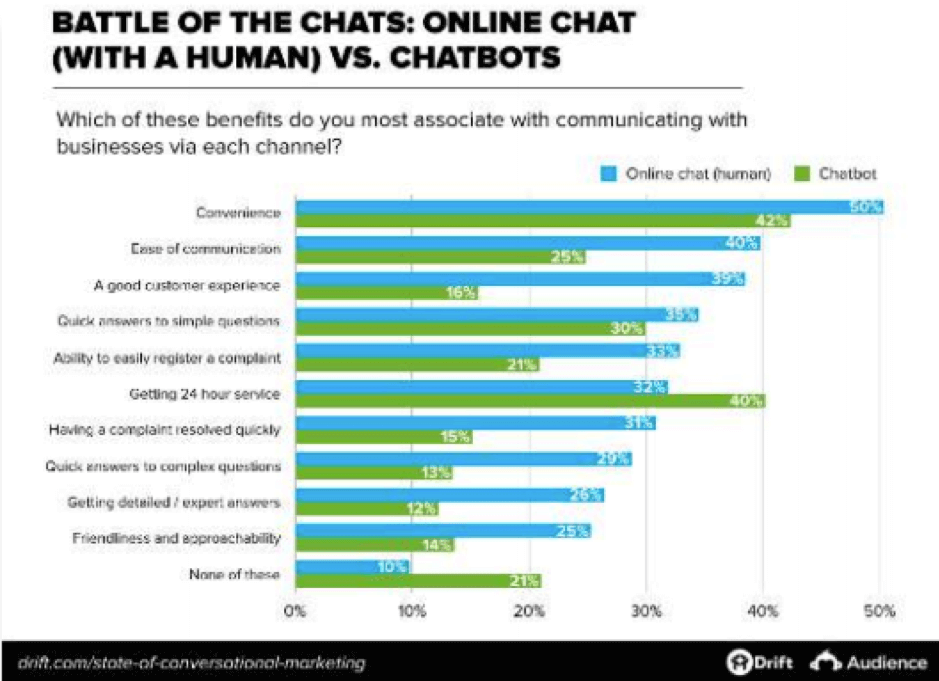 Online chat with a human still largely outscores chatbots in terms of perceived benefits, with only 24-hour service receiving a higher score. Despite this, people expect to receive nearly identical response times from a chatbot as they do with a face-to-face conversation, showing that consumers have high expectations.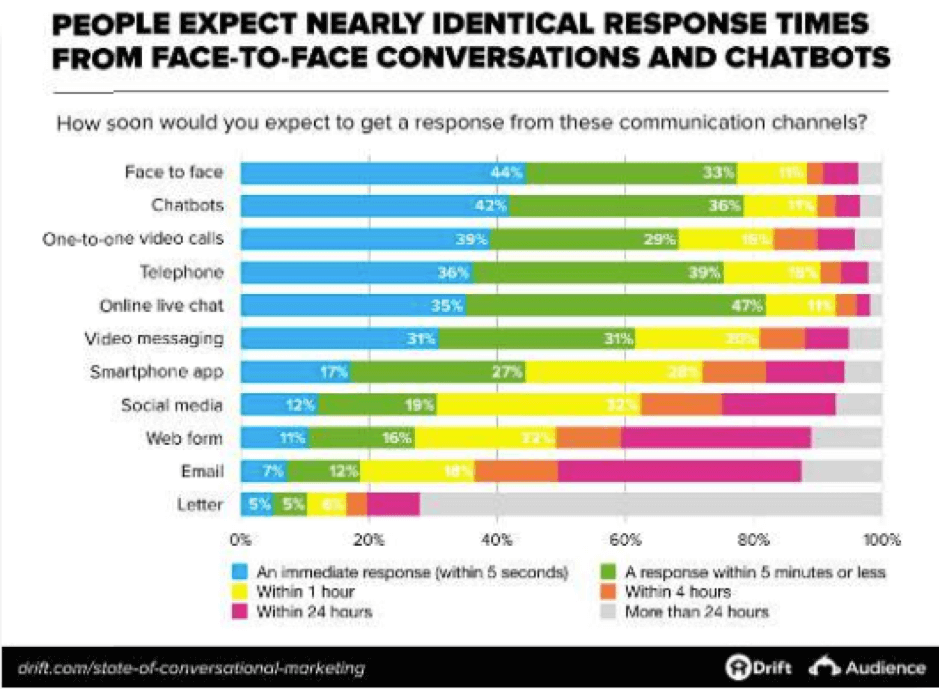 Some 42% of consumers expect an immediate chatbot response, while 36% expect a response within five minutes or less. When you compare this to web forms, which are responded to via email, and email, the difference is huge. Just 11% expect immediate responses from web forms and 7% via email.
When you factor in the expectations of 24-hour service and fast response, it does leave you to wonder why 79% of Cloud 100 companies are using online forms as a contact method rather than chatbots. Never mind the fact that only 14% of people say they'd rather fill out an online form than use a chatbot.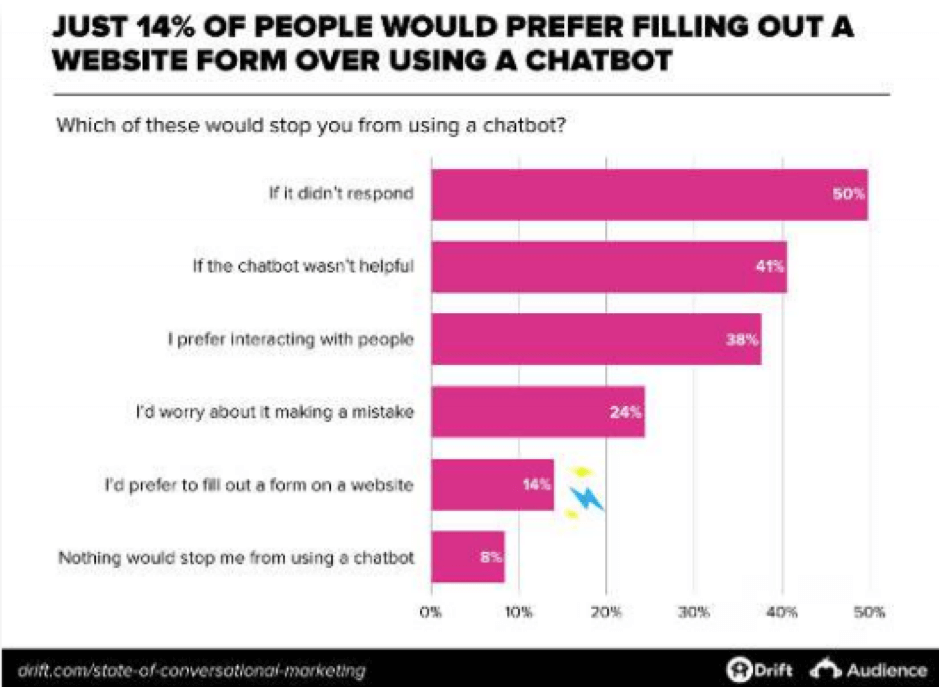 On top of this, people are becoming more comfortable with communicating with a chatbot rather than a person. While 43% of respondents in 2018 said they would prefer to interact with a human, this dropped to 38% this year. 
Final thoughts
While it is impossible to keep every customer happy 100% of the time, there is plenty that brands can do to reduce issues as much as possible. Addressing common areas of frustration is a good place to start and can ultimately lead to a better customer experience.
Ensuring your website is suitable for those consumers who prefer a self-serve approach is one step you should take. Looking at what information is missing from your website, how you can present it in an easy-to-follow format and the journey a customer needs to take to find the information will ensure that it is simpler for people to get answers to their questions quickly.
You should also consider the customer service channels you use and how you can optimize response times. Is email the only contact option you offer? Take a look at incorporating online chat and chatbots in order to make customer service more convenient.
Join To Our Newsletter
You are welcome