Any manufacturing enterprise planning to become the "Factory of
the Future" should start by thinking of the myriad challenges
makers and producers face today. While a host of innovative
technologies at present promise nothing less than a revolution in
the business of fabricating goods, a clear understanding of fresh
or novel mechanisms is needed to allow their intelligent
integration into current manufacturing practices.
Ultimately, however, new technologies like augmented and virtual
reality, robotics, artificial intelligence, and the Cloud will
succeed or fail depending on their ability to address the pain
points and challenges now confronting manufacturers. These
challenges include retaining skills and talent, improving
productivity and reducing downtime, ensuring worker safety, and
bolstering manufacturing flexibility and speed-to-market.
The sections that follow discuss these challenges in greater
detail, along with their possible resolution through the Factory of
the Future.

Challenge 1: Skills and people retention
Advanced technologies like robotics and artificial intelligence
have raised concerns that machines could potentially replace the
human workforce. For the short term, however, there is little
apparent need to worry. With US manufacturing unemployment rates
currently low at 3.0%, according to the US Bureau of Labor
Statistics, the bigger challenge in industry isn't the potential
fallout from a layoff or workplace reduction, but in finding enough
workers and in attracting new blood to replace retiring baby
boomers.
The cost of a retiring workforce goes far beyond finding a
replacement. According to the Mellon Financial Corporation, between
1.0% and 2.5% of the total revenues of a company are lost because
of decreased productivity stemming from new hires and the learning
curve involved.
The Factory of the Future
solution:
Augmented Reality (AR) can help address the challenge of
knowledge-sharing within an organisation and of supporting less
skilled workers by providing on-the-job support, training, and even
remote assistance. Mixed Reality (MR) solutions could also be
helpful by combining Augmented and Virtual Reality to let users
navigate both real and artificial spaces at the same time.
Through AR, e
manuals through a head-up display and follow step-by-step
procedures, freeing their hands for more important work than to
turn pages. Workers can also be equipped with specialized glasses
incorporating an audio link and a camera allowing live streaming,
all the while enjoying real-time support from off-site
engineers.
ngineers fixing equipment can access user
In the case of Lockheed Martin, the Maryland-based aerospace
firm has trialled AR solutions to produce its F-35 fighter planes.
Company engineers were equipped with educational software hosted on
AR glasses that showed not only how the fighter plane's different
parts fit but also the part numbers associated with the plane's
components. The result was a 30% improvement in productivity,
enabling engineers to work faster with just minimal training.
Challenge 2: Increasing productivity and reducing
downtime
While many new technologies can be introduced in the name of
boosting efficiency, cost remains king and will ultimately dictate
purchasing decisions and a company's bottom line. Such decisions
are often based on a short payback window spanning less than a year
in time, rather than on the total cost of ownership (TCO).
Machine and equipment failures can be especially costly with
unplanned downtime, running into the tens of thousands of dollars
per minute. Other aggravating factors—the cost of repairing the
failed part, or the damage caused to associated pieces of
equipment—could add to the total financial tally. As a result,
technologies capable of reducing unplanned downtime can provide a
quick and tangible payback.
The Factory of the Future
solution:
Predictive maintenance and condition monitoring applications can
be of immense value. Supported by the increased access to data
collected from manufacturing equipment, they enable the monitoring
of a machine's performance to determine if it is deviating from
accepted readings in parameters like vibration and temperature. As
values stray from the norm, algorithms can be used to analyse the
risk of failure and even the time frame in which a failure may
occur. And with relevant data stored onsite as well as in the
Cloud, comparisons can be made against previous asset failures to
improve the accuracy of identifying imminent faults.
Advanced notification of an asset's potential failure not only
provides companies with the tools to reduce unplanned downtime, the
information can also be used to create smarter maintenance
schedules, enabling maintenance teams to focus on the degraded
equipment alone. Smarter repair and replacement can lower
expenditures, with analytics deployed intelligently to identify
which parts to replace and which ones to keep.
Utilizing predictive maintenance to monitor the health of assets
is clearly a positive application—the low-hanging fruit, so to
speak—of the industrial IoT, with a quick payback on investment
that can be expected.
Predictive maintenance is, in fact, the top IoT-related
application among organizations in their use of the Cloud, as shown
in the chart below.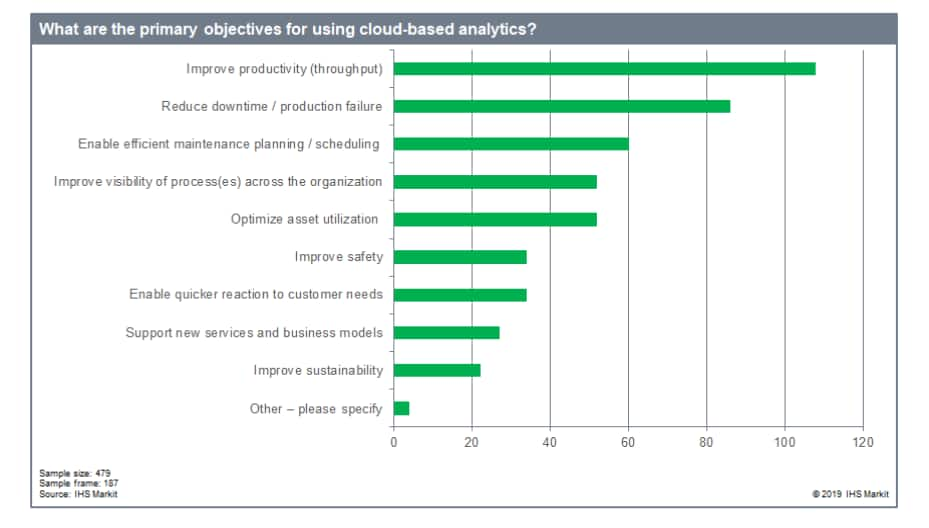 Challenge 3: Worker safety
Plenty of manufacturing jobs exist today that ideally should not
involve human labour. The 4D's of unwanted labour conditions
include:
Dull – tasks, such as jobs with a highly repetitive
component
Dirty – environments, characterized by extremes in temperature,
smells, noise levels, and unpleasant substances.
Dangerous – conditions, in which operation of certain types of
equipment or exposure to environmental elements could result in
injury or loss of life
Demanding – jobs, where intense or protracted
exertion—physical or mental—is required
The Factory of the Future
solution:
Many specific technologies are already available to help reduce
risk at the workplace and improve the safety of workers.
For instance, while robotics has long been used in the
automotive industry to improve productivity and reduce worker risk
in dangerous tasks, robots on their own can also introduce risk
through malfunctioning or while interacting with a human worker.
For this reason, collaborative robots—or "cobots"—were
developed. Equipped with sensor skins sensitive to pressure, cobots
will stop or reverse course during collision with a human worker.
Today, cobots can work alongside humans without the need for
additional safety equipment or zoning.
Other robotic solutions to improve worker safety include drones
and "spider robots," which can navigate and operate in hazardous
and difficult-to-reach areas. In the oil industry, such automated
robotic solutions have been tested for monitoring flare stacks or
fires around an offshore rig. Combined with on-board monitoring
gear equipped with machine vision, the solutions can check for
corrosion, cracks, and leaks more safely and more accurately.

Challenge 4: Responding to customer needs
An increasingly discerning customer base is challenging
manufacturers to redefine how to do business and respond to
customer needs. Manufacturers today are called upon to meet rapid
shifts in market demand, drive product innovation, reduce time to
market, and boost flexibility in the manufacturing process.
Companies both large and small must be nimble not only in
identifying market movements but also in forging new and
high-quality products to either defend an existing position or to
obtain first-mover advantage in a new area.
For manufacturers, meeting customer needs can present dual
challenges: shortening the time in new product introduction (NPI);
and building in customer preferences to support mass customisation
while maintaining manufacturing economies of scale.
The Factory of the Future
solution:
For faster time-to-market, a digital twin or model of a physical
product can first be developed, and then tested and adjusted
quickly if needed. Through simulation, prototypes can be subjected
to real-world conditions to ensure or improve quality, shortening
the time to move from concept to release.
In product customisation, companies can offer tailored goods and
integrate customer-selection criteria with manufacturing, a process
made possible by the seamless transfer of data from the point of
sale to the factory floor. Successful execution will necessitate
the deployment of connected enterprise and operational networks
together with more flexible manufacturing processes, helped along
by increased levels of automation that can adjust the manufacturing
parameters of individual orders.

The central question, answered
Regardless of the manufacturing challenge in
question—whether the issue is about improving productivity,
promoting more flexibility on customer needs, or providing better
working conditions—the technologies in the Factory of the
Future will succeed based on their ability to meet the specific
challenges of each industry and company type.
Ultimately, the central question confronting the Factory of the
Future is one of monetization and revenue generation from the
Industrial IoT. The answer can be found in those solutions able to
demonstrate a clear business benefit and successfully deliver a
quick return on investment.

Alex West is research and analysis associate director for
discrete automation and switchgear at IHS Markit
Posted 19 August 2019
Join To Our Newsletter
You are welcome