To get your message across to your audience and achieve your goals, you first need a social media plan
With social media becoming more important every day, there's a case for every business to exploit this platform for marketing.
When you consider that 73% of marketers have found social media effective for their business, you'll see that this is an ideal platform for boosting your revenue.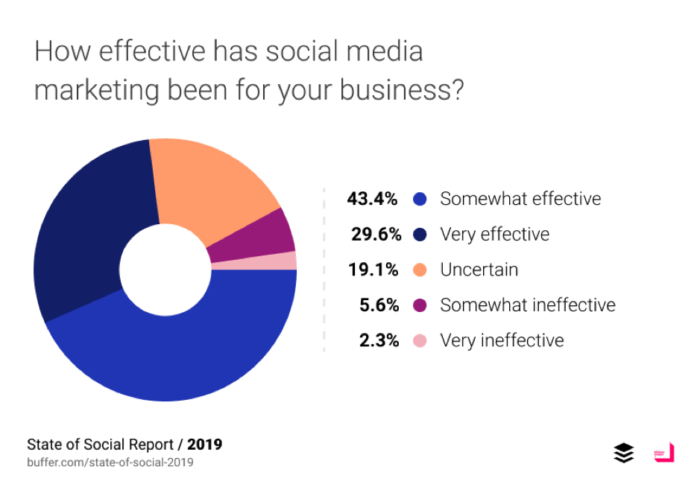 But to get your message across to your audience and achieve your goals, you first need a social media plan.
Now, the big question is: what do you need to know to develop an effective social media plan?
In this blog post, I'm going to tell you everything you need to know about developing a social media plan.
1. Set social media goals
The foundation of your plan is to specify what you're trying to achieve through your social media campaigns. Without goals set in place, you won't know what types of updates to post on your channels.
Knowing what you want to achieve will tell you what to focus on in order to achieve those results. Some common social media goals are all about boosting:
Brand awareness
Engagement
Leads acquisition
Sales
Customer acquisition
Traffic
While creating your goal, it's important to remember the SMART acronym. That is, your goals must be specific, measurable, attainable, relevant, and time-bound.
After creating your goals, you have a set of metrics to judge the success (or failure) of your campaigns.
2. Evaluate your social media budget
Whether through the time spent or ad spend, you're spending an amount on social media so that you can gain more for your business.
But do you have a record of how much you have to spend?
Your social media budget will determine some of the activities you can perform. For instance, your budget will affect the number of organic and paid campaigns you can run at a time. It will also affect the number of employees that work on social media marketing.
Furthermore, your budget will determine the number of social media tools you can use to make your tasks more productive.
Having said that, it's no crime to have a low budget. But it's beneficial to be aware so that you can structure your campaigns according to your means.
3. Create a buyer persona
Even the best marketer ever will get a poor result if they're marketing to the wrong audience. That's why it's vital to understand your ideal buyer. When you have their details, you can personalize your messages to their needs.
Your buyer persona is a document that you need for your overall marketing plan, exceeding social media alone. For your buyer persona, you should have details such as:
Name
Age
Income
Location
Pain points your products can eliminate
Ambition
Favourite social media channels
You should have as many details about your ideal buyer as possible. You can form your buyer persona based on your current customers or who you want your customers to be. Below is an example of a buyer persona template from the Content Marketing Institute (CMI):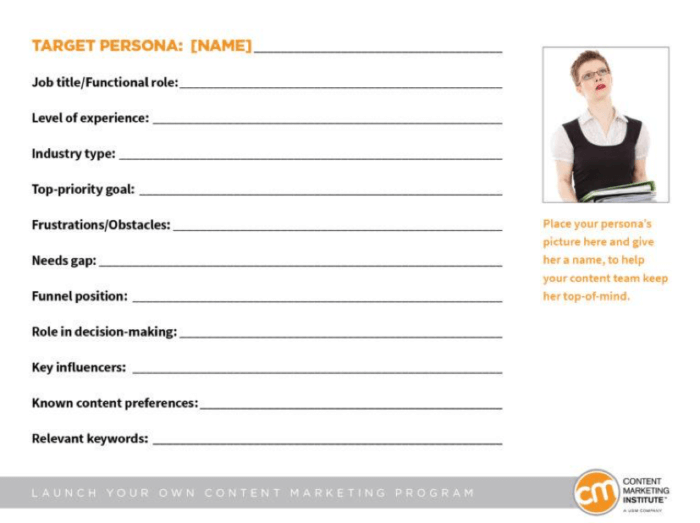 4. Select social media networks to focus on
As much as you might want to maintain a presence on all available social media platforms, you should avoid stretching yourself too thin.
If you don't have a big enough budget to have a presence on multiple social networks, it's best to focus on the few social media networks your ideal buyers visit regularly. Consequently, you'll invest your time and efforts on platforms that are likely to produce results.
But which social media networks should you focus on? That will depend on the product or service you sell.
For instance, if you sell food or fashion items, then networks like Instagram, Pinterest, and Facebook are effective for reaching your ideal audience. However, LinkedIn and Facebook will be more suitable if you're marketing a B2B product.
Ensure you check your buyer persona and conduct research to find the right social networks. More so, engage with your followers to build trust.
5. Create a content calendar
To get the best possible results from social media marketing, you need to be consistent. And in order to be consistent in social media, you need to have a social media calendar set in place.
With a content calendar, you can plan your social media updates weeks ahead. This increases productivity and ensures you can provide the pieces of content your audience expects.
Some details you can have on your content calendar are:
Types of content to post on social media
Publication dates
Employee to share updates
See an example of a social media content calendar template from HubSpot: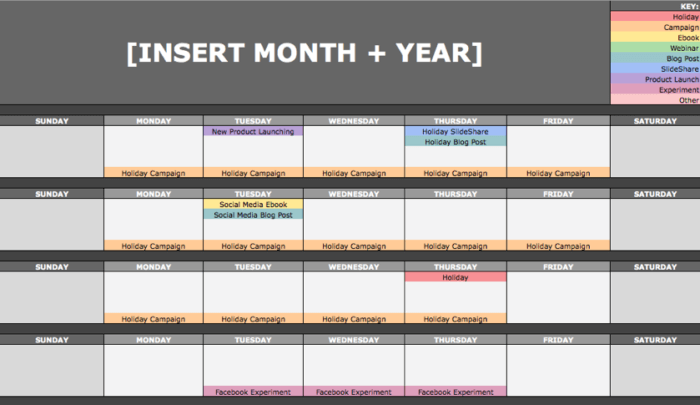 6. Make a plan to use visuals
Visuals have become popular on social media. Because they're an easier way for your audience to receive your messages. Added to that, visuals have proven to attract higher engagement than text.
For example, a BuzzSumo study found that videos have higher engagements than other types of content on Facebook. In another study, tweets with images received 150% more retweets.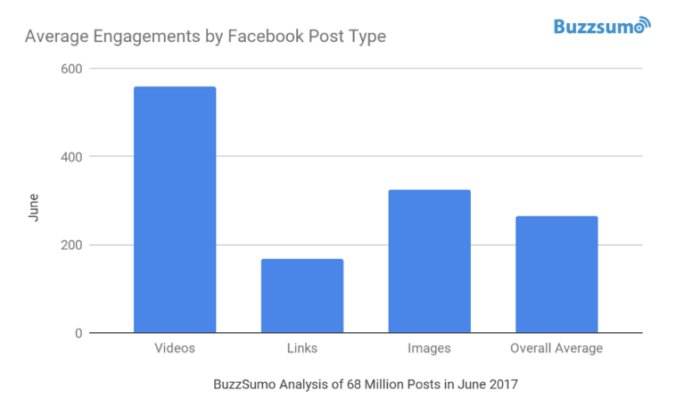 Even if you're posting a text update, you should use a supporting visual to attract your audience.
A tool like Canva allows you to create images suited to different social media platforms, at scale, even if you don't have a lot of experience with design: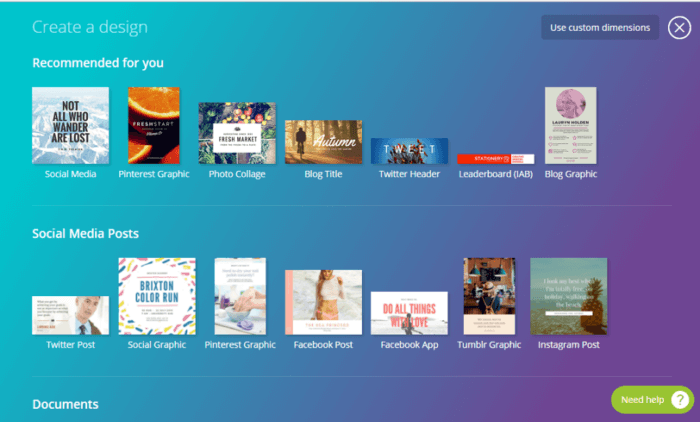 You can use their ready-made templates and built-in stock photo directory to easily create social media visuals; plus, you can quickly resize your images for different social networks, in seconds.
Visuals may take a bit more time to create, but they will also certainly give your social media activities a boost.
7. Use the right tools for social media activities
Social media marketing requires certain tools – there is no way around it. Without the right tools, you will struggle to manage all of your accounts, to engage regularly, to measure your results, to monitor important keywords – and so much more.
That's why when you build your social media plan, you also need to consider what tools you're going to get.
What are some aspects of social media that need tools?
Social media management
Content creation
Content curation
Social monitoring
Analytics/ROI measurement
One of the most important tools you need to get is a full-suite social media management tool, as that will help you manage all of your social accounts from one place; one great solution is SocialPilot.
You can use it to manage all of your social media accounts from one single place, as well as schedule your updates in advance, using a social media calendar: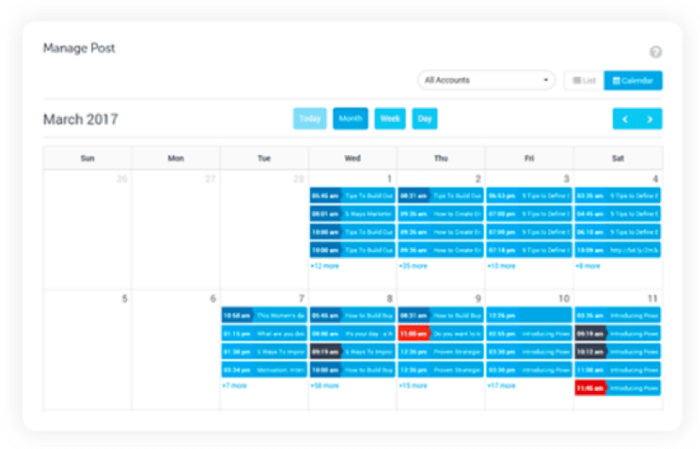 Plus, you'll be able to collaborate with your team members, respond to comments and mentions and engage with your followers, monitor your brand name and check your social media analytics.
8. Conduct competitive analysis
While you're just creating a social media plan, some of your competitors are already executing their plans and getting results. What are your competitors doing well? What are their shortcomings?
There's a lot you can learn from your excellent competitors. Some parts of their social media strategy to analyze are:
Major social media networks
Publication frequency on different social networks
Types of content they publish
How they engage with followers
When you analyze your competitors, you can find strategies to apply to your own social media plan. Furthermore, it's an opportunity to see your competitors' shortcomings and improve upon them with your plan.
9. Have a system for tracking results
There's no social media task that will guarantee results. Hence, you must have a system to track your social media results. With this, you can access the effectiveness of your plan in achieving your goals.
To make this process effective, specify the metrics that represent your goal. For instance, you might look at retweets, likes, and clicks if your goal is brand awareness.
You can get some of these metrics from your social media management tool. Or use a dedicated tool like Talkwalker that can give you a detailed analysis of your social media results like monitoring, sentiments, etc.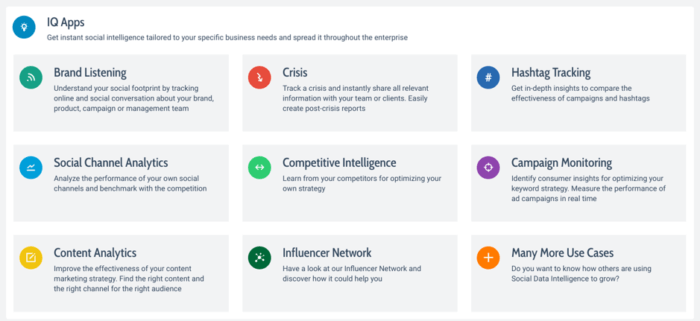 Conclusion
Developing a social media plan is essential to getting results from social media. As a matter of fact, every social media update should move your audience, whether directly or indirectly, towards making a purchase – or towards any other objectives you have.
As you get results from your social media campaigns, it's vital to continue optimizing and making changes to your plans to improve your future results.
Join To Our Newsletter
You are welcome