In 2018, 77% of Realtors do not have a blog
Creating content is essential for marketers and thought leaders. The NAR study lists on average, 77% of realtors do not have a blog and only 13% plan to have one in the future. SEO remains a key factor in organic searches which drive leads. Realtors that have a blog usually have at least 6 years' experience or more in real estate. Less experienced realtors can benefit highly by incorporating a blog in their marketing activities.

Only 26% of Realtors have their own website
Developing and maintaining a business website is important for SEO and organic web traffic. 42% of realtors have a website that was provided by their firm while only 26% or realtors have their own website. In building brand awareness, having a website that is maintained by the realtor is a key SEO strategy. It is common for realtors to be at a firm for 1 year or less (39%) and leave or remain greater than 6 years (23%) at the present firm. With this in mind, a realtor having their own website provides potential leads security should they move to another firm.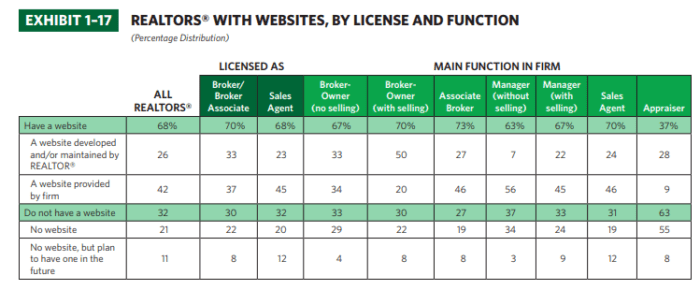 Video is used by less than half of all realtors
Video is growing in popularity as a way to engage with customers. Only 14% of realtors used video a few times per week in 2018. Realtors are behind in technology trends and the ones that embrace it are leading the pack. Among realtors, 48% used video rarely or never according to the study. This is a big opportunity for realtors willing to focus more on video content for customers to create brand awareness.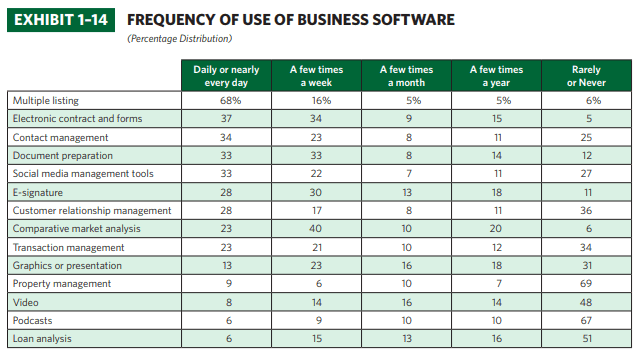 Instagram is used by only 28% of realtors
A growing and popular platform is Instagram. With the addition of IGTV and videos, more people are getting their content from social media. There are many underutilized social media platforms amongst realtors. Only 30% of realtors use YouTube, 28% use Twitter, 21% use Pinterest. This leaves a competitive advantage to realtors who are active on these platforms. Of the most popular platforms, Facebook at 80% and LinkedIn at 71%, using video can give a realtor a competitive advantage on those popular platforms. If you are a realtor who has not been using video or is not on those platforms, now is the time to begin.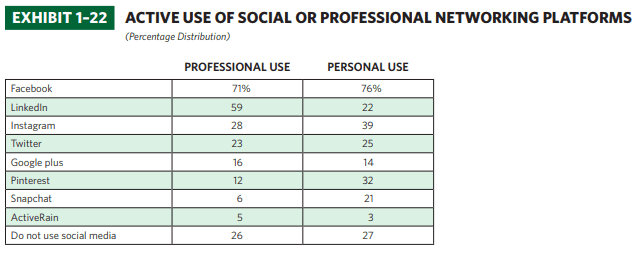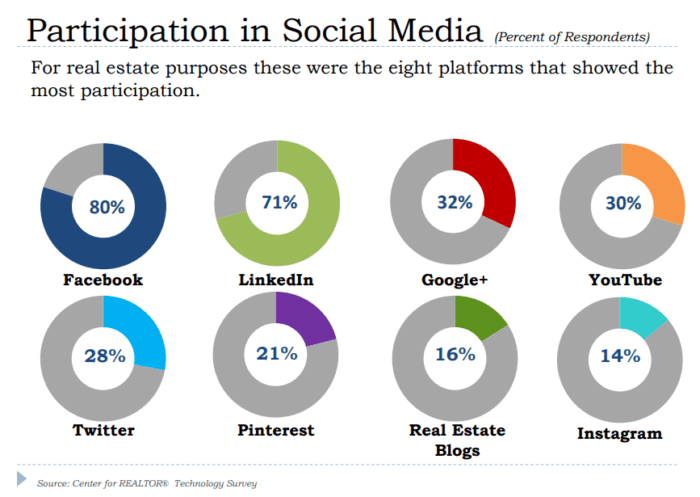 Women Realtors and sales agents are most active on social media
Being active on social media is a factor in success for a realtor. Having assistants that can help with such activities helps significantly but is not necessary. Only 18% of realtors with 15 years of experience or more have one assistant. Overall, women are more active than male realtors on social media and normally act alone. 74% of women compared to 66% of male realtors are active on social media. The most popular social media platform is Facebook at 80% use.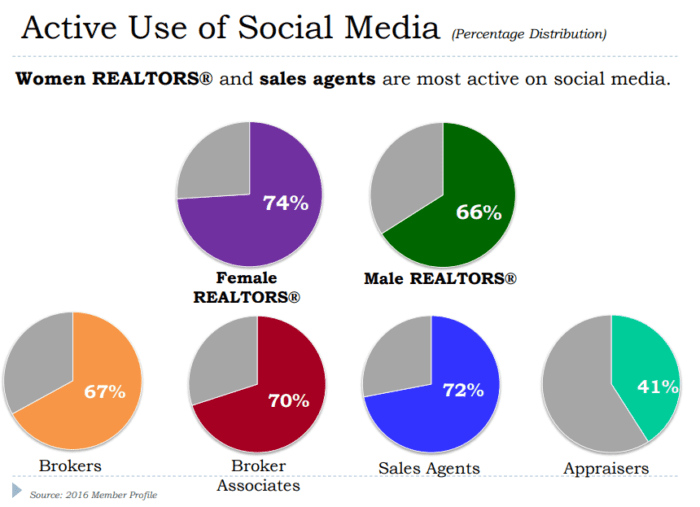 Only 26% of Realtors are "Extremely Comfortable" using Social Media
A low percentage of realtors are comfortable or extremely comfortable with using social media for business. This trend reflects how little realtors use or post to social media. The more content that is posted, the more comfortable realtors become with using social media. Social media is more about brand building than about direct sales. 7% of realtors do not use social media at all.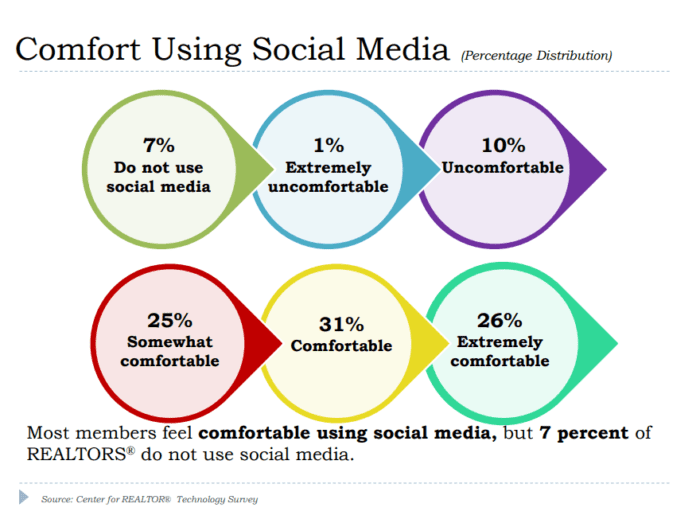 An astonishing 41% of realtors do not use Messenger apps to talk with clients
Using Facebook as a brand strategy may not produce conversions as expected since 41% of realtors do not use messenger apps to communicate with clients. Realtors who can utilize apps like Facebook Messenger as a way of communicating with clients show a significant advantage in their marketing activities. Using Facebook Messenger as part of you marketing strategy completes the sales funnel when users visit your page. By not having appropriate funnels in place realtors are leaving money on the table when it comes to messenger apps.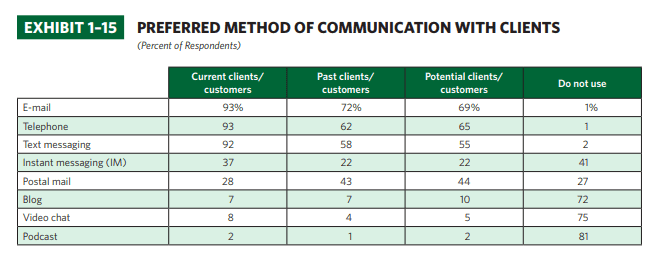 How to make these insights work for you
Social media use should be a growing consideration for realtors as indicated by the low numbers currently employing a social marketing strategy. Opportunities are plentiful for realtors who can capitalize on social media platforms other than Facebook or Linkedin.
The use of video should be included weekly in a realtors marketing activity. Videos should be designed for various platforms and formats to best fit in a landscape or portrait format of YouTube or IGTV respectively. YouTube or landscape videos do best when more polish is given to them and vertical formats often work best when presented in an unpolished yet professional manner.
Content is king, realtors who can create and manage a blog in their marketing activities will have a significant advantage moving forward compared to other realtors. More experienced realtors with six or more years in real estate are 6-8x more likely to have a blog. Having a dedicated website is advised for realtors to control their lead generation and online presence should they leave their present firm in the future.
Taking advantage of Facebook Messenger and social messaging apps as a communication tool is important in the conversion process. Setting up automated messaging to begin the process can increase conversions and lead to more clients.
Realtors should begin to become comfortable with social media platforms, blogs, and new uses of technology. Those that can best use video, messaging, and blogging will have a significant edge over other realtors ongoing. SEO benefits will also be seen by having a dedicated website and Google Business listing.
SOURCES: NAR Study for Realtors 2018, Real Estate in a Digital Age 2017 Report from NAR
Join To Our Newsletter
You are welcome