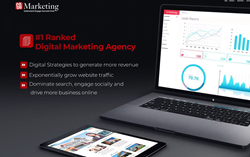 Richard Uzelac has a no-nonsense approach to successful internet marketing

THOUSAND OAKS, Calif. (PRWEB)
September 03, 2019
"We are very excited to be hired by John Samuel, Owner of Door Ace in Vancouver, and commit our Home Services Team one hundred percent to John's Family company and their success, said Richard Uzelac, CEO of GoMarketing Inc. "At GoMarketing, we have long focused an entire bespoke division to servicing the Home Service Industry including; Heating and Air Companies, Plumbing Companies, Construction and Remodeling, Painters, Flooring, Movers and Pest Control, to name a few. Working with Door Ace to build up their garage door and gate replacement and repair business is a continuation to that commitment," added Richard Uzelac.
John Samuel, President of Door Ace states, "I really liked Richard Uzelac from the moment we first spoke. He has a no-nonsense approach to online marketing and advertising for Home Service companies like mine. Richard and the team at GoMarketing have been great to work with and we know they are committed to our success. Richard Uzelac is the CEO of GoMarketing, yet he personally got involved with our programs and still drives decisions as we move forward with the design and marketing. We really look forward to the new site when it goes live in September. We are especially excited by the marketing programs that Richard Uzelac and the team are building for us."
"I have a special affinity for home services companies like plumbers and HVACs and Flooring companies as I grew up working at my father's Carpeting and Tile company in Philadelphia, Pennsylvania, Richard Uzelac said. "My father worked hard to earn a living while providing exceptional quality of work at a fair price. His team were loyal and wanted to do what's best for their customers. Back then word of mouth was the key way of generating new Clients. Today with the internet, GoMarketing gets the word out online for our clients and we put that commitment of high quality for a fair cost for all of our Clients," added Richard Uzelac.
GoMarketing.com will design and structure a new website and social media presence for Door Ace. Richard Uzelac of GoMarketing will lead his team to build a strong search engine optimization (SEO) program for Door Ace to have the site show up high on Google, Bing and Yahoo in all their markets in Vancouver. "Other services we are offering Door Ace are; website design, website development, mobile optimization, new content writing and optimization, enhance photography, and a cleaner user interface designed for potential customers to learn more about Door Ace and easily contact them to schedule a new garage door or gate project.
About GoMarketing:
Based out of Thousand Oaks, California, Richard Uzelac's GoMarketing Inc. uses the following mission statement to deliver digital marketing results to their clients: "Understand. Engage. Succeed. Grow." Acting as digital marketing professionals within a wide range of industry sectors, the GoMarketing team specializes in SEO, content strategy, website design and development, and more–providing a full suite of marketing solutions that generate online leads and sales for businesses throughout Southern California. For more information about their custom marketing plans, contact Richard Uzelac, CEO of GoMarketing directly at 805.413.7893 or visit http://www.gomarketing.com.
About Richard Uzelac, CEO of GoMarketing:
Founder of GoMarketing and RealtyTech Inc., Richard Uzelac is a former Emmy award winning network television graphics and branding producer. He was also an award-winning Realtor and a real estate company owner in both New Jersey and California.
"Our business is growing your business online to generate more sales and increase brand awareness," says Richard Uzelac. Besides helping local small businesses and real estate professionals increase their leads and sales via digital marketing these last 15 years, Mr. Richard Uzelac is available for Consulting and for speeches on Internet Marketing and Advertising. Please contact Richard Uzelac at: 805.413.7893
Share article on social media or email:
Join To Our Newsletter
You are welcome