E-commerce marketing budgets increasing with focus on customer acquisition
Chart of the Week: 81% of e-commerce marketers say the acquisition of new customers is one of their biggest goals, despite having higher costs than customer retention
E-commerce is a growing market, which is being reflected in its marketing budgets. In fact, 65% of e-commerce marketers have said that their marketing budget has increased this year compared to 2018 compared to just 10% who said it has decreased.

The rise in budgets is likely tied to the increase in expectations for marketers in the e-commerce sector, with heavy competition meaning that new tools, techniques and technologies are being utilized to drive shoppers to stores. This is shown by the fact that 81% of respondents said that acquisition marketing was the largest e-commerce marketing investment priority in 2018.
According to a new report from Commerce Next and Oracle, bringing new customers on-board is more important than keeping existing ones with less than half (43%) of marketers saying retention/loyalty marketing is a priority. The difference in budgeting priority is interesting, especially when you consider the fact that gaining new customers is more expensive than keeping new ones, which means marketers looking at retention could see better returns.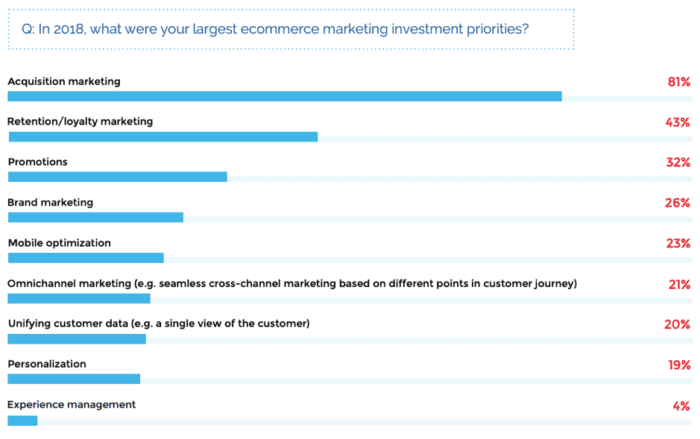 Despite acquisition and retention marketing being the two largest priorities when it comes to marketing investment, only 4% said experience management was a priority. Managing customer experience can help get new customers to the checkout, as well as bring back repeat customers, as it ensures users can navigate a site easily and your store is able to meet their needs and expectations.
Sites that offer good customer experience tend to see a lot more repeat customers, as well as recommendations, suggesting that spending budget on experience management as part of retention strategies could pay off.
Last year's investment payoffs
Looking back at investments made in 2018, acquisition marketing seemed to offer the best results. A total of 53% of e-commerce marketers said that their investments in acquisition marketing led to a performance that met their expectations. A further 24% said the performance of this initiative exceeded expectations, with just 23% being disappointed in results.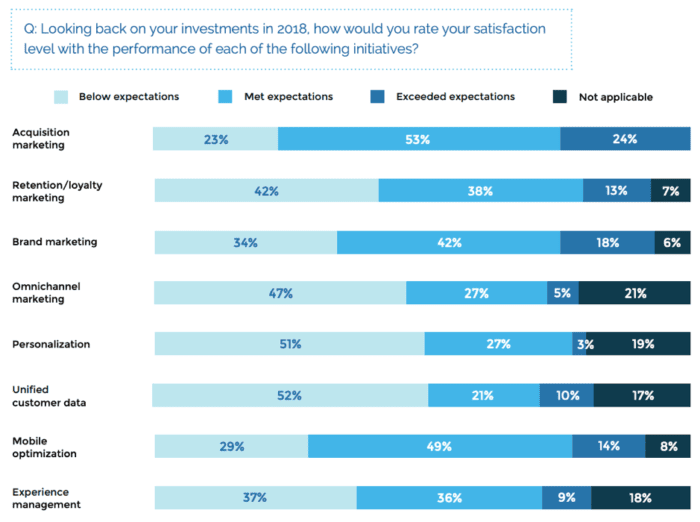 In comparison, marketers struggled to get the performance they wanted out of their retention marketing efforts, with 42% saying these initiatives' results were below expectations. However, 38% did find they met expectations and a further 13% said they exceeded expectations, so this form of marketing is paying off for some.
One area that e-commerce marketers really struggled to get results was personalization, with over half (51%) saying their performance was below expectations. Just 27% said it met expectations and a small 3% said it exceeded them. As more customers expect a personalized experience when shopping online, failing to deliver the right kind of personalization can mean e-commerce stores miss out.
Investments in technology
In terms of technology, 2019 seems set to be a year of big investments. Despite personalization being a bit of a disappointment when it comes to results, marketers are still putting money into personalization technology. Some 52% of respondents are increasing their investment in this area in 2019 with a further 22% keeping the same level of investment.
This suggests that marketers haven't had the right tools in order to deliver results when it comes to personalization, hence the large rise in investment this year. However, just under a quarter (24%) are not planning on investing in this area at all, which could leave them falling behind competitors.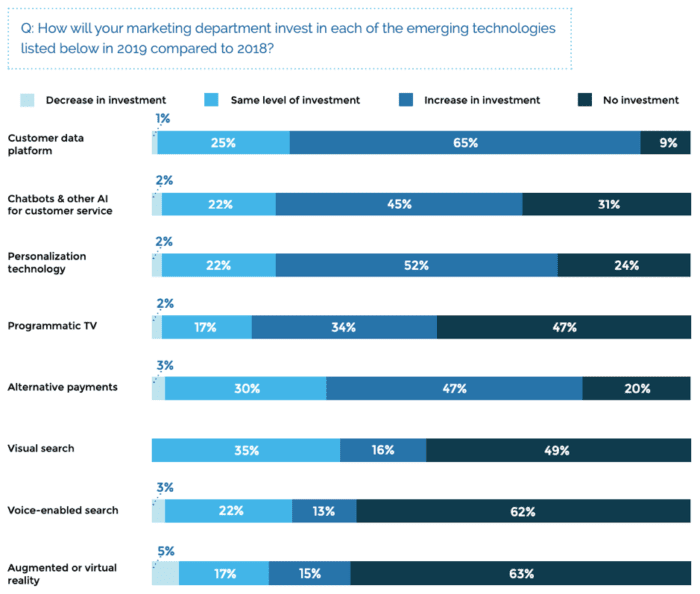 Another area of large investment is data. Around 65% of e-commerce marketers are looking to increase investment in their customer data platform compared to 2018. Just 1% is looking to decrease investment in this technology while 9% are not planning to invest at all. This investment could aid with personalization, offering a better experience to new and existing customers.
Interestingly, there is little investment taking place in voice-enabled search, despite this becoming a more popular way for customers to search. Despite the rise in the use of voice assistants and devices like Amazon's Alexa, 62% of e-commerce marketers are not planning on investing in voice-enabled search this year.
Few marketers are investing in augmented or virtual reality as well, with 63% saying they are not planning on investing in the technology. While these forms of videos have offered some advantages to brands who use them, it is likely that the ROI for smaller brands may not be worth the initial investment in the technology.
2018's challenges
Looking back on the last year, there were a number of actors that marketers felt got in the way of achieving their goals. The largest of these was 'managing integrations of technology solutions across the marketing stack', which was selected by 39% of respondents. This suggests that while you may invest more in certain technology to provide solutions, it is actually the integration of said technology that is going to help you get the results.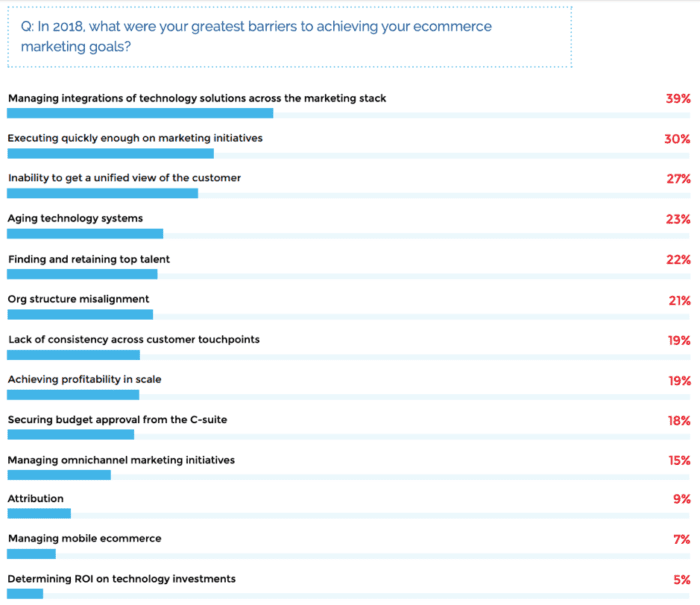 Another big barrier, according to 30% of respondents, was 'executing quickly enough on marketing initiatives', showing that there is a real need for speed in order to keep up with the industry and implement changes. Failing to execute marketing initiatives quickly can mean that you miss out on trends and opportunities, reducing the success of both acquisition and retention marketing strategies.
An area that wasn't really seen as a barrier was managing mobile e-commerce, with just 7% saying it was. With mobile optimization having been a big buzzword for several years now, it seems as though most e-commerce sites have got to grips with this side of their marketing.
Expected barriers in 2019
While managing tech integrations was a big barrier last year, fewer marketers (30% versus 39%) are anticipating facing the same issues in 2019. This could mean less investment in new technology or marketing teams have managed to work out a number of kinks that caused issues in 2018.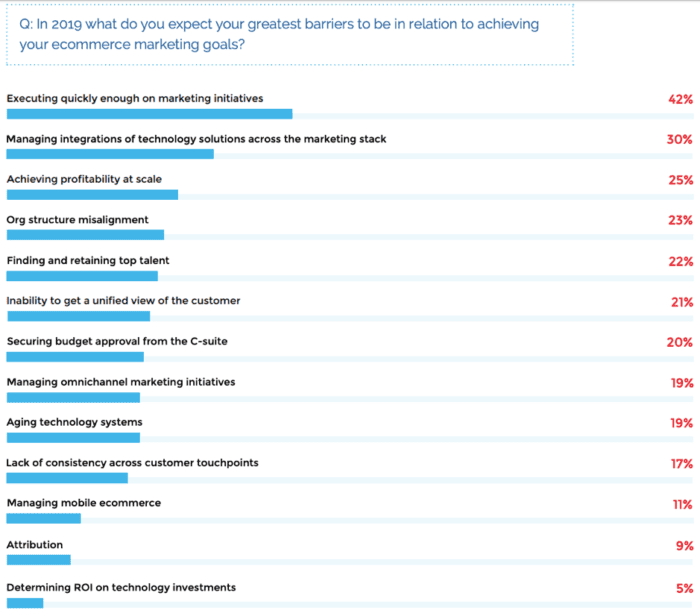 However, the speed at which marketing initiatives are executed is likely going to be an even bigger barrier in 2019, with 42% (versus 30%) anticipating this getting in the way of achieving e-commerce marketing goals. This may be why a quarter (25%) of respondents believe that achieving profitability at scale this year is going to be difficult.
Final thoughts
The large push behind acquisition marketing rather than retention marketing in the e-commerce sector is likely due to the fact that there is pressure for marketers to beat last year's sales figures. Growing your audience base is, therefore, seen as the best way to achieve growth, despite the costs and difficulties associated with this form of marketing and the fact that the market is saturated.
Scaling a business is all based on driving new customers and this can bring about good ROI, but it's important to remember existing customers. Bring people back to site and getting them to purchase again and again – as well as become social advocates for your brand – can be cheaper and increase overall customer lifecycle value.
However, achieving growth with new customers or increasing the number of repeat customers isn't possible if you are not investing in the right technology, implementing it correctly and moving forward with marketing initiatives at a good pace. Developing an e-commerce marketing plan that is structured but still allows for some degree of flexibility is vital and will ensure you implement what you need to but also have contingencies in case of any barriers that you encounter.