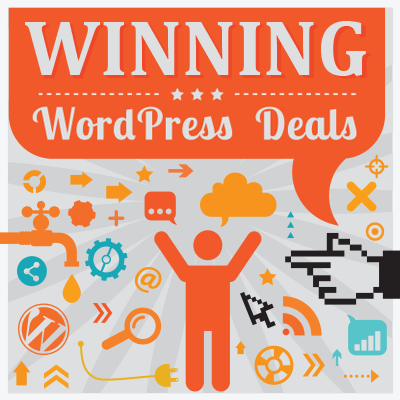 Easy Digital Downloads WordPress Plugin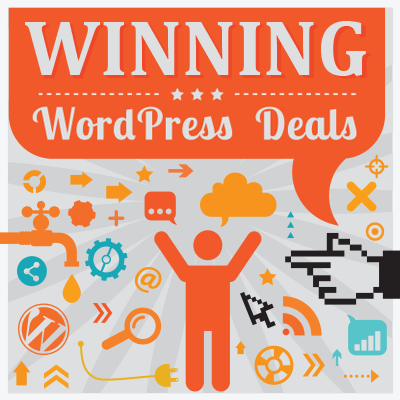 Easy Digital Downloads is a popular eCommerce solution for WordPress that was created to help website owners sell digital products such as eBooks, documents, music, graphic designs, and more.
The plugin is free to download. Like other high quality WordPress solutions, its functionality can be extended by many free and premium addons. A host of WordPress themes designed specifically for Easy Digital Downloads are available too; however the plugin is designed to work with any WordPress theme.
The core version of Easy Digital Downloads (EDD) is a user-friendly plugin that is suitable for selling digital files on your website and accepting payments via PayPal or Amazon.
Whilst the free version is suitable for creating a simple digital shop, the real power of Easy Digital Downloads comes from the vast number of plugins that are available that add additonal functionality. It is an incredibly flexible product.
In this article I would like to talk about the company behind Easy Digital Downloads, explain what the plugin offers, and show you how you can use it to create a professional eCommerce store.
Who are Behind Easy Digital Downloads?
Easy Digital Downloads was created by WordPress developer Pippin Williamson and his company Sandhills Development. You may be familiar with Pippin already and have read one of Pippin's many WordPress tutorials on his WordPress website Pippins Plugins.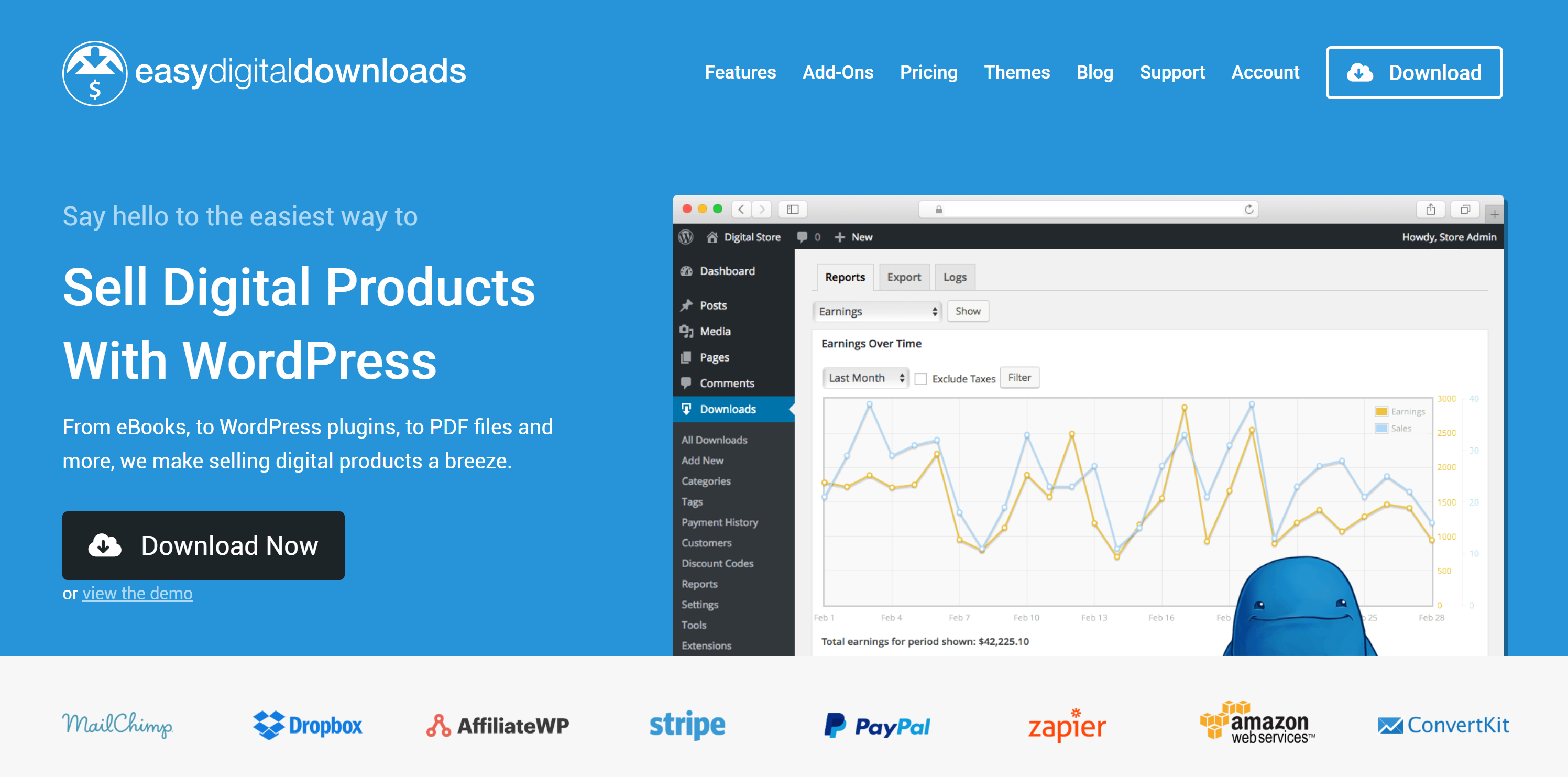 Sandhills Development is well respected in the WordPress world for a number of reasons:
They have a great reputation for good customer service
They develop high quality WordPress products
They have published hundreds of useful WordPress development tutorials
Sandhills Development are also behind other successful WordPress plugins such as the affiliate plugin AffiliateWP, the membership plugin Restrict Content Pro, the Stripe payment plugin WP Simple Pay and the calendar plugin Sugar Calendar.
Perhaps the biggest reason Pippin and his company are so well respected is because of their approach to transparency.
The decision to be so open about major company decisions on their blog has gave them a lot of attention. In particular, their "Year in Review" blog posts that reflect on the previous 12 months give everyone an insight into the way their company operates and help you get to know team members.
Other popular articles include reflecting on increasing the cost of addons in 2017 and detailing what happened when they enabled automatic membership renewals. All of their articles give you an insight into how a professional WordPress company operates.
Check out the Pippins Plugins blog to find out more about the people behind Easy Digital Downloads.
What Does Easy Digital Downloads Offer?
The core version of Easy Digital Downloads comes with the basic tools you need to start selling digital products on your WordPress website.
Using the plugin you can upload any type of digital file to be sold on your website. A shortcode is provided to help you insert your products into posts and pages.
Discount codes can be offered to customers to encourage them to buy. You can also limit the number of times a file can be purchased. This is useful for doing promotions. For example, "Only 10 copies left".
PayPal Standard and Amazon Payments are supported in the free version, however through extensions you can add other payment gateways such as PayPal Pro, Stripe, 2Checkout, Authorize.net, and Coinbase.
Customers can view their entire shopping history with you through their personal account. You can display this to customers through the use of a single shortcode.
In the backend, website owners can generate reports for any time period and download these reports in CSV format. You can see data for report type, earnings, earnings by category, downloads, payment methods, and taxes.
The beauty of Easy Digital Downloads is its simplicity.
You can upload a file and promote it on your website in a matter of minutes. Just like with blog posts, digital files can be placed into categories and have tags assigned to them to help you and customers find products easily.
Let us take a closer look at the core version to get a better understanding of how Easy Digital Downloads works.
Adding Digital Products to Your Store
Easy Digital Downloads can be downloaded directly within the admin area of WordPress. Alternatively, you can download the plugin from WordPress.org and upload the files manually.
The plugin is listed as "Downloads" in your main WordPress admin menu. You can access all major pages here including downloads (e.g. products), payment history, customers, discount codes, settings, and more.
If you are familiar with adding posts and pages in WordPress, you will feel right at home with adding a new product to your store, since the download post type uses the same interface.
For each product you can name the download package, add a description, and assign categories and tags to it. You have the option of setting the product at one price or setting up variable pricing.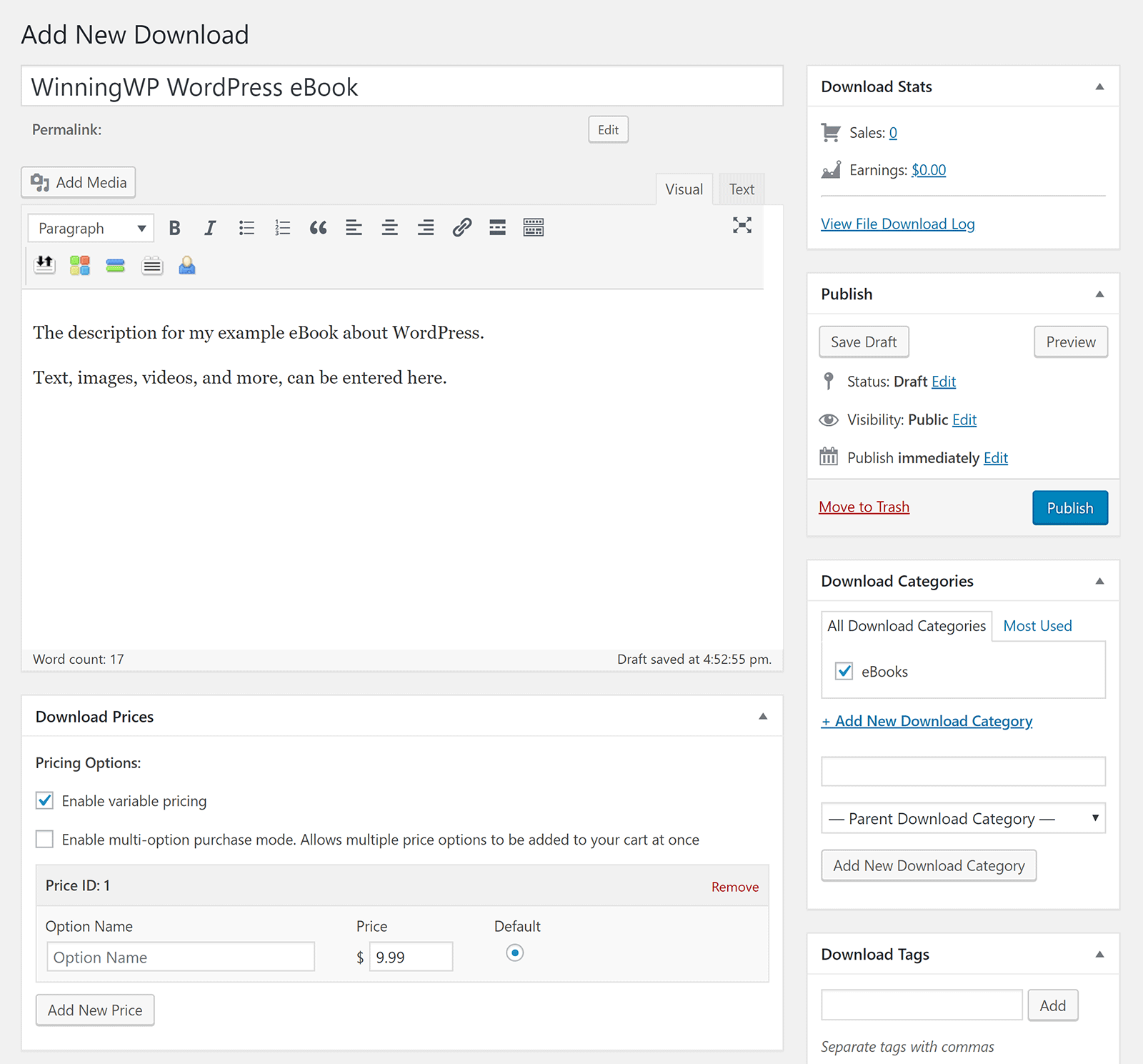 Multiple files can be sold and, if you wish, grouped together for sale as a bundle. If you have enabled variable pricing, you can configure a unique price for each file.
A purchase shortcode is made available so that you can output a purchase link for the product.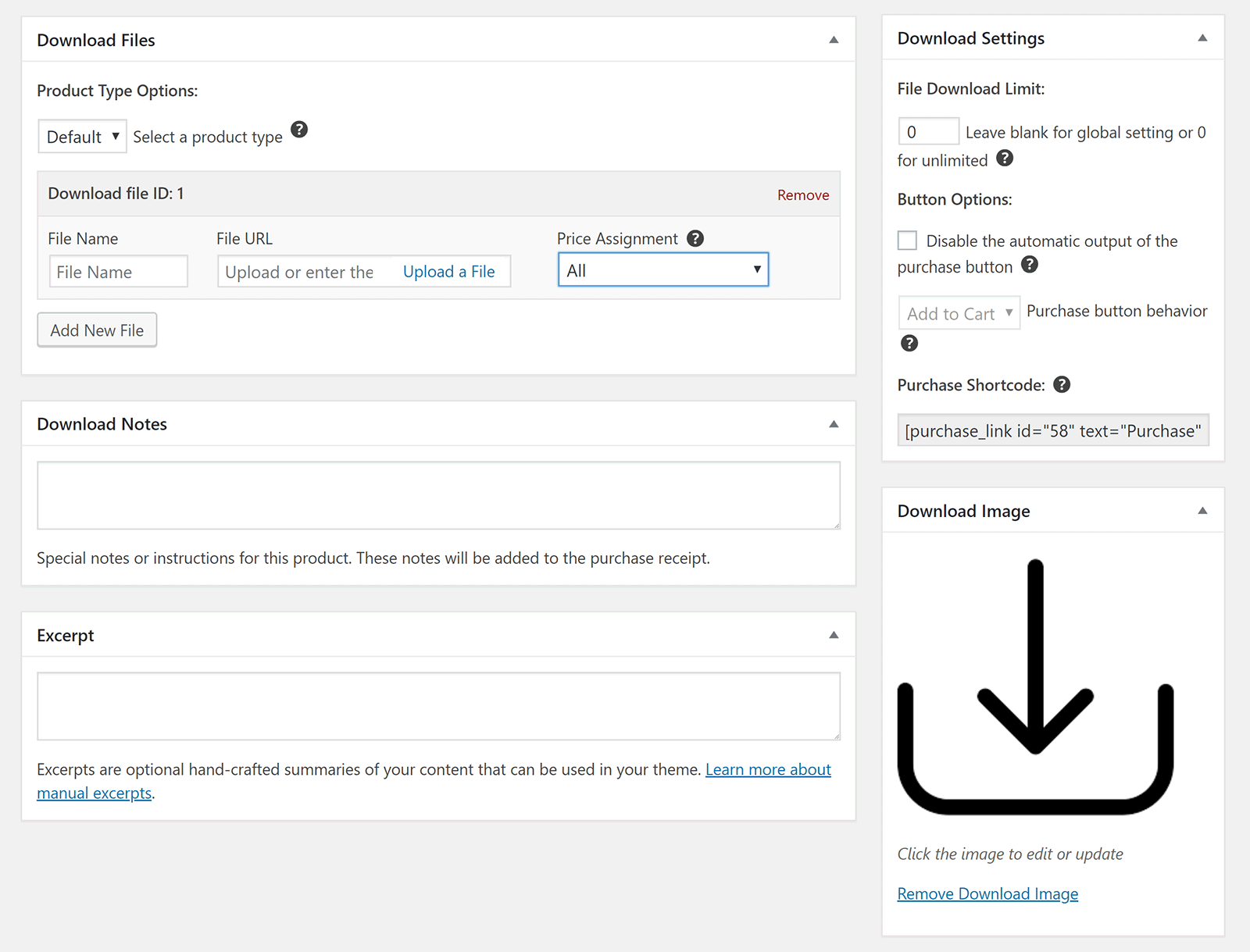 Every digital product and bundle you create can be viewed from the main downloads page. Sales and earnings can be viewed here too.

Discount codes can be created as a percentage of the sale or as a flat fee. You can specify the total discount to be applied and whether it is to be applied to all items in the customer's shopping cart or if it can only be used for specific items.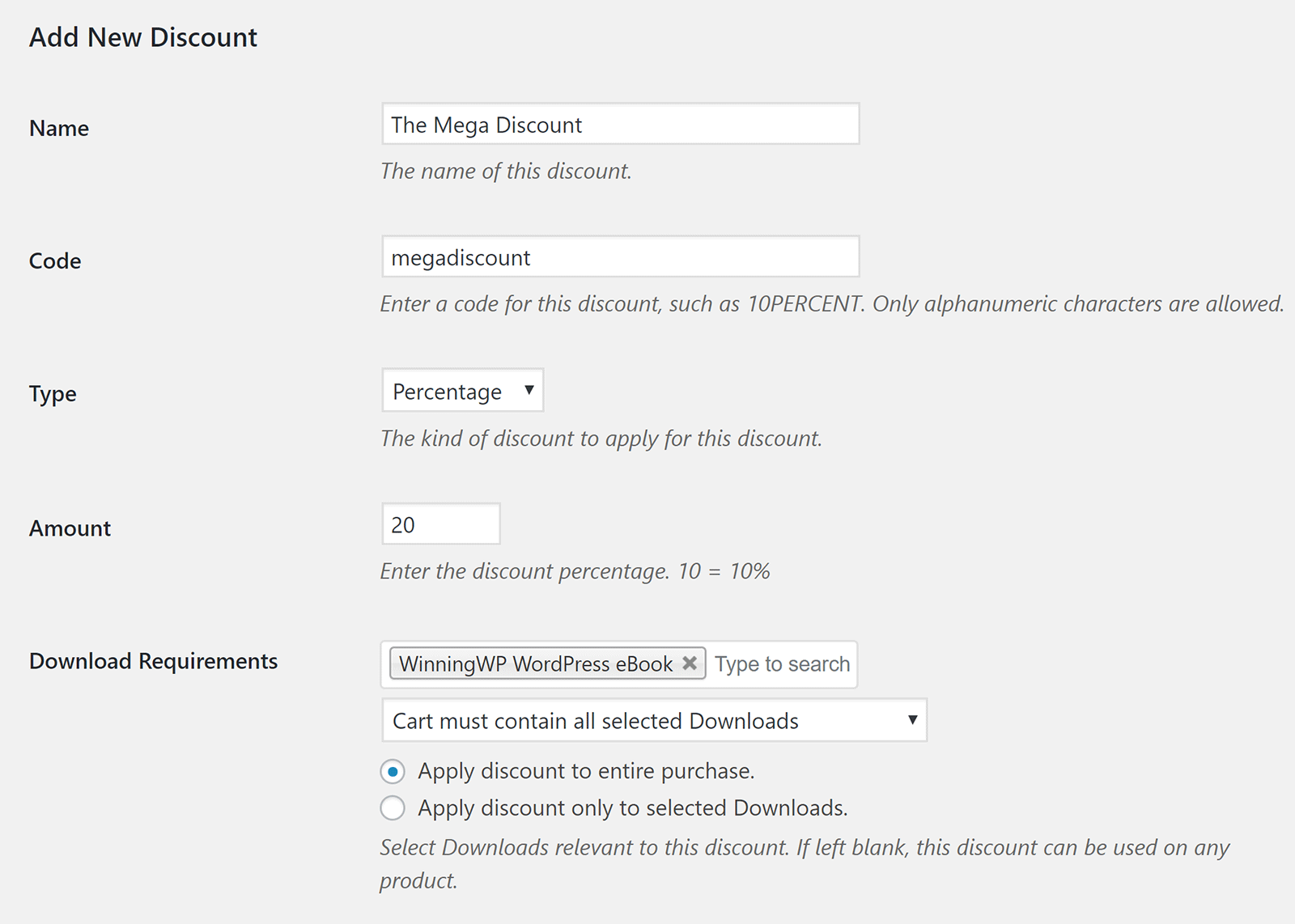 Other options include excluding codes from certain downloads, setting the date range where the discount code is valid, and the minimum purchase that is required in the shopping cart for the discount code to be eligible.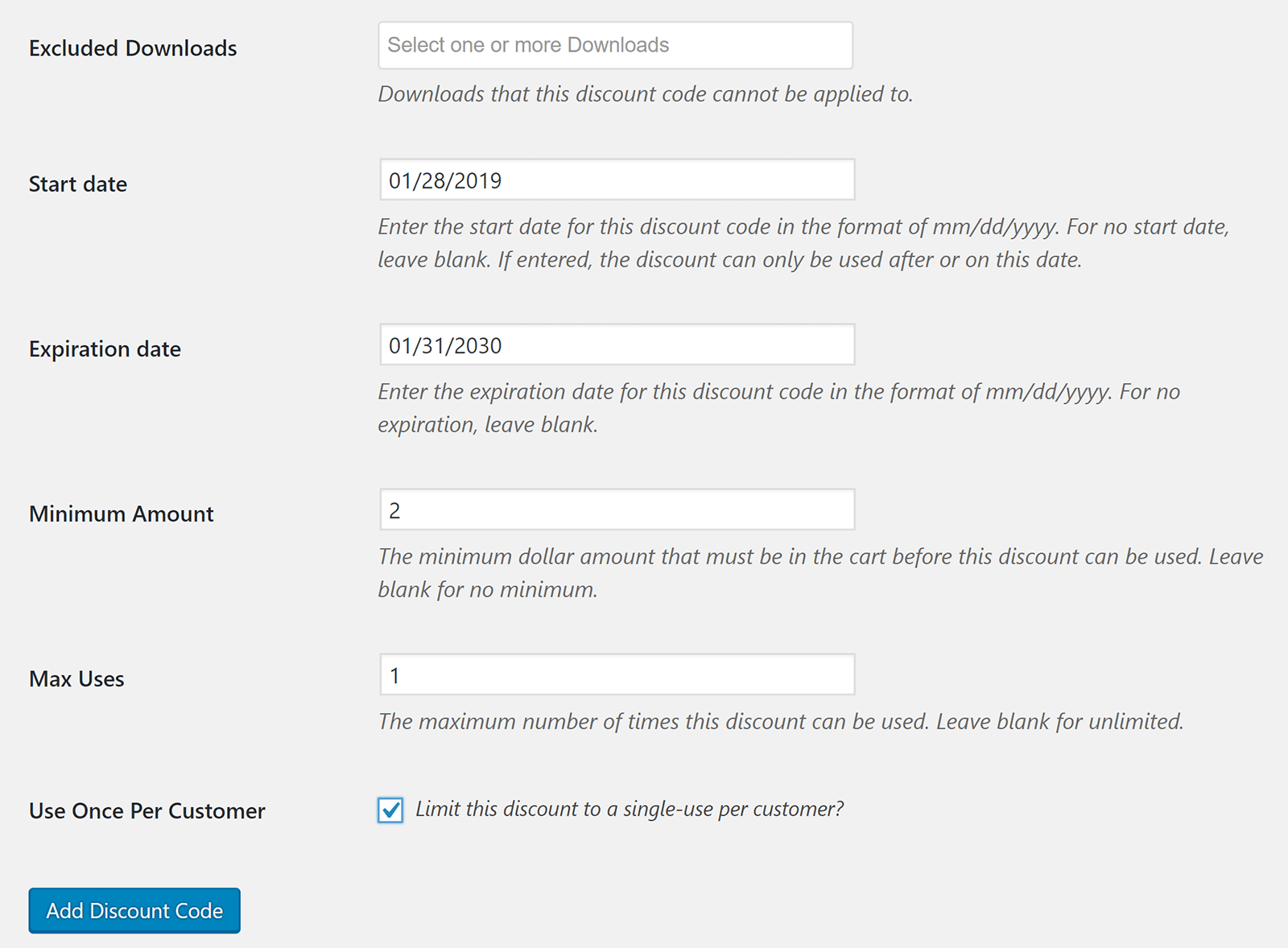 As you can see, the process of uploading new digital files is straight-forward. Modifying existing products is simple too.
Configuring Your Easy Digital Downloads Store
The main settings area is divided into seven main sections: General, payment gateways, emails, styles, taxes, privacy, and misc.
Most of these sections have sub-sections, therefore the total number of settings pages in this area is 18; which is impressive considering the plugin is free to download.
In the general section you can define the base country for transactions and the pages that users are redirected to when they have made a purchase.
Default pages, such as checkout and purchase history, are created by Easy Digital Downloads when you activate the plugin. If you prefer, you can assign the shopping pages to other pages you have created.
The current settings page in this section lets you define your store's currency and whether periods (.) or commas (,) are used for seperators and decimal points. There is also an option to allow users to generate API keys.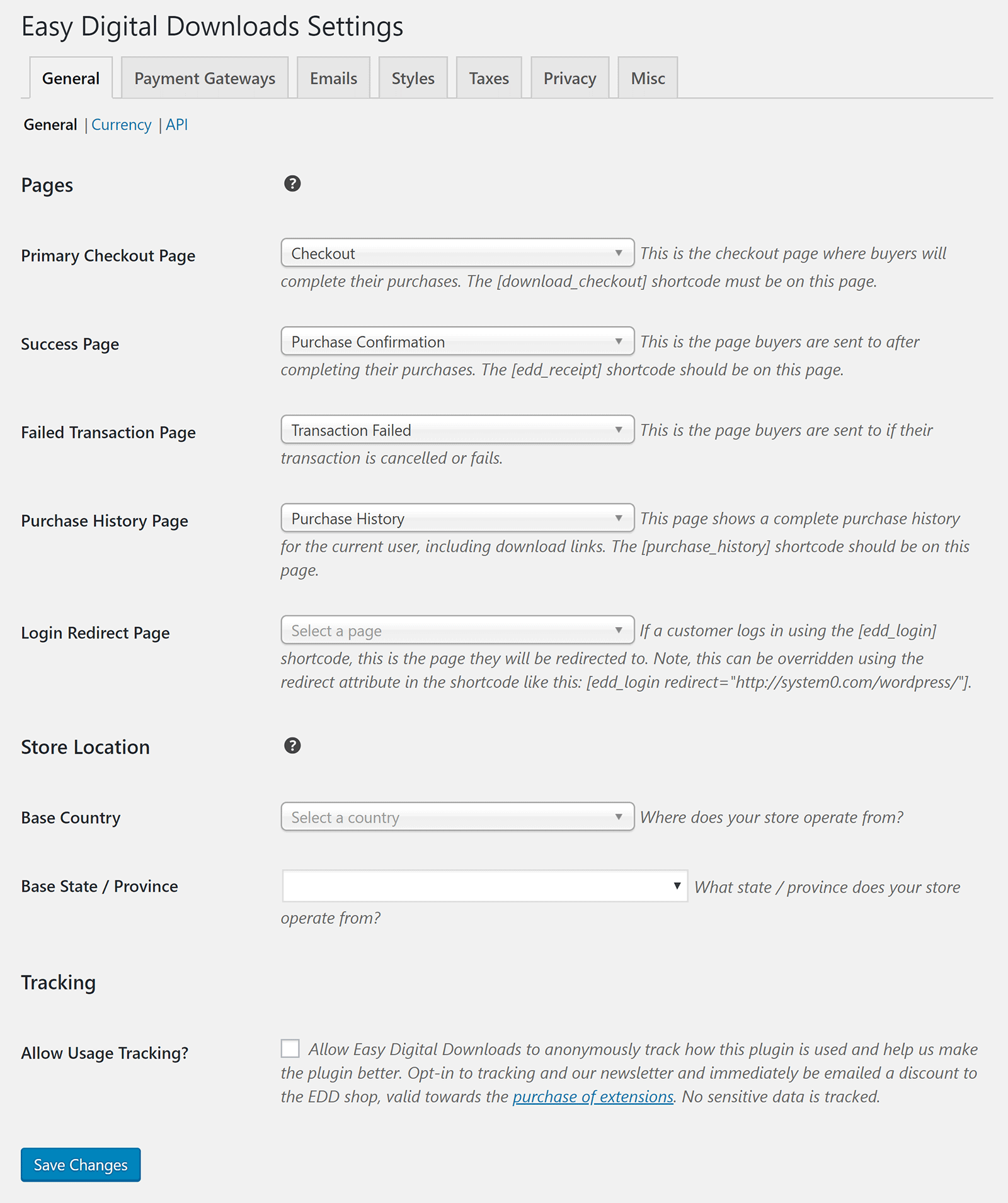 In the next section you can set your accepted payment gateways. You should utilise the test mode in this area when you are setting your store up for the first time to make sure your store has been set up correctly.
A dedicated settings page is available for PayPal Standard. You can enter your PayPal email address here in addition to API information.
If you activate additional payment gateways through addons, their settings pages will be added in the payment gateways section on their own dedicated settings page.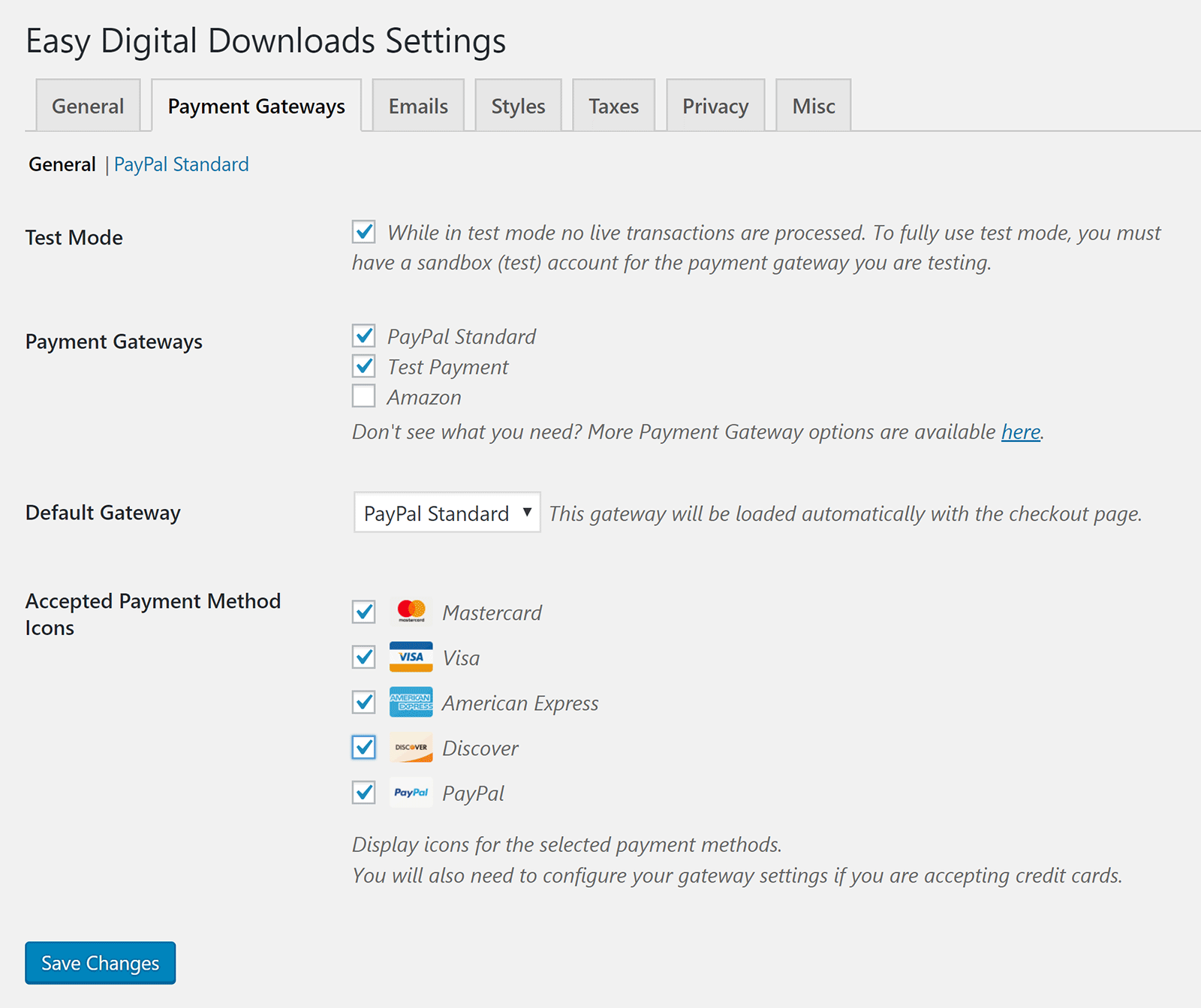 The next section handles emails. You can upload a logo and define the name and email address that is used in emails to customers in the general page.
A variety of template tags are available for sending emails for purchase receipts and new sale notifications. It is all done through the WordPress visual editor so creating a professional email for customers is a breeze.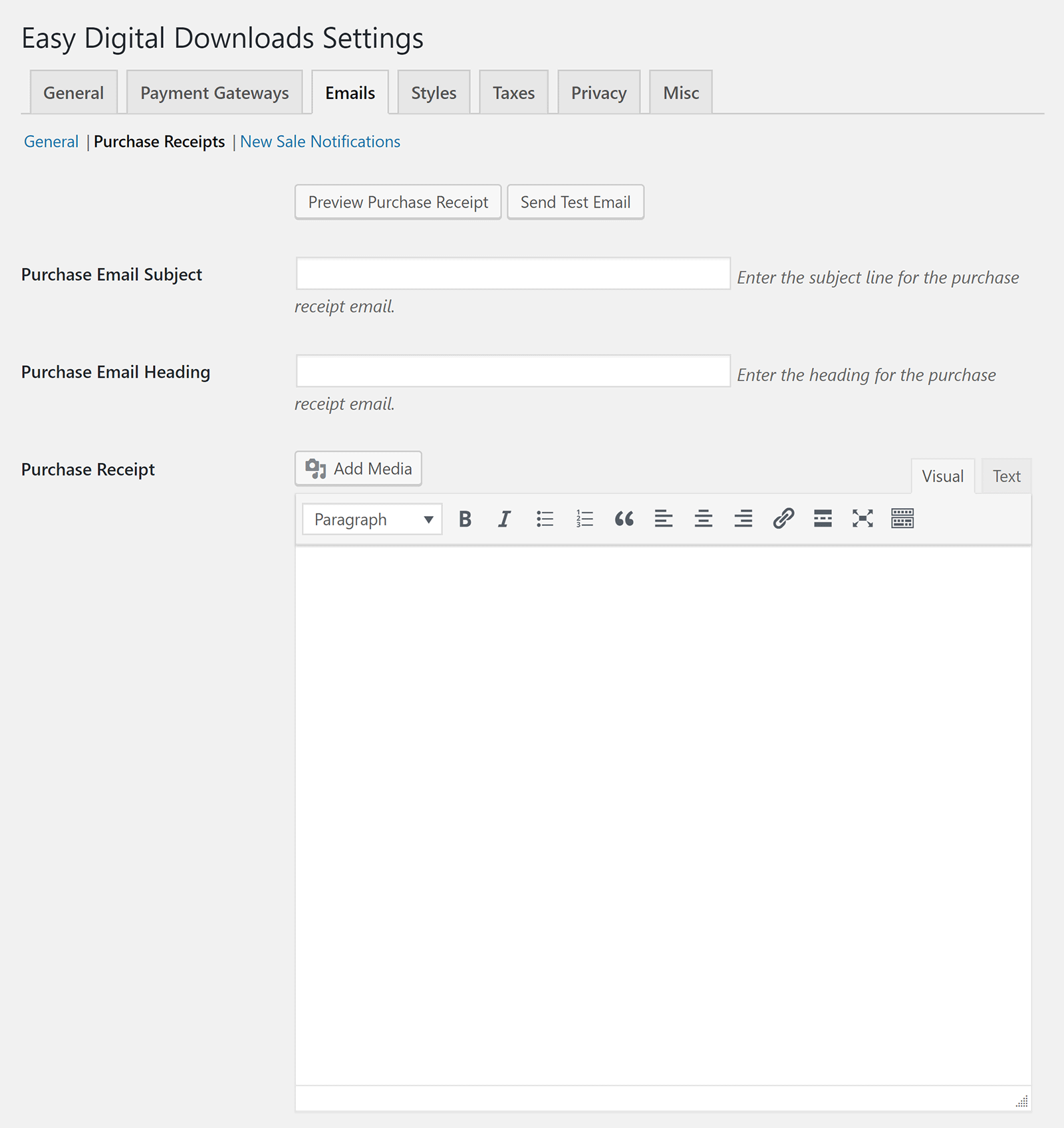 Styling options are fairly limited in the core version of Easy Digital Downloads.
There is an option to disable styling. This should only be checked if your theme includes a custom CSS stylesheet specifically for the plugin.
There are nine button colours to choose from. Alternatively, you can use text instead.
Unfortunately, those are the only options available to you.
As I said, styling options are limited. It is an area the developers need to improve upon.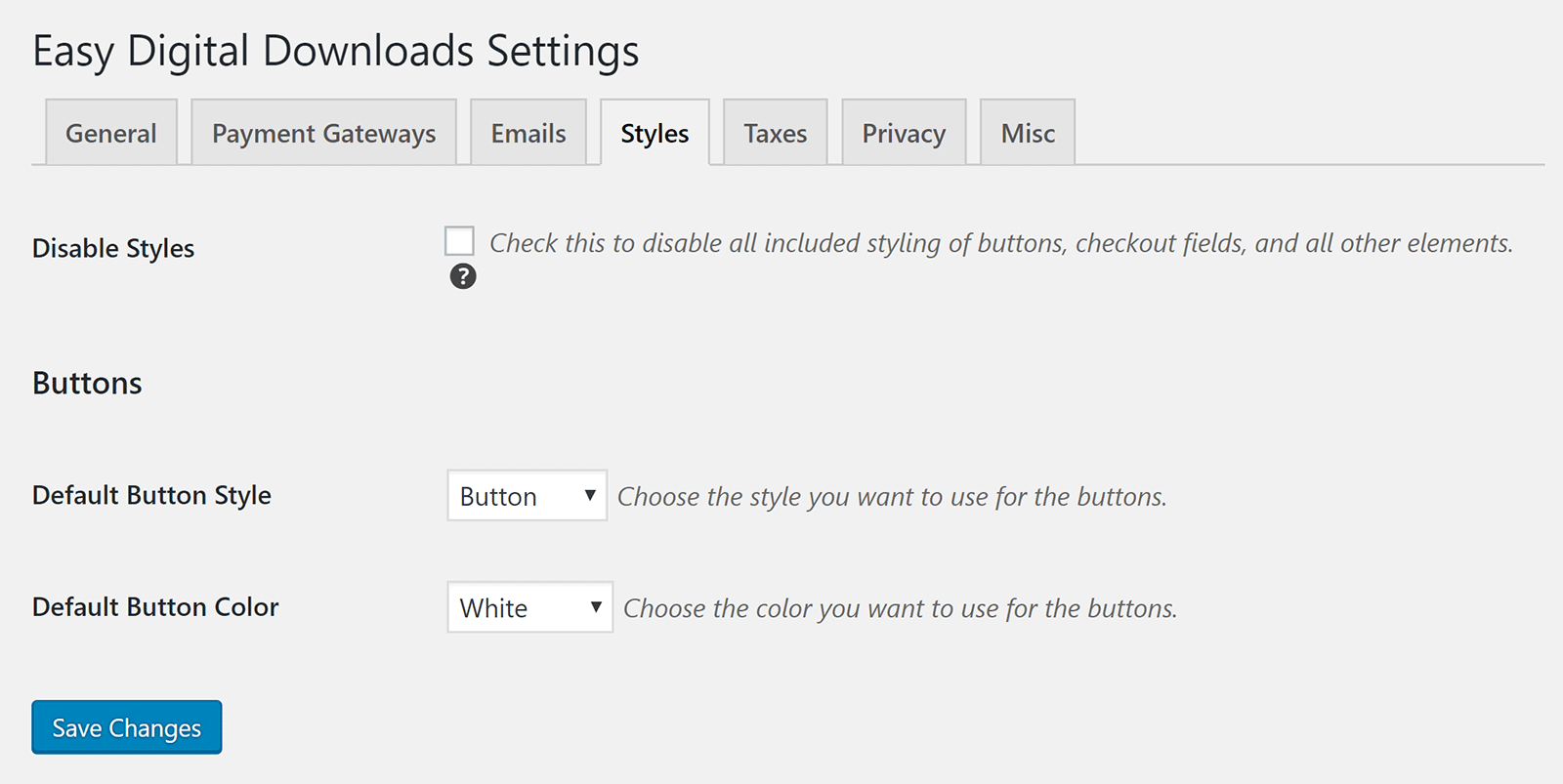 Taxes can be added to purchases too.
They can be customised for specific countries and for states and provinces. You just have to specify the tax rate for each region and confirm whether your product prices are inclusive or exclusive of tax.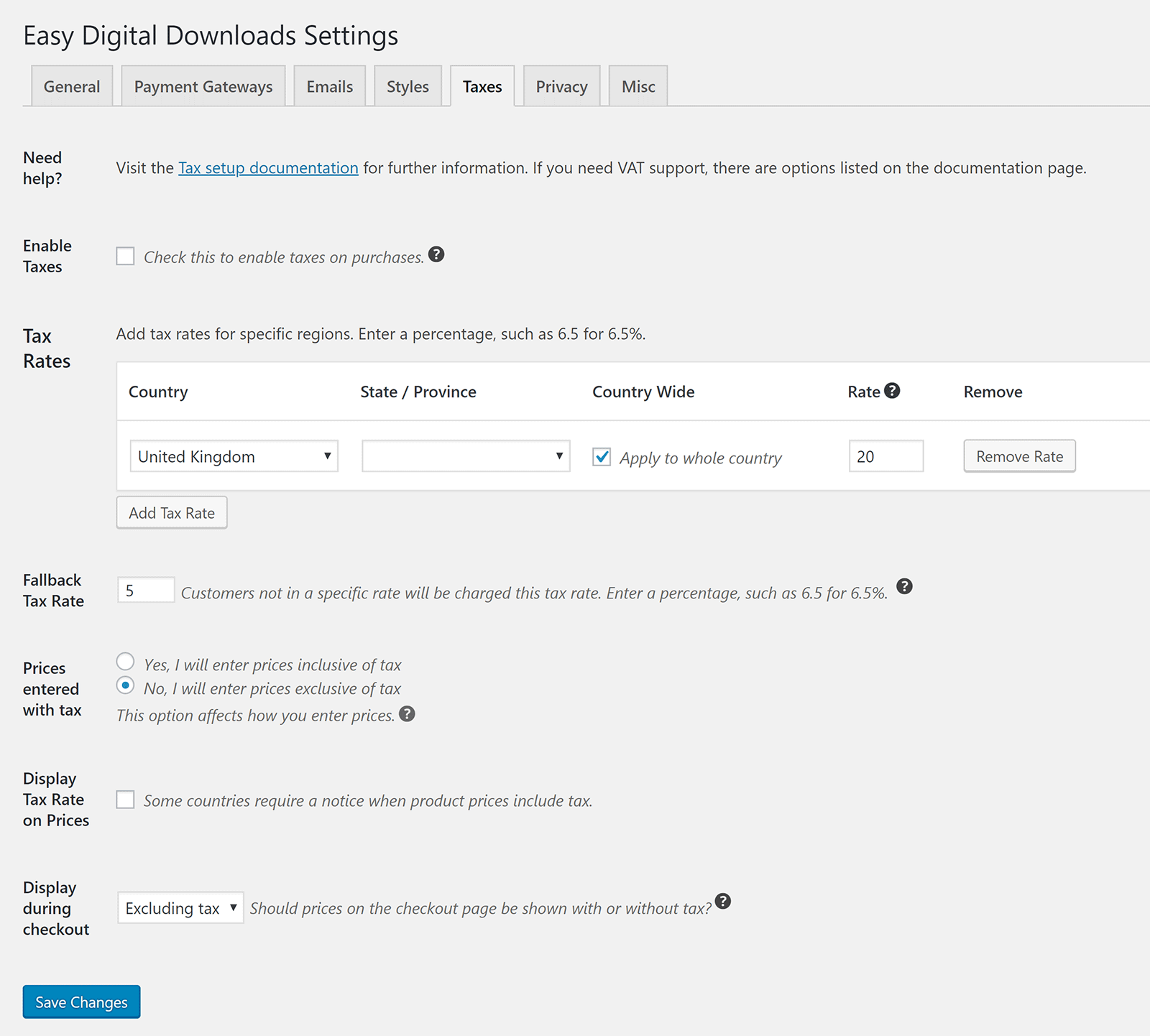 When you activate Easy Digital Downloads, the plugin also creates a privacy policy page for you. You can use the one they provide or modify it to suit your needs.
If you wish, you can require customers to agree to your privacy policy before they purchase any items. For each type of payment status, you can select whether no action is taken, whether the customer's private information is deleted, or whether it is anonymised.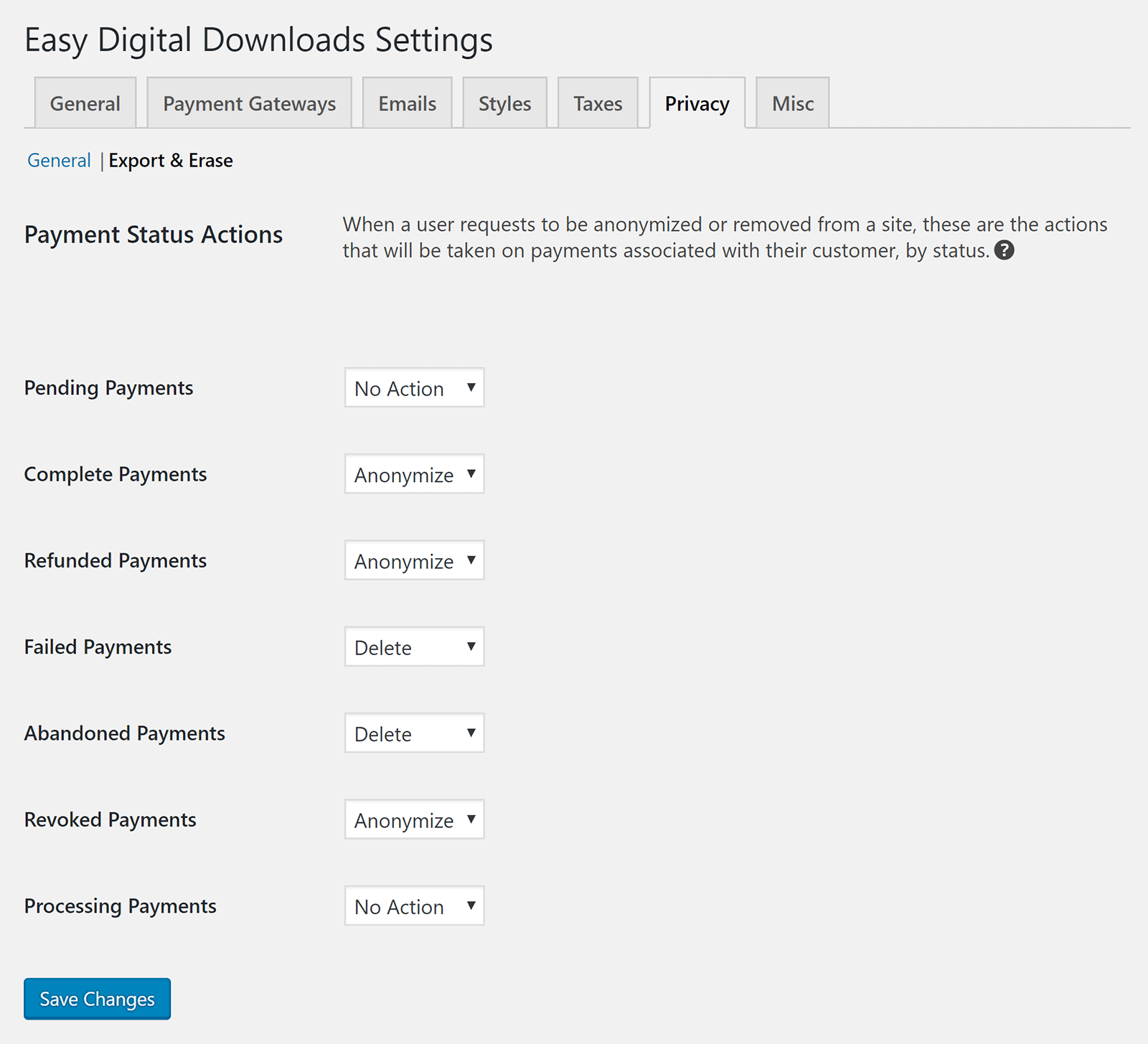 The miscellaneous section is divided into six sub-sections: Miscellaneous, checkout, button text, file downloads, accounting, and terms of agreement.
In miscellaneous you will find the option to automatically redirect users to the checkout after adding an item to the cart. There is also an option to remove all data when Easy Digital Downloads is deleted. This is something I welcome as most plugins leave unwanted data in your WordPress database after deactivating them.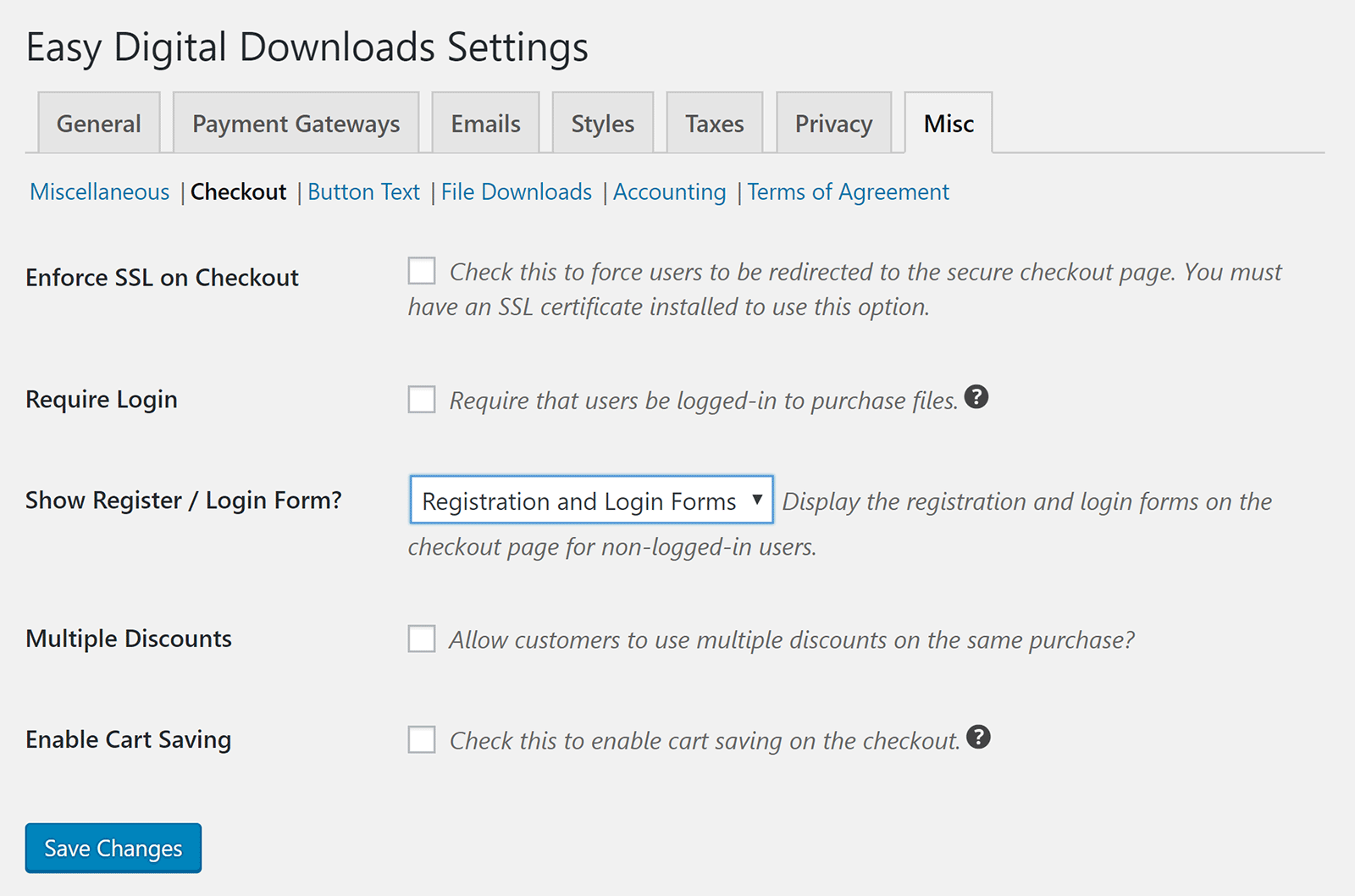 In checkout you can enforce an SSL connection, require customers to be logged in to purchase files, and enable multiple discounts for customers. The button text settings page is for changing the label for shopping buttons such as "Add to Cart" and "Buy Now".
The file downloads page lets you set a limit on the number of times a file can be downloaded. You can set a link expiration in hours too.
In the accounting section you can control sequential numbering for orders. Finally, in the terms of agreement settings page you can write an agreement text and require users to agree to it upon purchase.
The tools section features some other useful options and information.
In the general page you can ban email addresses and recount statistics. API keys can be generated from this area too and there is a system info box that displays information about your server and your WordPress installation.
The import/export page allows you to import your payment history and products in CSV format. There is also an option to import and export plugin settings using the .json file format.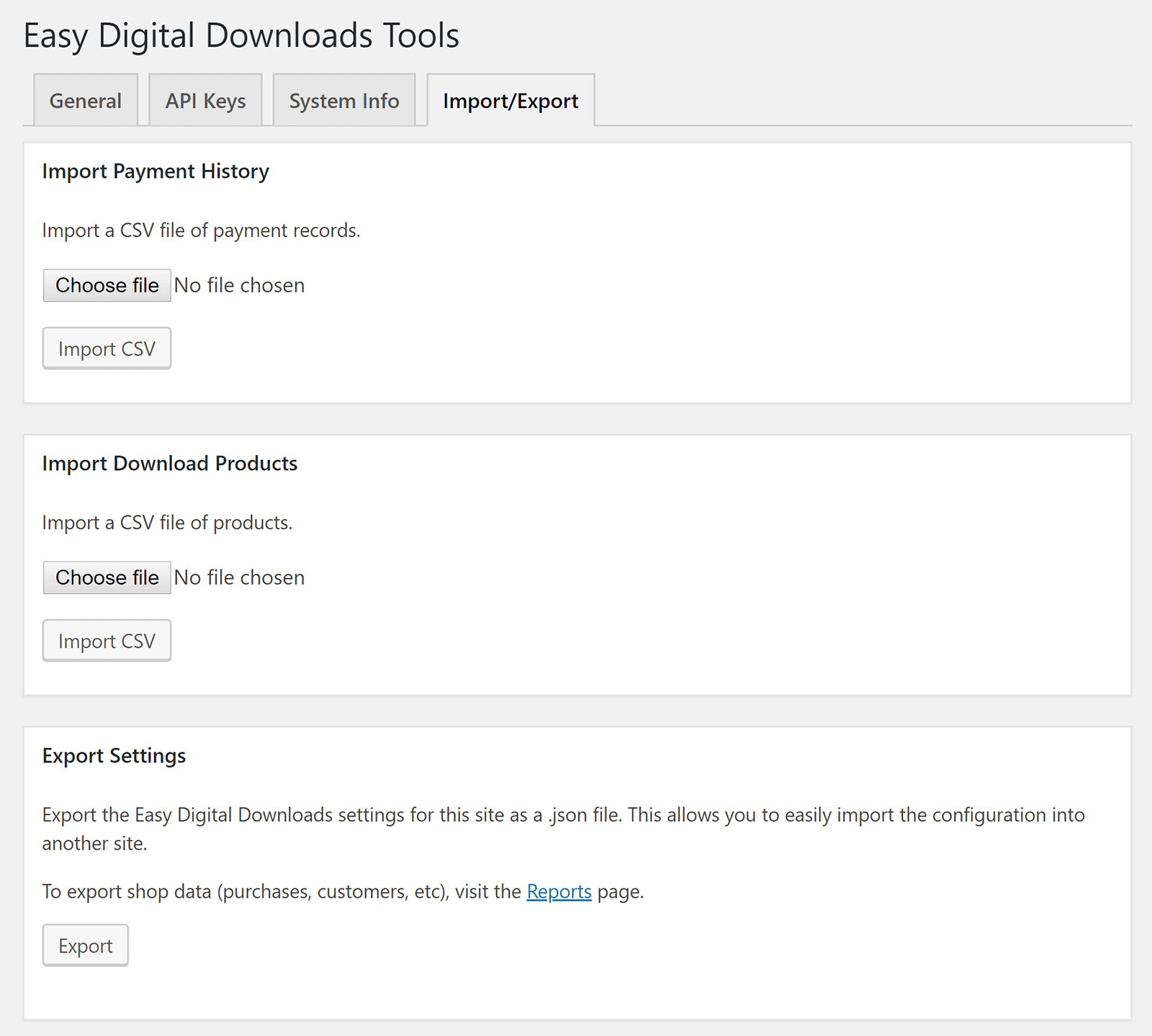 For a free eCommerce solution, Easy Digital Downloads gives you a lot of control over how your digital shop is configured. The main area that needs improving is styling customisation.
Testing Your Store
Once you have added your digital downloads and configured your store in the settings area, you should test that your digital products can be successfully purchased.
You can do this by enabling the test mode within the payment gateways tab of the main plugin settings page.
All you have to do is display your items in a post or page and then enter some fake customer information to test everything. It is important to do this to check that your digital products have been configured correctly and your store is working the way you want it.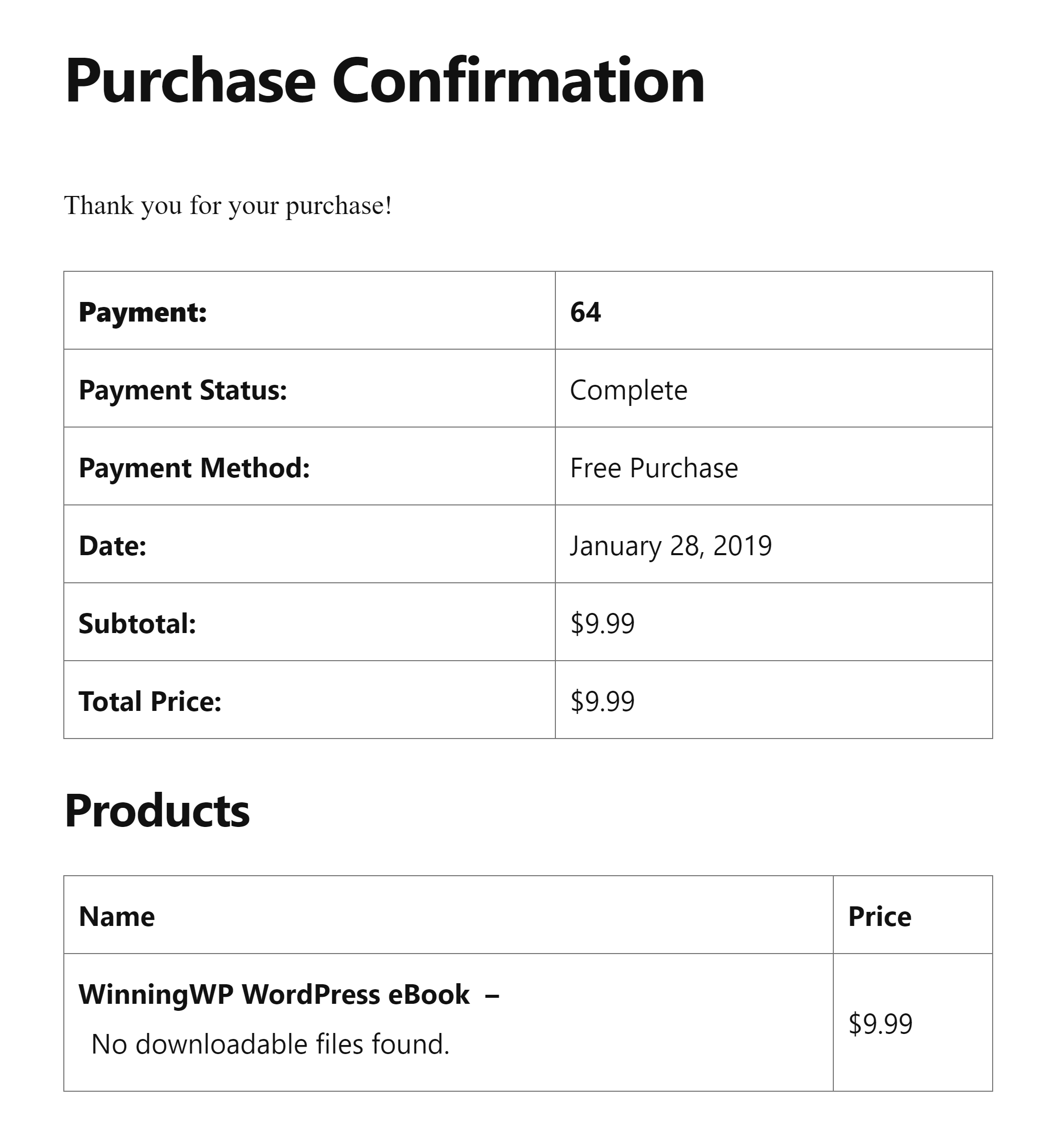 Testing your shopping cart also allows you to see how orders work. You can go into any order and check the data, and if necessary, modify it.
In addition to customer information and order information, this page also displays useful log information about the customer such as a log of their file downloads.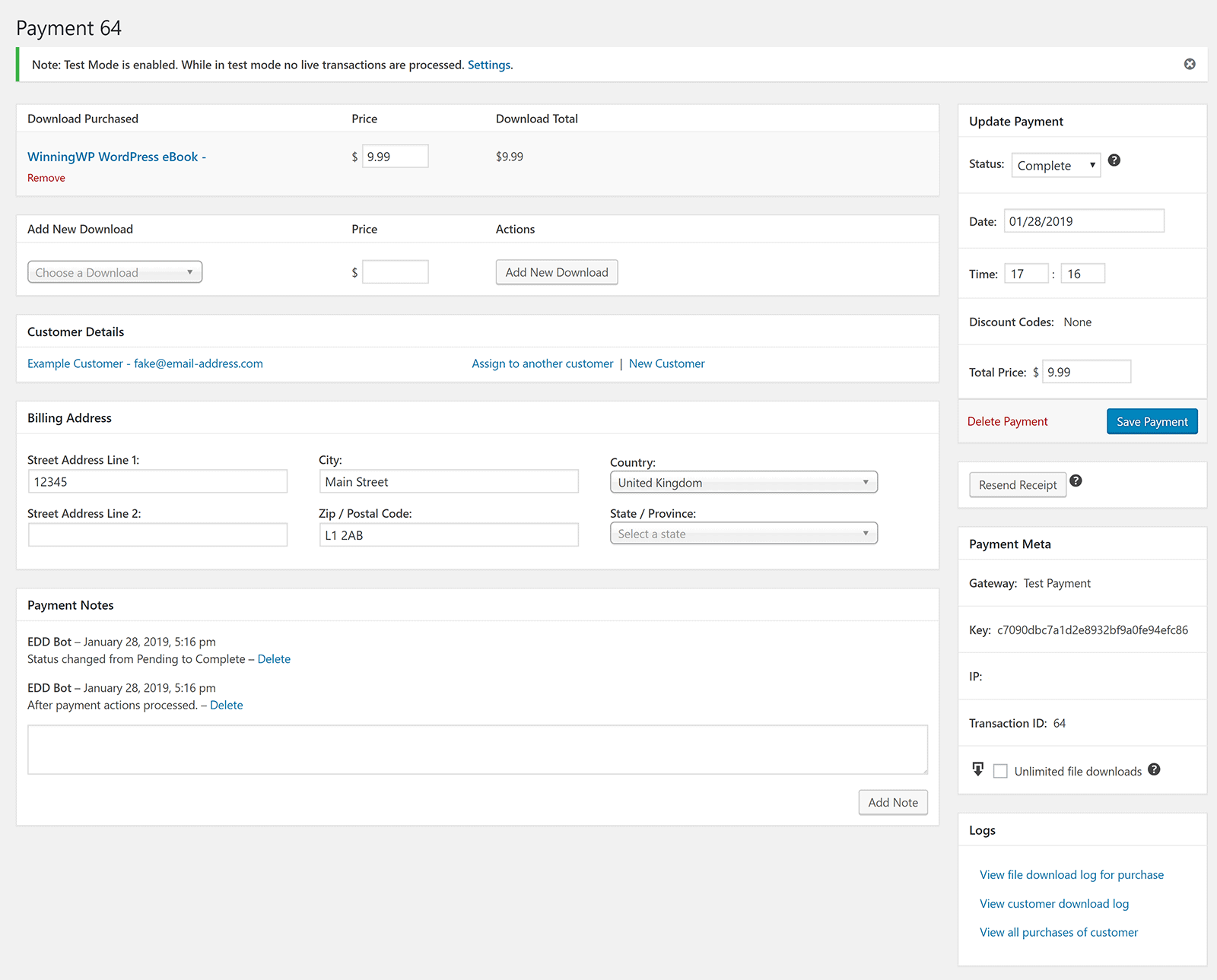 The customers page lists everyone who has signed up to your store.
You can see a list of all their orders and downloads from this page. The time and date they agreed to your terms agreement and privacy policy is displayed in the notes section (if you required them). You can add your own custom notes about each customer here too.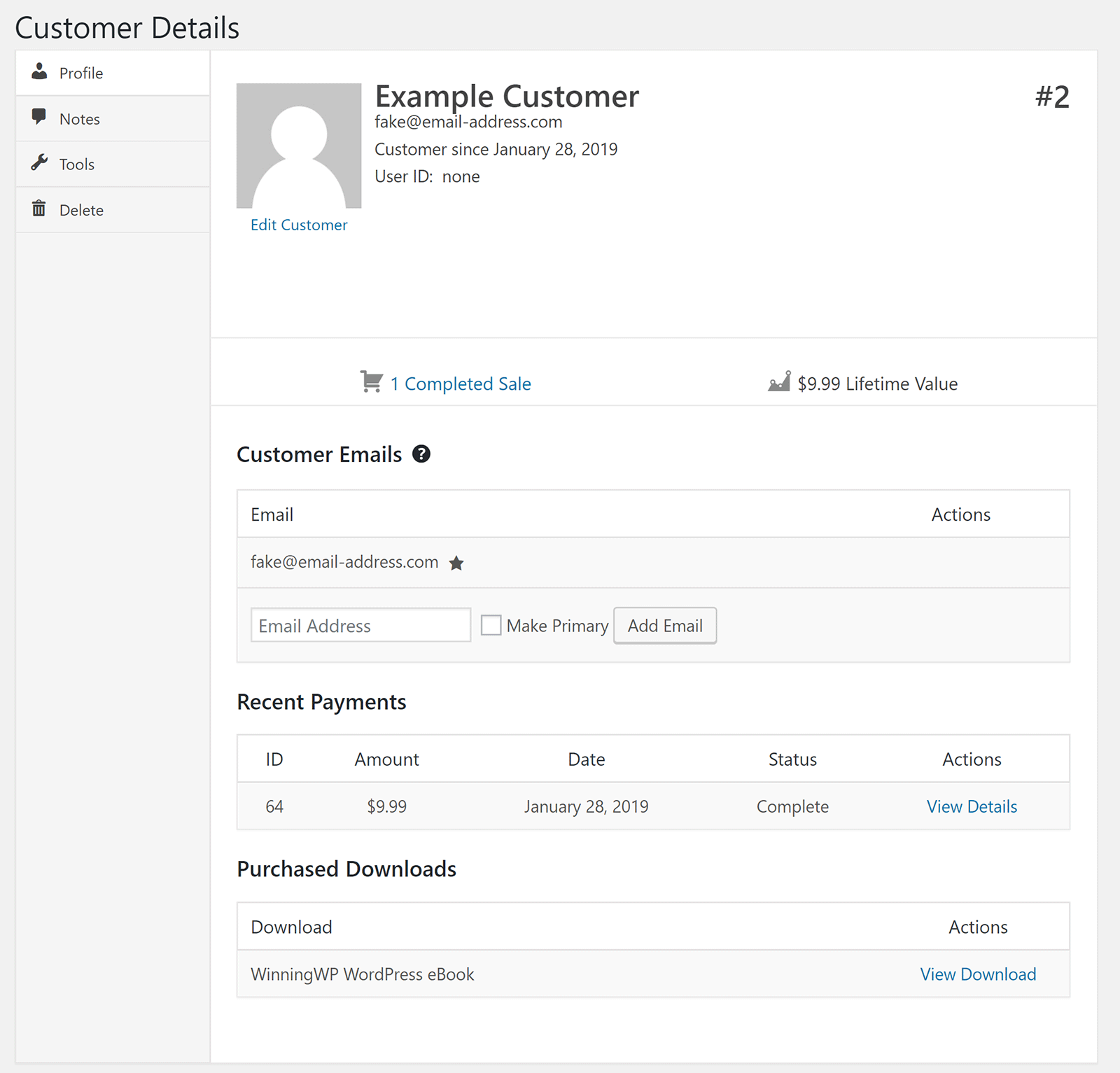 The six reports on offer can be generated easily. You can set any date range and there is an option to exclude taxes.
I encourage you to do what I did and run some reports using your test sample data.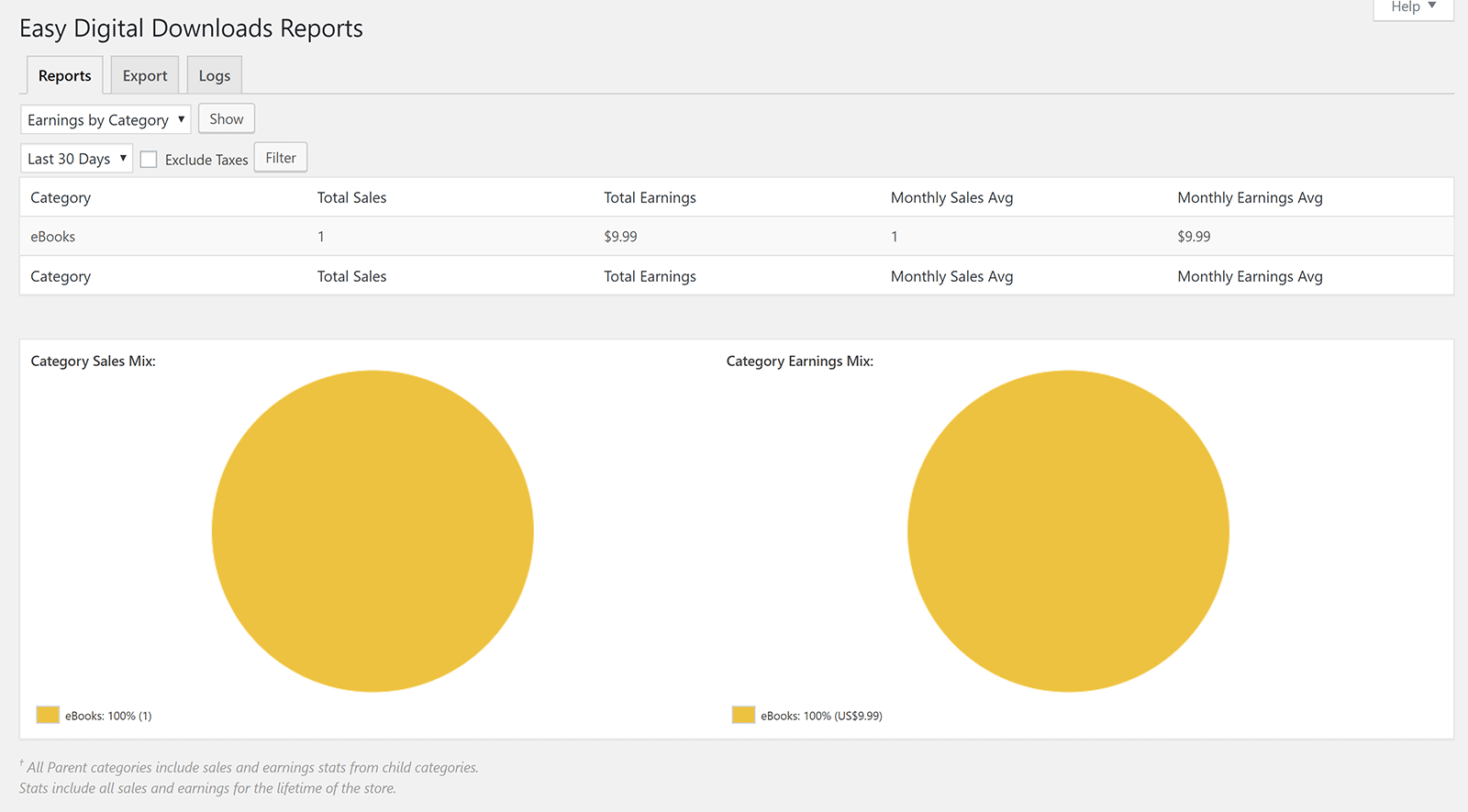 You can download a host of information in CSV format.
This includes an earnings report, payment report, customer list, product lists (downloads), download history, API requests, and sales. There is also a log page that lists when customers downloaded files. Sensitive customer data such as IP addresses are detailed here.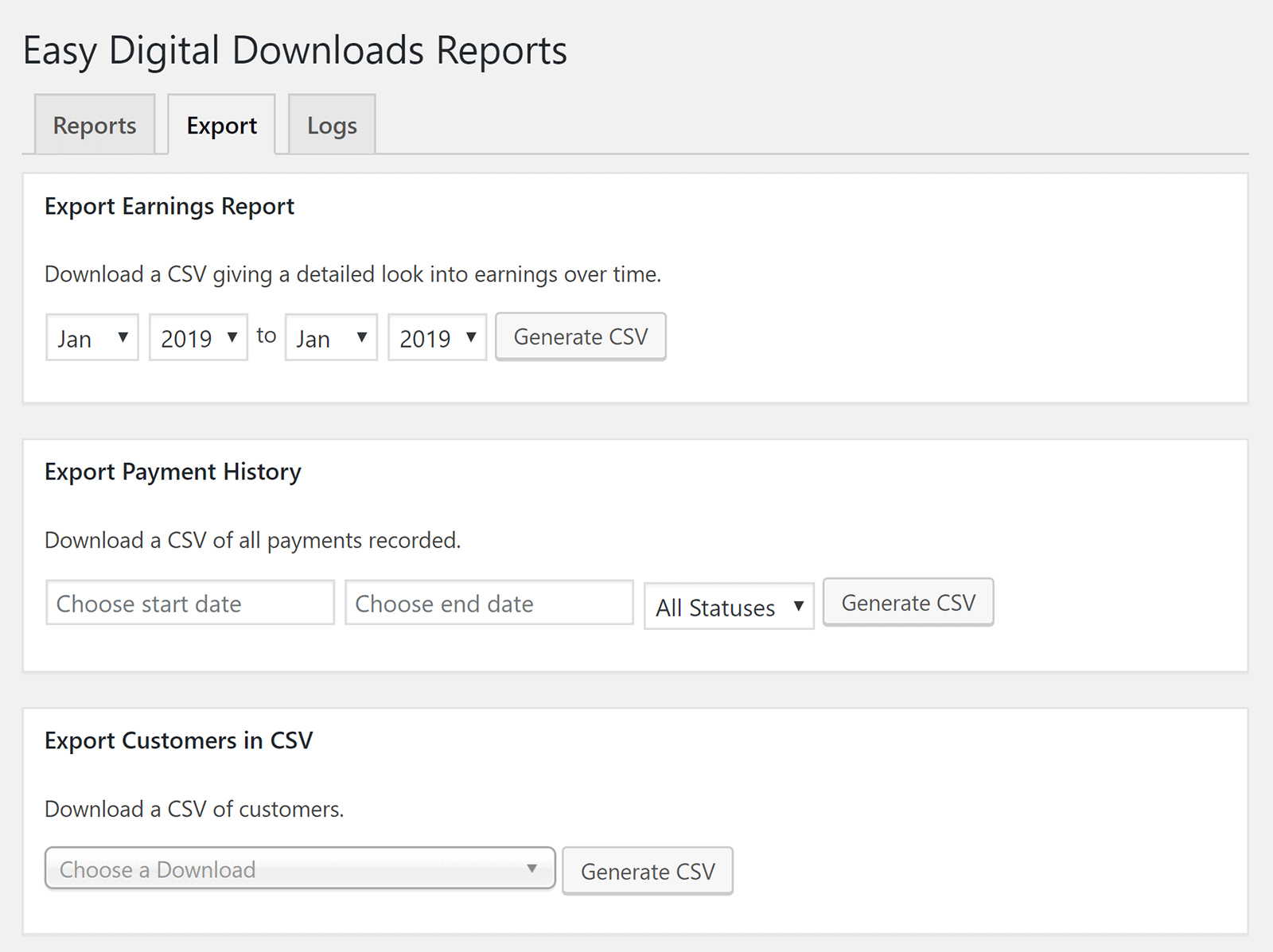 In a live store, you could soon have thousands of customers and orders. This is why reports are such an important part of Easy Digital Downloads.
The Core Version of Easy Digital Downloads
If you just want to create a basic digital store that accepts payments through PayPal Standard and Amazon, the free version of Easy Digital Downloads should be sufficient for your needs. It has many great features such as detailed reporting and a pre-made privacy policy.
What is pleasing is that the core version allows an unlimited number of digital files to be added to your store. There are no restrictions on the number of discount codes you create, customers you have, or orders that are placed.
You are, however, restricted to two payment gateways, and there is no way to integrate email marketing services into your store. Of course, extra functionality like this is available through addons.
Whilst the core version of Easy Digital Downloads is sufficient for a simple digital store, it is also the foundation in which all Easy Digital Downloads stores are built upon.
As you will see, to unlock the full potential of Easy Digital Downloads, you need to take advantage of the hundreds of addons that are available.
Extending Easy Digital Downloads with Addons
At the time of writing, there is around 100 addons available in the official downloads area. About 25 of these are free to download and the others are charged on a yearly basis.
The official store has a wonderful variety of addons that focus on everything from accounting to marketing to analytics.
You will also find that hundreds of free and premium addons are available from third party developers. The third party extensions page on Easy Digital Downloads has a good list of the best.
Many free addons for Easy Digital Downloads are available on WordPress.org. Be aware that these plugins do tend to be more simplistic than premium alternatives.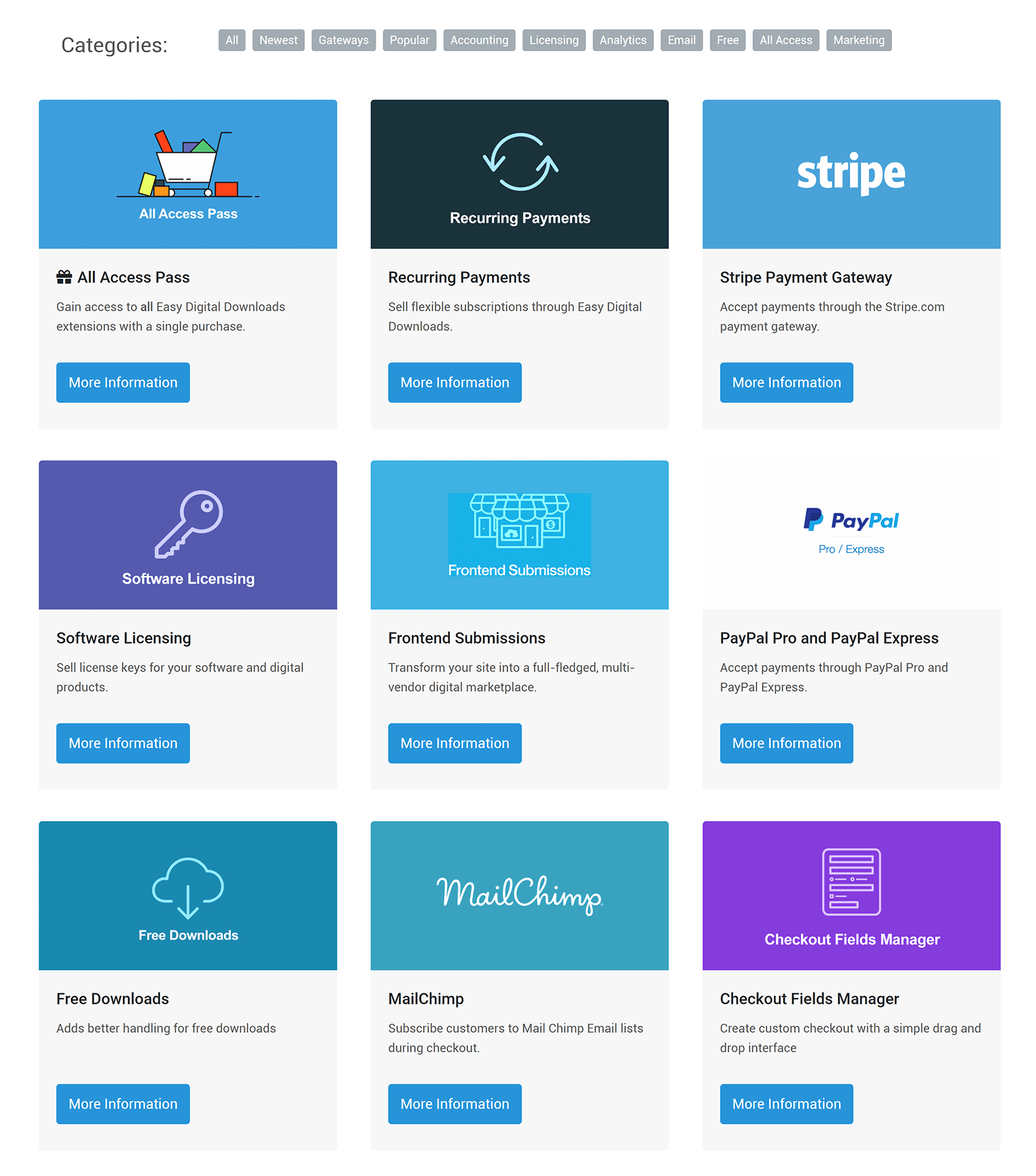 All of the Easy Digital Downloads addons extend the functionality of your online store. They can shape your store and be used to increase sales and retain customers.
One addon that can increase sales is the reviews addon. This allows customers to review the products they have purchased from your store and give them a star rating. You can encourage customers via email to post a review and offer them a discount on their next purchase if they do.
Content restriction is a useful addon that could be used when selling online courses and premium content. It allows you to limit content in any post, page, or custom post type, to customers who have bought from you.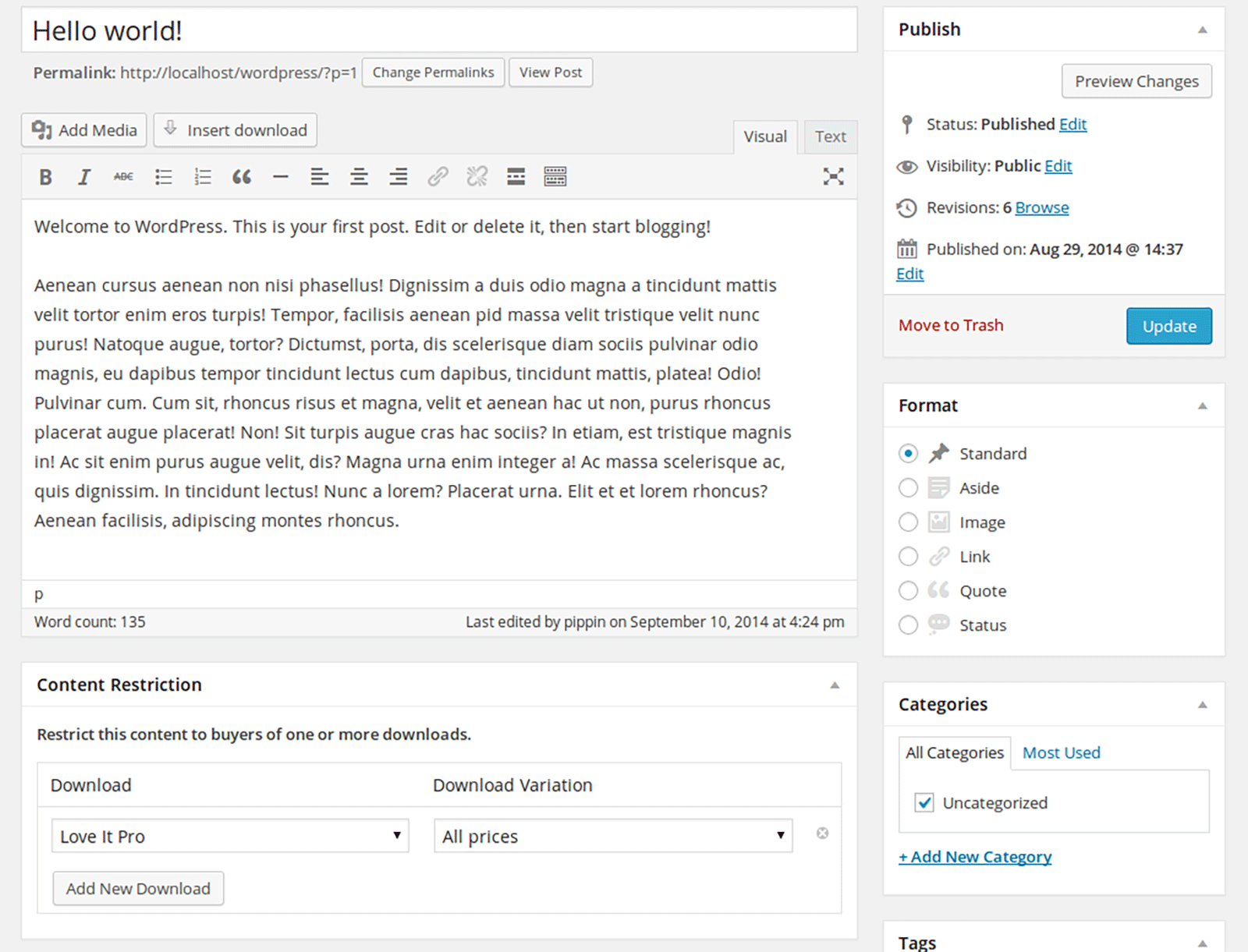 Simple shipping is an addon that helps you sell physical items. This could be used to help you sell t-shirts, DVDs, or any other physical item.
Another interesting addon is recurring payments. You can use this to charge customers regularly for particular items. It could even be used in conjunction with the content restriction addon to create a fully fledged membership website.

With so many addons available to Easy Digital Downloads users, the possibilities are endless.
To get a better understanding of how you can unlock the full potential of the plugin, I recommend browsing the official downloads page.
Easy Digital Downloads Themes
Easy Digital Downloads can be easily integrated into any WordPress website. If you are looking to just sell a few items on an existing website, it is probably better to just integrate your products and store pages using shortcodes.
Those of you who want to launch a dedicated online store may want to consider one of the many themes that were designed specifically for Easy Digital Downloads.
The design Themedd is a great solution for selling digital products such as eBooks, documents, and music. It is free to download and comes with custom widgets and multiple sidebars.

The other free designs offered by Easy Digital Downloads are Vendd, Shoppette, Lattice, and Quota. They are a good starting point for your first Easy Digital Downloads store.
Vendd is a marketplace theme that comes in different colour schemes. Shoppette has a blog-like design and features a store front customiser and a built-in members area.
Lattice has an artistic feel to it. It is a minimilistic theme that would be a great choice for music or prints. The last design is Quota. This theme has a simple clean design and comes packaged with several unique page templates.
The official designs all look good, but are admittedly quite basic when compared to some of the alternatives available from third party companies.
You can see a huge collection of third party themes on the Easy Digital Downloads theme page. You will also find Easy Digital Downloads WordPress themes on marketplaces such as ThemeForest.
There is also a collection of shopping themes on WordPress.org that support Easy Digital Downloads. This includes themes such as EDigital Market, EDigital, and Buildr.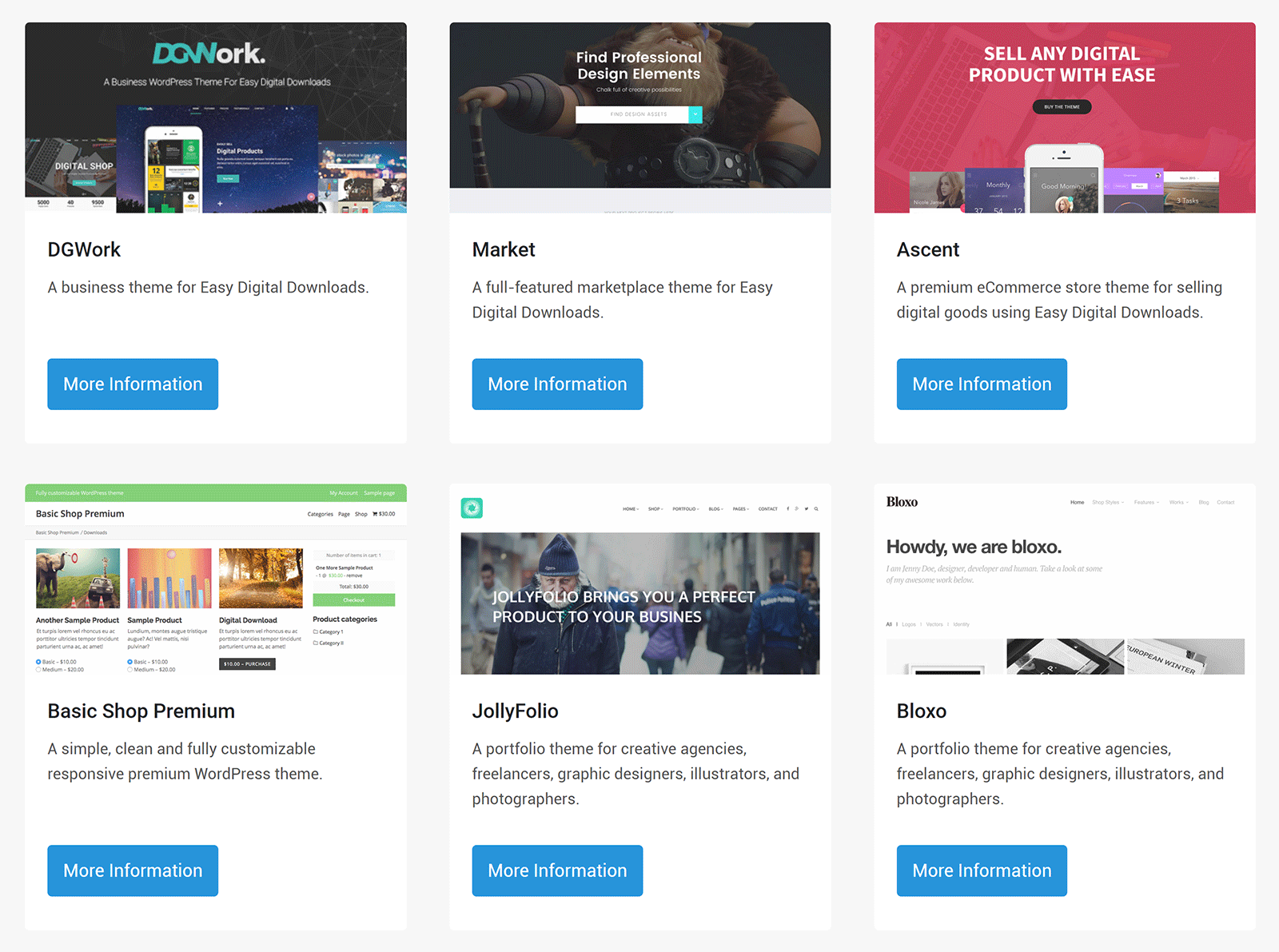 I am sure most of you will agree that premium Easy Digital Downloads designs generally look more professional. Take the Markeeter WordPress theme from Premium Coding, for example.
Retailing at $37, the Markeeter is a creative shopping theme that comes with four home page and blog layouts. It has support for five WordPress post formats and the colour scheme can be changed using a colour picker.
The theme looks great and its blog layout templates look fantastic.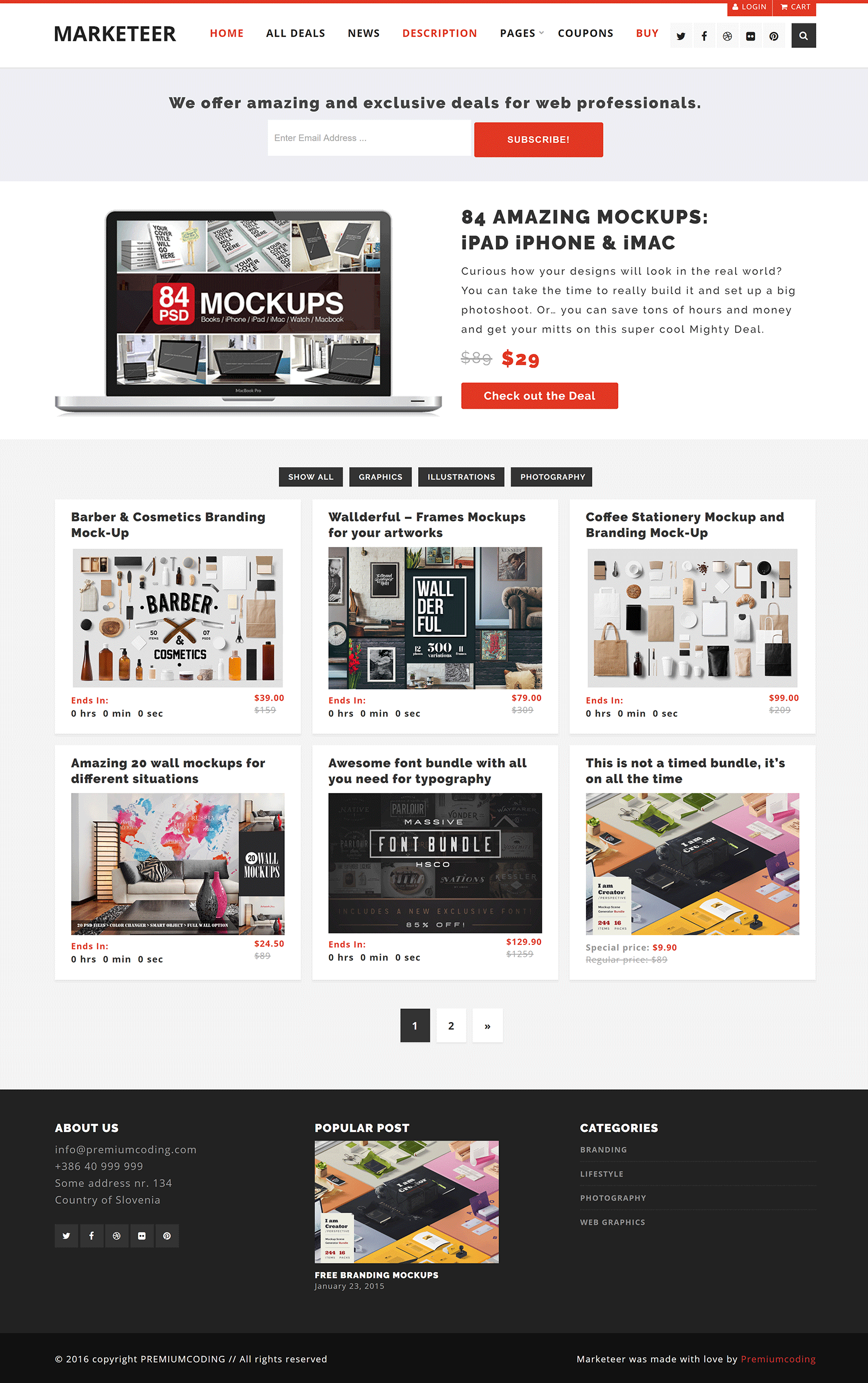 If you choose to build an online store with Easy Digital Downloads, you will be pleased to know that there are an abundance of WordPress themes designed specifically for the plugin. Many WordPress themes designed for WooCommerce have good support for Easy Digital Downloads too; therefore it is worth checking out other eCommerce WordPress themes that are not being marketed specifically as an Easy Digital Downloads design.
The Cost of Using Easy Digital Downloads
Easy Digital Downloads addons can be bought individually or as a package. They have four pricing plans: Personal Pass, Extended Pass, Professional Pass, and All Access Pass. These retail at $99 per year, $199 per year, $299 per year, and $499 per year, respectively.
All plans come with a 30 day money back guarantee, but be aware that plans are automatically billed every year by default so you need to remember to cancel your plan if you do not want to renew.
Support and updates are included in all plans. They also have an extensive documentation area that you can reference.
Their All Access Pass plan at $499 has no usage restrictions, however all other plans are based upon you using their products on a single website.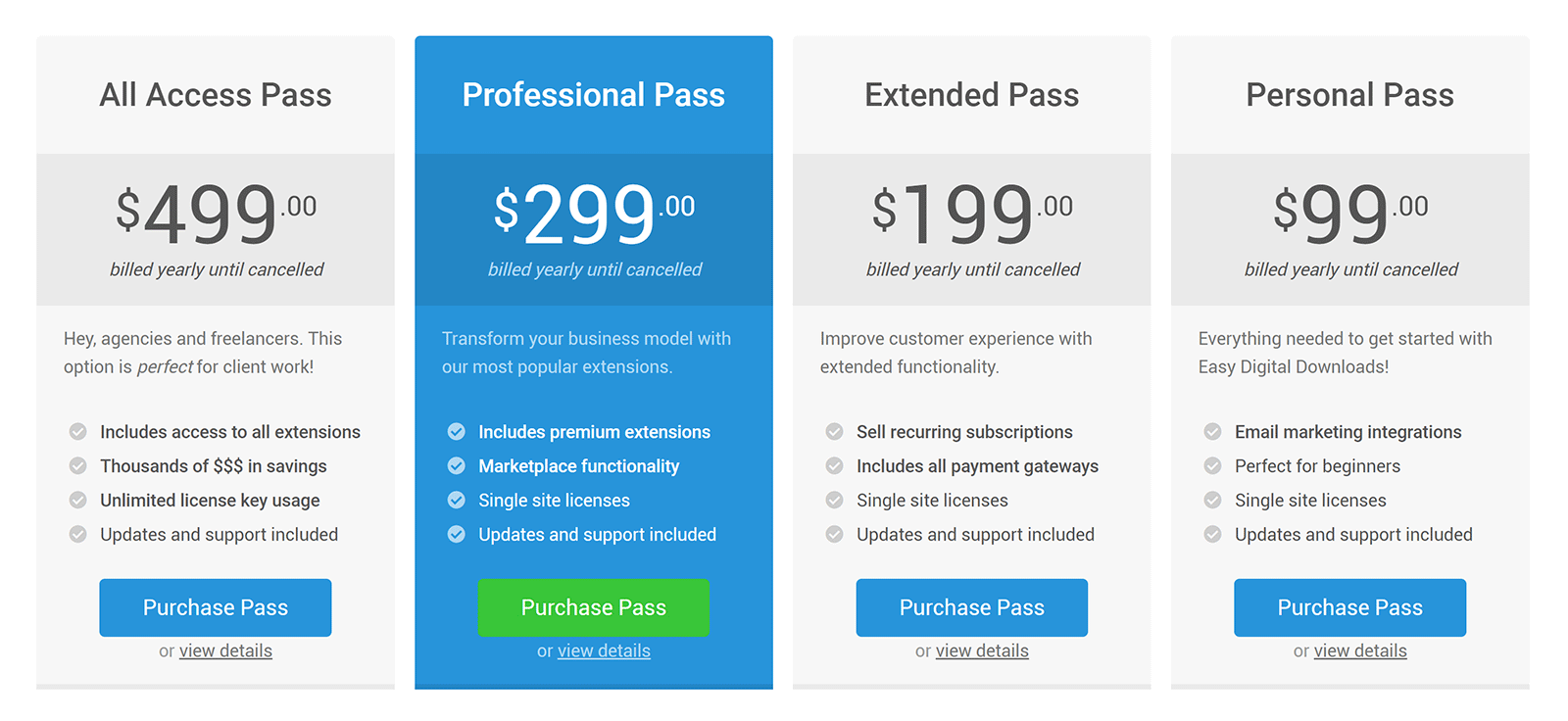 Value is always subjective, however most online shop owners will know that running costs can quickly escalate if you require many addons for your store to operate.
When you consider the price of buying addons individually, the four available plans offer great value.
Take the personal access plan, for example. This plan includes a total of 18 addons. You gain access to all email marketing addons and addons such as PDF invoices, HTML invoices, cross-sell and upsell, and the social discounts addon that gives reduced prices to those that share your products on social media.
Some of these addons sell at $19 per year or $29 per year, however email marketing addons such as MailChimp retail at $49 per year and the cross-sell and upsell addon costs $89 per year.
It therefore makes sense for anyone who is looking at an email marketing addon to consider looking at the personal access plan as it adds so much additional functionality.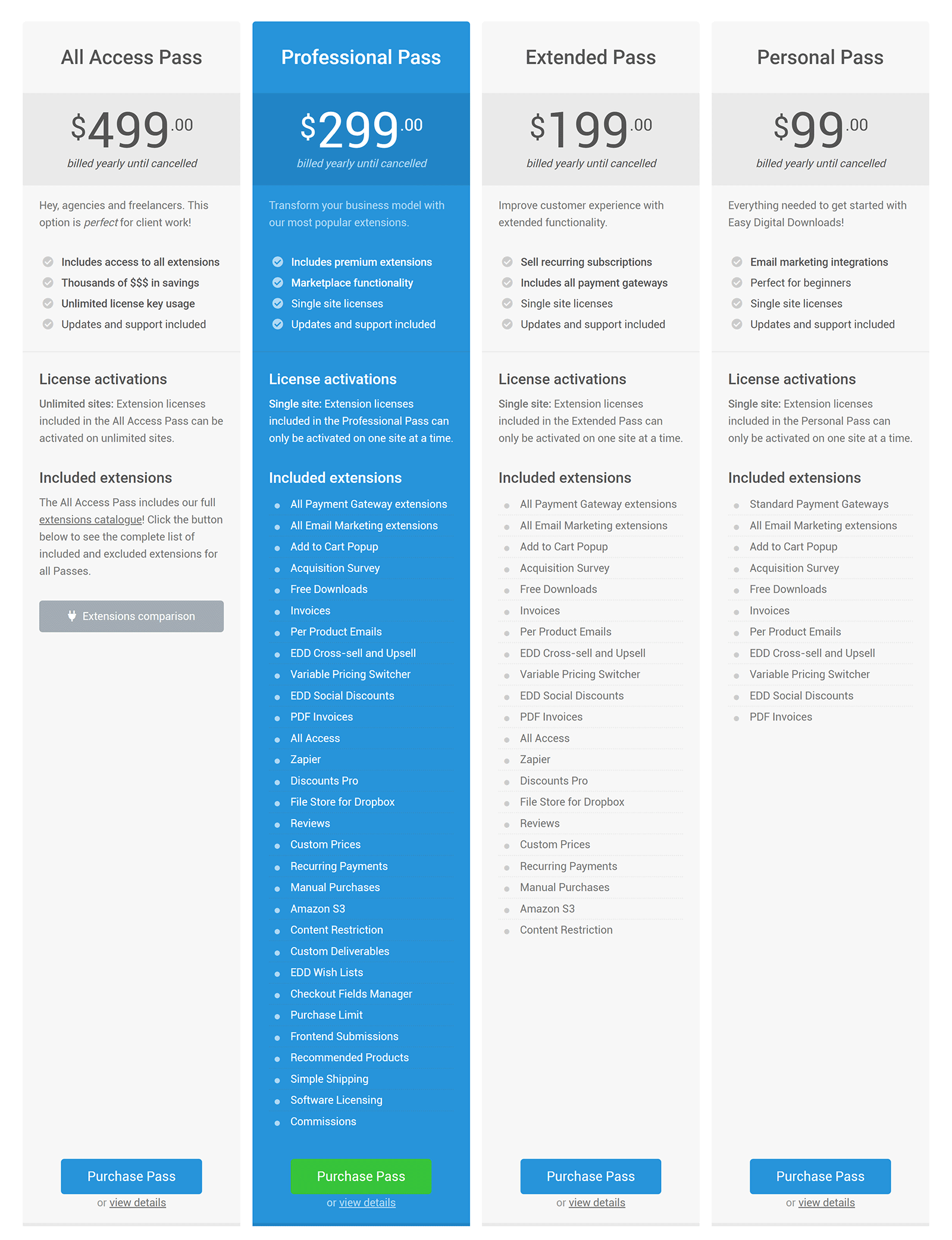 The extended pass plan at $199 per year comes with a total of 42 addons.
This plan includes all payment gateway addons and other useful addons such as file store for Dropbox, content restriction, and an addon that lets you host your digital products on Amazon S3. The Amazon S3 and Dropbox addons are useful if you are selling video content as it will greatly reduce your video hosting costs.
Stepping up to the professional pass plan at $299 per year gives you access to 51 addons.
The additional addons that are included in this plan are expensive to buy on their own. For example, the software licensing and frontend submissions addons retail at $199 per year. Other addons such as custom deliverables and commissions sell for $89 per year on their own.
The most expensive option is the all access plan. Retailing at $499 per year, this plan gives you access to every official Easy Digital Downloads plugin and allows you to use them on an unlimited number of websites. It gives you nearly twice as many plugins as the lower priced professional pass plan.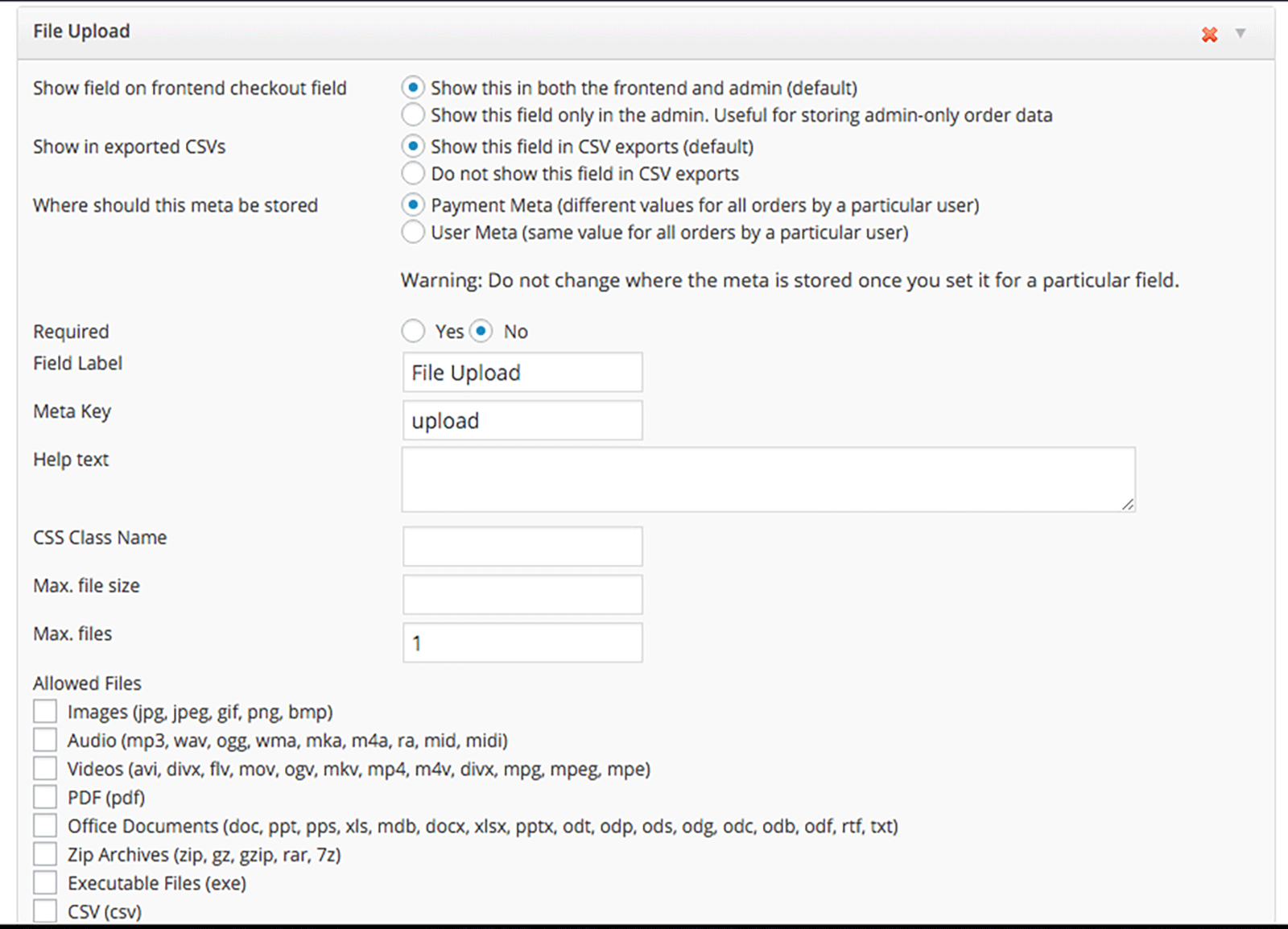 One of the benefits of using a WordPress plugin that uses a freemium business model is that everyone can download the core version free of charge and they only activate the addons they need. This avoids a common problem in the WordPress world where customers are forced to buy one of the higher priced plans in order to gain access to a particular plugin.
The idea is simple: You only buy what you need.
The problem is that many WordPress developers price their addons at a price level where it does not make any sense to buy them individually. Easy Digital Downloads is guilty of this.
For example, if a shop owner wants to use the recurring payments addon, they need to pay $199 per year. This addon is included in the extended pass plan that retails at $199 per year and opting for this plan means that you gain access to 41 other addons too.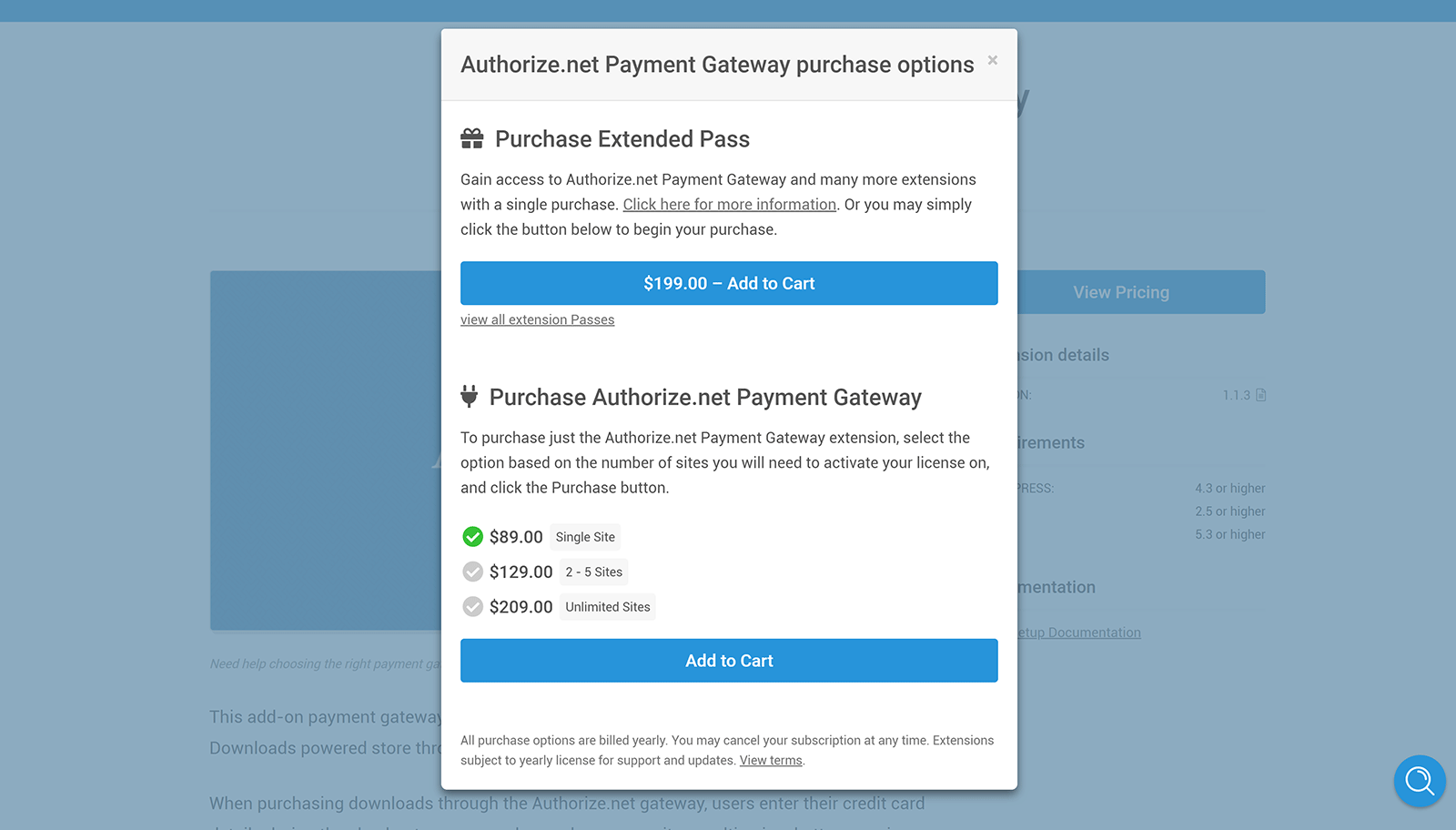 I appreciate that one of the main reasons WordPress companies do this is to make their addon plans more appealing and it is obviously easier to push people towards a plan when they see how much money they can save.
What this means in practice is that unless you only need one or possibly two cheap addons to enhance the core version of Easy Digital Downloads, you are almost always better going with one of their addon plans.
In short, the plans available for Easy Digital Downloads are compettively priced and give you access to much more functionality. I recommend opting for one of these plans instead of buying addons individually.
Easy Digital Downloads Alternatives
If you are looking for a simple way of selling digital products on an existing WordPress website, Easy Digital Downloads should be top of your list.
The plugin was designed specifically to handle the sale of digital items such as eBooks and features discount codes, order tracking, and a detailed report system.
If you are looking to launch an online shop that sells many items, you should consider looking at alternative solutions. By looking at the strengths and weaknesses of each solution you can make an informed decision as to which is best for you.
WooCommerce
WooCommerce is not only one of the most popular WordPress plugins on the market, it is also the most popular eCommerce solutions on the internet; powering around a third of all eCommerce websites. It is therefore the solution that Easy Digital Downloads is compared with most.
The general concensus online appears to be that Easy Digital Downloads is a better solution if you are selling digital products and WooCommerce is better for selling physical products.
For the most part, this is true, but the lines do become a little blurred as you can sell physical items with Easy Digital Downloads using the simple shipping addon.
WooCommerce also lets you sell digital products. In the core version you can mark products as virtual and grant access to digital files upon purchase. There are addons such as WooCommerce bulk download available too which help extend digital product support even further.

Due to the popularity of WooCommerce, you gain access to more themes and more addons. This gives you a bigger catalogue of products to extend the functionality of your store (particularly if you are selling physical items). You can also use Stripe for a payment gateway free of charge.
Of course, having access to more themes and addons does not necessarily mean WooCommerce is superior. Depending on your requirements, you may find that Easy Digital Downloads handles your needs better.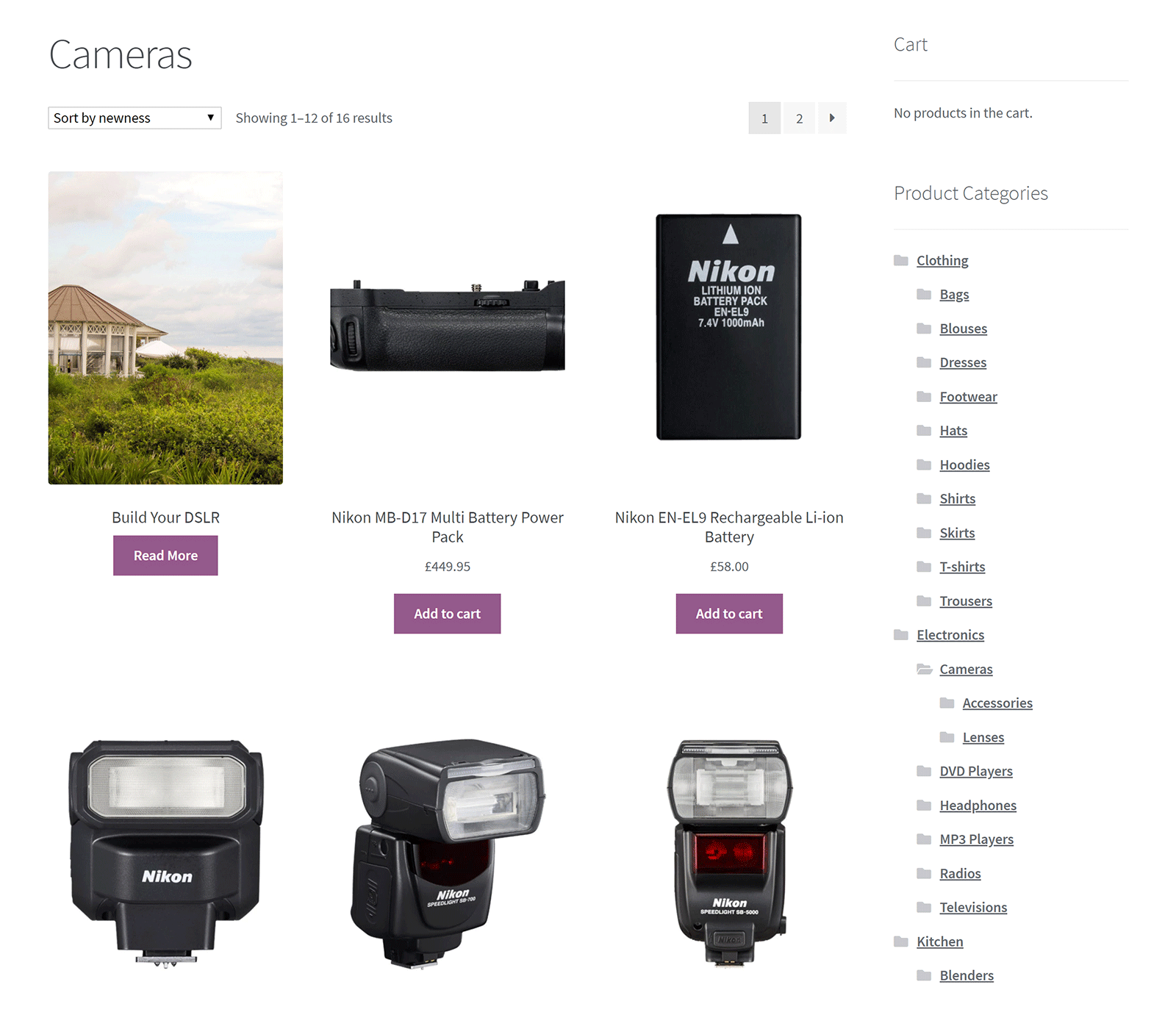 With regards to performance, Brian Jackson found that Easy Digital Downloads was slightly quicker and was overall a lighter solution, however the difference in speed was only around 60 milliseconds.
Comparing the cost of both of these solutions can be difficult as it depends on what functionality is important to you. WooCommerce has a bigger selection of free addons and many addons are a little cheaper on an individual basis, however I feel that generally speaking the addon plans from Easy Digital Downloads are more rounded than the WooCommerce bundles on offer.
In reality, there is no clear winner between Easy Digital Downloads and WooCommerce. It comes down to what functionality is essential for your online store.
Other Great eCommerce WordPress Plugins
WooCommerce is the most popular eCommerce solution in the market and Easy Digital Downloads can lay claim to second place; however there are many other eCommerce WordPress plugins that you should consider.
Here are some other great eCommerce WordPress plugins to check out: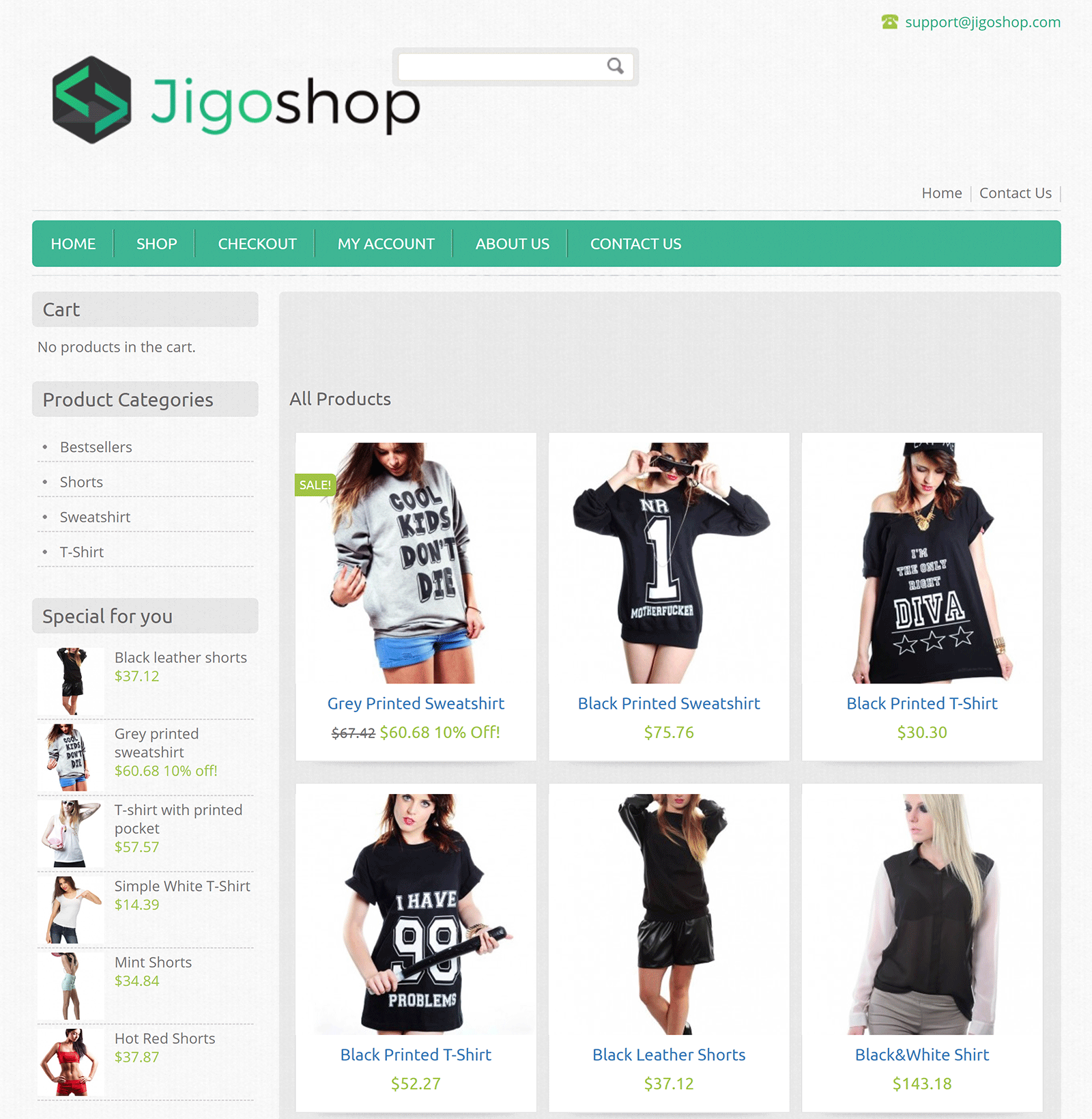 Another interesting WordPress plugin is Cart66. Rather than charge for addons, this plugin includes all functionality when you buy the plugin. Unfortunately, at the time of writing they are not accepting any new accounts.
Non-WordPress Store Solutions
If you are not looking to integrate your store into an existing WordPress website, you may also want to consider eCommerce solutions that are not powered by WordPress.
The following hosted services all have good reputations:
Shopify – A complete all-in-one hosted eCommerce solution that can be used to create a professional store in minutes. Pricing starts from $29 per month.
SendOwl – An affordable eCommerce platform that lets you sell digital products from only $9 per month. It has some great marketing features such as an affiliate system, discounts, and upselling.
Squarespace – A user-friendly website building service that can be used to create great looking online shops. Pricing for eCommerce websites start from $18 per month.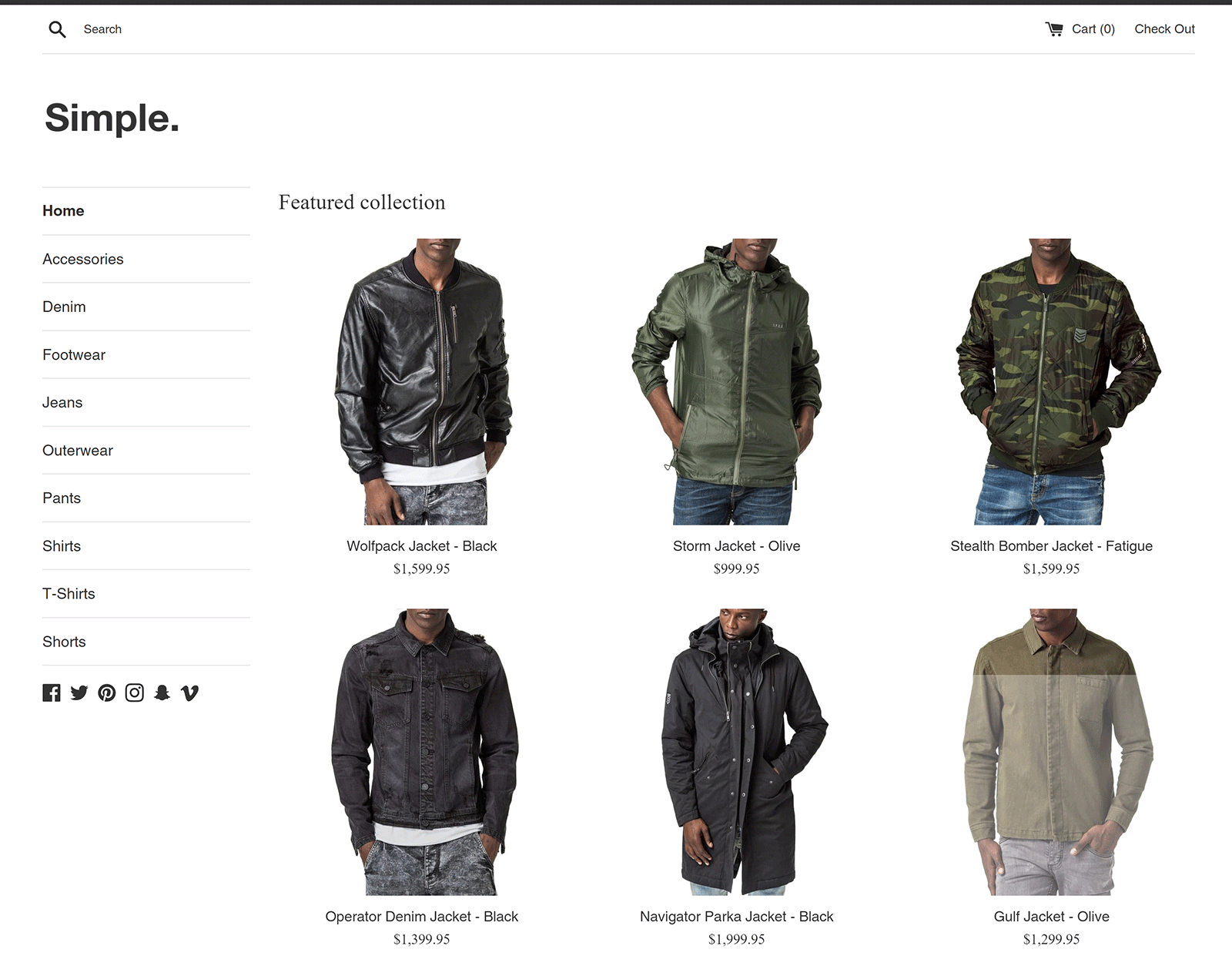 Those of you with a large budget may also want to consider Magento. Originally a free open-source solution, this feature-rich eCommerce platform is now part of the Adobe Experience Cloud package.
Consider What is Essential to Your Business
Selecting an eCommerce solution is not always black and white. Everyone has different requirements for their online shop so you have to check whether a particular solution has everything you need.
In particular, check whether a solution supports your desired payment gateway. You also need to review which addons are essential to you and your business, whether it be marketing tools, reporting tools, or whatever.
Once you know what functionality you need, you can review the total cost of using that product with your desired theme and addons. This will give you the true cost of using a particular plugin or service.
Final Thoughts
Easy Digital Downloads is rightfully regarded as one of the best eCommerce solutions available on the market.
The core version of the plugin has everything you need to create a basic store for selling digital items, however the plugin can be expanded significantly using free and premium addons.
As noted earlier, if you do want to expand Easy Digital Downloads, the best way to do this is by selecting a plan that includes the addons you need. You can buy addons separately, but it is almost always more expensive to do so.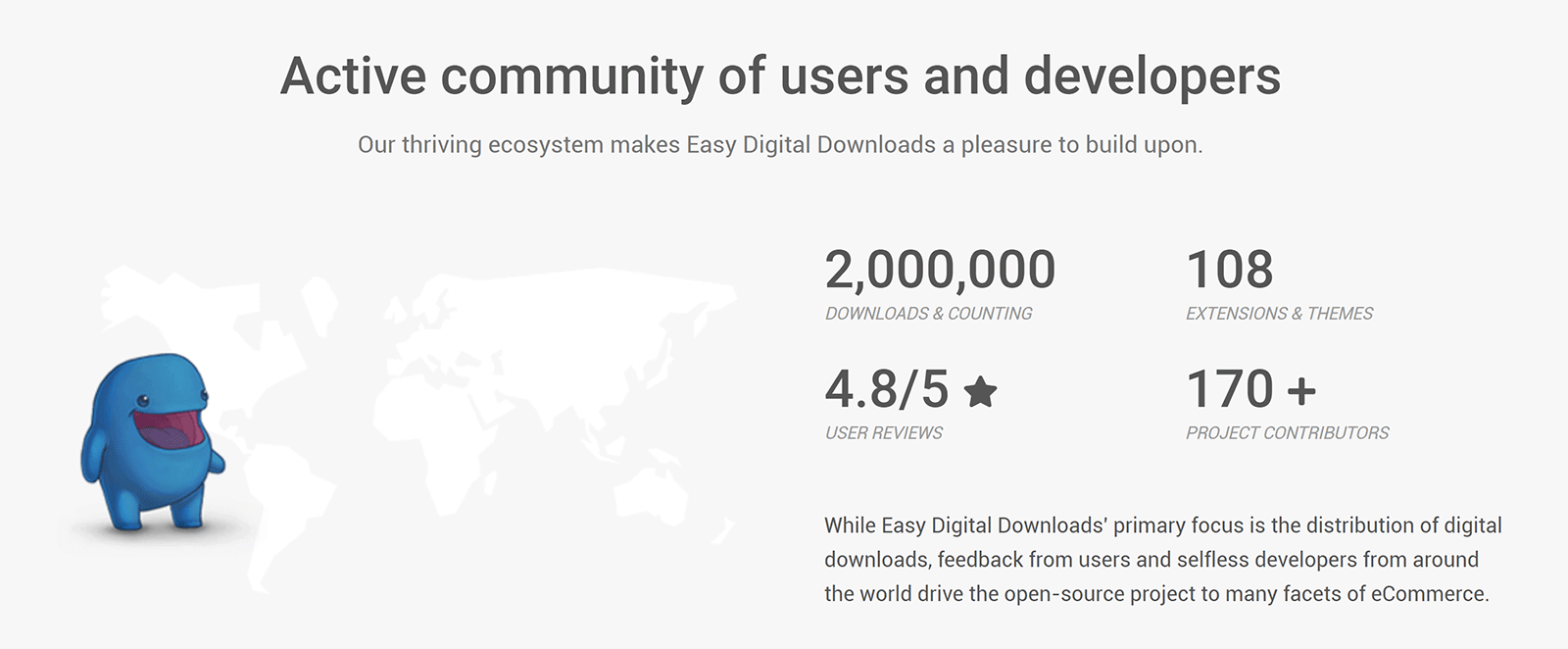 There are many great eCommerce solutions on the market, however if you are looking for a good eCommerce WordPress plugin, Easy Digital Downloads and WooCommerce should be at the top of your list.
Used/using Easy Digital Downloads? Thoughts?