These travel campaigns gained impressive ROI through creativity not big budgets
As a marketer, it often feels like you're being asked to secure impressive results with very few resources. A small budget can make the desired engagement with a brand seem impossible to achieve, but a little bit of creativity can go a long way.
Travel marketing is all about capturing the imagination of the audience and while this can be easily done with stunning images of a service or a product and big personalities, there is another way. Break from the norm and tap into an element of travel that has often been overlooked to get the greatest return on investment (ROI).
If that seems like an unachievable dream, look to these campaigns to see how it's done: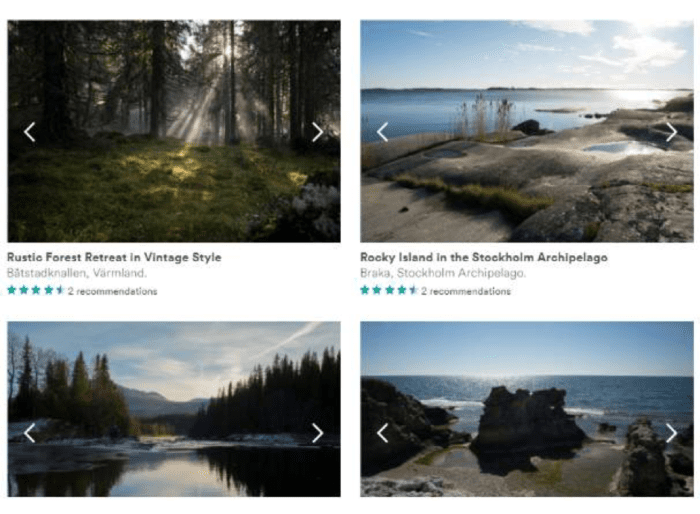 Sweden on AirBnB – Visit Sweden
One of the issues associated with the effectiveness of an ad campaign is choosing the right platform to reach your audience. While a certain percentage of television viewers, social media users or radio listeners will have an interest in travel, Visit Sweden decided to go to a platform it knew was frequented by travellers – AirBnB.
The tourism organization listed its entire country on the sharing economy site, proving that non-disruptive marketing can work very well indeed. Among the benefits of the strategy was the fact the infrastructure was already there. The marketers followed the Airbnb format without having to create a new site or design assets.
It worked so well because the Sweden listing fitted into a format that travellers are familiar and comfortable with, despite the product being a break from the norm. Visit Sweden used the principle of freedom to roam, which is enshrined in the country's law, to allow everyone to share in its natural landscapes.
A representative for the tourism organization said: "Sweden has no Eiffel Towers. No Niagara Falls or Big Bens. Not even a little Sphinx. Sweden has something else – the freedom to roam. This is our monument."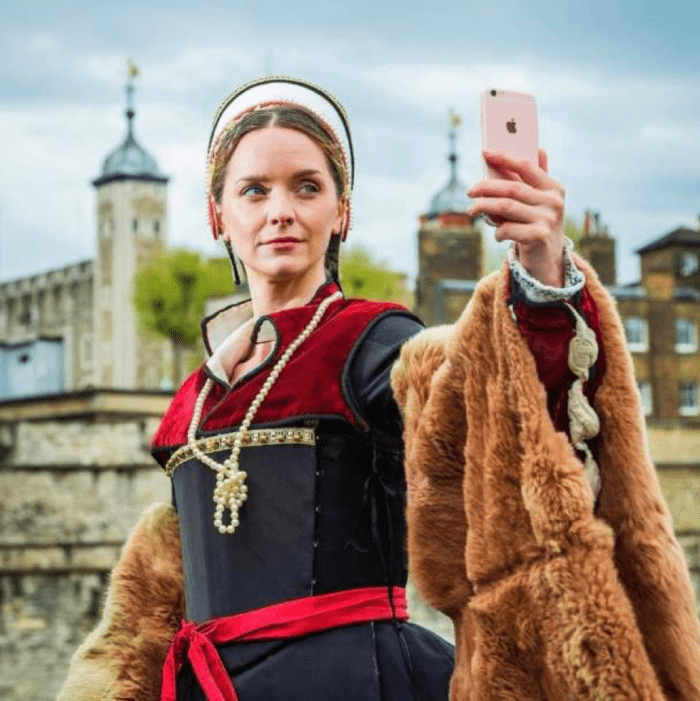 Boleyn is Back – Tower of London
Marketers at the Tower of London harnessed two of the most useful tools of the trade, aside from money, in their Boleyn is Back campaign – social media and a good story. The latter came in the form of Anne Boleyn, undoubtedly the most famous former resident of the London landmark.
To engage modern audiences, they re-enacted the queen's final day in the capital with the help of an actress and social media. She took selfies and tweeted, just like any other person in 21st-century London would as she went about her day, all published with the hashtag #BoleynisBack.
A number of other brands bolstered the campaign, with Transport for London tweeting about her trip on the Tube: "More comfortable than the royal horse-drawn carriage". With few material assets to be produced and the reliance on imagination and the power of the hashtag, the Tower of London made little outlay for the campaign, yet gained significant attention from users and the media.
#GOBACKPACK – Jack Wolfskin
One way to keep costs down in marketing is to take advantage of user-generated content. This is a tried and tested model that has had varying degrees of success, as it all depends on the elegance of how that content is harnessed. One brand that got it spot-on was Jack Wolfskin.
The only outlay for the company was to get a whole load of #GOBACKPACK flags made, which it gave away to customers with their purchases. They were then encouraged to feature the flag in a video of their own creating in order to claim back the price of the kit they'd bought.
What resulted was a vast gallery of more than 1,500 promotional videos that had been shot by the people who know Jack Wolfskin's products the best. They showed creativity and skill in promoting the brand that would have required a large budget had it been recruited in any other way.
The #GOBACKPACK hashtag has been shared more than 21,000 times since the campaign was launched in 2017. The campaign was such a success that the outdoor clothing brand has built on its foundations for another competition in which winners get to stay at the GOBACKPACK Camp on an uninhabited island in Scandinavia.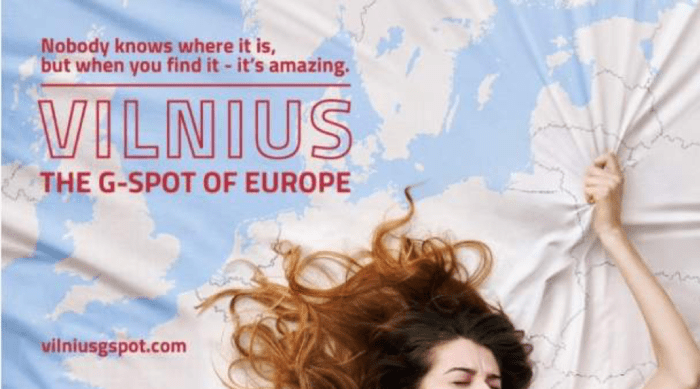 The G-Spot of Europe – Go Vilnius
Sometimes it pays to take a risk, as Go Vilnius found when it set out to market its destination with a campaign that nobody was likely to forget in a hurry. One can only imagine the look on the faces of those who work at the tourism authority when "Vilnius: The G-spot of Europe" was proposed. It was quickly followed up with "Nobody knows where it is, but when you find it – it's amazing" to underline the sheer brilliance of the idea.
It's true that the Lithuanian capital took a risk in marketing itself in such a way, but the key to the campaign's success is that it kept itself on the right side of crude by not being too overtly smutty. The headline and tagline were accompanied by an image of the top of a woman's head as she clutched at the spot on the map where the city is found. It was just enough and, most importantly, not too much.
Inga Romanovskienė, director of Go Vilnius, said: "When it comes to attracting the modern tourist we're dealing with a very high level of competition with other European cities and countries investing heavily in destination marketing. The young creatives who came up with 'Vilnius; the G-spot of Europe' presented an extremely engaging idea to drive interest in the city."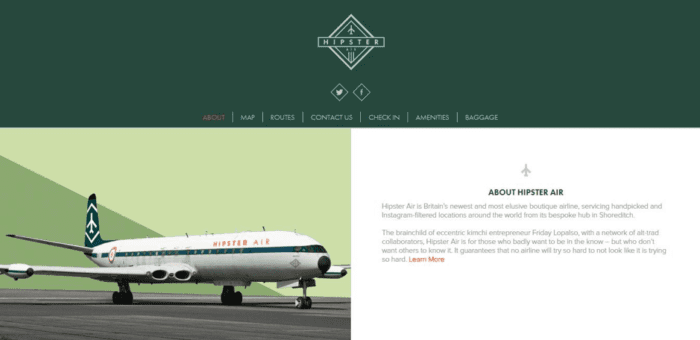 Hipster Air – Cheapflights
A calendar of national days and recognized holidays is a standard tool for most marketers, but there's one day a year that has the potential to gain publicity more than most – April Fool's Day. It's an opportunity to show a sense of humour, let creativity run wild and really stand out from the crowd, but many brands shy away from it, as they believe it can be damaging if not judged correctly.
One company that got it spot-on was Cheapflights when it launched Hipster Air, a fake airline taking a jab at its core audience, for April 1st a few years ago. All that was required was a mock landing page and some very nuanced copy. From on-trend destinations to the snacks available on board, everything had a hipster vibe to it.
Hipster Air was an in-joke that got people talking and allowed customers to laugh at themselves, without being insulting. April Fool's Day content has a short shelf life, but if it burns bright enough it can be worth the effort and often doesn't require a big budget.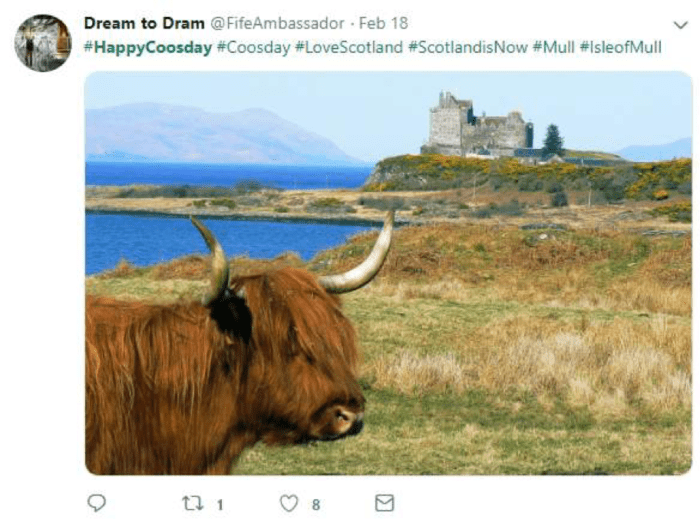 Happy Coosday – VisitScotland
VisitScotland went for the slow burn approach with its Happy Coosday campaign, which saw the tourism agency post a different picture of a Highland cow to social media every Tuesday. The simple yet effective idea was a play on the #TravelTuesday hashtag that every marketer in the industry will be familiar with.
Coos are a great symbol of Scotland, because they are lovable and have so much character. Collecting the images to post is not a big job and has the potential to involve the audience who can share their shots with VisitScotland too.
Happy Coosday has taken on a life of its own, with lots of social media users posting shots alongside the hashtag without the involvement of the tourism board. This is a good indicator of a successful campaign when it runs on its own momentum and doesn't need to be maintained by the original instigator any more.
Conclusion
The key things to take away from these examples are:
Go to where you know your audience is already.
Make use of hashtags.
Reward user-generated content.
Be prepared to take a risk, but ensure you stay on the right side of crude/poking fun at people.
Low budget campaigns can be a slow burn, but build up a following over time.