Among the most customized version of Android OS, MIUI has managed to carve out a name for itself. Although it does have a fair share of downsides like the presence of tons of bloatware. But no one can deny the plethora of customization opportunities that it provides. Now you could also get a feel of this MIUI environment on your Android device. One way would be to install any MIUI Custom ROM. Although a viable way, but not necessarily a safe approach. This is because not only you will have to wipe off all the data present on your device, but your device's warranty will also get null and void. So a much safer and easier approach is to install MIUI apps directly on your Android device. But you have any issues with your Play Store, then fix Google Play Store errors on Android devices before proceeding.
Install MIUI Apps on Android Device
Below we have provided various MIUI apps. But there is an important point to keep in mind. Not all MIUI apps would be compatible with your Android device. Some of them might throw an App not installed error. But this is not a universal fact and some of you might be successful in installing them. As a result, we have added those apps in this guide as well, albeit in a separate section. The apps that are sure to work could be directly installed from the Play Store link. Whereas for the apps with is not universally compatible, you need to sideload them. Instructions for both of them the same are provided in their respective sections.
Download MIUI Apps Directly from Play Store
The apps provided in this section could directly be installed from Play Store, on your Android device. I tried all these apps on a non-Xiaomi device, and they all seem to work perfectly fine. But still, some of you might face compatibility issues with any of the apps. If that is the case, do let us know in the comments section.
1. POCO Launcher 2.0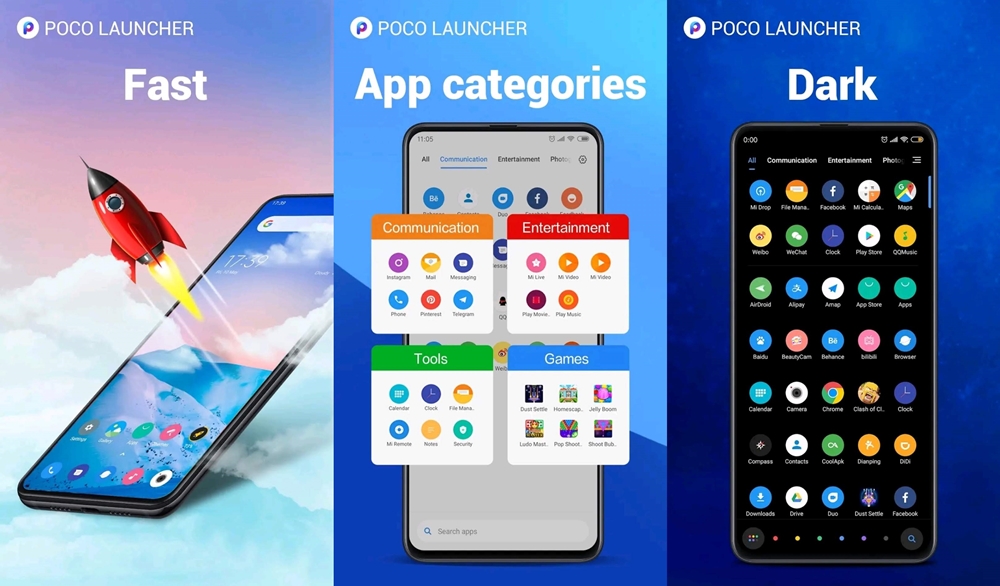 The launcher which first came out with the POCO device is slowly scaling the charts of being among the most popular ones. Following the footsteps of Material Design, it has very neatly incorporated a minimalistic interface. Further, it gives you the ability to create customized folders and keep all your apps in it, thereby giving your Home screen a fresh and clutter-free look. It isn't short of customizations as well. From supporting numerous icon packs to providing toms of wallpapers, animations, and themes, your device's UI is never going to be the same again.
2. Mi Launcher
If for some reason, you are still a fan of the old MIUI style, then this one is definitely made for you. But do note that it comes nowhere near in terms of stability and customization features that POCO Launcher provides. Being last updated 7 months ago doesn't do any good either. Providing fewer features than its successor does have one plus point though. It is nearly 1/10 the size of the POCO launcher. So if you are short on storage space, then you may give it a try.
However, if both the launchers failed to convince you, then have a look at which is the best Android launcher app for your device.
3. File Manager
This one is my favorite on this list, more so after ES File Explorer got removed from the Play Store. It manages all types of music, videos and documents files, including .DOC, .PPT, .PDF and others quite efficiently. The built-in file compresses lets you easily compress/decompress zip and rar files. Moreover, it provides all the files in neatly categorized sections, based on their format. The presence of a file cleaner manages to free up storage space on your device by deleting cache and other junk files. It has also integrated the Xiaomi's famous Mi Drop which lets you efficiently transfer files across different devices. Definitely worth a shot.
4. App Vault
The latest entry in the list, this app was released for Android devices only a couple of days back. Xiaomi users might very well be familiar with it. In Xiaomi devices, when you right swipe from your home screen, you will be taken to the App Vault. It groups all the important notifications in a single section. For example, you could place all the shortcuts under one tab and so on. But that's just the beginning. It would also let you take notes, create a schedule search for your query, book a cab, post status to Facebook, etc. All this and more could be done without using the concerned Android app, right from the Vault itself.
Impressed with the app's functionality? Well, then these 7 Android hacks may surprise you even further.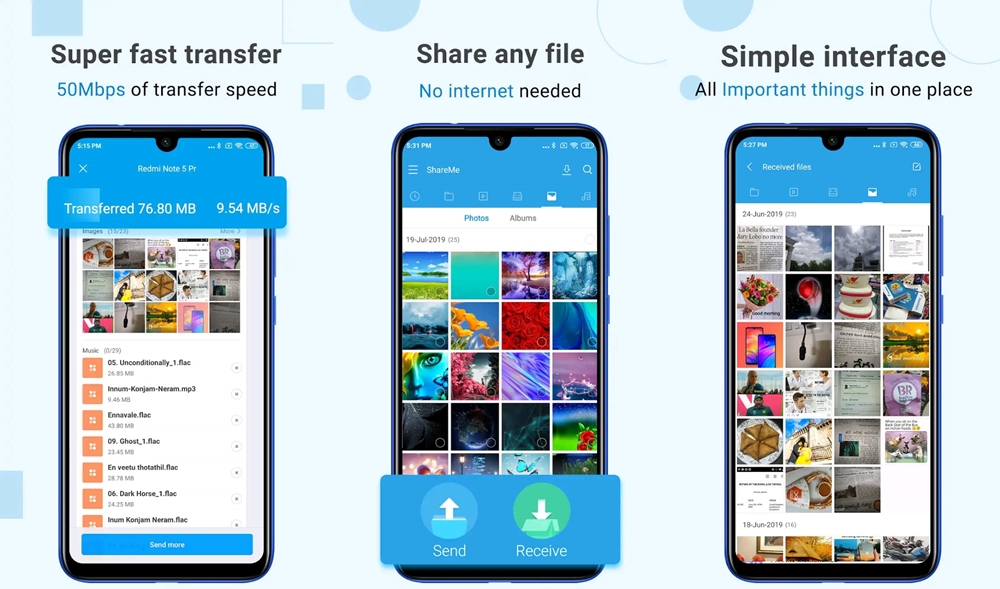 I would recommend this any day of the week over SHAREit. Not because I am one of those hardcore Xiaomi fans, but because the app contains no ads whatsoever. It only provides all the required functionalities, but that is it. Unlike SHAREit, which has incorporated various videos, short films, and WhatsApp status, ShareMe provides a neat and clean interface and solely focuses on the transfer of files. After all, 100 million people and a 4.8 rating (out of 5) wouldn't lie.
6. Mint Browser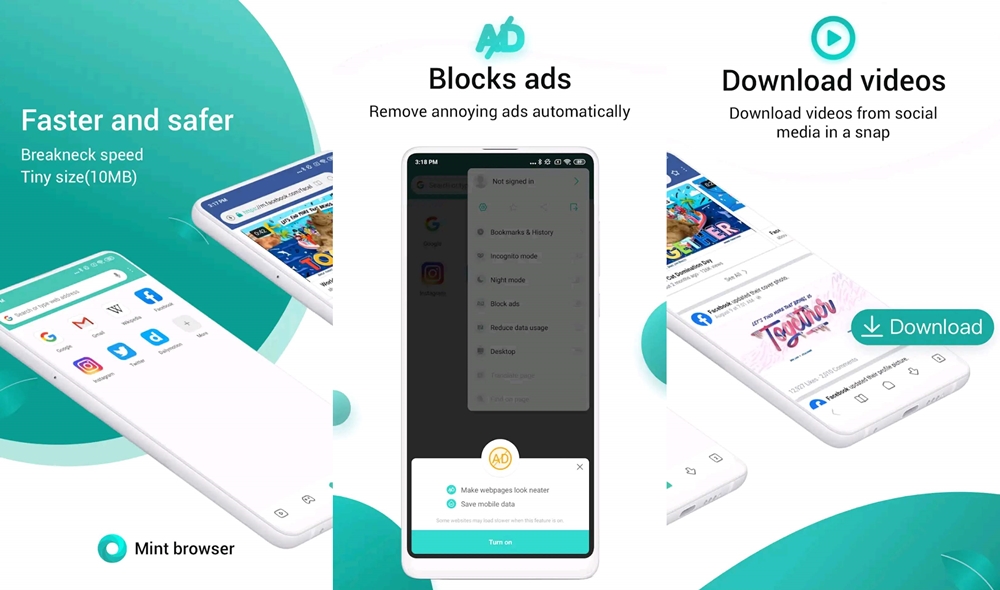 Probably you wouldn't have heard about it but you won't regret once you use it. If you want a change from the Chrome browser, then you may definitely give it a try. Just 10MB in size, yet it manages to pack in a lot of features. Some of it includes the ability to block ads automatically, the presence of Incognito and the data saver mode. Moreover, if anywhere the browser detects any video, the Download button will automatically appear. That's a pretty useful feature in itself. And if you are wondering about the Night Mode feature, it has that as well. Nothing out of sorts, but still it manages to do the job pretty well.
The presence Night Mode does prove to be of great comfort. Moreover, it has some positive impact on your battery life. To further improve your battery life, have a look at Android battery calibration tips for Longer Battery Life.
7. Mi Remote Controller

If your device has an IR Blaster, then look no further. This app is all you require. It supports a variety of devices including TV, AC, DVD Player, Projector, Camera, etc. Moreover, the support for various brands is also quite astonishing, to say the least. From the more popular Samsung and LG to the less popular ones like Aim and Carrefour, it covers all. With a clean and easy user interface, you won't face any trouble operating any appliances whatsoever. Although pairing any device for the first time is mostly a hit and miss. But once successfully paired, it works quite well without any hiccups.
8. Mi Calculator
Most of you might wonder why to replace the stock calculator with a Xiaomi one. Well, the reason is quite simple. it provides so many features that you would hardly find in any calculator. Apart from the basic calculations, it can do so much more. Some of its noticeable features include the ability to perform scientific calculations (including log and trigonometry) and a daily updated currency converter. Moreover, it also has Mortage calculator, Area/Volume/Speed/Time converters, Age calculators, GST calculators, BMI, Discount and Percent Calculator, etc the list may go on and on. These features are more than enough to convince anyone to definitely try this out.
9. Mi Video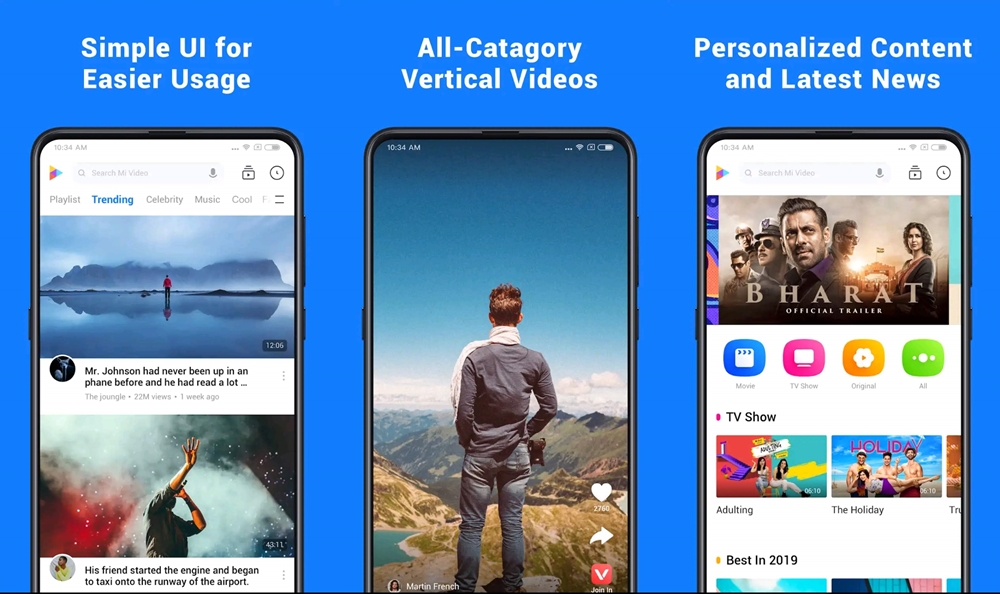 Although a long way to go before calling it as a VLC or MX Player alternative, but still quite good in what it does. You won't complain about a lack of supported formats. It supports numerous types of videos including AVI, MP4, MOV, MKV, FLV, MPG formats. Moreover, the multi-lingual subtitles are an added advantage. It also scores pretty well on ease of usage as well, all thanks to its multiple gestures. Moreover, it also provides a private section to keep all your videos hidden from the general public. A free and easy to use video player, with definitely further scope for improvement.
Watching videos continuously may lower your battery life. Have a look at these best battery-saving tips for Android.
Sideload MIUI Apps on Android Device
The MIUI apps mentioned in the previous section have a high chance of running on your Android device. But unfortunately the same cannot be said with the apps mentioned here. You may try them, but not all apps may work on every device. Here are some of the important MIUI apps straight from Xiaomi devices, which you may try it out.
With this, we conclude the guide on how to get a complete MIUI experience on any Android device. Do let us know whether you were successful in installing these Xiaomi apps on your Android devices. What was the success rate especially in the apps that you sideloaded? Share your views in the comments section below.
Read next: What is Init.d? How to Enable Init.d Support on Android
Join To Our Newsletter
You are welcome