Original content with ads is set to change the way Facebook advertising works
Thirty-six years ago, MTV broadcast its first music video. The Buggles debuted their song Video Killed the Radio Star (a homage to new technology usurping old).  Four years later the channel promoted another Eighties band, Dire Straits, who sang how in return for the channel selling advertising items like microwave ovens custom kitchens, refrigerators and colour TVs, music videos on MTV rewarded rock stars with "money for nothin' and chicks for free".
Whilst the Buggles' prediction of video killing radio did not come to fruition, the rise of social media – especially Facebook did manage to decapitate the head of attention time teenagers and young adults allotted to skimming content.  (From three minutes – the average music video length – to under eight seconds of flicking through selfies, emoticons and snappy messages).
Now Facebook, which has over 1.9bn monthly users, is about to enter a new phase as a one-stop global community channel. As more switch from watching broadcasts on traditional fixed screens to mobile devices, in addition to scanning through endless pictures of cute kittens and anti-Trump left-wing propaganda, users are searching for genuinely substantive content.  So too are advertisers.
Many brands are battle-fatigued fighting on two fronts: ad blocking software, as well as surfers who 'zone-out' during pre-roll promotions before a piece of video content such as a news item.
When content is well under three minutes, for users the time cost of enduring ads which can be up to one minute can seem a too high to pay. However, people are more likely to put up with the pre-roll promos when quality content is relevant and substantive.  In a crowded content space, that offers a ray of hope for brands lost in a dark tunnel intended to bore directly into a surfer's mind-space.
In April 2016, Facebook launched Facebook Live. Mark Zuckerberg promised the 'TV camera in your pocket' would make it easier to create, share and discover live videos. "When you interact live, you feel connected in a more personal way. This is a big shift in how we communicate, and it's going to create new opportunities for people to come together" he hailed.
Zuckerberg paid media companies including the New York Times to create streaming live content.  However, not every news was convinced.  Andrew Morse, general manager of CNN's digital operations warned that: "For Facebook, these are experiments, but for the media companies looking to partner with ­significant commitments, it gets to be a bit of whiplash."
Those relying on advertising alone mostly failed to turn a profit from Facebook Live. Whilst effort was invested into luring viewers to click through to a publisher's page, few videos featured clickable brand advertising.

To resolve such issues, Facebook is revisiting a well-established formula: where great content lays, loyal surfers visit – and where there's an audience – so follow advertisers.
The better the content, the longer surfers linger – and richer the brand advertising.
In an effort to ramp up ad revenue, Facebook plans to dip into waters ruled by the likes of YouTube, Snap, Netflix and Amazon. Facebook isn't trying to compete with paid services Netflix, HBO and Showtime. Instead, it has its sights set on cable networks and advertising-supported online services with young viewers.
By featuring more TV-style content programming Zuckerberg is hoping to pull some of the billions worth of dollars of current TV ads away from traditional television. (According to Bloomberg Technology, US TV's advertising market is worth $70 billion).
Paul Verna, an analyst at research group eMarketer is sceptical: "Facebook has been successful in pushing people to the smartphone screen, but it might be hard to persuade them to go back to a lean-back kind of experience of Apple TV, Samsung and Roku". Nevertheless, Facebook has been steadily planning for a change. Since January 2017, the social channel has reprogrammed its news feed algorithm. More users watch longer videos.
According to reports, dedicated apps will available on Apple and Android smart TVs. The current app has video tab in the US which helps users discover video instead of having to search through the news feed, as they would when searching YouTube.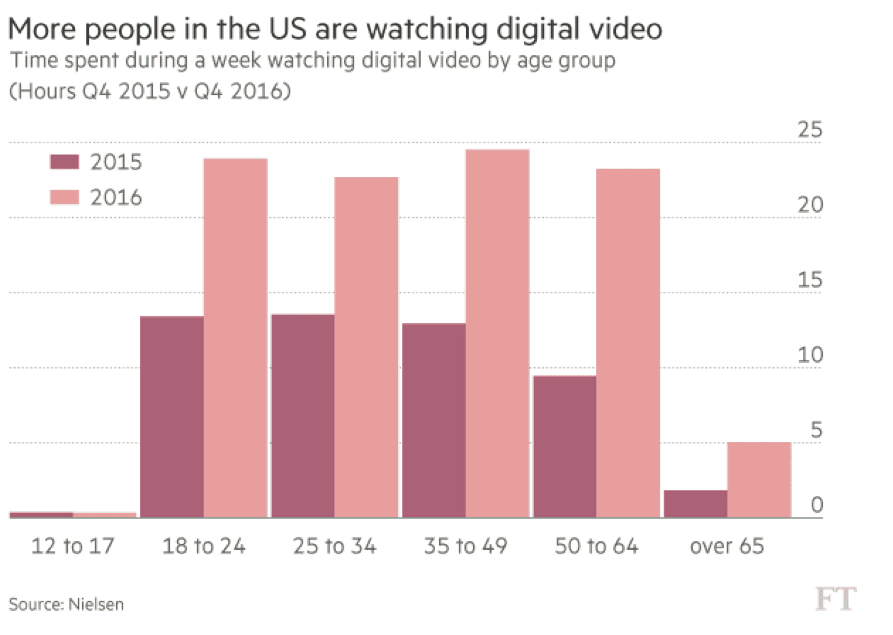 Original content
Facebook has recruited Ricky Van Veen, formerly of College Humor to develop an engaging video product. He will be joined by Netflix Inc. executive Sarah Madigan to acquire video programs, and former MTV executive Mina Lefevre to oversee the development of new shows.
The idea is to fund original TV- programming style content. In addition to deals to stream live baseball in US and football in Mexico, agreements are already struck with companies like Vox, Buzzfeed and Group Nine (the people behind brands like The Dodo and NowThis). Commissions will be for shorts of around ten minutes in length as well as longer shows of up to around 25 minutes.  Facebook is thought to be offering $10,000 to $40,000 per 'shorts' episode (called 'spotlight shows'). Publishers retain rights and can distribute on their own site after seven days on Facebook or other platforms two weeks after premiering on Facebook. Producers of longer 'hero' shows – thought to be aimed at a female demographic –  will receive to $250,000 each, however, Facebook will own the rights. All shows will be episodic and designed to stimulate Facebook chats.
Producers considering the initiative will need to weigh up the value of their investments in terms of time and money against returns – bearing in mind the track record of Facebook Live. One publisher told Digiday that most of his company's Facebook Live content "was seen by very few people."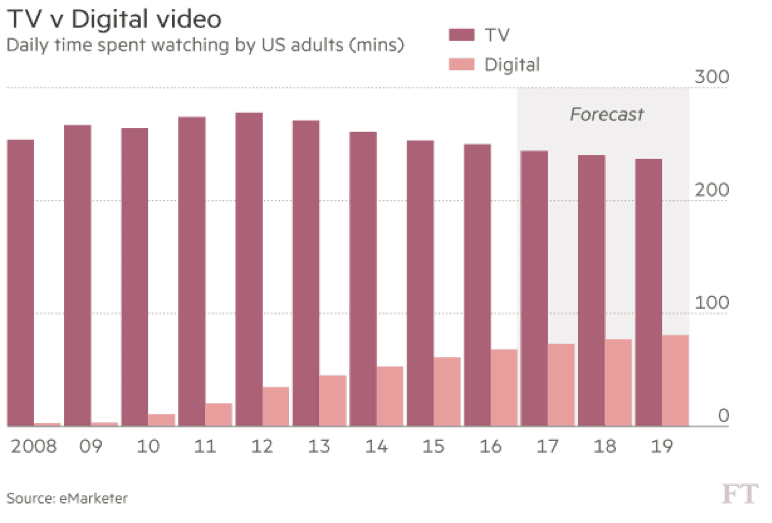 The current media buying case for combining TV and Facebook
Even without a dedicated Facebook TV-style channel, Kantar Millward Brown's Cross Media studies conducted over the last 4 years suggest that when Facebook and TV are combined in a media plan, in terms of reach, efficiency and brand impact, the mix delivered higher brand results than TV alone 
Delivering higher reach together:
In absolute reach terms, Facebook delivers the most efficient reach of 40% for just 3% of marketing spends. In combining Facebook and TV in a media plan, Facebook adds to overall Reach by +6.2%.
Delivering efficient reach together 
In addition to the reach of the duo being higher than that of TV alone, when Facebook and TV are joined, Facebook also delivers incremental reach at 38% lower cost than TV alone.
Delivering higher brand impact together 
The combination of TV and Facebook delivered 25% more brand impact than that of TV alone. 
Revamped Mentions app
Alongside the TV initiative, Facebook reportedly intends to roll out an overhauled version of its existing Mentions app. The new app will cater to video creators, celebrities and other public figures with large fan bases looking to produce and publish live videos to the social network; touch base with fans across Facebook, Instagram and Messenger; and – crucially for brands – track their videos' performance. The app will open, Snapchat-style, to a camera screen when launched.
Back to the future
MTV was the original short-form video channel, kicking off with music story videos to becoming a lifestyle community channel featuring half-hour and hour-long reality shows such as Punked, Catfish, Jersey Shore and scripted shows including The Real World and The Hills.
Facebook will surely be banking that its creativity will deliver profits, which when compared with larger digital TV channels formats will turn out to be money for next to nothing – depending of course on whether their chicks will come home to roost.  
Join To Our Newsletter
You are welcome