Is the rise of online bullying and hate / fake news putting the younger generation off interacting on Facebook?
Recent figures have shown that Facebook's monthly active users between 12-24-years old have decreased, but why are the younger generations moving away from Facebook in preference for other social platforms available?
Whilst Facebook constantly dominates global statistics on active users worldwide, I've never been their biggest advocate. Reaching past 2 billion monthly active users in 2017, Facebook has always looked impressive on paper with its high user figures – but who are these users, what do they use Facebook for and why should we all care? 2 billion users does not mean 2 billion brand interactions, it does not mean 2 billion conversions and it does not mean 2 billion people are going to see your post and you'll become a social media influencer overnight. So why do we all hype about their user figures?
They're too obsessed with the competition that they've forgotten about daily social interactions and real-life conversations that happen
It's common knowledge that Facebook is the social mogul of the online networking world when looking at basic figures and engagements. However, in an attempt to 'out-do' and rival their competitors (by buying Instagram and WhatsApp) and taking 'inspiration' from other networks, Facebook may have become too noisy and perhaps is now a crowded platform that offers too many options that other networks offer too.
For example, Facebook has similar features to other social media platforms:
Facebook Watch rivals streaming services and YouTube
Facebook marketplace is taking traffic and engagement from classified ad apps
Ephemeral content (Facebook and Instagram Stories) almost crippled Snapchat's USP
Talk of trialing a CV feature which rivals LinkedIn's professional positioning
So is this too much for younger users who prefer to use Facebook just for chatting and interacting with friends are there other underlining problems that Facebook's not seeing?
Regardless of the plethora of features Facebook offers, figures reported by Recode shows Facebook lost around 2.8 million, yes million, U.S users under 25 last year! The largest decrease in users under 25 are within the 12-17-year-old age bracket.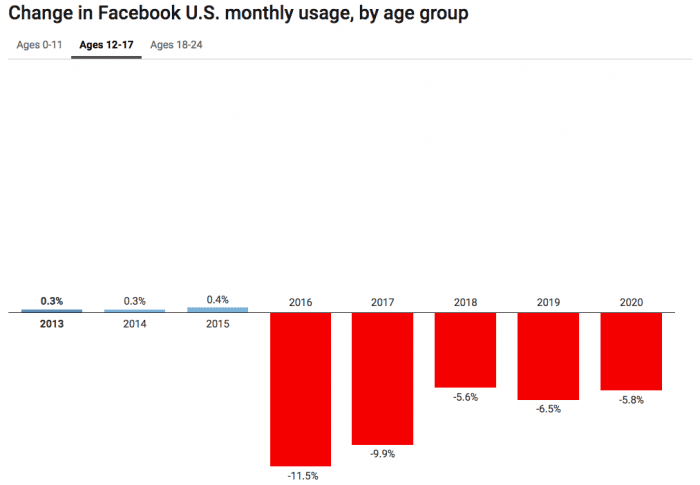 Compared to 18-24-year-olds: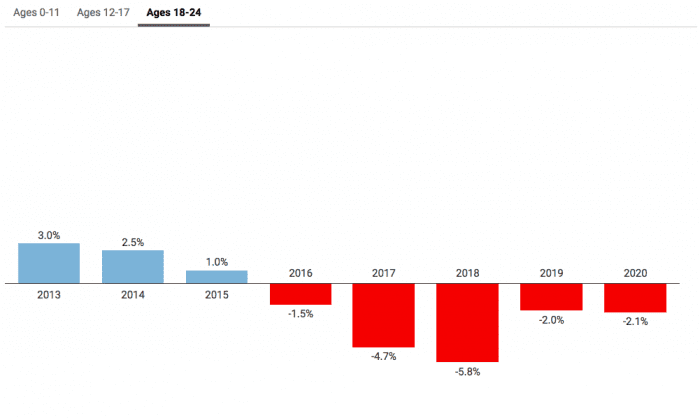 Other social platforms don't have all the offerings that Facebook gives, but the experience is much better targeted to what the individual user wants to use it for, in the format they want to interact with their friends.
Why Facebook is no longer a social platform for younger generations
In the hustle and bustle of optimizing their platform to be the 'mother' of all social platforms in one space – they have neglected to focus on the granular social interactions in real-time between younger users to help increase fun, positive and friendly interaction. Has Facebook reached its critical mass?
1. Online bullying
In recent reports, younger social users have stated that they don't feel safe online and that social media companies are not doing enough to eradicate inappropriate and malicious content. There has been a 63% increase in the number of complaints about cyberbullying in the past 12 months reported in Australia, with many politicians and police expressing concern about Facebook's capacity to respond.
Users have the ability to report content as being offensive or malicious on Facebook, but the review process is not clear. Facebook stated that:
"'real people' were assigned to look at reported content. This includes reviewers who understand local context ­because we know this is critical to assessing the meaning and intent of a reported post. It also includes experts in enforcement in areas like child safety, hate speech, counter-­terrorism and legal specialists."
Facebook has refused to disclose the number of local staff responsible for monitoring content. The rise in cyberbullying has not only made teenagers nervous, but their parents too in a bid to stop teenagers using not just Facebook, but all social platforms from a young age.
2. There's too much 'fake news' and hate speech
This is what defers me from Facebook the most. It seems within the last two years the rise of political propaganda, scaremongering, and hate speech has risen quite significantly on Facebook. It reached its peak during 2016 when left and right wing politicians when head to head in the Brexit Campaign (United Kingdom) and Presidential election (United States). To pinpoint this year as the year the younger generation had enough politics and news would be a fair assumption.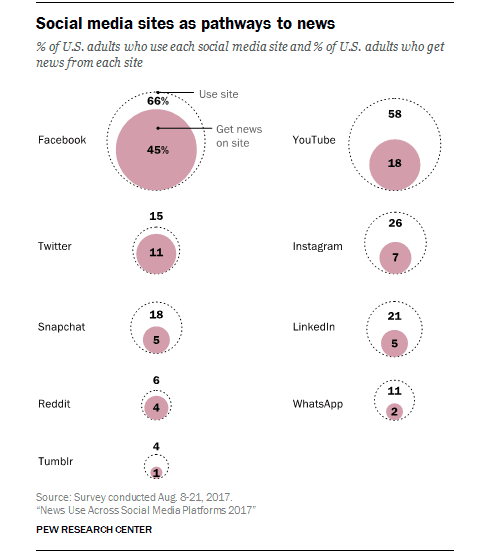 This visual representation from Pew Research Centre shows the percentage of social platform users compared to the percentage of those users who get news from those sites. Twitter is used more for news in proportion the amount of users on Twitter, however, Facebook still holds the largest amount of people who consume news on their site.
Whats more, the consumption of news on social media sites has increased since 2016 for less educated people.
Although Facebook has expressed its interest in battling fake news that is consumed on their site and a decrease in branded content is a way to support this, its hard to ignore the number of times you see something political trending which has been commented on by The Sun, The Daily Mail, or your distant racist relative causing a storm.
Despite being told by the US government in 2016 that fake news and propaganda were influencing American voters, Mark Zuckerberg denied this publically stating:
"Of all the content on Facebook, more than 99% of what people see is authentic. Only a very small amount is fake news and hoaxes […] I am confident we can find ways for our community to tell us what content is most meaningful, but I believe we must be extremely cautious about becoming arbiters of truth ourselves:
He was clear that there would be no rush decisions for the company to start fact checking everything posted. Although this is a fine line between news and free speech, the amount of biased and 'fake' opinions and news has definitely got a lot of the Facebook population riled.
3. Has it gone OTT with brand advertisement and content?
Facebook did recently announce that they would begin limiting the amount of content that users see on their feed from businesses, brands and advertising in the hope it would allow users to have more meaningful interactions with friends and family. This is the first step in stripping the newsfeed content of an influx of adverts, but have they decided this too late?
Social Web Index found that Gen Z social users prefer to use social media to 'fill up spare time'  (48%) and find funny or entertaining content (45%). Staying up to date with friends was also important (41%), but only 29% of respondents stated they would use it to research or find products to buy.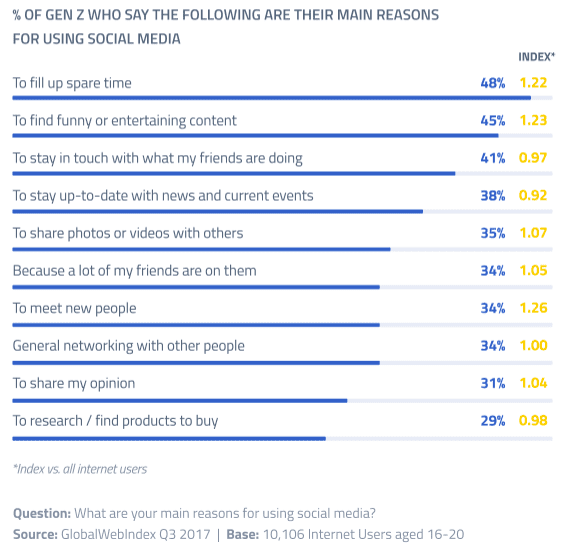 Has Facebook peaked for the marketer too?
With this new algorithm change, users will see less branded content to improve the social user experience but limit how brands can organically reach potential customers. Gen Z are steering away from Facebook regardless, meaning the older Millenials and Baby Boomers that use Facebook are ultimately going to be harder to reach organically.
Join To Our Newsletter
You are welcome