Fundamentals of building and earning backlinks for SEO
Introducing the periodic table of linking building and acquisition
This article takes a look at the various levels of link building tactics commonly known throughout the SEO and digital marketing industry to address their relevance in today's market. Backlinks remains a pillar of SEO ranking success, although the methodology behind acquiring them is ever-changing. Keep up to speed with the best practice for sculpting a healthy backlink profile with this simple and easy-to-follow guide.
Is link building still relevant for successful SEO?
Yes, but not in the same way it was 10 years ago. The algorithms no longer rely solely on the quantity of backlinks to rank websites in search results. Experts still agree that backlinks are critical for conquering SEO, however, many other factors now come into play – localization, mobile, contextualization of on-site content to name but a few.
So we can take this to mean building backlinks as an automated action is no longer the killer tactic for climbing the SERPs summit. But if a website is technically sound, serves highly relevant content to search queries, is mobile friendly, and then on top of this accumulates a ton of links, that's when the power of link building really counts.
There is a clear-cut difference between acquiring a backlink from a manual placement of a text link and having someone link to you externally through on merit. The former best describes traditional "link building" whereas the latter relates to "link earning", a process that Google encourages the application and distribution of exceptional content. Excessive use of link building can only take you so far and rankings may plateau after time, although in contrast, link earning is symptomatic of a well-drilled content strategy and has potential to increase keyword visibility tenfold.
Identifying and classifying link building tactics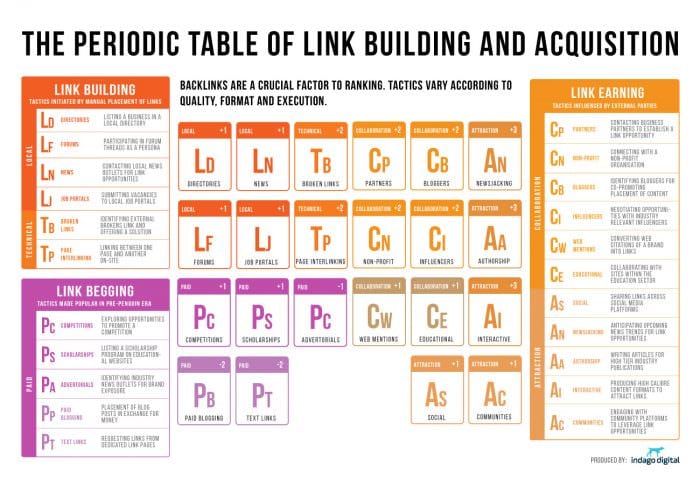 The hierarchy of link acquisition tactics can be seen in The Periodic Table of Link Acquisition, a visual guide from Indago Digital. This educational tool for SEO categorizes the methods commonly used to generate backlinks based on their long-term value and approach. The dividing up of methods helps to shine a light on which aspects digital content and marketing specialists can focus on when considering multiple tactics used as part of a long-term strategy. Or simply to compare the value of one tactic against another.
Let's take a closer look at some of the items highlighted in the table.  
Building links within directories
Ignore the noise. Directories are a staple of link building when used in moderation. Submitting a company profile to directory listings makes good business sense. It's the modern equivalent of the phone book. It pays to be seen there.
Directories fall within a wealth of industry and geographical sectors, and so it's easy to see why brands can get carried away with submitting to more sites than are necessary. Only look for the relevant few.
No further SEO value is likely to be gained from submissions on a mass scale. Some directories may charge to fend off spammers and will state this clearly on-site. Paying for a placement should be purely a business decision. The same can be said for local forums, job portals and news outlets.
Guest blogging and collaboration
Guest blogging has received a bad rap in recent years, chiefly due to link schemes paving the way for brands to buy backlinks and publishers to earn from the privilege. This exchange flies in the face the of the white-hat ethos Google is championing SEOs to adopt. It carries a high risk of penalization. Don't be put off – collaborating with bloggers is still a gold mine. Just be wise about who you are partnering with.
Typical activities can include the promotion of a competition, giveaway, blogger round-up or publishing of a feature article. All of the above are valid reasons for pitching to personal blogs and influencers. There is no one-size-fits-all execution because the packaging of the messaging or content must always emulate the tone and style of the partner website.
Bloggers and influencers with a strong social following and high authority score have standards to uphold and SEO protocol to adhere to. Google demands that the publisher include a no-follow tag and label content as being sponsored where applicable.
Earning top tier backlinks
We mentioned earlier about the shift from systematically building links to producing content that attracts backlinks. This is a mindset that the traditional SEO may not be accustomed to, as the practice technically lies between content and public relations. Others label this sweet spot "outreach" or "content marketing."
Why invest time and resources into creating content for earning backlinks instead of paying for them? In a competitive market, this is likely to be the only way to move the needle to achieve higher keyword visibility. Identifying what content subject matter is of interest to a top-tier publication is an essential research task. Very few brands can attest to successfully fulfilling that need by creating content people are willing to link out to.
Momentum builds through attracting the attention from other influencers and journalists who write about the same subject matter. A strong content piece can accumulate up to 100 referring domains and push thousands of sessions through referral traffic. This snowball effect is key to raising the link count to a single URL or domain and helping it achieve a higher ranking status in SERPs. Take studies, news, infographics, interactive landing pages as prime examples of how great content can spread like wildfire and become an evergreen reference for the industry.
Forget old-school teaching of anchor text placement or begging for the embedding of a link in these instances. A backlink, regardless of a nofollow tag from the top sites in any industry or news field is as good as a vote of confidence from the publication they represent. It's the holy grail of link building and acquisition. Even the fifth most popular site on the planet, Wikipedia, issues nofollow links.
Final thoughts on link building
Forget about SEO for a second. Let's remind ourselves that Google's mission was always to organize the world's information and make it universally accessible and useful. With that perspective in mind, any hyperlink pointing to or from a website should be in place for a reason, with a view to aiding user experience.
Sculpting a backlink profile is an art. A healthy backlink profile is one consisting of inbound links from a multitude of different website types, who are passing PageRank with pure intentions. Websites with a clean and respectable profile, such as government and educational websites, and in most cases international news and magazine sites, are also highly valuable assets to acquire backlinks from.
Acquiring too many links from one site is a red flag to Google, as is a high ratio of low-quality websites, which signals that spammy tactics have been deployed. Anchor text also has a part to play too – think natural language rather than over optimisation as a driver for rankings.
Pandering to the search engine is the second priority for the publisher or author. Specialists may defer to link tools to assess the quality of opportunity from any given website, however, this is only the tip of the iceberg. A valuable backlink is a byproduct of building a solid relationship and can be measured through the contribution of indirect SEO metrics, such as traffic and user engagement.