Chart of the day: 92% of NGO's have a Facebook page with only 39% have an Instagram profile.
According to new research recently published by Tech Report – Facebook is the most popular social media channel for global NGOs with 92% having a facebook page. Instagram, which was taken over by Facebook in 2012, only has 39% of NGOs creating a profile account.
How global NGOs use Social Media
Considering the nature of charities, it is important that their message is clearly portrayed, with many using visual content to provoke emotions and persuade their audience to donate, volunteer or spread awareness of global issues. This is why it is surprising that NGOs favour Twitter (72%) over Instagram (39%).
Other social platforms that aren't utilized by many NGOs include Google+ (28%) and Whatsapp (16%).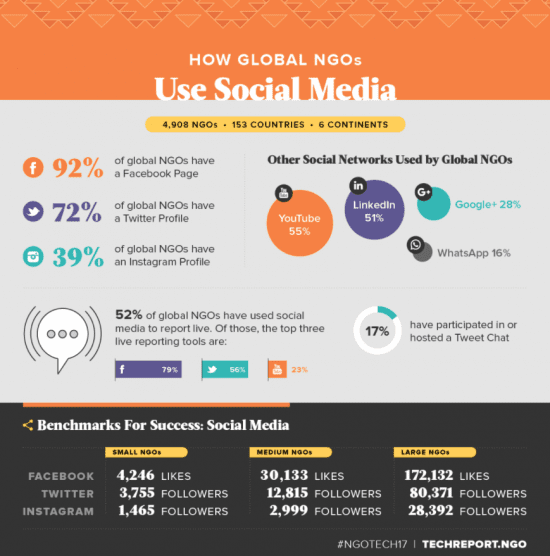 NGOs Social Media usage continent breakdown
A more in-depth look at how different continents use Social Media and their effectiveness reveal the majority of respondents feel Instagram is either somewhat effective or not very effective.
Respondents from Australia and Oceania say that Instagram is only 1% effective
Social Media is very effective for online brand awareness, but this lowers by more than half when it used for online fundraising and recruiting volunteers.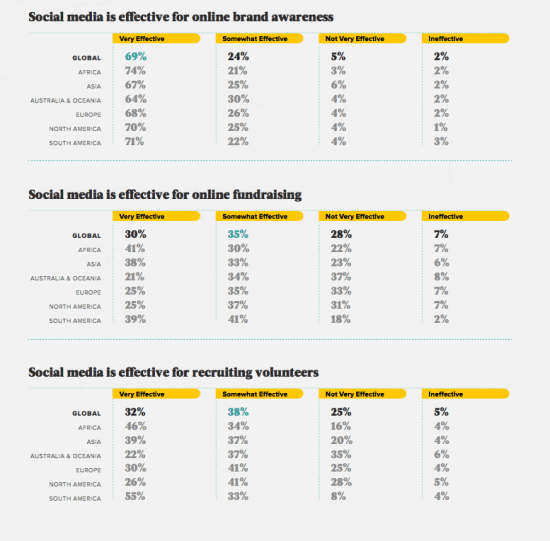 However, the social platforms they use to increase awareness can be directly linked to the benchmarks of success they receive from each platform. On average, Instagram has the lowest success rate for small, media and larger NGO, so prioritizing this may not be a good way to spend their time and resources.
Facebook has the highest user rate, with over 2 billion users having a profile – a social platform that has a larger usage will prove larger opportunities for audience targeting, reach and brand awareness across the globe.