Global sports sponsorship grows as eyes turn to women's games, Instagram tests shoppable content feature for influencers, American and Aussie most-trusted brands are recognized, Google Keyword Planner updates and a turbulent week for Google shareholders
This week, we take a look at how the global sports sponsorship industry is forecast to grow significantly, with female sports taking a more central, and long overdue, role in this growth.
There's also important news regarding Instagram's shoppable content feature, which is being tested for use by influencers for the very first time.
Australian and American brands are also under the microscope as the most-trusted brands are recognized by consumers.
Last but not least, we'll take a look at two pieces of Google-related news. We've got information regarding updates to the Keyword Planner, then there's the small matter of Google's market value sliding by $80bn.
Women's games contributing to global sports sponsorship growth
Many would argue that it has taken far too long but it would appear that global sports sponsorship is now investing much more heavily in women's games.
Sports sponsorship is set to grow by 4% globally this year to reach £35bn (approx. $45bn) which is due, in part, to this recognition of the growing opportunities female sport is offering.
Investment in men's games have provided ample sponsorship opportunities for decades but now that women's games are being given more airtime and media attention, it is making better business sense for brands to be investing in the women's side of the industry.
Coca-Cola's recent sponsorship of Women's Football World, a new UK-aired show starting on 20th April which is dedicated to the biggest fixtures globally in the women's game, indicates that the wheels are in motion in sports sponsorship's attention shift.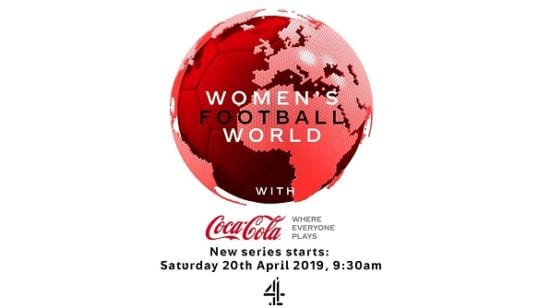 Simon Wells, partnership controller at Channel 4, explained his excitement at the opportunities this sponsorship offers both to women's sport and to Channel 4's sports broadcasting ambitions:
"This is a great moment in Channel 4's history and we are delighted that Coca-Cola, an organisation with long-standing commitment to football initiatives have partnered with us on our very first show dedicated to women in football."
You need look no further than the scrap between Nike and Adidas to secure a deal with rising tennis star Naomi Osaka to see that sports sponsorship is not the man's world it once was.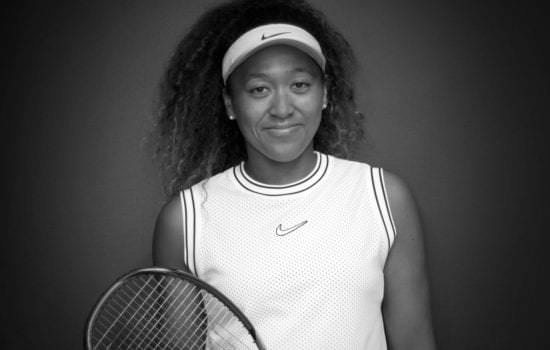 Osaka became the first Japanese player in history to win a major singles title in the sport by beating Serena Williams in the US Open back in September 2018. In the immediate aftermath of that victory, it was widely reported that she had signed a $8.5m deal with Adidas. The German sports brand clearly saw this as a seminal moment in women's tennis; a changing of the guard.
However, it emerged last week that Osaka had in fact turned down any extension to her Adidas deal, instead penning a deal with the Oregon-based giants Nike.
Many will feel that it's extremely refreshing to see a female athlete causing these kinds of shockwaves. Picking up two of tennis' major titles either side of her 21st birthday has instantly made her a serious long-term investment opportunity. But let's not forget that Forbes' World's Highest-Paid Athletes list for 2018 still did not feature a single woman in the top-100 athletes in the world based on financial remuneration.
The deal between Adidas and Osaka had been reported to be the biggest-ever deal between Adidas and a female athlete, yet it shies in comparison to deals with the world's top male athletes.
Though an immediate, seismic shift is unlikely, expect more brands to aim to get in ahead of the curve when it comes to women's sports sponsorship.
Instagram's shoppable platform aims to bring influencers onboard
Instagram is now set to push its shoppable platform into the hands of influencers. Whereas the original launch of this new type of content only allowed the brands themselves to make their content shoppable, this move will allow influencers to tag products with shoppable links.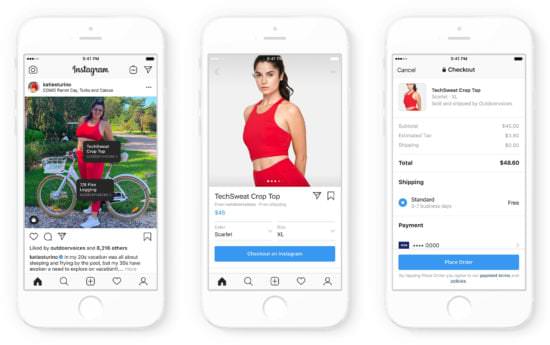 The trial will begin with a select few of the most popular influencers worldwide, including Gigi Hadid and Aimee Song, with brands such as GQ and Vogue involved in the first round of testing.
Both parties will have access to Instagram's data insights. Any financial transactions relating to an influencer's promotions will have to be organized independently from Instagram though.
Should it pass through the testing phase, managing relationships with influencers will now be of even greater importance. Financially speaking, the benefits of brand-influencer partnerships will also become even more lucrative. With Instagram's active membership of over 1 billion users showing little sign of slowing, retailers and manufacturers will be keen to capitalise on this move should it progress from the testing phase.
As Insta content becomes increasingly monetized, we're expecting to see much greater inter-brand and inter-influencer competition, as well as even more high-profile collaborations.
Most-trusted brands announced and set to reap the rewards…
Brand trust is built up over many years, with advertising, product quality as well as social media all contributing to the overall picture. It establishes customer loyalty, which in turn means you can gain a consistent advantage over competitors, and this trust can then build up cyclically with each product launch.
In light of the announcement that Dettol is Australia's most-trusted brand, we see that the top-10 features many brands that we would expect to see in the list:
Dettol
Band-Aid
Vegemite
Qantas
Betadine
Energizer
Elastoplast
Panadol
Colgate
Bunnings
Some will be more familiar to Aussies than they are to the rest of the world, but many are the kind of reliable household names which have spent years constructing a strong brand perception.
Also featuring in the top-20 are the likes of Dyson, Dulux, Cadbury, Lindt and Finish, all of which consumers would turn to without a second thought for competitor brands.
Back in April, leading market research firm BrandSpark International announced the results of the BrandSpark Most Trusted Awards ("BMTA").
Covering 118 product categories, it unveiled the most trusted brands in the USA, a selection of which are listed below:
Men's Skin Care – Dove Men+Care
Natural Cosmetics – Burt's Bees
Children's Toothpaste – Crest
Laptop – HP
Car Rentals – Enterprise
Online Event Ticket Sales – Ticketmaster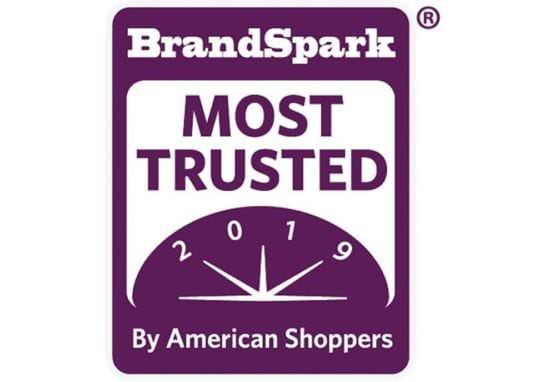 The BrandSpark Most Trusted seal features on many brands' packaging, and research carried out by an independent poll showed that the BMTA logo increased purchase conversion by an average of 6-15%.
As Robert Levy, President and CEO of BrandSpark International, explains, "Reinforcing consumer trust is especially critical today, when consumers have more choices available than ever before."
Google updates its Keyword Planner
Following its launch in 2018, Google's Keyword Planner has now undergone an update which the company says has "simplified the navigation and improved forecasting". Their updates allow users to:
Download trend data for individual keywords
Use up to 10 seed terms at a time
Get more granular competition ranking across keyword ideas
Get daily budget suggestions in the plan overview
Find the in-account status for uploaded keywords
View forecasts for all languages
One of the standout changes is the introduction of a new Competition Column, so the competitiveness of your keyword and your ability to rank for it will now be much clearer.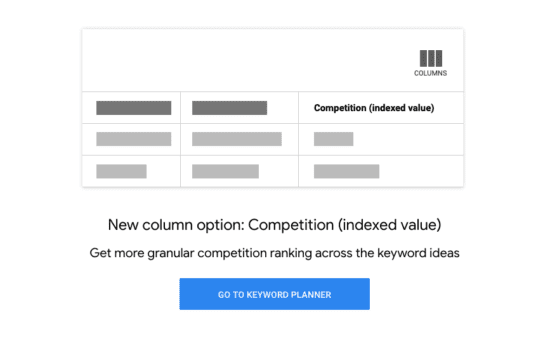 Managing multiple keyword ideas can be a real sticking point when trying to rank across various keywords and keyword phrases. This common challenge has motivated the introduction of the Grouped Ideas feature.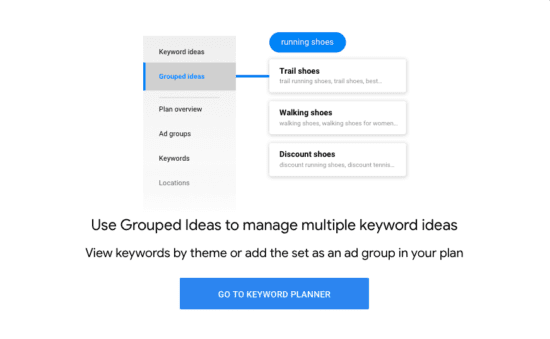 These changes are now live so make sure to test them out and begin using them to boost your organic traffic and inform your SEO strategy.
Shareholders take a hit at Google
And finally, it's been a rocky week for Google's investors as slowing growth resulted in $80bn being wiped from the tech giant's market value. While quarterly results can sometimes produce anomalies, the rate of Google's slowing caught many off guard.
Due to revenue only increasing by 17% compared to 27% a year earlier, and advertising sales increasing by 15% compared to 24% last year, many are looking for reasons for the slowdown.
With Facebook flying, many will speculate that the reason for this deceleration is down to a shift towards Facebook-owned platforms. As Bloomberg analysis shows, Google Ad revenue grew by just 15% in March compared to a 26% rise for Facebook advertising.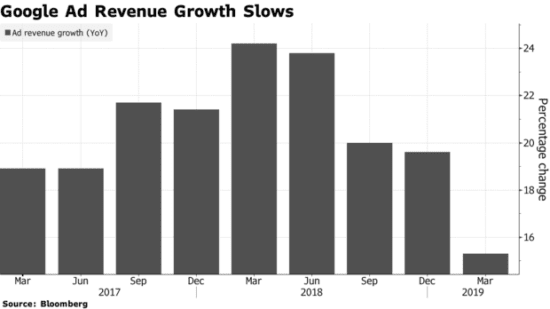 These changes are certainly one to keep a close eye on. Despite Facebook having been plagued by controversy over the past 12 months, it would appear that their advertising strategy is providing businesses' with the ROI they are looking for. Google, meanwhile, will hope that this is nothing more than a blip.