What graphic design assets do you need for marketing campaigns and how do you make it easier to create them?
Making your marketing campaign run successfully can be a challenging task. However, following modern trends in advertising and applying the appropriate graphic design resources could help make it easier.
To make a campaign successful, it is important to take into consideration various factors. You need to think about the different ways of presenting unique features of the product or service you want to sell. You should also not forget about offering and presenting special offers or discounts that will encourage customers to convert.
There is a whole host of instruments and resources that can be helpful in achieving your marketing goals. For instance, you may promote your business via a website or social media, using advertising banners, email-automation, and other means. They can be effective at increasing both engagement and conversion, but only if you get the messaging and presentation right.
In this article, I will focus on two points of any marketing strategy, in particular, website and social media promotion. With around 3.484 billion people using social media it is one of the most effective ways to promote a brand next to a website.
Let us start with website promotion.
First of all, you need an attractive and functional website. Creating one is not as difficult as it might seem at first as it may seem at first, especially if you follow a step-by-step process.
Your website needs to include all the necessary information about your company, products/services, special offers, etc. However, it also needs to present all of this in an engaging, attractive and interesting way, which is where graphics come in.
There is a huge variety of graphic design resources that may be useful for achieving this. Here are a few of them.
1. Add interactivity to the website with flat glyph icons
A proper icon bundle will help you make your website more appealing to customers and prospects. On the one hand, icons can be used to highlight key information on the page, making the content more readable. On the other hand, they offer an opportunity to stand out from the crowd and differentiate yourself from competitors.
For instance, let us take a look at the Jumbo Flat-Glyph Icons Pack Iconset Template.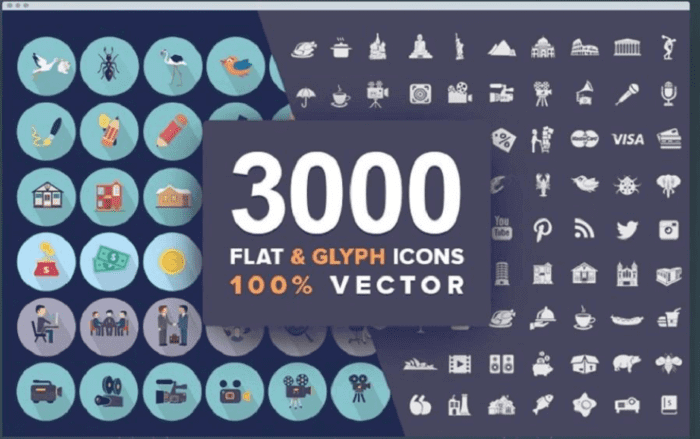 It consists of 3,000 icons, including 1,500 flat ones and 1,500 glyph ones. They are stylish and will integrate into the design of most website perfectly.
Here are the advantages of this pack:
There are 60 icon categories and illustrations to be applied for different purposes. You will find fashion, business, sports, even animals and birds icons to make your website more impressive.
The icons are scalable, which means you're able to change their size without affecting their quality.
The pack includes a collection of handcrafted symbols.
You have the opportunity to receive new icons free of charge, as the template is being upgraded all the time.
If you are looking for more icons for a website, it's worth looking at The Noun Project. This resource is a treasure trove of curated icons and includes around two million items.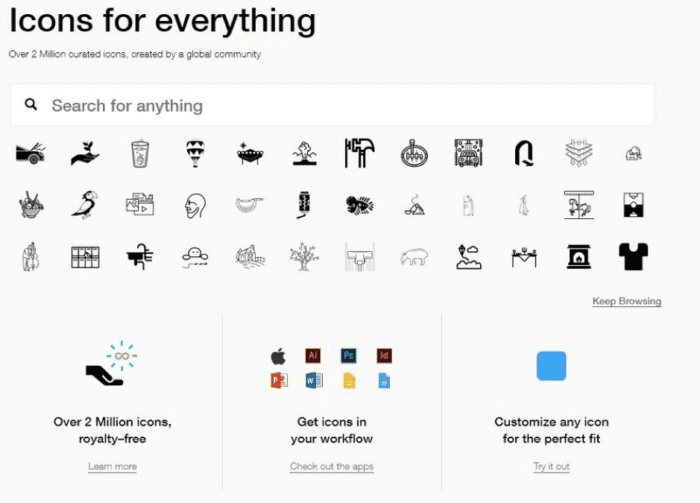 You will find it valuable for the following reasons:
It has a search function to help you get the proper items.
You can customize any icon you want to work with.
Icons can be inserted from Google Slides or Google Docs.
It is possible to use the Noun Project Icon API for various projects. For example, you may create some interactive game on your site with winners receiving a bonus or a special gift.
If you're a B2B company,  the Business and Startup Iconset Template. includes all the icons you could possibly need.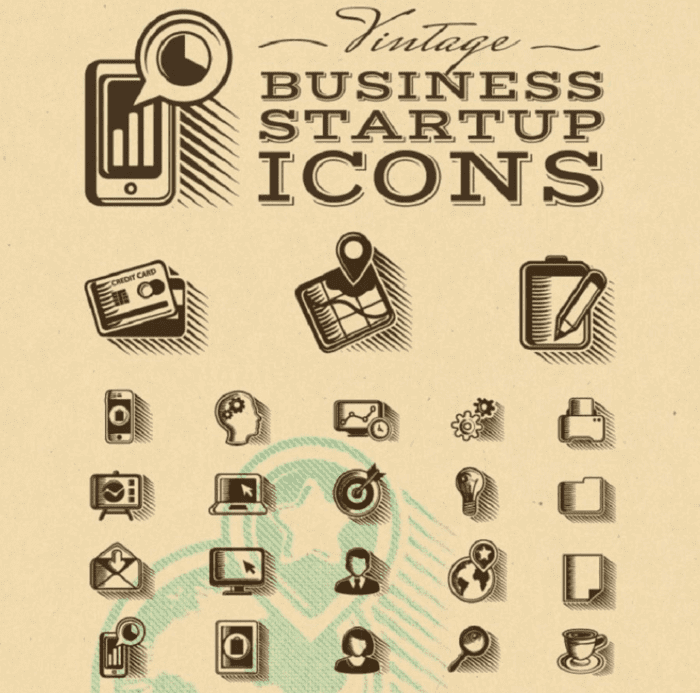 What is included in this pack?
It contains 38 vintage icons that have especially been developed for business and startups.
The icons are available in the following formats: AI CS3, EPS 10, PSD, PNG.
The icons in PNG format come with a transparent background.
2. Use website pop-ups to offer discounts or promote special offers
Pop-up advertisements are an important part of any marketing strategy. Their aim is not only to advertise products/services but to also increase conversion. If the pop-up is creative, it will grab your visitors' attention, encouraging them to take a certain action.
Creating smart, stylish and engaging pop-ups doesn't have to be difficult, especially when using the appropriate resources available for help. One great resource option is JetPopup Plugin, which allows you to build pop-ups with any layout.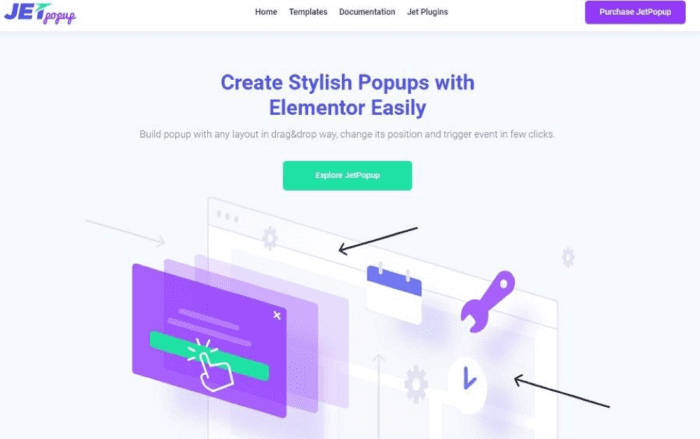 So, what can you do with this plugin?
No specific knowledge is required to build pop-ups. To create the necessary layout, you just have to drag and drop Elementor widgets. You can then add your message to it.
There are diverse style settings that will help you customize the pop-up design.
It is possible to manage trigger events. You may set the correct time and date when the pop-up advertisements should appear on the page.
If you do not want to reinvent the wheel, there is a variety of ready-made templates at your disposal.
You can build pop-ups from scratch. The plugin comes with special widgets, allowing you to compose pop-ups for any purpose. Moreover, it is advisable to add animation effects to make it even more attractive and functional.
You can opt for various trigger events, depending on the message you want to deliver to your visitors. For example, pop-up window can appear when they leave the website or scroll the page.
You can also choose the appearance, size, and positioning of the pop-up window.
One more powerful resource to build impressive pop-ups that hit the target is Popup Builder.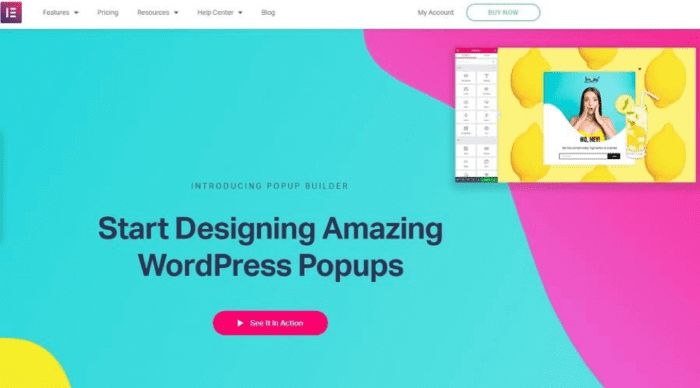 These are the features that make it so effective:
The capability of Elementor means you can create any pop-up you can think of.
There are short tutorials to find out how to create various types of pop-ups and make them perform their function.
This pop-up builder is design-oriented. Therefore, you can easily integrate your content from a WordPress website into the required popup windows.
It is possible to create unique pop-ups yourself, using more than 100 Elementor widgets. Or if you are short of time, there are more than 100 ready-made popup templates at your disposal.
3. Make the website more inviting with illustrations, mockups, images, and tutorials
Text on your site provides people with a lot of information, including the main characteristics of your product or service. However, not all of the customers want to read long descriptions when they come to your website. Sometimes, it is better to use illustrations and images to highlight, especially as many people are visual learners.
Information presented by images is grasped easier and faster. Moreover, visitors are able to judge quicker whether the product or the service is what they're looking for. In this case, there is a high probability that they will stay longer on the website and click through to other areas.
Create graphics that put this information across take time to create, as well as your own graphic designer. However, if you don't have the time, budget or skills required to do this, there are resources that can help.
Freepik offers you different kinds of content, including illustrations, courses and tutorials.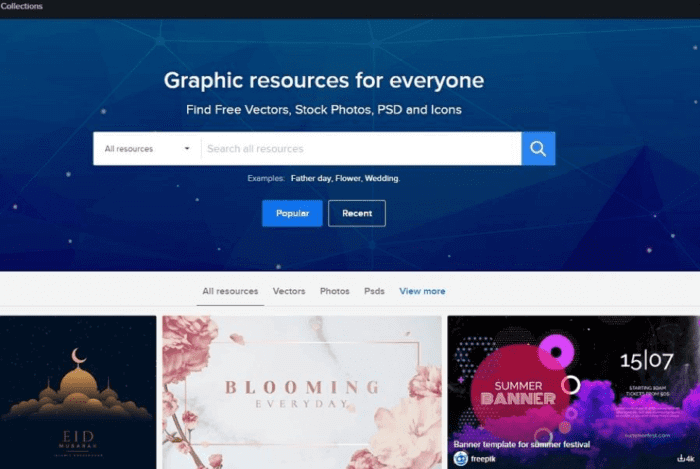 An impressive variety of free graphics resources has been compiled in one place:
You can download free vectors, stock photos, icons, infographics, backgrounds, flyers and much more.
There are vivid collections of web banners for social media, laptop mockups, logo brand showcases, character designs, etc.
If you subscribe to the Freepik newsletter, you will have access to an exclusive pack of premium resources. You will also have an opportunity to be in the loop about any special offers and discounts.
4. Advertise your products or services with animated web banners
Banner advertisements are considered to be one of the leading forms of promoting goods online. They generate a flow of leads and then convert them into real clients. As such, they are used a lot, so you need to consider how to make your banners more engaging. One way to do this is to step away from simple image or text banners and opt for designs that make use of animation. Moving images will improve the chances that your information gets noticed.
Animated banners help make your website more dynamic and memorable, which is important as the average user visits less than 100 sites each month. They also make it possible to deliver more than one message at once, ultimately allowing you to kill two birds with one stone.
Luckily, there is a wonderful and reliable resource to help make the process of creating animated banners much easier.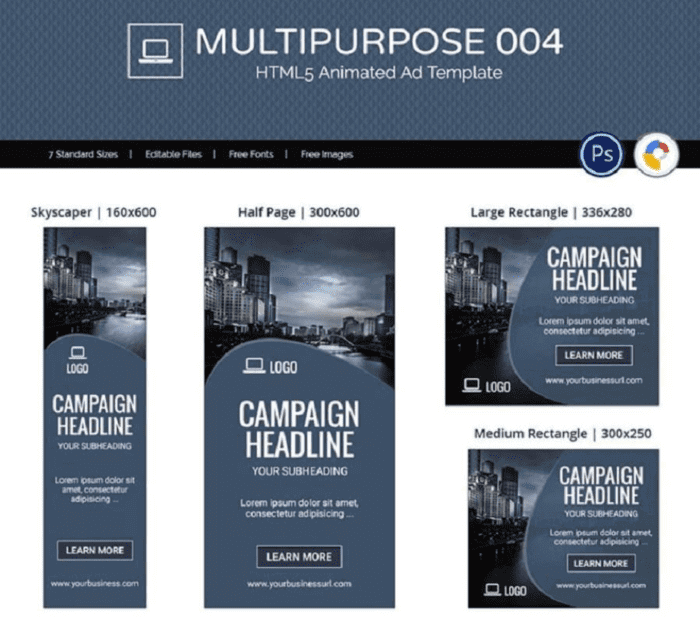 Multipurpose Banner (MU004) is an HTML5 Animated Ad Template that can be used to make banners for any type of business. You change the background image, customize it in accordance with your requirements and your animated banner is ready.
The template comes with some useful features:
You can create banners in any of the seven standard sizes.
The template is optimized for Google AdWords.
It provides smooth animations.
Help files are included in the pack in case you have some questions, which includes PDF files and video tutorials.
Looking at social media
We have discussed several resources that can be applied to your website to make it a more effective advertising medium. Now let us move on and consider the role of social media in the marketing strategy.
Social media is a powerful marketing tool with 70% of marketers using social networks to increase brand awareness. Social platforms have ultimately become an effective means of promoting various products and services, driving traffic to your site.
Creating a personal profile or a business page on social networks is not difficult. However, making it a means of advertising can be a challenge. It is necessary to think about the content you post, as well as about its format and design. This is why it is worth creating a collection of social media templates to use.
Social media templates have generally been designed for a particular target audience. You can also find ones that come with a universal design that is suitable for several different purposes. More importantly, they are compatible with mobile devices.
So, what should you do to make social media an efficient platform for advertising your brand?
5. Attract people not only with informative posts but also with visual content
There are various methods to increase your follower numbers on social media. One of them is to share interesting and informative posts every day. This doesn't just mean writing snappy statuses, you also need to consider the visual components included in your social media updates. The images you use alongside text play a significant role in attracting people's attention.
While you can use pictures from stock image websites, these often get overlooked as there are so many being shared on social platforms. This is why it is advisable to create original images.
One way to do this is using the cross-platform graphic design service Canva. Having registered with it, you get access to the built-in library of templates, stock photos, illustrations, and fonts.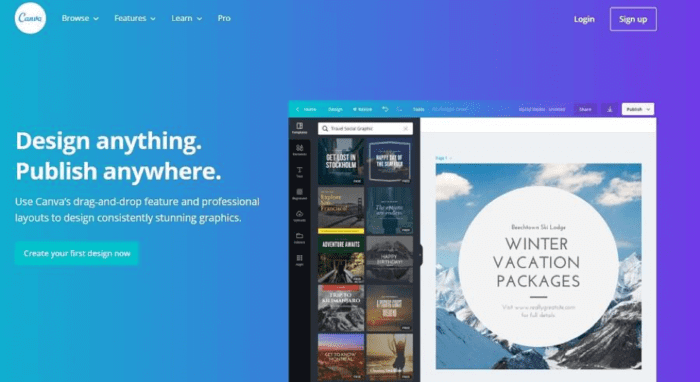 Both average users and digital marketing professionals can easily use Canva for various projects. You can design social media graphics, presentations and unique images for publications online, as well as layouts for printed products.
The advantages of the application are the following:
The process of designing graphics consists of dragging and dropping the ready-made elements.
It is convenient to work on creating your brand. You can add your own corporate elements to ensure images fit with brand guidelines and style.
You can log in to Canva using your Facebook or Google account. After that, the system will offer you a brief introductory lesson on how to use the service.
If you need the same image for various social networks, you can easily resize it with one click.
It is possible to add animation to your designs.
6. Motivate your audience with quotes
Depending on your type of business, you may find that posts that make use of quotes get a lot of engagement. People are often attracted to quote posts, especially if they reflect something that happens in their life. Quotes can be famous, serious, testimonials or even humorous, depending on your target audience.
To create attractive quote images for social media, you can use the Social Media Quote Pack, which includes over 1,000 unique quote designs.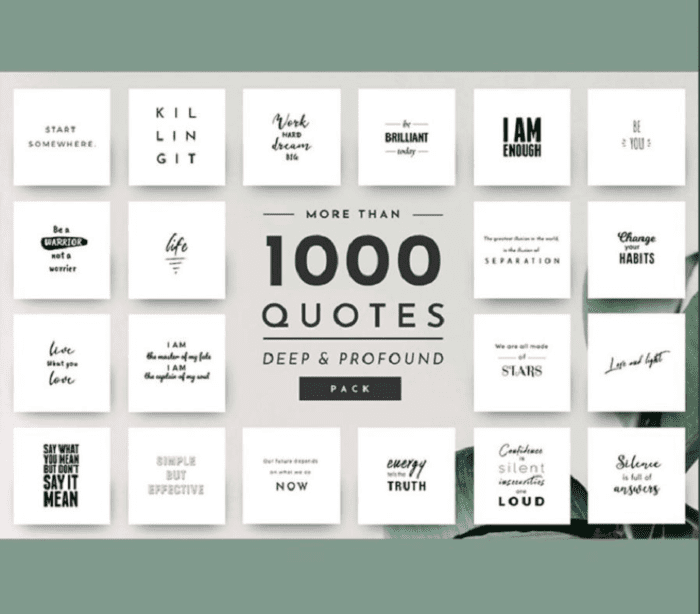 The following features are at your disposal:
The files are ready to be posted on Instagram, Pinterest, and Facebook.
Free access to all updates.
PNGs come in black, transparent and white. However, it is possible to change colours.
You can scale the files to any size, as well as customize them to meet your requirements.
The pack includes pleasant bonuses, such as high-resolution leafy background photographs, high-resolution coastal stock images, etc.
7. Take advantage of infographics
Infographics have become an inseparable part of any content marketing strategy. As a type of visual content, they play a significant role in attracting people to your brand and informing them of something about your industry. They are also highly shareable on social media.
There are a number of diverse efficient online tools that can be used to create infographics. Venngage is one of them.

This tool allows you to make unique content for websites and social media, as well. There you may find both ready-made templates to add your content and build your own samples to impress the audience.
8. Engage with your customers via Instagram stories 
Instagram is considered to be one of the best networks to build and promote your personal brand. It can be done not only by regular posts but also by communicating with your audience via Stories. The platform is more relaxed than others, allowing you to share some information about your brand but also show the people behind the brand, creating a strong connection with your followers. It gets you closer to people and contributes to winning their trust.
One of the resources that can be useful to improve your Instagram marketing is an Animated Instagram stories template.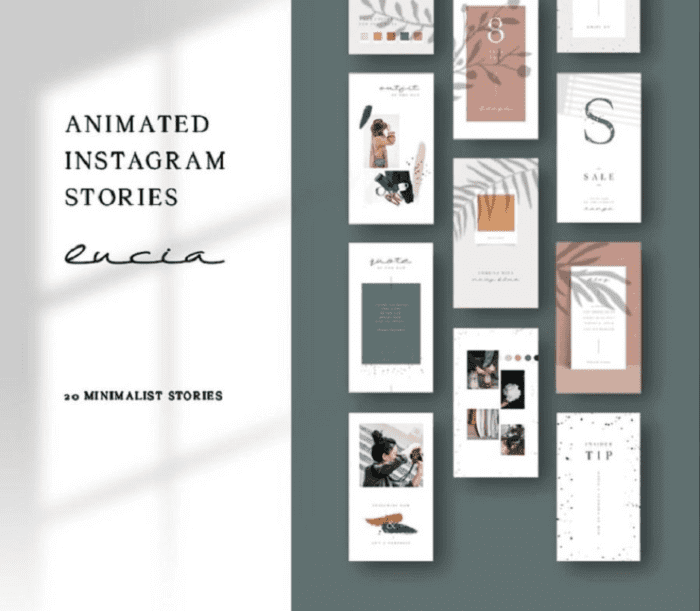 This gives you an opportunity to share stylish and on-brand animated stories, which are highly effective at engaging your audience.
The pack includes the following:
20 Photoshop files to work with. All of them are well-structured, layered and fully editable.
Smart objects in case you want to edit the images.
A selection of free fonts.
PDF instructions including all the necessary information on what to do with all these items.
If you want to design Instagram stories yourself, you may want to look at Bannersnack.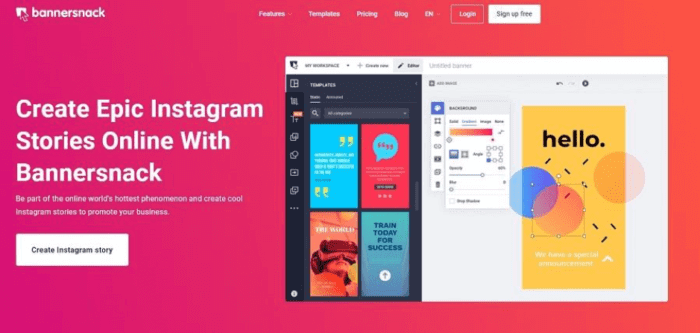 You will learn how to make your story in four steps.
You will be offered all the necessary tools to create your story. For instance, it can include professional stock images, stylish shapes and icons, preset typography, animation effects.
If you do not know where to star, there are ready-made templates to help you find the way out.
Wrapping Up
We have discussed the modern trends that should be taken into consideration while planning website and social media promotion. As you can see, there is a variety of graphic design resources that may be used to make any marketing campaign more efficient.
These resources are provided to anyone who is engaged in advertising different goods or services. Some of them are free of charge, so you can trial them, and some have pro accounts offering more tools. It is worth taking a look at a number of different resources and trialing what they offer in order to see what best suits your needs.
Join To Our Newsletter
You are welcome