Chart of the Day: Facebook still used for group events – Instagram top for following brands
Much has been made of Generation Z abandoning Facebook for the likes of Instagram and Snapchat. While Facebook has reportedly been dropping in popularity among teens since 2015, the Center for Generational Kinetics has conducted research in how Gen Z use different social apps and suggests it still comes top for some aspects of their social lives.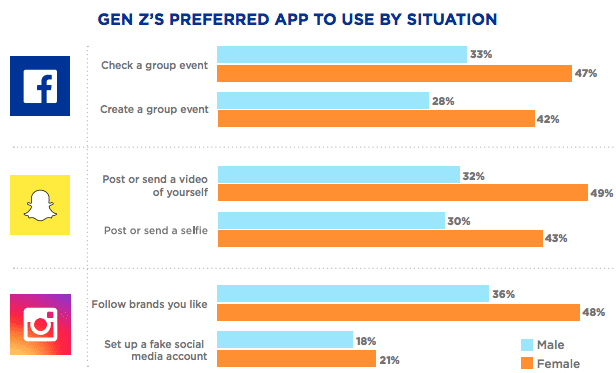 The CGK's State of Gen Z report found Facebook was still preferred over other platforms when users wanted to create and check a group event. When it comes to individual behaviour (posting selfies or videos of themselves) Snapchat was top, while Instagram was the most used platform when members of Gen Z wanted to follow a brand.
An interesting trend in the results found that female users outpaced male social media usage for every task mentioned in the survey. As you can see from the data above, female stats are regularly more than 10% higher than those of men, suggesting social media audiences (on these platforms, at least) have particular appeal to women.
Gen Z is being described as the first 'fully-digital generation', and it's easy to see why – the CGK's report also found that 29% of Gen Z use their smartphones after midnight every night.
"This generation is truly immersed in a digital-everything world, with many spending double-digit hours each day on their phones. That is a lot of time to commit to interacting with a small screen, but an especially large amount when factoring in the typical time commitments of school, sleep, leisure activities, and work. However, Gen Z is creating a trend that appears to show no sign of slowing down."
Join To Our Newsletter
You are welcome