A case study of how a retail brand ran a personalisation program to improve engagement
Jack Wills, a retail fashion store, has used personalisation to boost conversions for new and returning customers.
What results have Jack Wills seen since running their personalisation program?
12% increase in conversion rates
8% increase in Add-to-basket
Reduced basket abandonment
Using Monetate, a personalisation software for consumer-facing brands, not only has Jack Wills increased their conversion rates, they have also reduced their basket abandonment.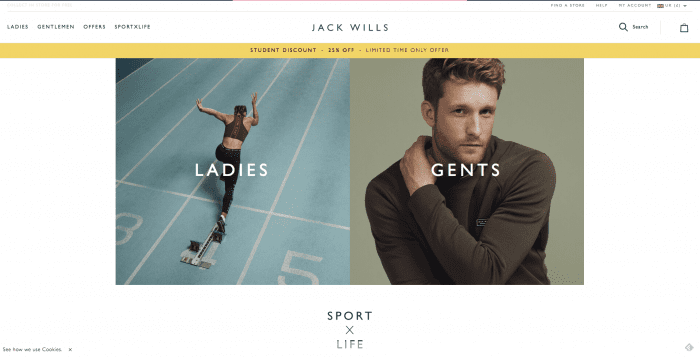 Personalisation is key
A number of changes were made to their online store – including 'sticky filter' functionality and personalised rules for displaying products to give customers a better and more engaging user experience.
Through personalisation, new customers to the online store are shown product category pages with 'bestseller' products, whilst returning customers are shown 'new arrivals' on the same pages. This is because extensive testing proved that existing customers are more interested in discovering new products.
Basket abandonment also falls
"As a leading British clothing brand, it's really important for us to provide customers with what they want, when they want it, and our online channels provide us with more opportunities to deliver personalised experiences to users," said Mark Wright, Managing Director Digital at Jack Wills.
By providing a personalised experience to segmented customer groups, new customer conversions increased 12% and there was also an 8% increase in add-to-basket
Make sure to keep your filters visible
In a way to keep user engagement high, sticky left-hand navigation filters were added that remained visible whilst the user kept scrolling down the site page. This encourages users to engage and interact with searches and different products until they find the right item of clothing they like, without abandoning the page altogether.
This increased conversions with a 10% uplift and decreased basket abandonment.
"Jack Wills is an example of a prominent British retailer that truly gets how important personalisation is, in an age when user experience is crucial to business success" – Mike Harris GM EMEA
Jack Wills' next step in delivering personalisation will focus on search filters that increase engagement on mobile – a device that is becoming increasingly popular when searching the web. It is reported that users typically spending 12% more on mobile than desktop.
Join To Our Newsletter
You are welcome