Well, the busiest shopping season of the year is finally in the books. Goodbye holiday shoppers. We hardly knew ye.
Of course, as retailers know, the holiday frenzy doesn't end with the unwrapping of gifts.
Stores and delivery trucks remain crowded in the days immediately following Christmas, when scores of gift-recipients across the country return items to retailers.
"Thanks for the yard gnome, grandma." [Looks for receipt.]
But just how common are gift returns?
Gift Returns by the Numbers
On Christmas night 2019, Field Agent surveyed 1,753 gift-recipients across the country. In all, 3-in-10 (29%) said they'd be returning or exchanging at least one holiday gift they personally received this year. Of those (n = 508), 86% said they received merchandise they'd return/exchange in-store, compared to 35% who would be making a return/exchange by mail.
The most common destination for returns/exchanges? Walmart.
Of 435 gift-recipients planning in-store returns, 46% said they would be doing so at Walmart, compared to 26% at Target and 20% at Kohl's.
Their reasons varied, but wrong size was the most common justification. Half (49%) of gift-returners said they needed a bigger or smaller size. Other relatively common reasons included…
"[The gift] is something I just don't need" (23%)
"I'd rather have something else" (20%)
"I don't like the color/design/aesthetic appeal" (15%)
"I just don't like the gift" (15%)
So, clearly, gift returns and exchanges are a common post-holiday occurrence. Less clear, however, is how well retailers are serving those guests making returns.
Let's shed some light on the matter. 
Return of the Gift: How Retailers Stacked Up
To understand the return/exchange experience across three popular holiday retailers, Field Agent enlisted 43 gift-recipients on December 26, 2019 to return merchandise to Walmart (23 stores), Kohl's (12 stores), and Target (9 stores). We required photo proof throughout the process, to verify that a gift was actually returned/exchanged.
Timing the Return Process
Field Agent first asked participants to time the return/exchange process, using a timer embedded in the Field Agent app. Agents were asked to start the timer immediately upon arriving at the return/exchange area, stopping the timer as soon as the transaction was complete.
The graph below displays the mean and median return/exchange time (in minutes) by retailer.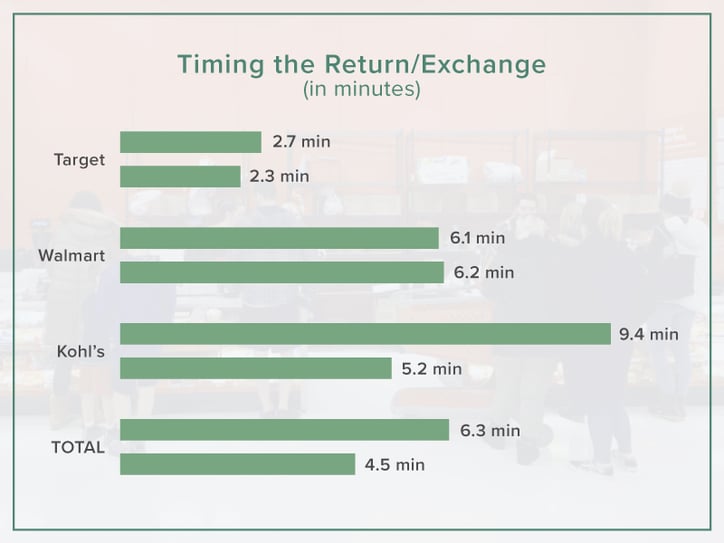 Target clocked both excellent mean (2.7 minutes) and median (2.3 minutes) times. Kohl's mean (9.4 minutes) was hampered by a single return that, uncharacteristically, took 34 minutes to complete, so the median (5.2 minutes) is perhaps the better indicator for the department store.
The fastest and slowest return/exchange times by retailer were as follows:
Walmart: 0.74 minutes (44 seconds) versus 24 minutes
Kohl's: 0.94 minutes (56 seconds) versus 34 minutes
Target: 1 minute versus 5 minutes
As one gift-returner said about Target, "I had a wonderful, smooth, and efficient experience at the return center. The process allows for quick and efficient transactions."
Rating the Return Experience
Field Agent also asked gift-recipients to rate various dimensions of the return experience. All ratings were submitted on a scale from 1-5, with 5 "excellent" and 1 "poor."
Target and Kohl's were neck-in-neck for the best ratings. The mass merchandiser scored a 4.9, 4.9, and 4.8 on return/exchange friendliness (i.e., of personnel), efficiency, and ease of use, respectively, compared to Kohl's 4.6, 4.4, and 4.5.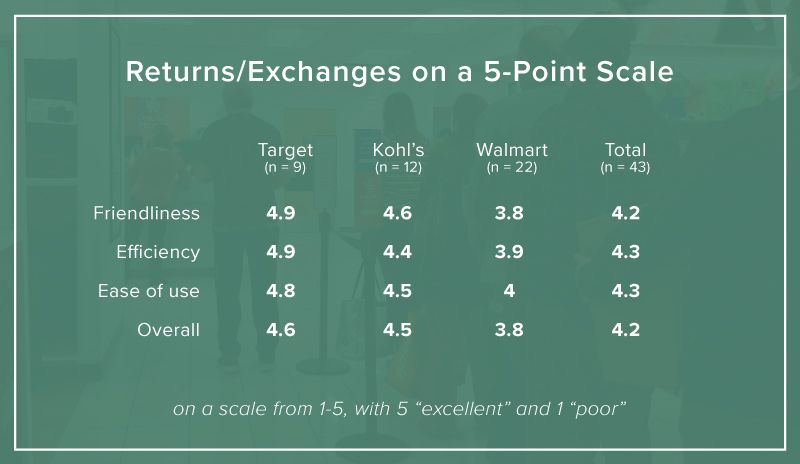 "I really appreciate how welcoming the associate was who helped me return an item today," said one Target guest. "She was friendly and very efficient, moving me through the process in no time."
Kohl's guests, too, were complimentary. "One thing Kohl's has always excelled at to me is customer service," one said, "and I felt that again today with another good experience."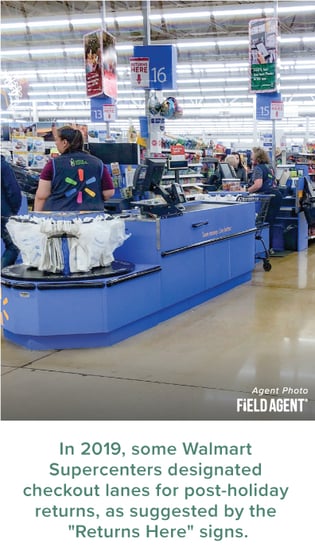 Walmart guests were also more positive than negative.
Seventy-eight percent of Walmart guests (n = 22) said returning/exchanging gifts at their local superstore on December 26 was "shorter than expected" (compared to 8% "longer than expected") and 57% said it was "easier than expected" (compared to 17% "harder than expected").
Notably, our photo analysis suggested some Walmart Supercenters designated entire checkout lanes for returns this year, letting customers make returns the same way they checkout—rather than going through the customer service desk.
As one Walmart guest said of this development, "The decision to have checkout lanes reserved for returns made [the experience] way better."
And that's a wrap on the 2019 holidays. From gift-shopping to gift-returning, it was a very busy holiday season.
For retail professionals, yes, but also for Endcaps & Insights.
Subscribe to Endcaps & Insights
Throughout 2020, from the Super Bowl to the holidays, you can rely on Endcaps & Insights to help you stay in-the-know about late-breaking or otherwise significant retail developments.
We take our mission seriously: bringing retail headlines to life through photos, video, data, and more.
Follow Endcaps & Insights in 2020 by subscribing below.    
Join To Our Newsletter
You are welcome