4 examples of omnichannel changing the retail experience
The numbers don't lie: the days of consumers visiting their local general store to satisfy every shopping need are long gone.
It's no secret that there has been a shift in shopping preferences moving to the online world, with 67% of millennials preferring to shop online. But in recent years, even the meaning of "online shopping" has evolved. A once-simple buying journey on a retailer's website has rapidly evolved to a complex situation, for shoppers and retailers alike.
With so many shopping options, today's consumers are often loyal to a variety of retailers and websites, including online marketplaces like Amazon and eBay, large retailers like Target, and category-specific stores like REI and Jeni's Splendid Ice Creams. And it only gets more segmented from there.
Consumer touchpoints are increasing with astounding velocity — and ecommerce technology is evolving in tandem with these multichannel user behaviors. Not long ago, occasionally serving a relevant ad on Facebook to a wide audience was considered an innovative approach to commerce marketing.
Now, you can segment and target your audience on the world's leading social media platform with the accuracy of a professional dart thrower.
Furthermore, the consumer experience on Facebook has evolved well past simply serving ads to past and potential customers. You can now sell directly to Facebook users on the platform, who can access a product with a single click, all without them ever having to leave the safe confines of their news feed.
This development is ushering in the next wave of commerce, in which your online store is a necessity — but not always necessarily the main revenue driver or power player in your retail strategy.
Successful retailers are leveraging the technology and data at their disposal to find their customers everywhere, and bring their products to the masses. With the majority of product searches beginning on Amazon and the continuing growth of social media, the playing field has been leveled and nearly any online retailer can reach thousands of potential customers with a few strategic clicks.
However, this wealth of new tools and infinite possibilities come with their own set of qualms: where should you start and how can you best utilize your time and the resources available to you?
That's why I'm sharing a few examples of retailers who have succeeded on multiple channels by viewing these various touchpoints not as a hindrance, but rather as a competitive advantage.
Social Media: Spearmint Love
Infant clothing brand Spearmint Love harnessed the power of engaged social media fans to turn likes into dollars.
It all started with product photos. Rather than highlighting individual products in social media posts, owner Shari Lott combined pieces to create full outfit flatlays. This set the brand apart for new moms, who were attracted to the emotion the images created and often ended up purchasing every product featured in the photo.
This merchandising technique earned Spearmint Love new Facebook fans at a rapid rate, and the brand then utilized the platform to gain insight into their audience's needs and target fans more effectively.
Spearmint Love began to test various types of ads and targeting through Facebook's Ads Manager, adjusting copy and photos until they lowered their cost of customer acquisition to less than $5 per customer. The team fine-tuned every ad set over months until they saw $5-10 ROI for every $1 spent on advertisements.
Additionally, Spearmint Love utilized their social media data to go one step further by forecasting the lifetime value of customers. Lott's husband performed a cohort analysis, placing customers into groups based on when they made their first purchases and tracking their habits over time to determine patterns.
As the brand began to notice a sudden drop off in ROI, they realized their targeting method was growing stale. For this particular company, targeting must get as granular as the age of the customer's children or which pregnancy phase the mother is in. This realization prompted SpearmintLOVE to revamp their ad strategy, targeting fans based on four distinct periods of parenthood:
Pregnant women 6 months before birth to 6 months post-delivery

Moms with children ages 6 to 18 months

Moms with children ages 18 months to 30 months

Moms with young children 30 months and older
The new approach brought nearly instant results for the brand, who found success in serving relevant products to their customers at the appropriate phase in their children's lives.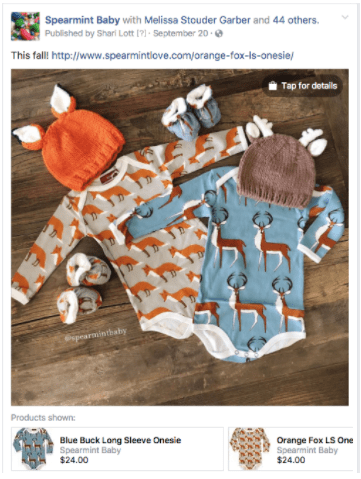 Amazon: Kap7 and Dairy Fairy
As a water polo gear brand, Kap7 caters to a fairly niche crowd.
However, it wasn't long until they realized that many potential customers shop exclusively on one channel — either Amazon or online store — so why not go after both?
Though Kap7 sees lower margins on Amazon due to increased competition, the brand found it was well worth the higher volume of traffic and increase in brand awareness.
Amazon comes with a built-in audience, and gives retailers the power to turn on and off selling options, should inventory get low for a certain product. Additionally, Kap7 found that Amazon all but ran itself, making it a low-risk, high-reward and easy-to-manage option for online retailers to sell through.
Nursing bra brand Dairy Fairy is another example of a niche retailer who found success in expanding to Amazon. In fact, "success" is an understatement — the retailer doubled sales after setting up shop on Amazon.
Dairy Fairy leveraged Amazon's powerful keyword search engine to make it easier for niche customers to find its products. Once customers found the Dairy Fairy bras, the brand trust of Amazon combined with its simple checkout process sealed the deal, driving up sales with little extra work on the Dairy Fairy team's end.
Both brands realized the importance of having a branded webstore in addition to their Amazon shops. While Amazon may consistently attract and bring more customers to product pages, having an online store allows you to control your customer relationships and customize your site to fit your buyer personas. Amazon is a great introduction to your brand, and once customer attention is captured there, fans can learn more about you on your own site.
POS: BeachRC
Myrtle Beach-based BeachRC offers niche products for R/C vehicle, drone, helicopter and plane enthusiasts. CEO Brent Densford started the business as a one-man passion project, and soon found himself unable to keep up with product demand.
Though BeachRC was facing the problem that every business hopes for, Densford needed a quick resolution that would help him keep up with product demand without burdening his tiny brick-and-mortar with an overabundance of inventory.
Densford decided that moving to a larger location and opening an online store would be the best course of action to keep up with the demand. This would not only give the company more room for inventory; it would give them a new channel through which to sell, reducing the risks associated with acquiring more product.
Though Densford had many important decisions to make when opening his online store, one weighed more heavily on him than others: would he be able to keep using Square as his in-store POS?
He knew the move and expansion would already be a lot for his small team to handle, and didn't want to risk the complications of setting up and integrating an entirely new POS solution.
Densford found a solution that allowed him to keep using Square for in-store POS while also building an online store — all with connected inventory. He chose BigCommerce to power his online store after learning the platform could integrate with Square, sync online and offline inventory, and integrate with his existing barcode scanner.
His store was launched in one week flat, and the ease of their first foray into online selling encouraged further expansion to Amazon.
Though 80 percent of BeachRC's sales still happen in-store, the flexibility of Square allows BeachRC to operate a shoppable trailer at events and sell multiple places online with no fear of inventory issues.
Sticking with Square also laid the foundation for some of BeachRC's marketing strategies. When a customer checks out through Square at the brick-and-mortar, their personal information is captured for usage in email discount campaigns, encouraging customers to return to shop at BeachRC — this time online.
Why omni-channel is the future
Expanding to multiple channels can be daunting. But as these three stories illustrate, it doesn't have to be — and the spoils are well worth the learning curve.
The most important aspect of taking your business to multiple channels is maintaining the customer experience that got you off the ground in the first place. And the key to a seamless experience is integrated tools.
Between your email marketing, social media advertising, and ecommerce platform, you want tools that feed into each other so that a conversation with a customer in one place is picked up in another.
From an operations standpoint, you want inventory and order management to stay the same — not get endlessly complex. Before setting up shop on additional channels, make sure you've mapped out how the various consumer touch points will interact with each other — and that your ecommerce platform is built to be the reliable backbone that supports exponential growth.
Join To Our Newsletter
You are welcome