But despite their prevalence inside stores weekend after weekend, traditional demos have long been saddled with limitations. For instance, conventional demos are generally…
Cost prohibitive

Geographically restrictive

Imprecise (i.e., unable to target specific shoppers)

Difficult to track

Impractical for many products (i.e., products that don't "sample well")
And in the age of digital, omnichannel retail, traditional demos can't always be where the shoppers are (e.g., online, in-app).
Given these limitations, many of today's brands are looking for an alternative to traditional product demos and retailtainment.
They're looking for a new way to drive "first purchase."
They're looking for a new way to demo.
Here's how one brand found it.
Case Study: The New Way to Demo
Michael Angelo's, the maker of premier quality, Italian-prepared frozen and fresh foods, needed a way to drive awareness and purchase of its frozen meat lasagna.
The brand discovered Digital Demos by Field Agent, an innovative, new way to drive first purchase of products, track repurchase, and even generate positive word of mouth online.
The video below shows how Digital Demo works.
A single Digital Demo of Michael Angelo's meat lasagna, targeting specific stores in May 2019, resulted in 551 units sold, 454 first-time purchases, 120 repeat purchases, and 500 positive, high-quality articles generated online.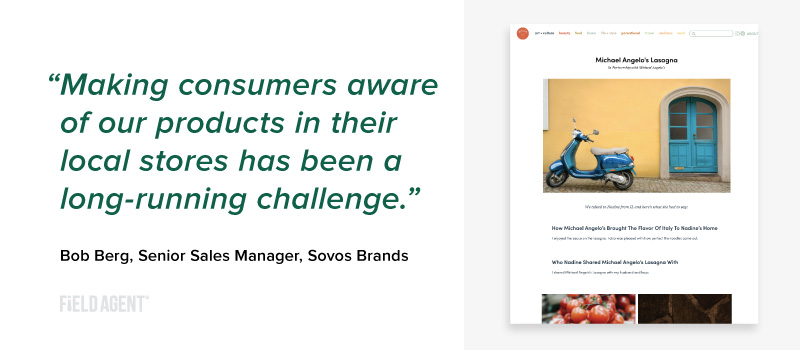 "Making consumers aware of our products in their local stores has been a long-running challenge," said Bob Berg, senior sales manager for Sovos Brands, maker of Michael Angelo's Italian cuisine.
"Having a marketing vehicle [Digital Demo] that generates such professional content, feedback, and results while being cost-effective is what every CPG company longs for."
The free case study, "Michael Angelo's Cooks Up Retail Success with Digital Demo," offers a deeper look at how the grocery brand found a better way to demo.
Join To Our Newsletter
You are welcome